Welcome to our list of 16 Things You Didn't Know About Gucci!
Gucci is a luxury fashion house based in Florence, Italy. Its product lines include handbags, ready-to-wear, footwear, accessories, makeup, fragrances, and home decoration. Gucci was founded in 1921 by Guccio Gucci in Florence, Tuscany. Under the direction of Aldo Gucci (son of Guccio), Gucci became a worldwide-known brand, an icon of the Italian Dolce Vita. Following family feuds during the 1980s, the Gucci family was entirely ousted from the company by 1993. 
During the 2010s, Gucci became an iconic 'geek-chic' brand. In 2019, Gucci had 487 stores worldwide and generated more than 9 billion Euros in sales. And some of the most iconic bags in fashion history!
So, without further ado here are 16 Things You Didn't Know About Gucci:
16. Gucci is an Italian brand inspired by the London way of living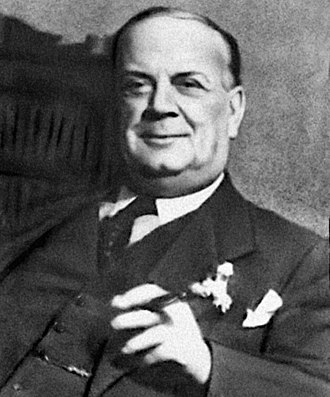 Guccio Gucci was born in Florence and moved to London in 1897 to work at the high-end Savoy Hotel. While working as a bellhop there, he would load and unload the luggage of the hotel's wealthy clients, learning about their tastes in fashion, quality, fabrics, traveling conditions and way of living. In 1921, Guccio went back to Florence where he opened Azienda Individuale Guccio Gucci, where he sold imported leather luggage. He also opened a small workshop to have his own leather goods made by local craftsmen.
15. The fascist regime in Italy forced Gucci to use less leather
In 1935 the invasion of Ethiopia by Mussolini led the League of Nations to impose a trade embargo on Italy. Leather became scarce, pushing Guccio Gucci to introduce other fabrics in the composition of the products, such as raffia, wicker, wood, linen and, jute. During this time the rombi motif, a Gucci signature, was created. And in 1937, Gucci launched its first handbag.
14. Aldo Gucci was responsible for the worldwide Gucci expansion
After the war, Guccio Gucci distributed the shares of the company to his three sons (Aldo, Vasco, Rodolfo). At that time the brand launched its first global tagline, Quality is remembered long after price is forgotten. In November 1953, Gucci opened its first US store on the 5th Avenue in New York. A second NY shop opened in the Saint Regis Hotel in 1960, and a third on 5th Avenue 1973, leading the locals to call this NY area the "Gucci City".
In 1961, Gucci opened stores in London and Palm Beach, then in 1963 they opened their first store in France. In 1968, Gucci opened a store on Rodeo Drive, making many Hollywood stars fall in love with the brand. Gucci's breakthrough in the US led to its global development in Asia and the Middle East. By 1969, Gucci managed 10 shops in the USA. John F. Kennedy called Aldo Gucci the "first Italian ambassador to the United States".
13. The iconic Gucci Loafer was designed in 1953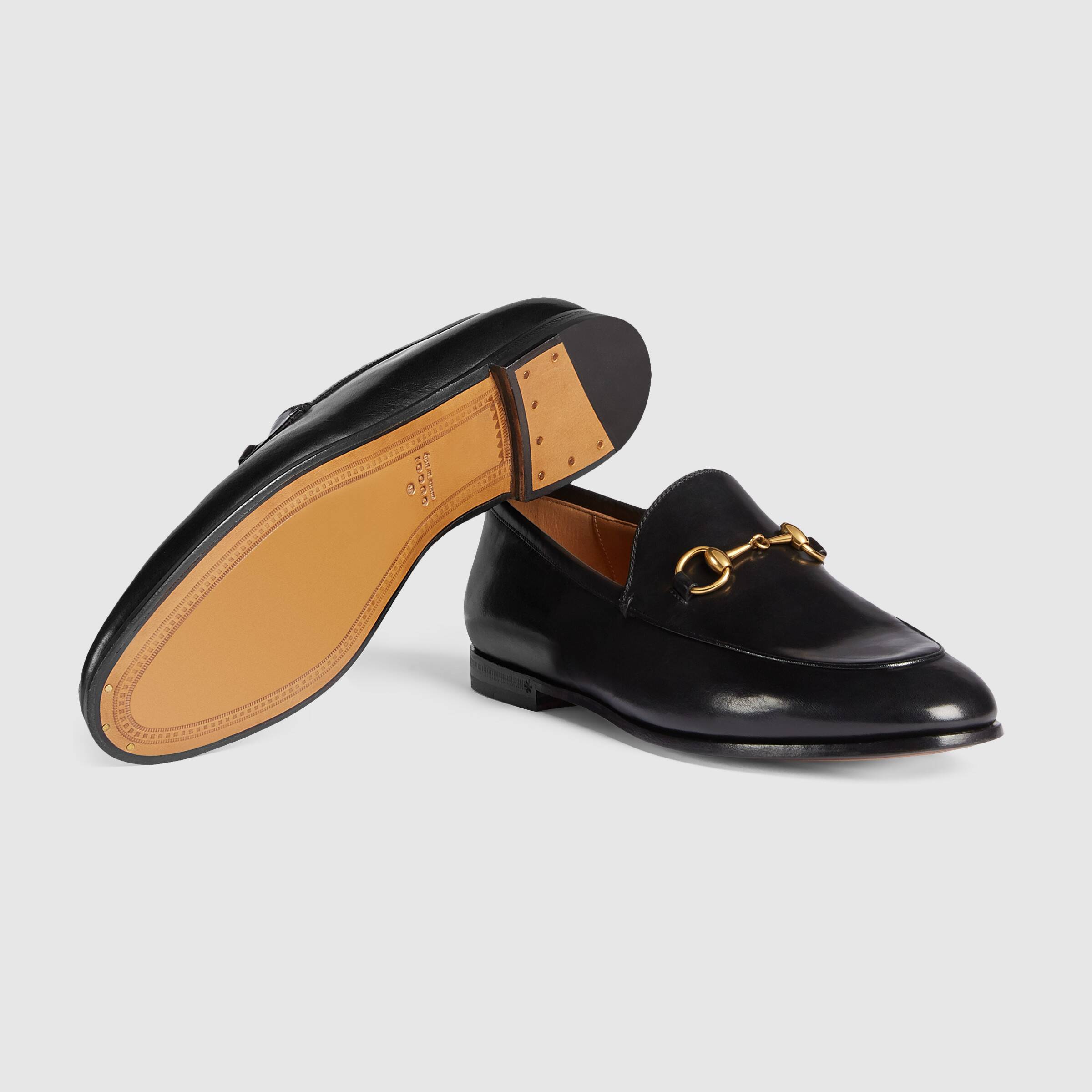 In 1953 Gucci created a loafer entirely inspired by the equestrian lifestyle so beloved of its creator Aldo Gucci. The result was the iconic Horsebit shoe we know today: A simple leather loafer embellished with a metal horse bit. Until this day it is still wildly popular and one of the top selling Gucci products.
12. The Jackie bag was originally called the Fifties Constance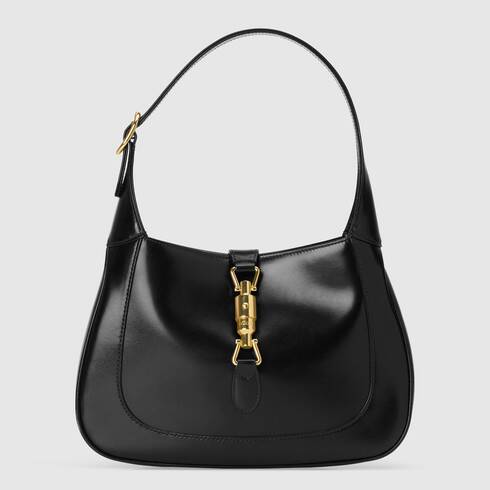 Launched in 1961, the Jackie bag was originally called the Fifties Constance. But in the 1970s when former first lady Jackie Kennedy was photographed shielding herself from the paparazzi with one of these bags, it became synonymous with her chic sense of style and with her name. The Jackie bag has been relaunched several times since its birth. We have all seen the bag trending since the Gucci Fall Winter 2020 collection. Although the bag is going trough a real revival right now, I guarantee you that this is one of those bags that never go out of style.
11. The Flora scarf was designed for Grace Kelly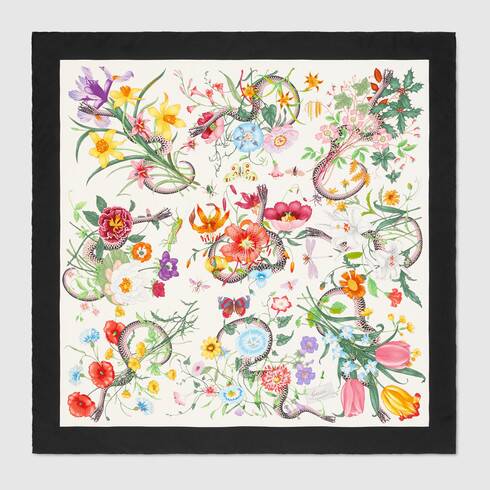 The Flora scarf was designed in 1966 by Rodolfo Gucci and Vittorio Accornero for Grace Kelly Princess of Monaco who became a notorious consumer of Gucci products. In a visit to Gucci's flagship store in Milan, Grace Kelly met Rodolfo Gucci, who wished to present her with a gift, yet nothing seemed quite befitting for a woman of her considerable renown. And so, the Flora print was born. This print is a Gucci classic that has stayed in our Wishlist until this day.
10. The famous double G logo stands for Guccio Gucci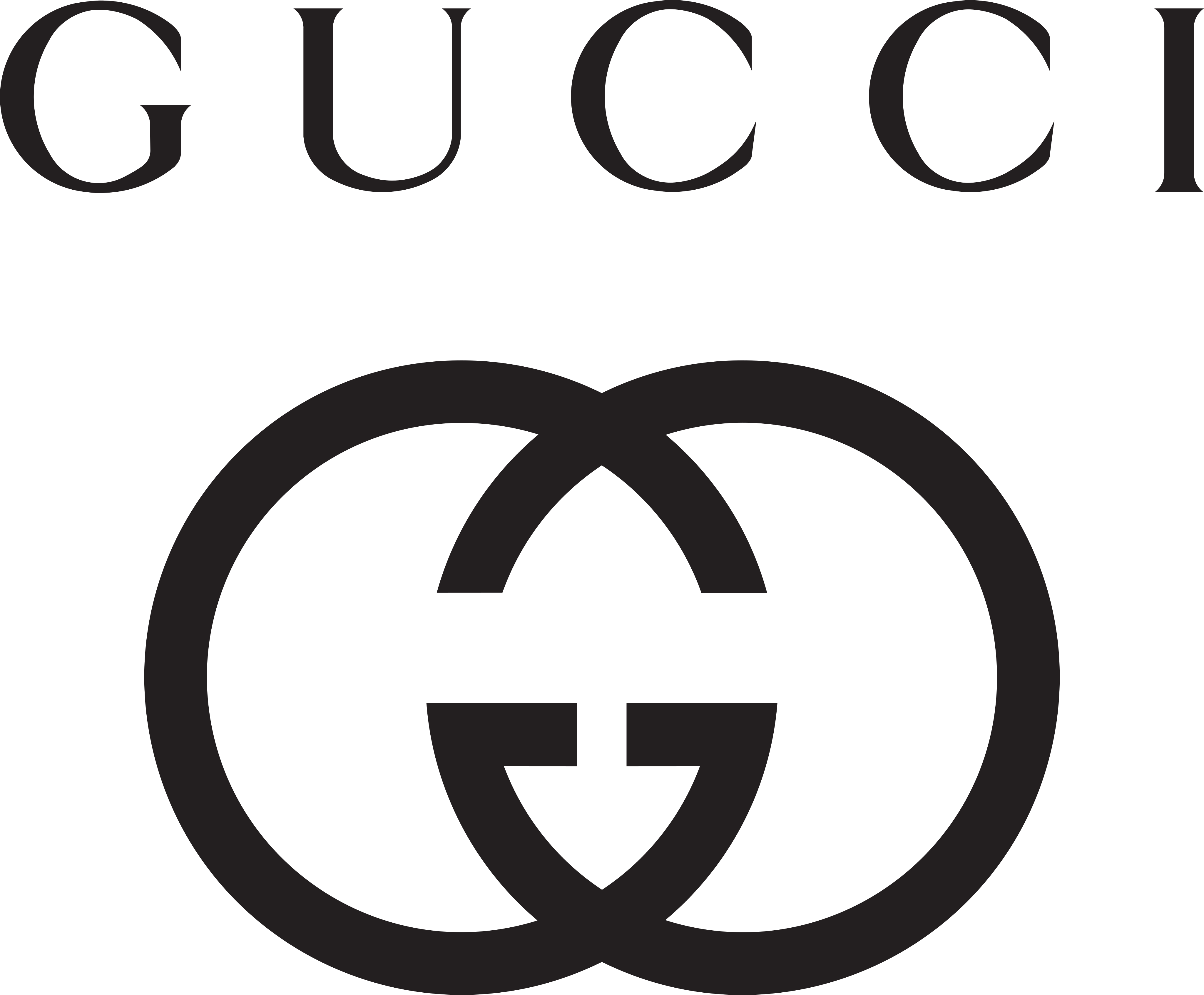 We all know the logo. We all want the logo. The GG logo was not created by Guccio himself. It was designed in 1960 to honor him after his death. If you are enjoying this video so far, we strongly recommend you to subscribe to our channel, so we can continue to bring you the best content about fashion and luxury living.
9. There was a family fight to obtain the control of Gucci
During the 80's, while the Gucci company was passing to the 3rd generation of the Gucci family, big family feuds began emerging. In 1983 Rodolfo Gucci died and passed the majority stake of the company to his son Maurizio, who then started a legal battle with his uncle Aldo in order to have full control of Gucci. Not only did he succeed, but that also led to the sentencing of 1 year in prison to Aldo Gucci, who at that time was 81 years old.
8. Gucci stopped being a family company
In 1988, Maurizio Gucci sold almost 50% of Gucci to the Bahrain-based investment fund Investcorp and withheld the other 50%. From 1991 to 1993, Gucci's finances were still in the red, Maurizio was blamed for spending extravagant amounts of money on the company's headquarters in Florence and in Milan. Investcorp bought the remaining 50% of Guccio Gucci S.p.A. from Maurizio in 1993, ending the family involvement in the group.
7. Dawn Mello was responsible for putting Gucci back on tracks
The 1980s were characterized by a mass-production of Gucci products, which generated revenue but negatively affected Gucci's position as an exclusive luxury brand. Dawn Mello was hired in November 1989 as Gucci's executive vice president and chief designer. She reduced the number of stores from more than a 1,000 to 180 in a move to rebuild the brand's exclusivity. Dawn also reduced the number of items sold by Gucci from 22,000 to 7,000. She revived the Bamboo bag and the Gucci loafer. Mello moved Gucci's headquarters back from Milan to Florence, where the history of Gucci is deeply rooted.
6. Gucci did a Porno Chic Revival in 1995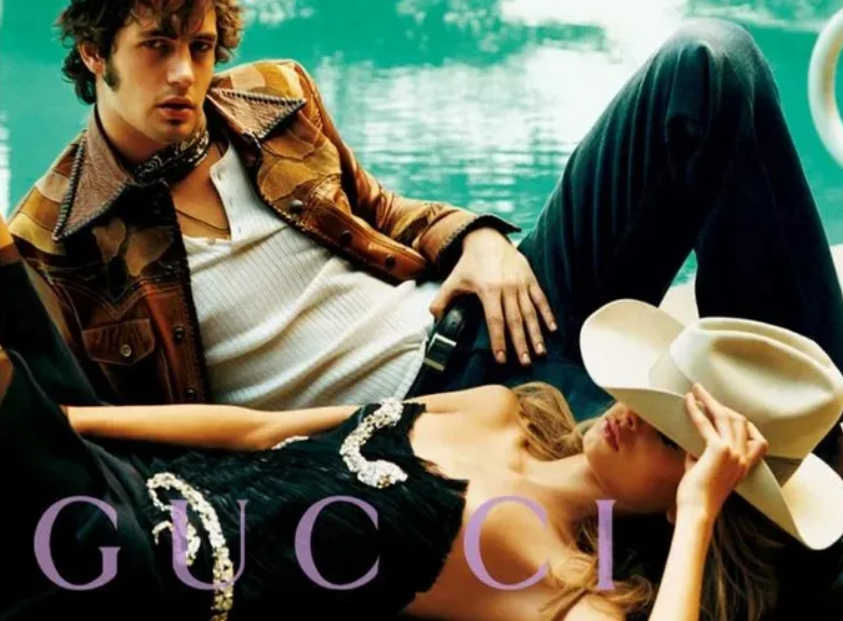 In 1994, Tom Ford was named creative director of Gucci. Ford and Mellow revisited the 1970s archives of the brand and Ford's 1995 collection, which included the sensual white dresses with provocative cut-outs, became an instant hit. Revived through the hot-bod hedonism of Tom Ford's creations, Gucci also launched provocative products in limited edition such as silver handcuffs, a G-string and provocative ad campaigns such as the G logo shaved on pubic hair.
5. The androgynous feel and geek-chic style are the hallmarks of the new Gucci
After the tremendous success of Gucci during the Tom Ford era, the salles started slumping again. In 2015 Alessandro Michele was appointed as the new creative director and he introduced "a different Gucci", one with a sophisticated, intellectual and androgynous feel. He revived Gucci classics like the double-G logo, the Jackie bag and created iconic products such as the Dionysus handbag. With a feminized menswear, a strong feminist stance and a 'geek-chic' style, Alessandro Michele introduced a postgender props for Gucci.
4. Gucci has a bookstore in New York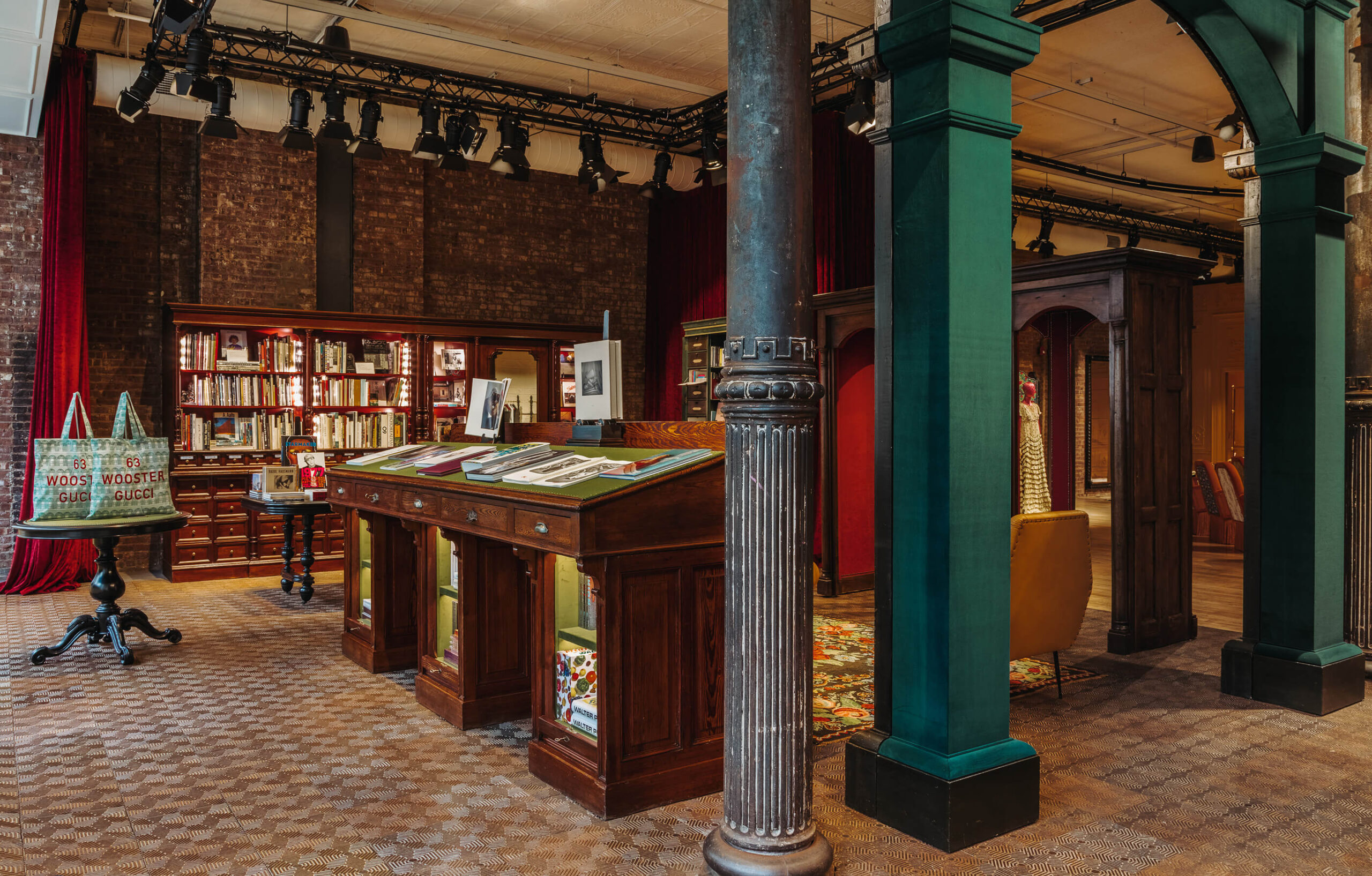 Recalling the spirit of New York's small independent bookstores, the Gucci Wooster Bookstore speaks to the truly literary souls of today. Among the carefully-selected 2000 titles are contemporary, used and rare books on fashion and lifestyle, youth culture, art, interiors and architecture, illustration, design, and photography. Located on SOHO this is an amazing place to stop by on your next visit to the city.
3. Gucci has two restaurants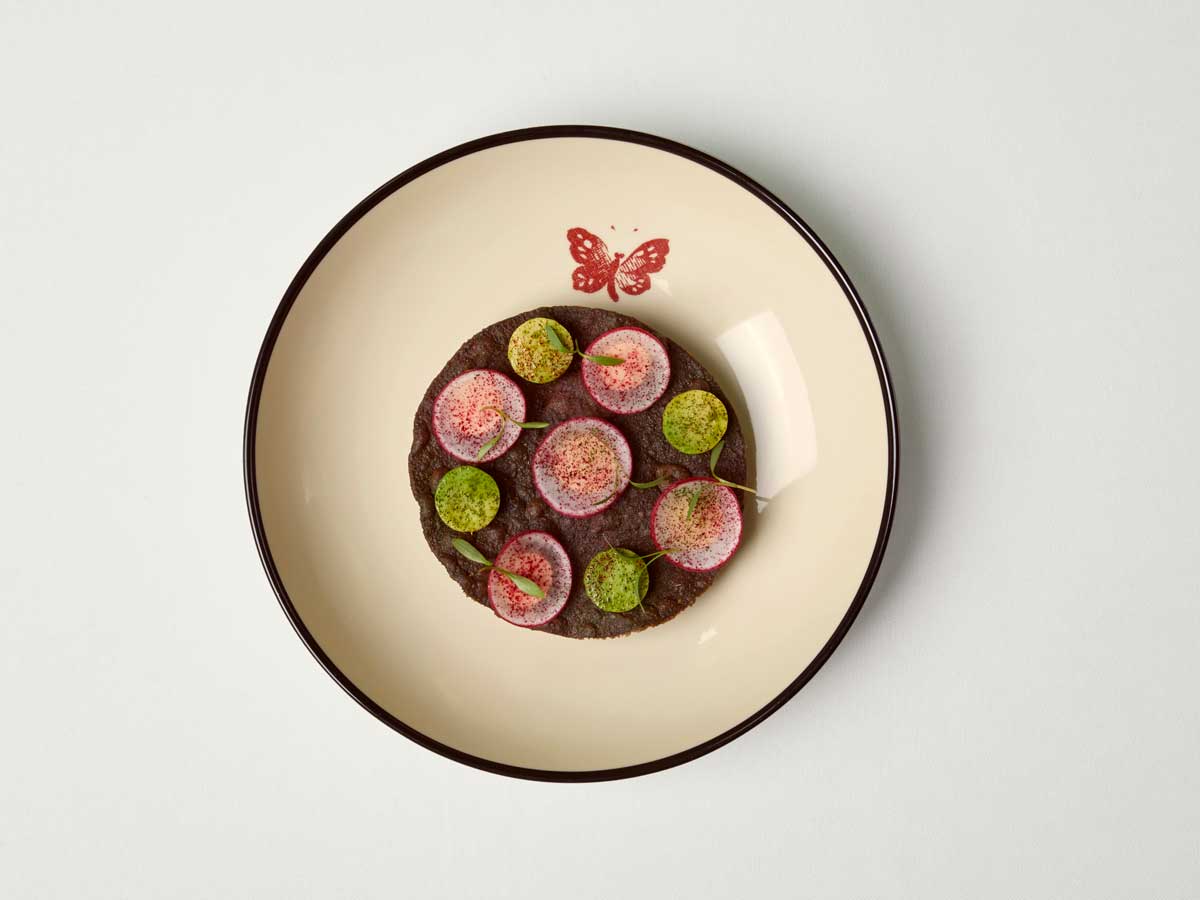 One located in Beverly Hills and the other in Florence, the Gucci Osteria da Massimo Bottura is the perfect combination of fashion and food. The idea of the restaurant was born from the childhood friendship of the Gucci CEO Marco Bizzarri and the Italian chef Maximo Bottura. In 2019 the Osteria was awarded a Michelin star. The complete tasting menu with wine paring is 215 euros per person. Can you imagine a more luxurious restaurant to dine in? I'm already hungry.
2. The most expensive Gucci item ever sold was a belt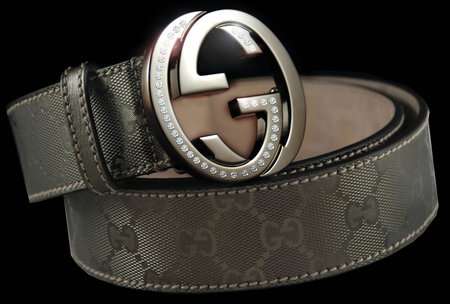 Gucci and Goldstriker International, the global leader in customized luxury goods and gifts, jointly created this Gucci Stuart Hughes belt, which is the most expensive Gucci item in the world, with a value of up to 250,000 USD. The belt contains 30 carats of flawless diamonds set in the pure platinum Gucci logo.
1. Gucci is under a new creative direction
After the departure of former creative director Alessandro Michelle, the new director is Sabato de Sarno. Sarno will present his first collection in September 23. I know I'm excited to see what Gucci will look like with the new creative director!