Welcome to our list of 4 Ferragamo Bags that Are Worth Collecting!
In 1927 Salvatore Ferragamo opened his first company, focusing on the study, creation, manufacture and sale of ladies' footwear. In 1938 he opened Ferragamo stores in Florence, Rome and London. The unique, exclusive design which has always distinguished the brand is obtained by combining style, creativity and innovation with the quality and craftsmanship typical of Italian-made goods. This is a brand with a quiet and luxurious style that is worth investing in. Ferragamo bags are some of the most chic and sophisticated bags you will ever find. From old-Hollywood starts to royalty Ferragamo bags are favorites of elegant women around the world. Here I'll show you 5 Ferragamo bags that are worth adding to your collection. If you like the quiet luxury and old money style, this video is for you!
So, without further ado here are 4 Ferragamo Bags that Are Worth Collecting:
1. Ferragamo Iconic Top Handle Bag
The Gancini is the signature Ferragamo horse shoe logo, it appeared on a handbag for the first time in 1969. Made in Italy from smooth leather, this refined bag is crafted for an elegant silhouette. It opens to a spacious interior with three compartments to make organizing essentials easy. You can attach the shoulder strap to wear it cross-body when running errands. The Iconic Top Handle bag is a re-release of one of the Ferragamo brand's best-known styles and it embodies the many facets of the female essence, starting from the wide range of colors and materials available. Its extremely versatile size makes it the perfect companion for any occasion. Yes, the Gancini is a logo, but it is still quiet and, for the untrained eye, not immediately recognizable. Modern, practical and feminine, this elegant compact top handle has become an icon of the mason. 
A true symbol of the Ferragamo style, this bag is as unique as the woman who owns it.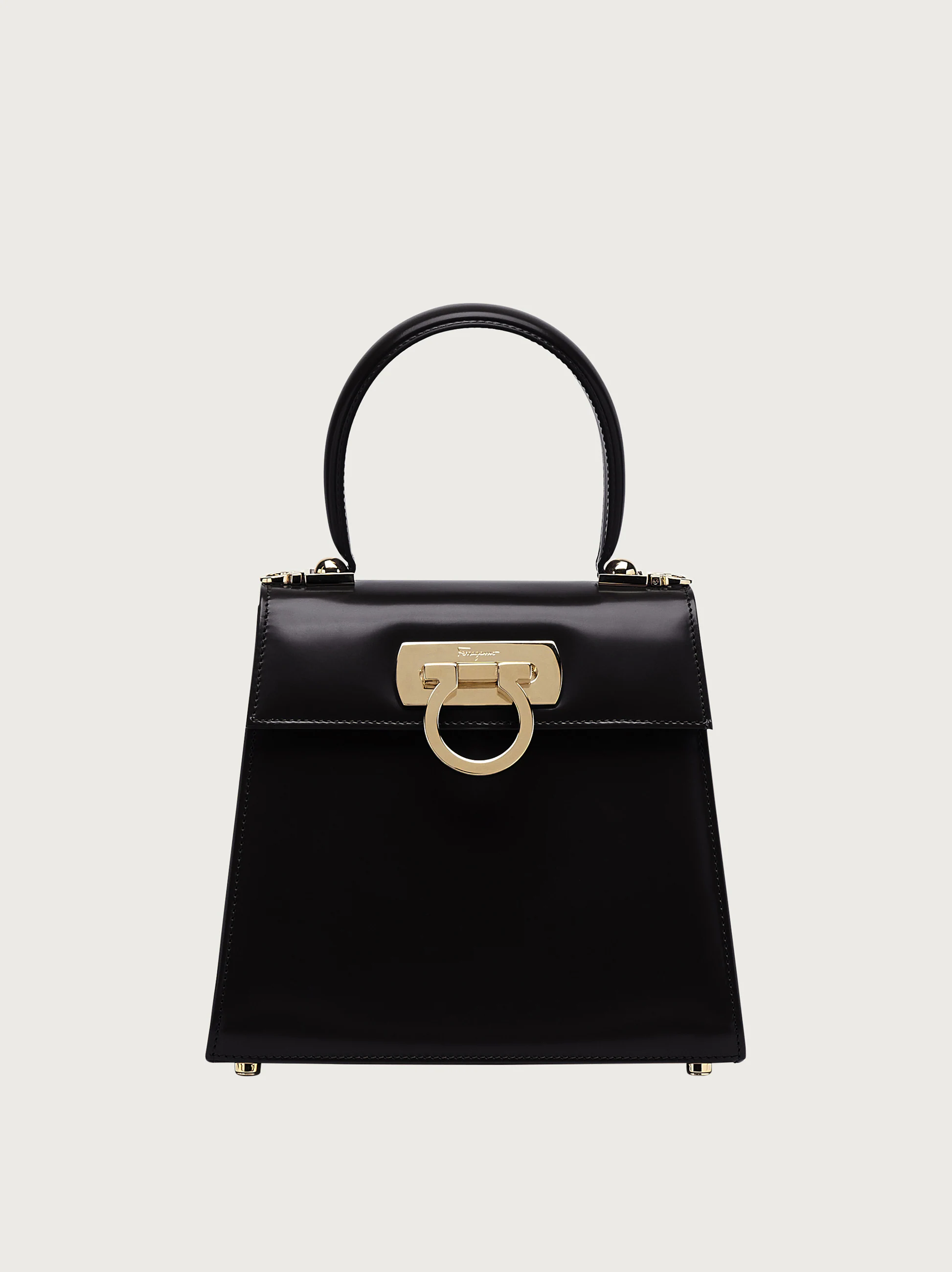 2. Ferragamo Studio Bag
An emblem of style and elegance, the ultra-versatile Ferragamo Studio Bag is destined for long lasting success. A modern and sophisticated design with iconic details tailored for the woman seeking a contemporary and minimal aesthetic. Launched in 2018 the Ferragamo Studio Bag celebrates the founder's first studio. Made of natural-grain calfskin, this small-sized version features a front zip pocket, a large lined interior compartment and a practical removable pouch. The metal closure with Gancini buckle and the studded bottom make it unique and original.
This is a classic style of the brand that in my opinion is the perfect work bag.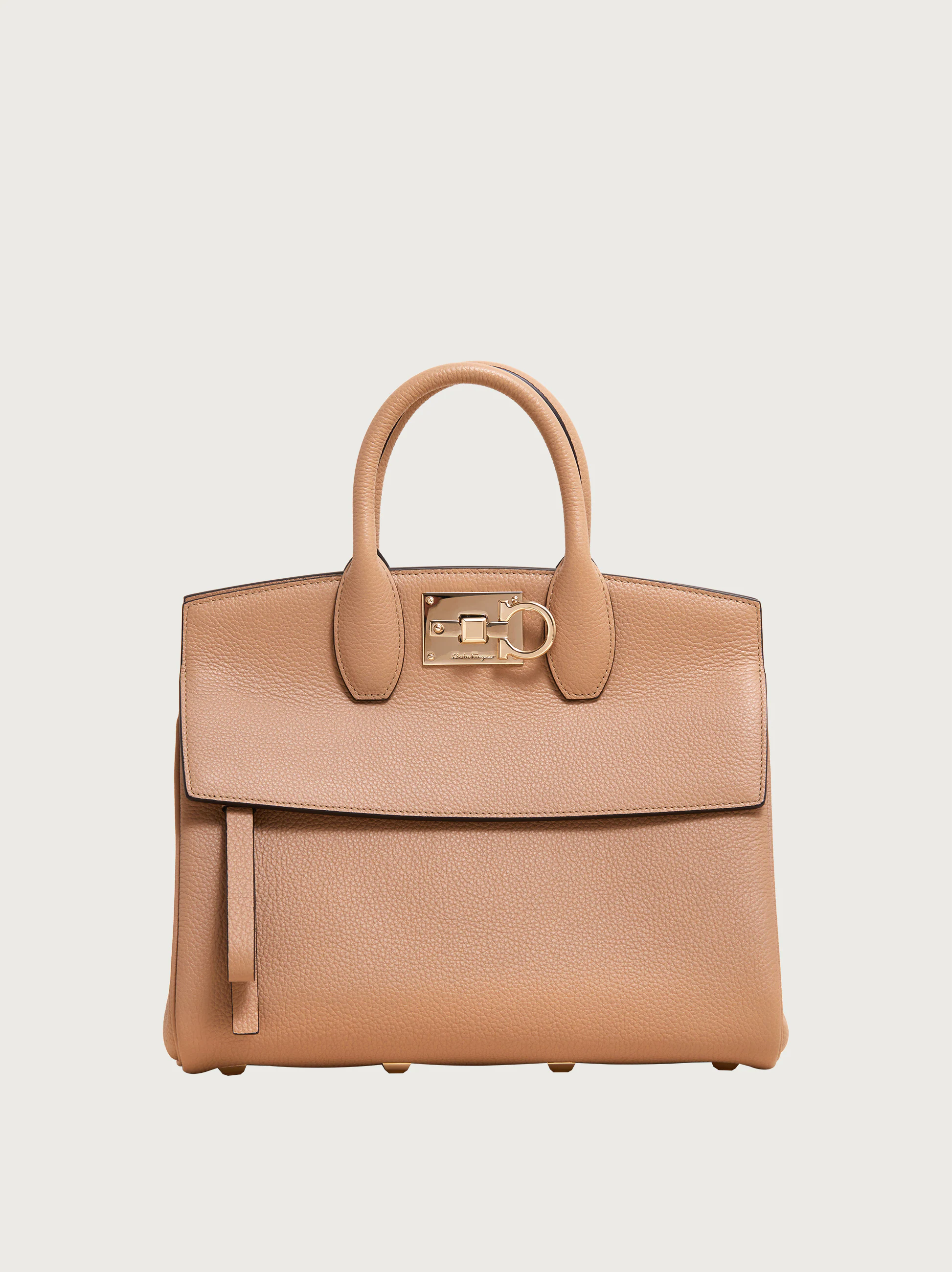 3. Ferragamo Trifolio Bag
The Trifolio line epitomizes minimal aesthetics with a feminine twist. Its clean silhouette blossoms into a number of styles for different occasions: from top handles to shoulder bags, totes and mini bags, there is a Trifolio bag for every taste. The shoulder bag member of the Trifolio collection is the accessory you need to elevate your outfits. Elegant and versatile, a real contemporary statement coming in three different sizes to cover every eventuality, from office attire to fancy night-outs without compromising on style. Boasting the iconic Gancio closure and fine leather, the Trifolio top handle is designed for the modern woman living life to the fullest. Perfect for everyday wear, in colorful or basic shades, this top handle is truly a staple.
No matter which Trifolio bag you choose, they will add sophistication and a timeless allure to any outfit.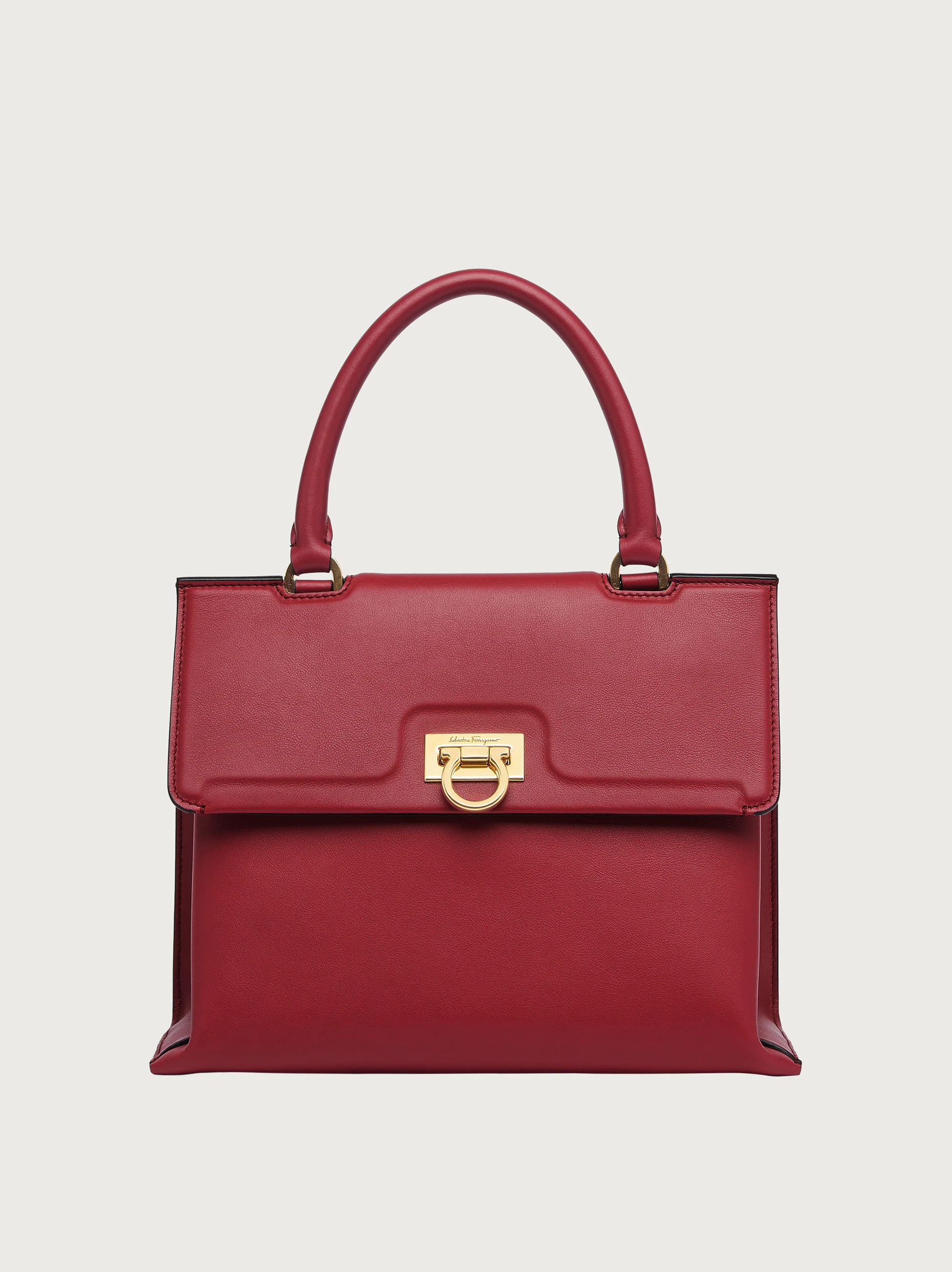 4. Ferragamo Cage Bag
For Spring/Summer 2022, Ferragamo introduced a fun, creative twist on the classic bucket bag, with a modern Ferragamo flair. The bag is inspired by the Kima Sandal which was created by Salvatore Ferragamo himself in 1951. This fresh iteration is lit up in intense seasonal hues and the eye-catching structure is something to behold. Made of smooth, Italian calf leather, it is composed of an outer cage with a soft leather drawstring pouch inside. The geometric studs, leather straps and shoulder strap add practical movement to this unique piece. 
The removable pouch can be swapped for other shades for a mix and match styling detail.