Welcome to our list of 6 Loewe Bags That Are Worth the Investment!
Loewe is one of the world's oldest luxury houses, founded in 1846 in Spain, and today under the creative direction of Jonathan Anderson. Loewe is defined by an obsessive focus on craft and unmatched expertise with leather, dating back to its beginnings as a leathermaking collective. In recent years we have seen their popularity grow exponentially. The new youthful and effortless cool vibe of the brand is what has been attracting the millennial and gen z crowd. But all that is still done with impeccable Spanish craftsmanship and materials. A lot of people are confused by the name of the brand, Loewe is a Spanish brand with a German name, so the pronunciation can be difficult. The correct way is Loewe with a v.
Here I'll show you 6 classic Loewe bags you will love all your life. They will never go out if style!
So, without further ado here are 6 Loewe Bags That Are Worth the Investment:
1. Loewe Basket Bag
This bag is made with a technique used for generations using palm fronds that are grown in Morocco and then cut using a specially-designed sickle before being dried in the sun for one month. The Loewe Basket is an elevated take on the humble woven palm-leaf market bag, that showcases craftmanship and natural materials. Yet the real beauty of this bag lies in its embrace of good design, Anderson didn't invent the wheel here, he just added a classic basket bag to the Loewe repertoire, if it ain't broke, don't fix it. Loewe's basket bag does everything it should, and best of all, it comes in a variety of colors and sizes, so there is absolutely no reason not to wear it all year round. This is a classic and universal style; basket palm bags will forever be summer staples.
When compared to other palm totes from other luxury brands the Loewe Basket is cheaper and unlike other popular brands this one is handmade.
2. Loewe Puzzle Bag
Just about a year into his appointment, Anderson added a significant handbag to the Loewe repertoire, one that gave the skills of the label's craftspeople an especially fine showcase. Enter the Puzzle bag, which was first seen at the men's spring 2015 show in Paris; at Anderson's Loewe, handbags are for everyone. Like all Loewe bags, the Puzzle is handcrafted in Madrid, with approximately nine pieces of leather precisely patchworked together, the process takes an estimated nine hours. Available in calfskin, pebbled calfskin, and goatskin in regular, small, mini, and nano sizes, the bag didn't take long before turning up on all the chicest influencers and culture-makers.
Recently Anderson reveled the Puzzle Hobo bag which is a soft and supple short shoulder bag made in nappa calfskin inspired by the cuboid shape and distinctive geometric lines of the Puzzle bag. The Puzzle has become a Loewe icon! With its innovative cuboid shape, volume is created through precise cutting so the Puzzle bag can be worn in different ways, from shoulder bag to clutch and it folds completely until it's flat.
This is that rare kind of bag that combines classic styles with modernity and will not go out of style!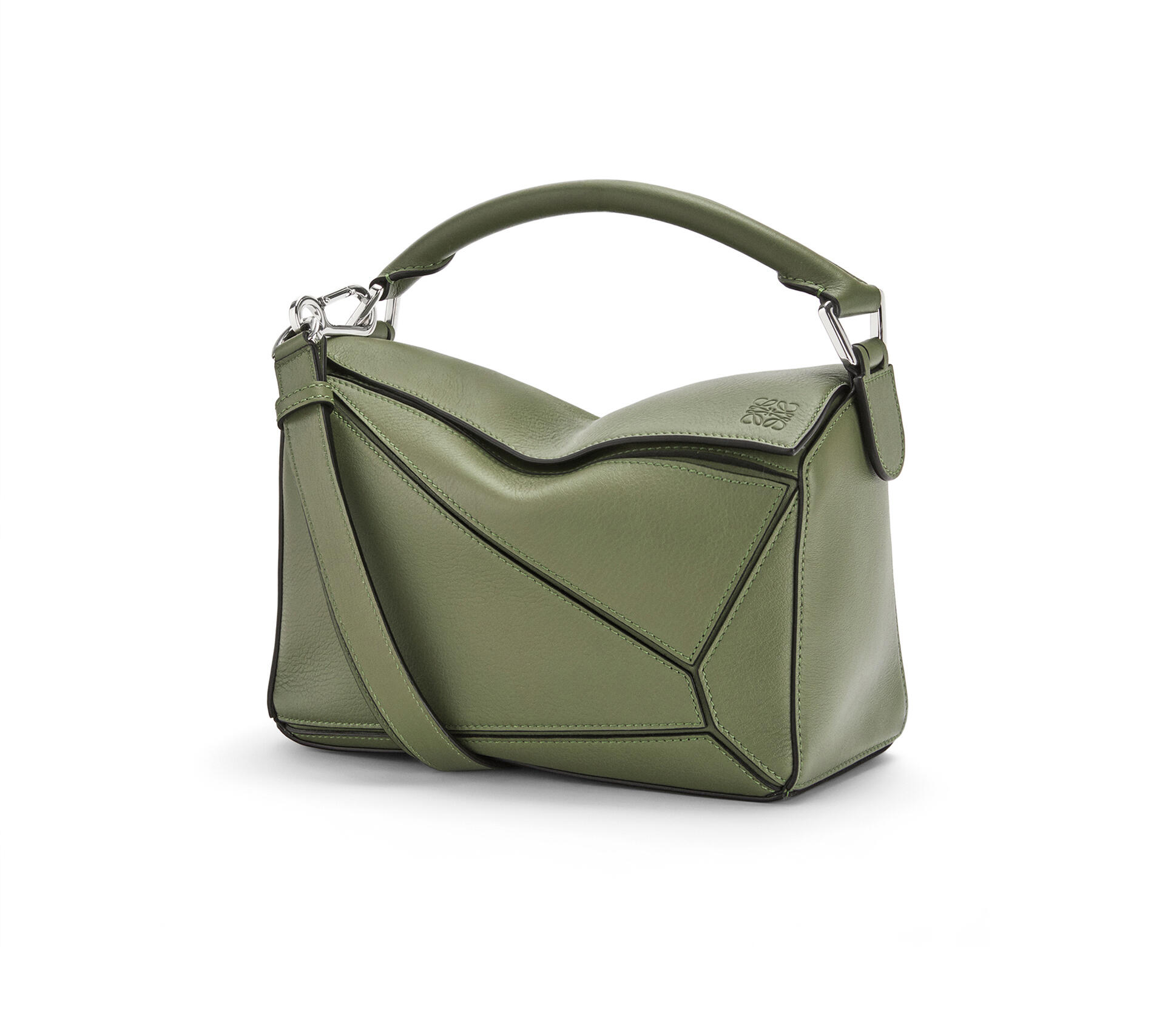 3. Loewe Amazona
Though its two top handles and elegantly rectangular frame are reminiscent of a doctor's bag, the Amazona was envisioned as an accessory to accompany the booming female workforce to the office in the 1970s. Its simple construction is designed both to exhibit the materials and craftsmanship of the bag and to reiterate that the Loewe woman meant business. In the corner of the bag, you'll find an embossed Loewe logo, plus a fully functioning mini-padlock and key. To celebrate the 175th anniversary of the fashion house, Anderson launched a campaign lensed by Juergen Teller where the Amazona returns with a message of independence and inclusivity.
Pragmatic and versatile, the new Amazona's reworked dimensions are designed with today's devices in mind and crafted in Loewe's Spanish atelier using the latest advances in leather craft.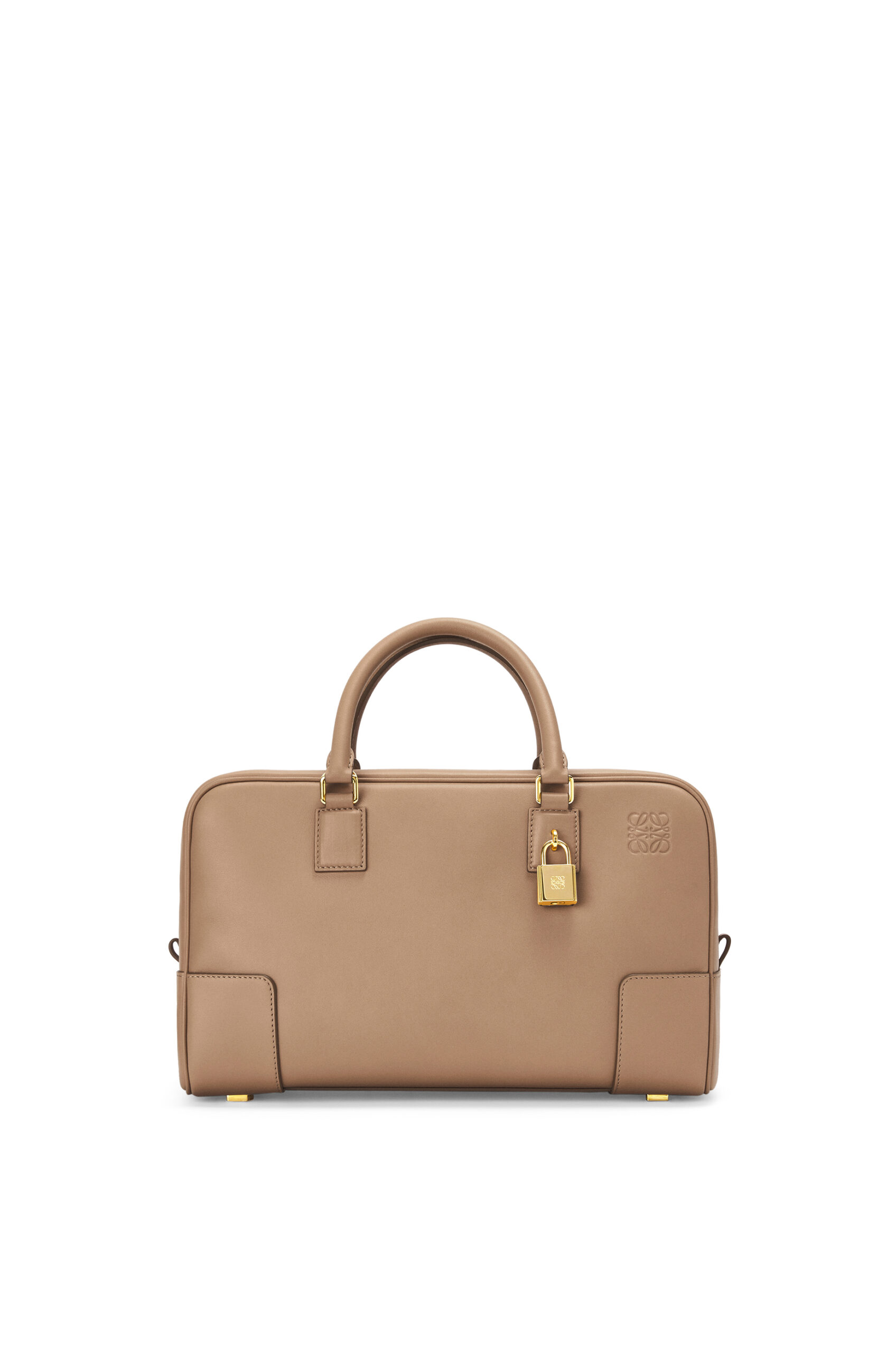 4. Loewe Flamenco
Originally designed in the 1970's the Flamenco bag was relaunched in 2010 by then creative director Stuart Vevers and since then has become one of the most iconic styles of the house. In 2020 Jonathan Anderson redesigned this bag once again, this time as a clutch with a detachable shoulder strap which allows it to be worn crossbody or hand carried. It comes in 3 sizes and several colorways. The Flamenco is a super lightweight slouchy bucket bag that comes in super soft nappa leather with an embossed Loewe anagram and playful knots on each end of the drawstring. This bag is elegant and stylish, is minimalist but still more interesting than an average bag.
The first version of this bag was launched in 1970 so it is safe to say this one transcends trends.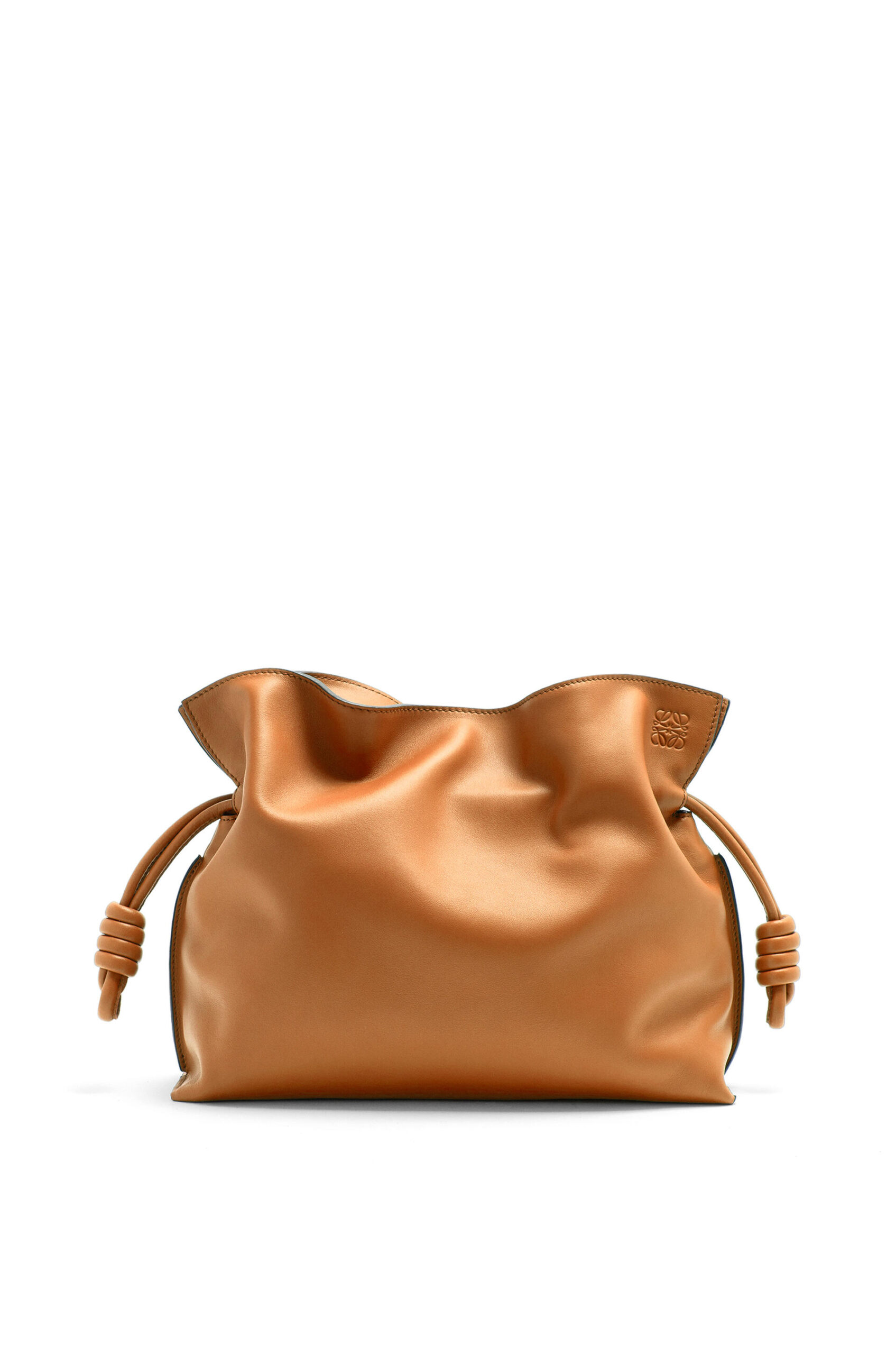 5. Loewe Gate Bag
This saddle-shaped handbag first appeared on the Loewe's spring 2018 runway and it was instantly popular. Dubbed the Gate because a metallic hinge keeps the leather latch in place, the bag is beloved for its quiet brilliance. It's no look-at-me bag, it is quiet luxury at its finest and it showcases that incredible Loewe craftsmanship I keep telling you.
This is a perfect everyday bag and can be worn over the shoulder or crossbody.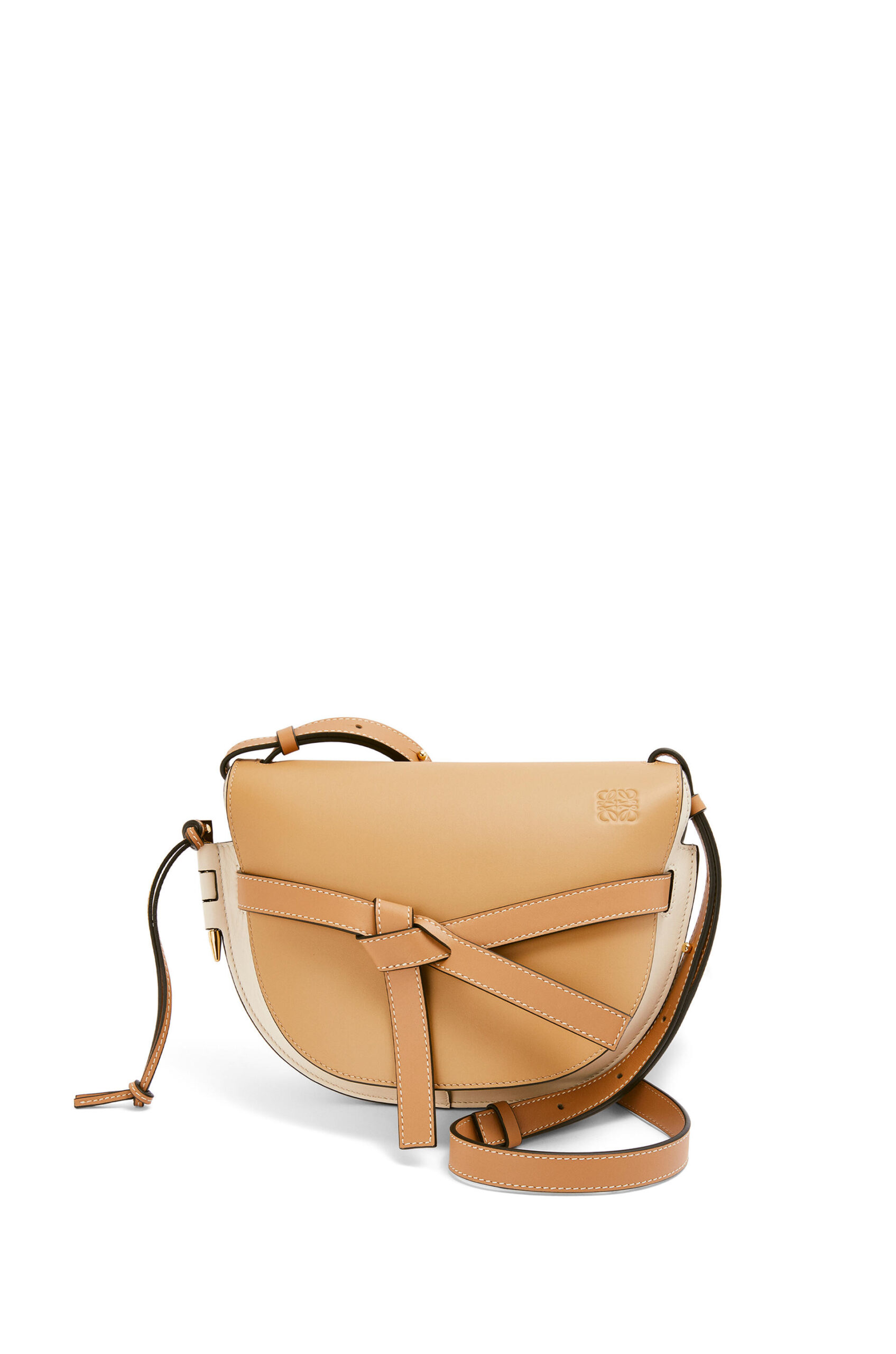 6. Loewe Goya
The ultimate expression of fine craftsmanship, the Goya bag is the latest shape to join the LOEWE family. Handcrafted in exquisite materials that demonstrate Loewe's unrivalled savoir-faire, the Goya's compact structured shape is finished with a graphic simplicity and features an intricate Anagram closure and adjustable shoulder strap. Arriving in two sizes—small and medium—the Goya is available in an array of vibrant colorways including warm desert, avocado green, cyan, deep red and yellow. Meticulously handcrafted in silk calfskin leather and lined with soft nappa lambskin, the Goya is made at the Loewe Madrid atelier. With its timeless design and clean finish, the Goya is a versatile investment piece for any style: wear it over the shoulder, crossbody or as a clutch to create modern, innovative looks.
You have to agree with me, this is a classic style you will be wearing for many years to come!