Welcome to our list of the 7 Ways Princess Diana Influenced Fashion!
Lady Diana is perhaps the most influential fashion icon of the 90's! Her style remains an inspiration for women all around the world. Her story is one of evolution and reinvention, something we can all take notes from.
Her History:
Diana became a public figure in the 1980's when in 1981 she married Prince Charles at St. Paul's Cathedral. Diana's wedding dress, designed by Elizabeth and David Emanuel, was a fairy-tale fantasy that showcased traditional English craftwork. The dress became one of the most famous wedding dresses in the world! The twenty-five-foot train added a touch of theatricality that would create an enduring image of the event, which was watched on live television by more than one billion people worldwide. From that moment she became a public person, being photographed every where she went, and thus Diana's passion for clothes and fashion became a requirement of her new public life.
As one of the most important members of the British royal family, her wardrobe requirements were fixed in a world that required ball gowns and matching hats, shoes, and handbags, items that were not typical of mainstream fashion for young women in the early 1980s. In the beginning of her marriage she had a more traditional style, one that fit the royal requirements. But with time she became bolder with her choices and her partnership with British designer, Catherine Walker started. With Walker they developed a younger style that was elegant and more her own.
But only after Princess Diana's separation in 1992 and her divorce in 1996, her style reached its peak! Who doesn't remember the revenge dress? The one she wore the night Prince Charles announced his affair with Camila Parker-Bowles?
In the 90's with her new found freedom Diana experimented with fashion in a way that truly represented her. Is during this time we saw her most iconic staples, like the oversized blazers and the cycling shorts.
So, without further ado here are the 7 Ways Princess Diana Influenced Fashion:
7. Normcore Allure
Normcore was a fashion trend characterized by unpretentious, average-looking clothing, like jeans, t-shirts, sweats, button-downs, and sneakers. Basically, anything that is considered normal. Is not that Diana had a normcore style, but she knew how to wear mundane clothing items like sweatshirts and baseball caps in a way that was stylish and remarkable. Look at this outfit for example: western boots, jeans, a charity sweater, a mannish blazer and a cap: it shouldn't work but it does.
Lady Diana was an expert at taking ordinary looking clothes and making them stylish. And we can definitely see the influence this still has on today's fashion.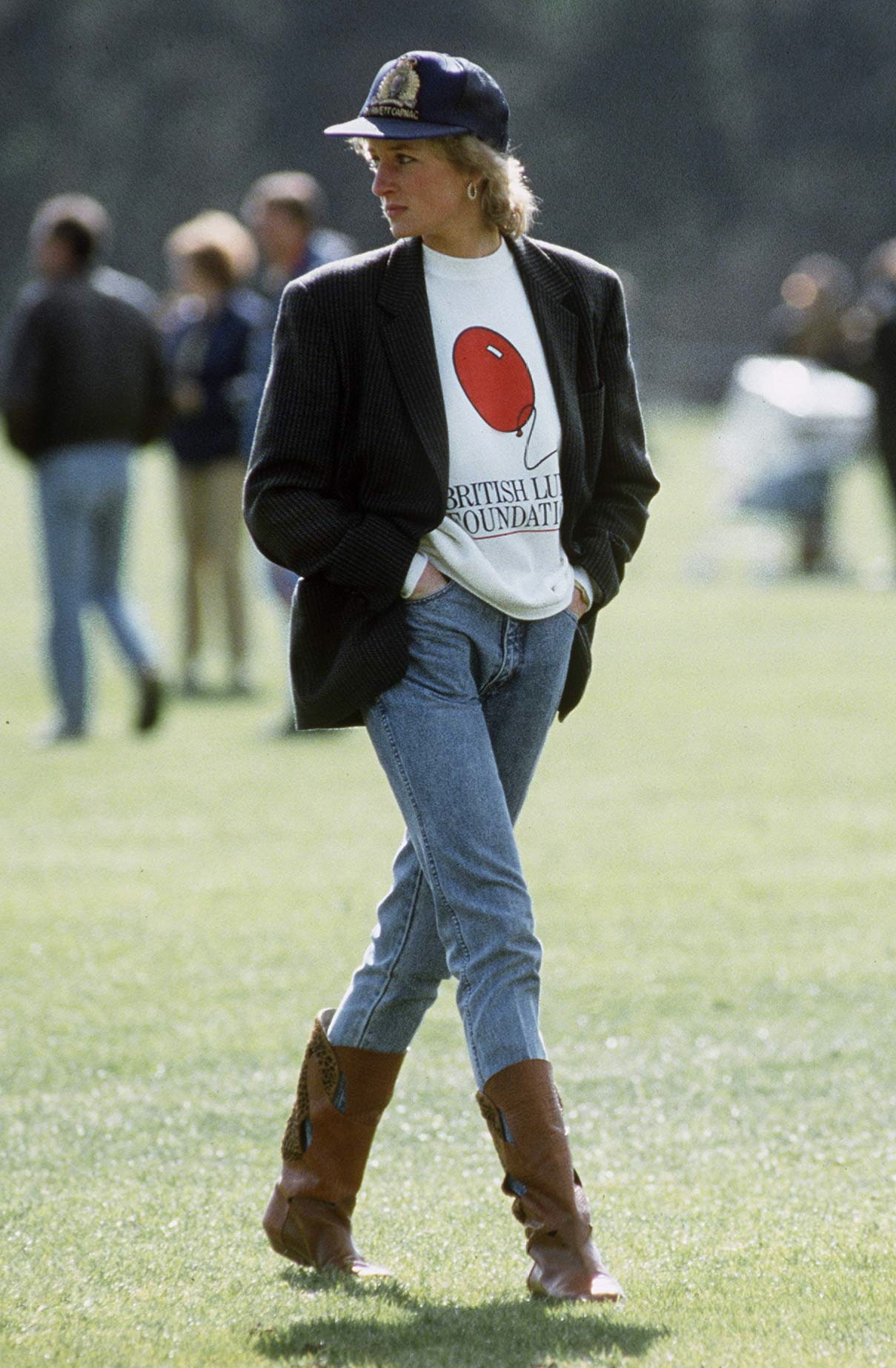 6. Gucci Diana
A bag that until this day is a symbol of her style and is still adored by many. Synonymous with Lady Di's style in the early '90s, when the paparazzi fawned over her leaving the gym wearing collegiate sweaters and cycling shorts, the capacious holdall came to evoke her personal freedom. As she distanced herself from the royal family, Diana became bolder with her fashion choices. Reflective of its era, a bamboo handle tote was first presented by the House in 1991. 
Speaking to the narrative of evolution and reinvention that runs through Gucci's designs, the bag was recently reimagined by Alessandro Michele in three different sizes. It comes with removable, neon leather belts —a nod to the functional bands that once came with the original bag to maintain the shape of the handles. The Gucci Diana represents the cycle of reinvention and being free to be who you are! Something the original poster girl for this bag would no doubt support.
With this bag Diana showed the world that she was her own person outside of the royal family. That's quite a statement bag, right?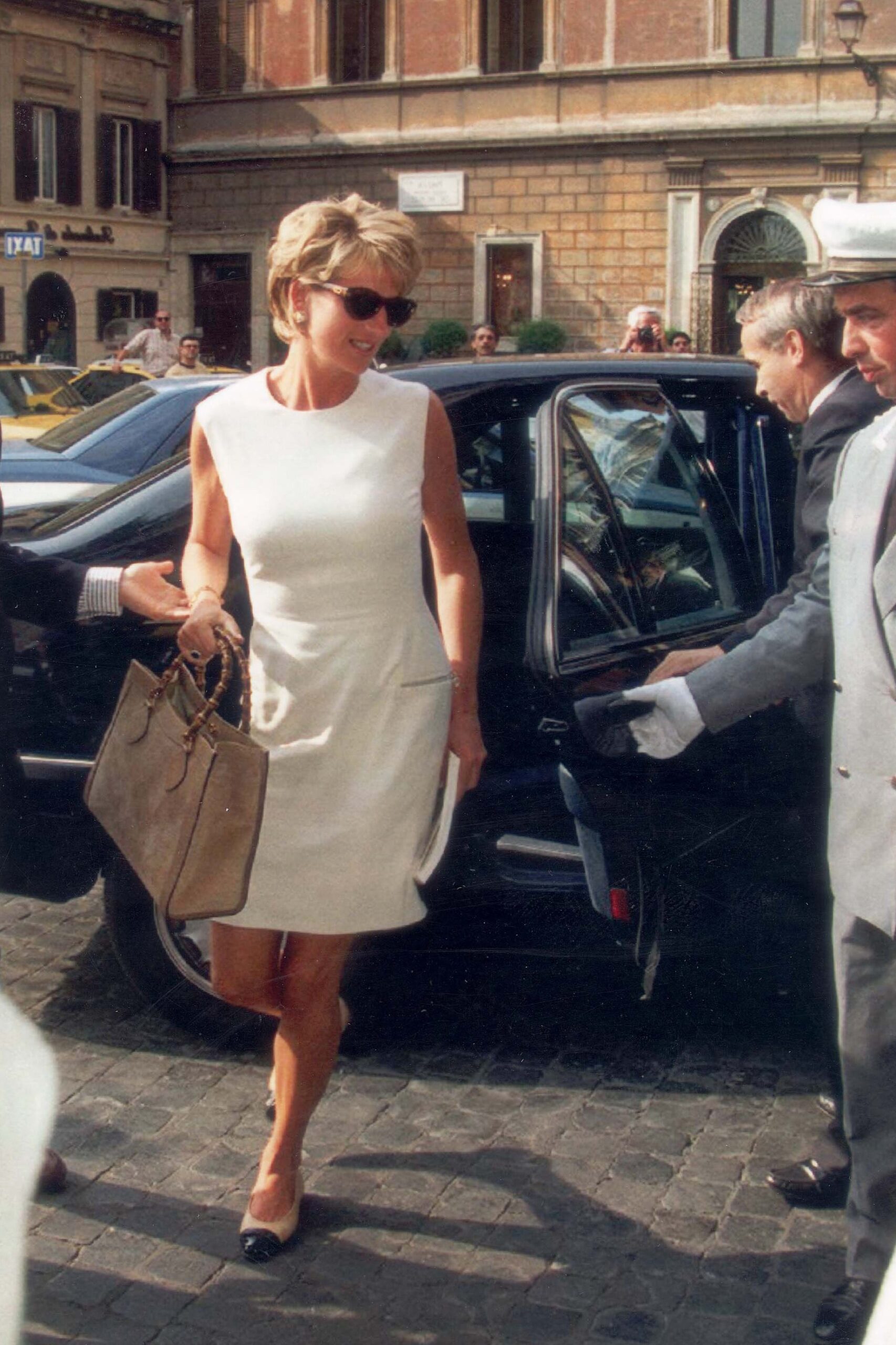 5. Sporty Look
Even when she went to the gym, Diana was the epitome of chic. Her cycling shorts and collegiate sweater looks are one of the most enduring trends she has ever launched. We see today many celebrities recreating her look, like Hailey Bieber in a shoot for Vogue Paris in 2019. But the sporty influence of Diana's looks was not limited to her gym clothes, she also brought it to her everyday style. Sporty-chic is a common theme in Diana's off-duty style and this varsity jacket nails it to a tee.
Bringing sporty elements to our everyday clothes is definitely not news in this day and age, but in the early 90's was definitely breaking the rules. So think about Lady Diana the next time you leave your house in a sweatshirt!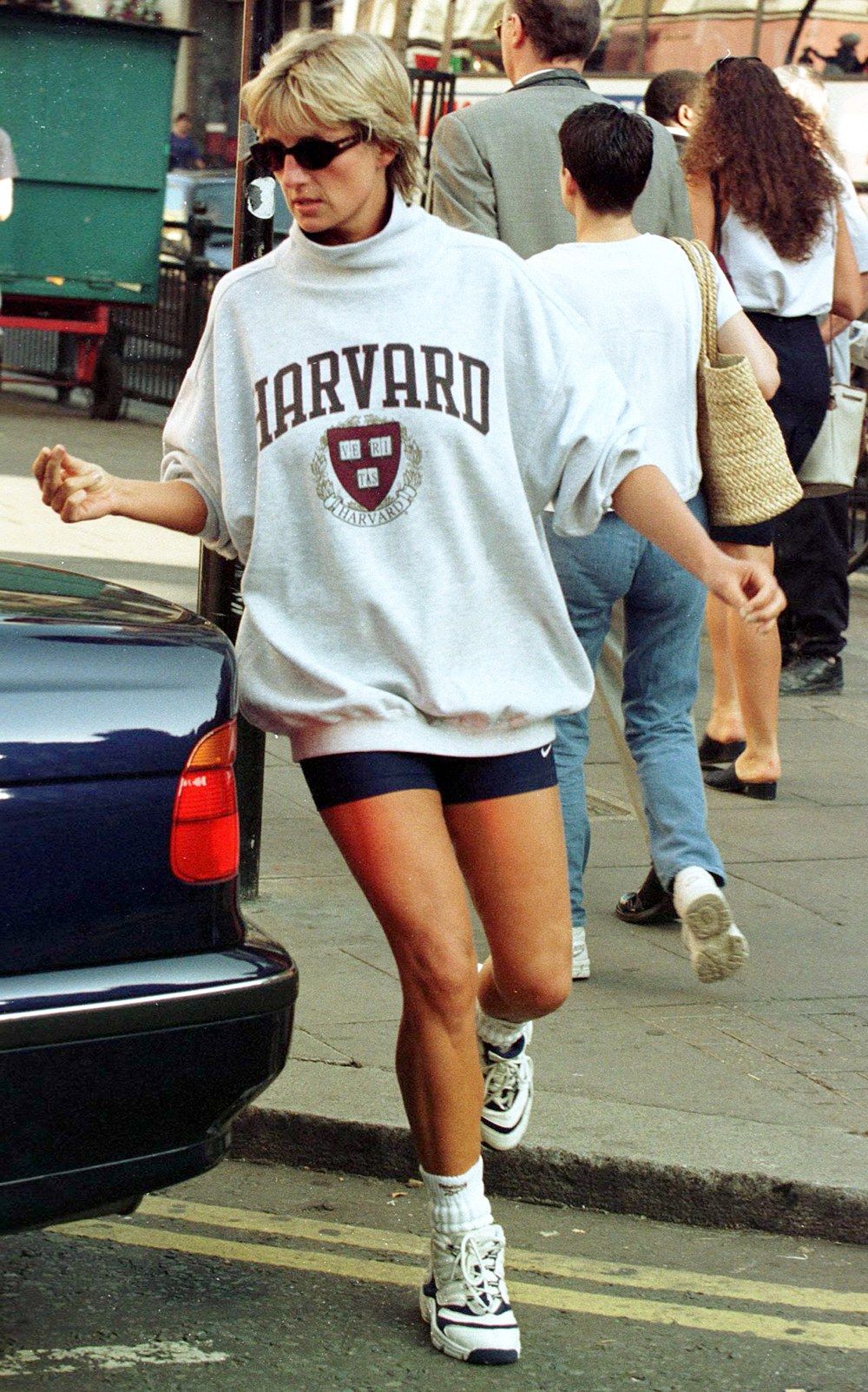 4. Preppy Look
Princess Diana is the epitome of preppy style. Whether in her looks for Polo matches or in a photoshoot on the steps of Highgrove, her preppy outfits are definitely worth taking note. In this shoot the Gingham pants Diana wore matching the hot pink sweater have become a classic. She also loved collars, she tested ruffles, frills and oversized models. Lady Di also loved nautical details, like this navy and white sweater by Roland Klein over a pleated skirt.
This was the style she used to display a chic and elegant image of herself while still feeling young and stylish.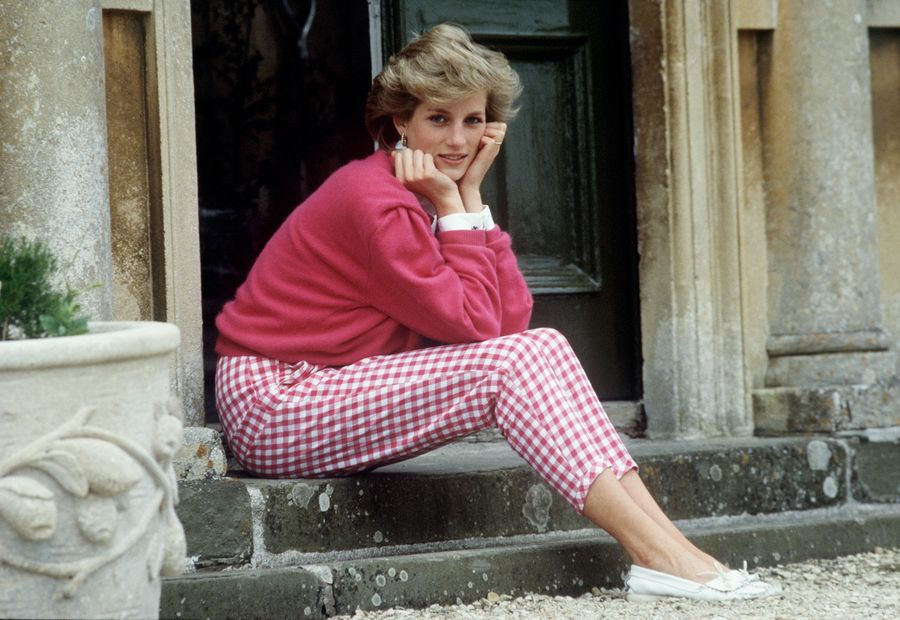 3. Blazers
For me at least, nothing represents Diana's style better than an oversized blazer. Bold, structured blazers were the mainstay of Diana's wardrobe. Her jackets added elegance to her outfits and continue to inspire women today. A good blazer has the power to change any outfit, and Princess Diana understood that.
Blazers have definitely become staples for women and paring one with jeans and a white shirt is the best way to channel your inner Princess Diana!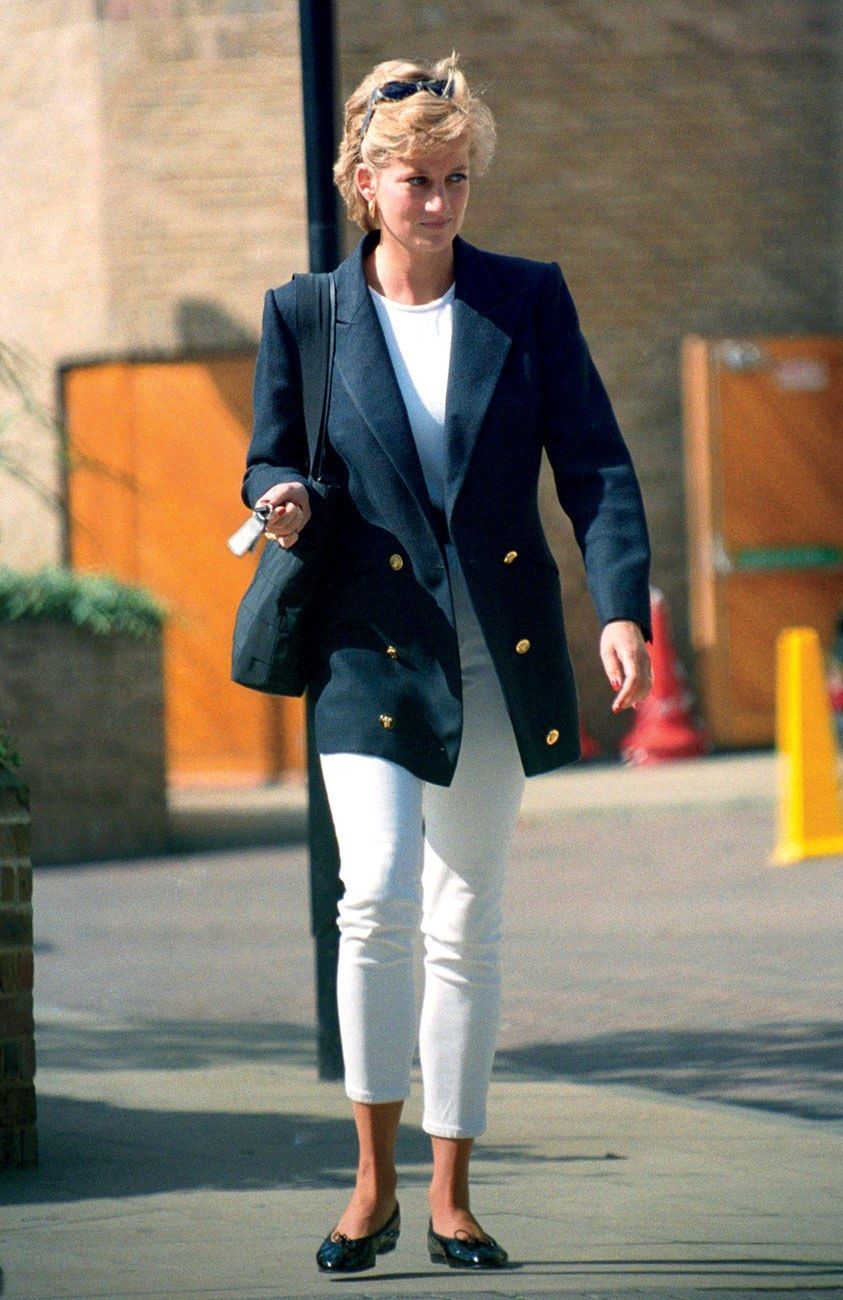 2. Lady Dior
One of the most classic bags ever, it is synonymous with her chic sense of style and with her name. In 1995, Bernadette Chirac former first lady of France contacted Christian Dior, explaining that she wished to gift the Princess of Wales a unique handbag upon her visit to Paris. The Maison created a beautiful structured black bag, unofficially named the Chouchou. It was presented to Lady Diana at the Cézanne exhibition at the Grand Palais. Shortly after, the Princess was photographed several times with the bag on her arm.
Described as "iconic" and "legendary", Dior launched the bag in a larger series and changed the name to the "Lady Dior" in 1996 with Princess Diana's blessing. Over the decades, the Lady Dior bag has been established as an enduring icon of the House. It's most notably distinguished by its structured shape, geometric Cannage topstitching and 'D.I.O.R.' charm.  
How amazing it would be to own Princess Diana's favorite bag?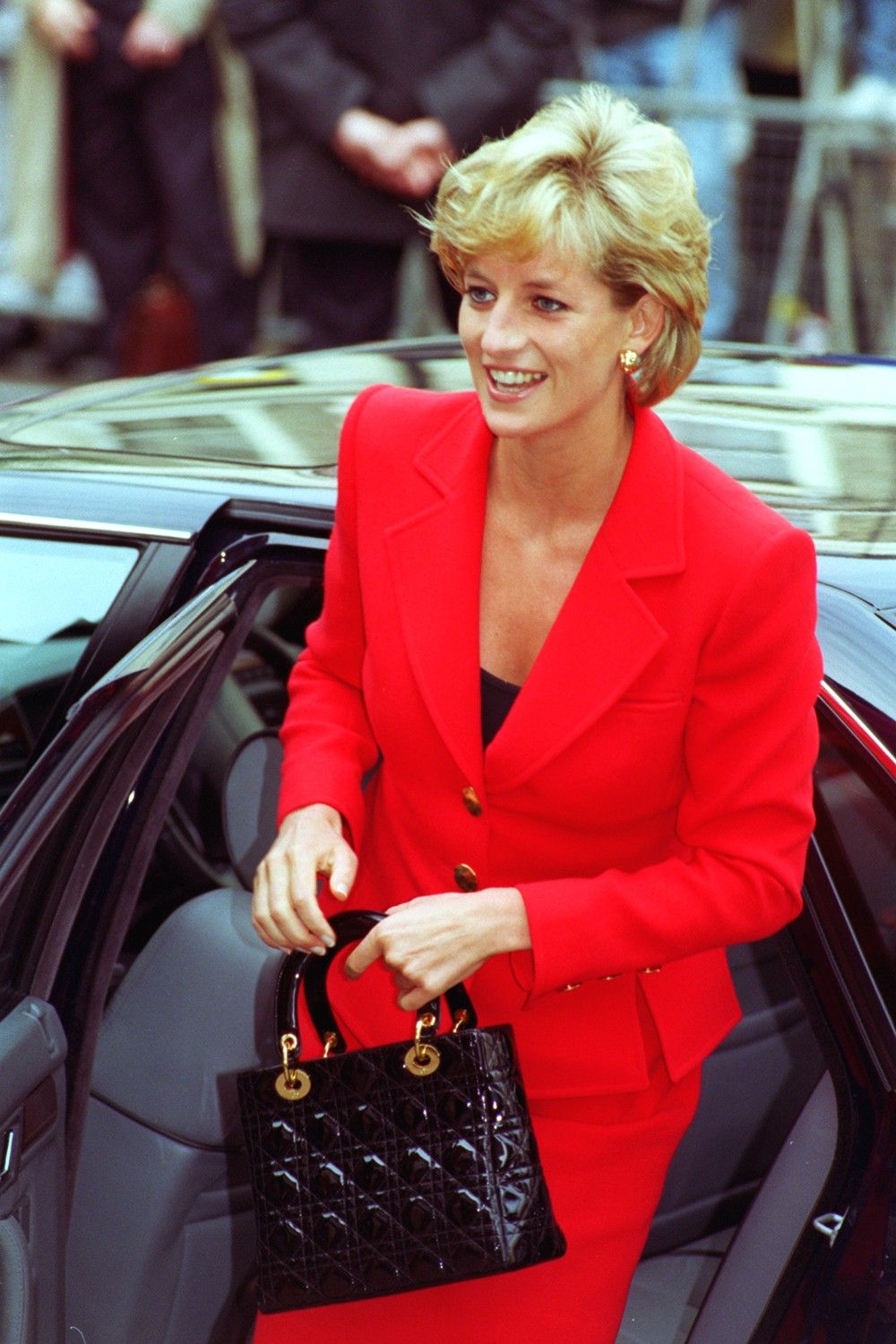 1. Hairstyle
When you think of Lady Diana chances are that the first thing that comes to mind is not the blazer or the Lady Dior, but rather her iconic hairstyle! Princess Diana has inspired many hair revolutions and even singlehandedly embodied the concept of the life-changing hairstyle. She entered the public life at nineteen with a youthful version of Farrah Fawcett's hair, that would become known as the "Lady Diana Cut".
In the 1980s, she oscillated between different iterations of her iconic look, varying in volume, and resorting to spectacular accessories such as rhinestone brooches, decorative flowers and, of course, diamond tiaras. Needless to say, she inspired hordes of women around the world to adopt shorter cuts with bangs swept to the side. But it was in the early 1990s that Princess Diana reached her peak, in more ways than one. 
When she meets hairstylist Sam McKnight, she asks him, "What would you do to my hair if you had carte blanche?" The hairdresser replied: "I would cut everything to start over." So it was. The princess ends up with a "pixie" cut at this exact moment. In the 2017 documentary Diana In Her Own Words, which features a series of interviews recorded by the princess herself, a friend asks her: "What are the key moments in your life that made you go from victim to victor? ? " She pauses, then responds, "I think last summer when Sam cut my hair, something quite different started."
Her hairdresser said: "The 'power of hair', not just for a celebrity or a member of the royal family, but for anyone, is undeniable."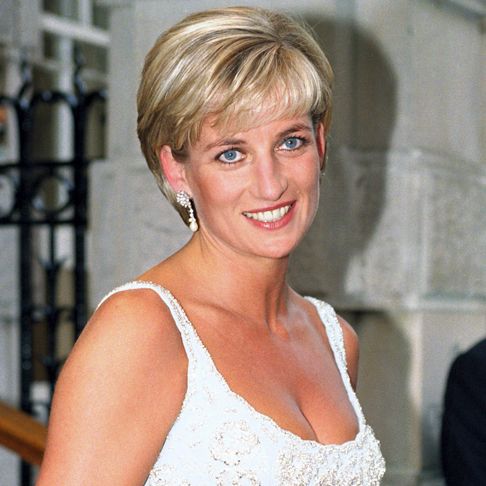 Hope you enjoyed my list of the 7 Ways Lady Diana Influenced Fashion! Make sure to check out my post about The Handbags Inspired by Lady Diana!