Welcome to our list of 8 Essential Jewelry Pieces Every Woman Needs!
There are a few staple pieces that belong in every woman's jewelry collection! Here I'll show you what these pieces are, they will always be in style.
So, without further ado here are 8 Essential Jewelry Pieces Every Woman Needs:
1. Stud Earrings
The first earring in any collection a stud earring is an essential jewelry piece every woman needs! They bring light to any ensemble and are appropriate to any occasion, from parties to work and even to the gym. There are many stud earrings you can choose, from diamonds to pearls, they are all classics.
These diamond stud earrings from Missoma will be staples in your life!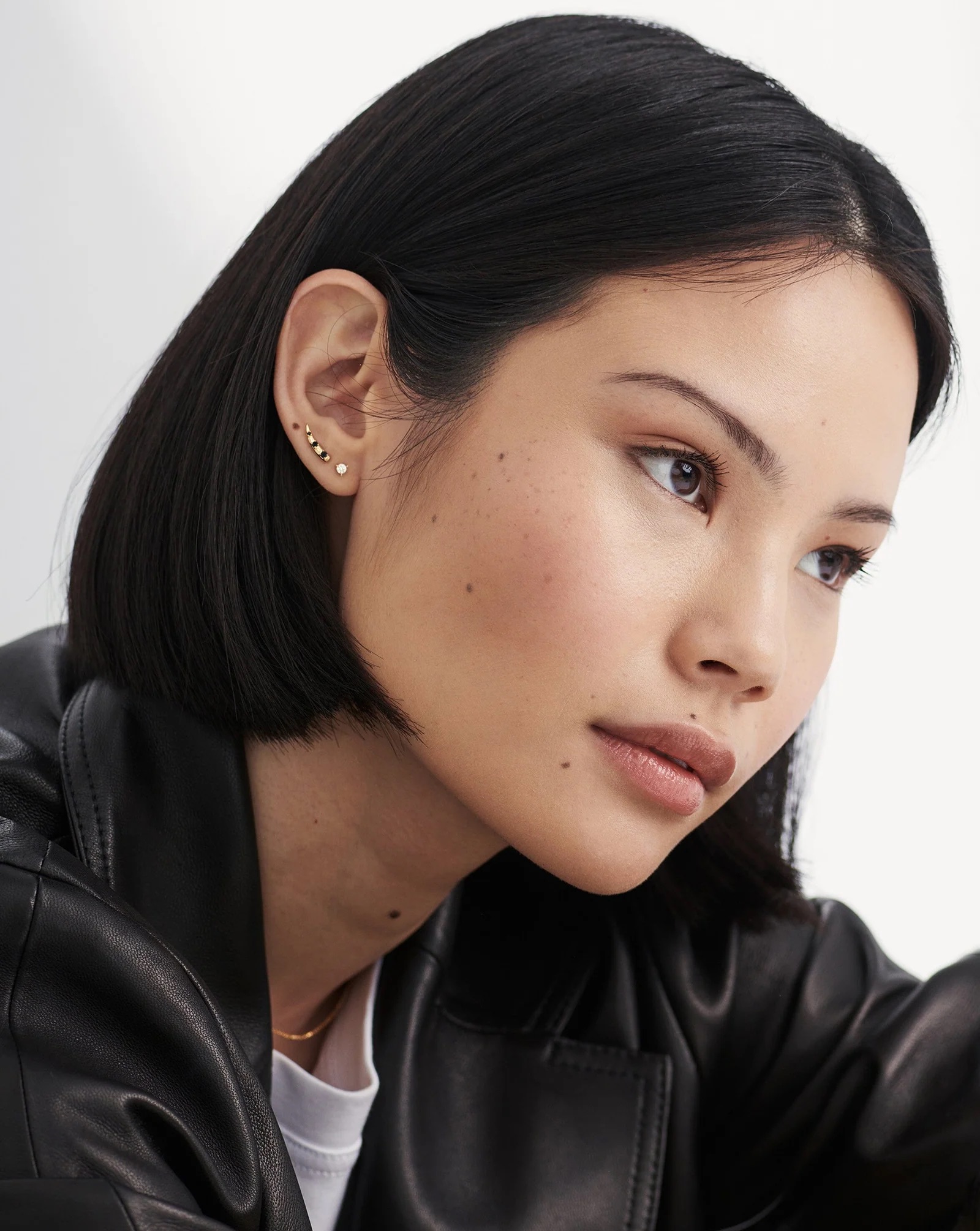 2. Chain necklace
One of the biggest jewelry trends of recent years, the chain necklace is here to stay. Chains work best when worn casually (layer two or three over a white T-shirt or tank top in summer) or to add interest to weighty knits in colder months. It also serves as the perfect industrial-chic counterpoint to ladylike looks. Chain necklaces are a modern piece of jewelry that is versatile, elegant and also fun. This is the perfect accessory to layer this spring, it will light up any look! A classic chain necklace is perhaps the most important piece of your jewelry capsule wardrobe!
This Missoma chain necklace will be a staple in your collection!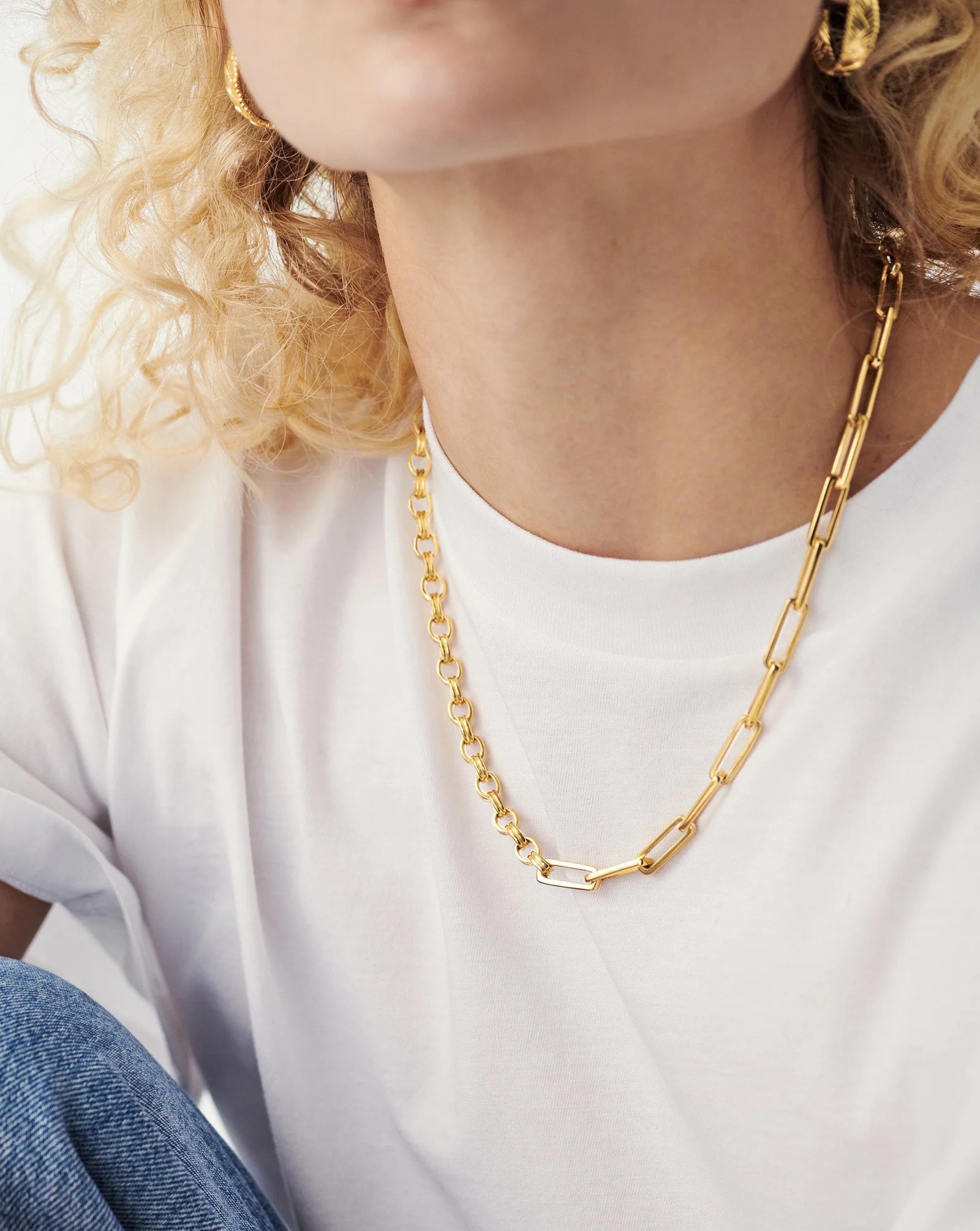 3. Timeless Watch
A watch is the ultimate everyday accessory; the finishing touch that makes any outfit complete. As a result, every self-respecting watch wardrobe should include a pared-back classic by an established brand that carries both style and horological cachet. Round dials are universally flattering, while square or rectangular dials are the epitome of elegance. A watch will always be a part of the ultimate jewelry capsule wardrobe, it is a chic staple for any occasion!
This Fossil wrist watch is chic, practical and you would be wearing all your life! 
4. Pendant Necklace
A pendant necklace is perhaps the most classic necklace of them all. Is the easiest way to wear something meaningful close to your heart, like birth stones for example! You can stack multiple pendant necklace or wear just one statement piece, they are easy to style and light up any look.
This Missoma stone pendant necklace is a must-have in any jewelry collection!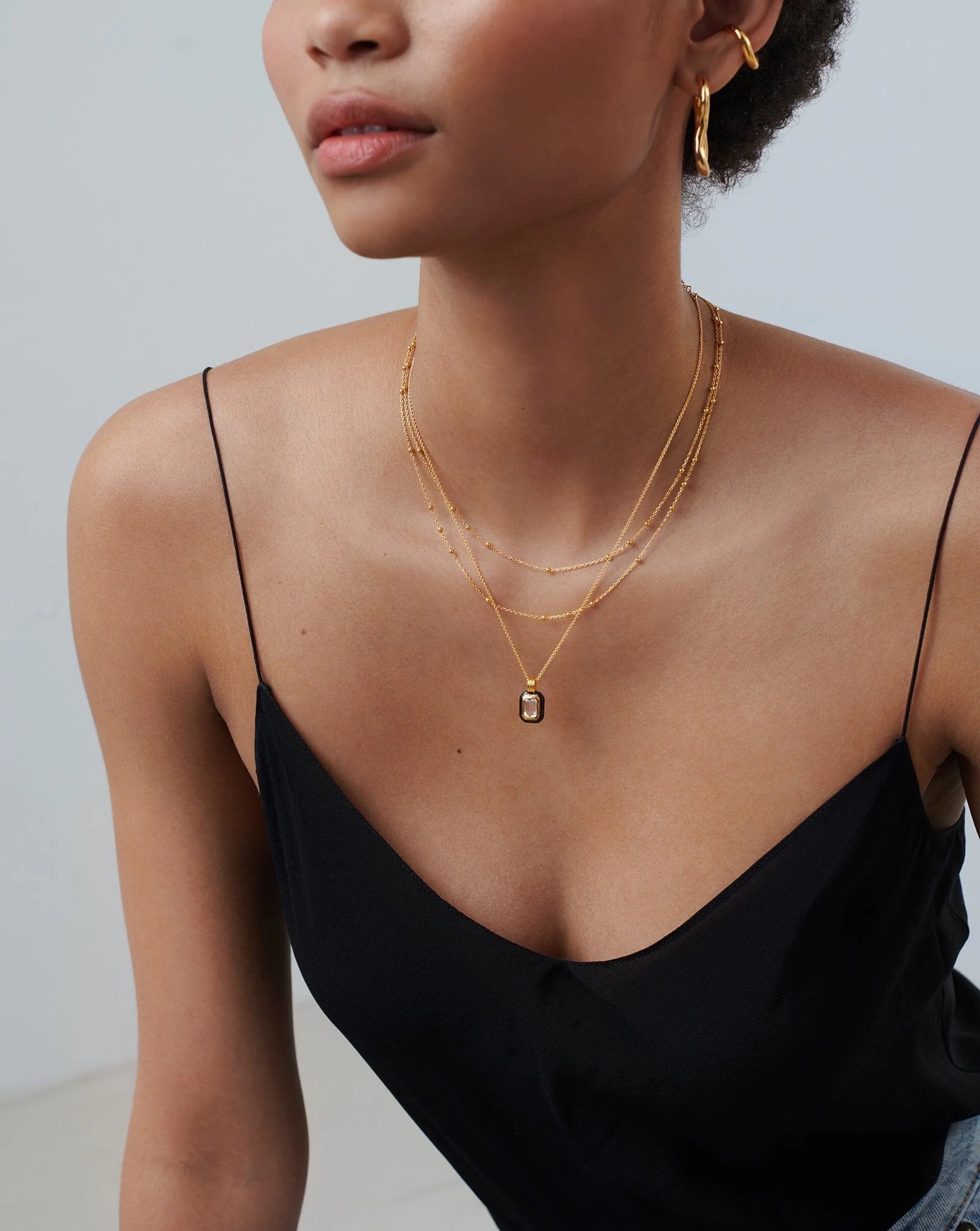 5. Tennis Bracelet
Diamond bracelets have been around since the 1920s, but they rose to fame thanks to tennis player Chris Evert, who wore one while rising through the professional ranks in the 1970s. The elegant simplicity of a row of diamonds is what makes this a hard-working piece; you can wear it to any occasion, from black-tie events to drinks with friends. Tennis bracelets are instantly recognizable and endlessly unforgettable. Nothing is more elegant than a tennis bracelet, is a piece you would be wearing on repeat!
A fun reinterpretation of the classic, this Roxanne Assoulin crystal tennis bracelet is an amazing option!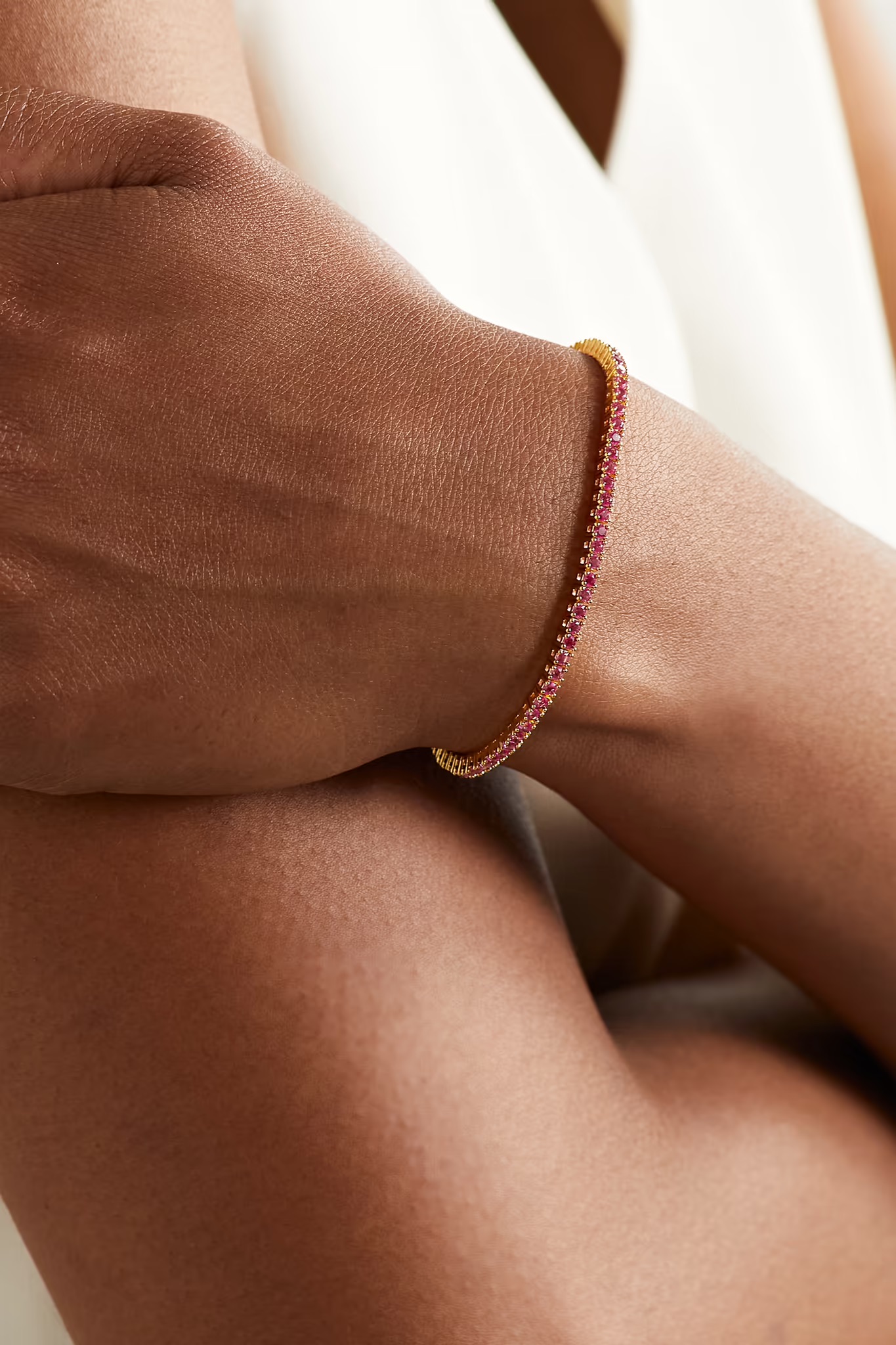 6. Pearl Necklace
Pearl necklaces are the ultimate classics when it comes to jewelry, it is one of the most elegant accessories ever! You can use it to bring a sophisticated touch to any ensemble, from dresses to jeans and a t-shirt. There are also amazing jewelry pieces with pearl details, such as a pearl pendant on a gold necklace or drop earrings with baroque pearls. From the more classic styles to contemporary ones, no jewelry collection is complete without at least one pearl necklace!
This Stone & Strand pearl necklace is so classic you will not regret buying!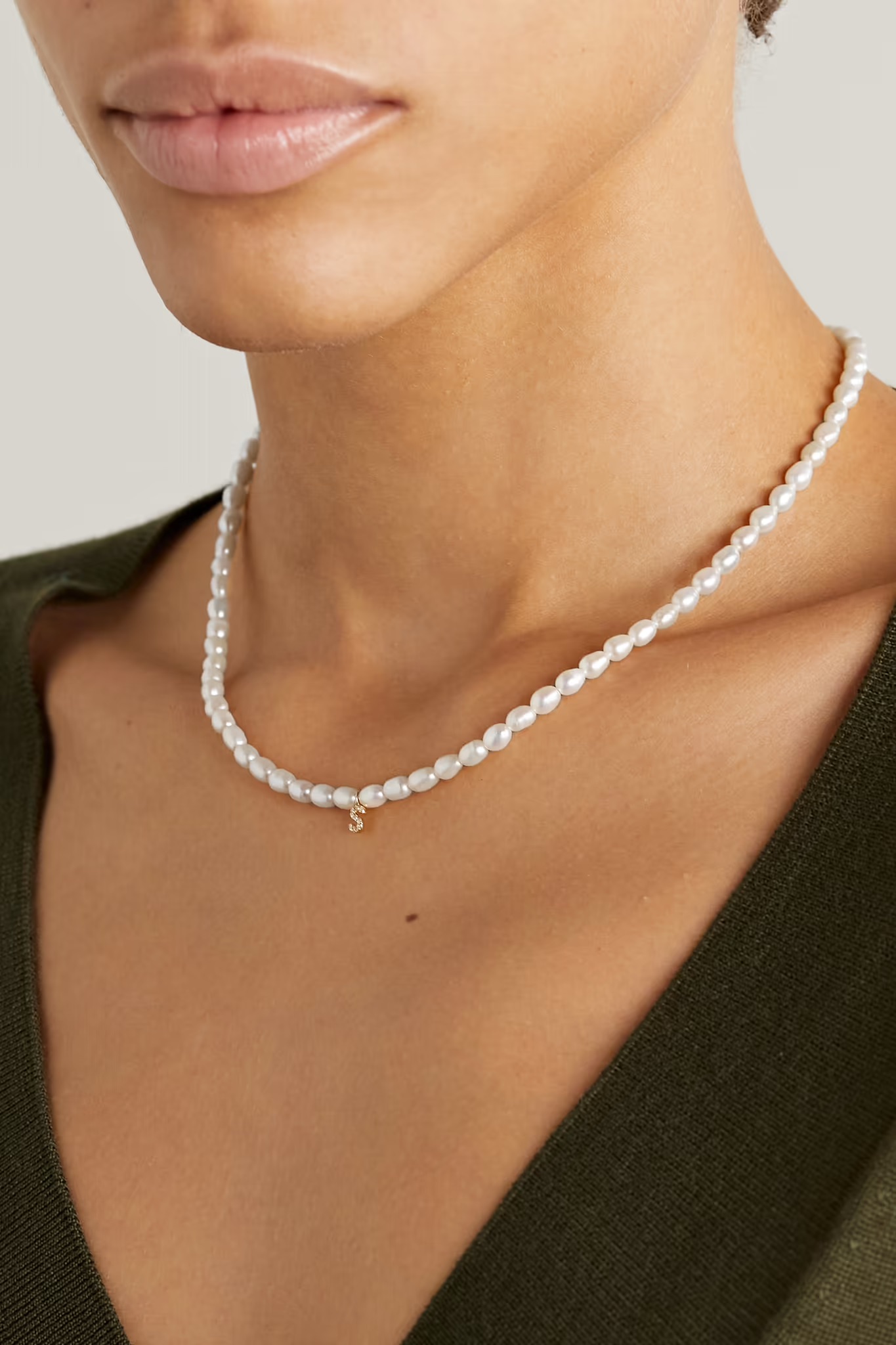 7. Hoop earrings
Hoop earrings are a forever staple; no jewelry collection is complete without at least one pair. For such a simple design, they're remarkably versatile: oversized gold hoops are a summer essential, while small ones are an elegant and modern way to elevate any outfit. The ultimate hoop-earring collection should also include mid-sized chubby hoops, for everyday wear, perfect for adding instant elegance. But of course hoops aren't only for daywear, a pair studded with diamonds is the perfect earring for a night out.
Start with a classic gold hoop, like this ones from Missoma, they will be a chic addition to any look!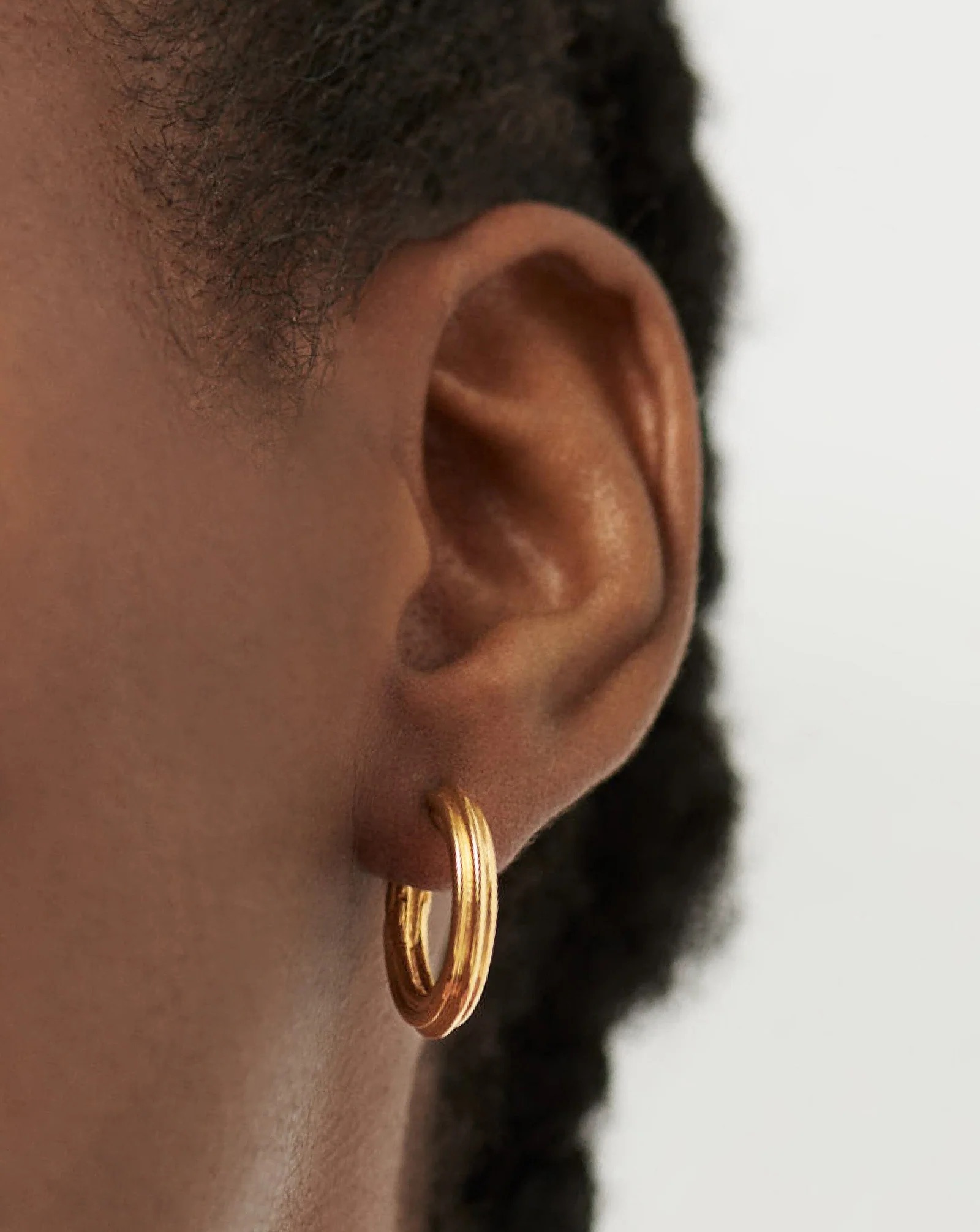 8. Bangle Bracelet
Every woman needs at least one bangle bracelet! One of the most classic bracelet styles, they are made to be worn on their own or to be paired and stacked with other bracelets, creating a beautiful stack. They pair well with just about everything, from sweaters to dresses and blouses. Some of the most iconic bangle bracelets are the Cartier Love and the Tiffany T, but there are many more affordable options you can choose from!
This Missoma bangle bracelet will be a staple in your collection!