Welcome to our list of The 12 Biggest Fashion Trends for Spring 23!
Spring is just around the corner, and with it come new and exciting fashion trends! Spring is all about bright, flowy and cheerful pieces, but this season there are some unique trends that might surprise you. Here I'll show you the 12 best trends of the season!
So, without further ado here are The 12 Biggest Fashion Trends for Spring 23:
1. Fringes
Inspired by 1920's fashion, fringes will be a big trend next season, both for everyday and partywear. This is a fun, textural element that was seen at nearly every show this season, and that lends a sophisticated touch to any look. While some designers added this detail to bodysuits or shirts, fringed dresses and skirts were the most popular. This season fringed pieces won't be bohemian or western, they will adorn sophisticated dresses and skirts in luxe fabrics. A fun and chic trend, don't be scared to play with fringes this spring!
This fringed poncho from Envelope1976 is so chic you'll be wearing on repeat!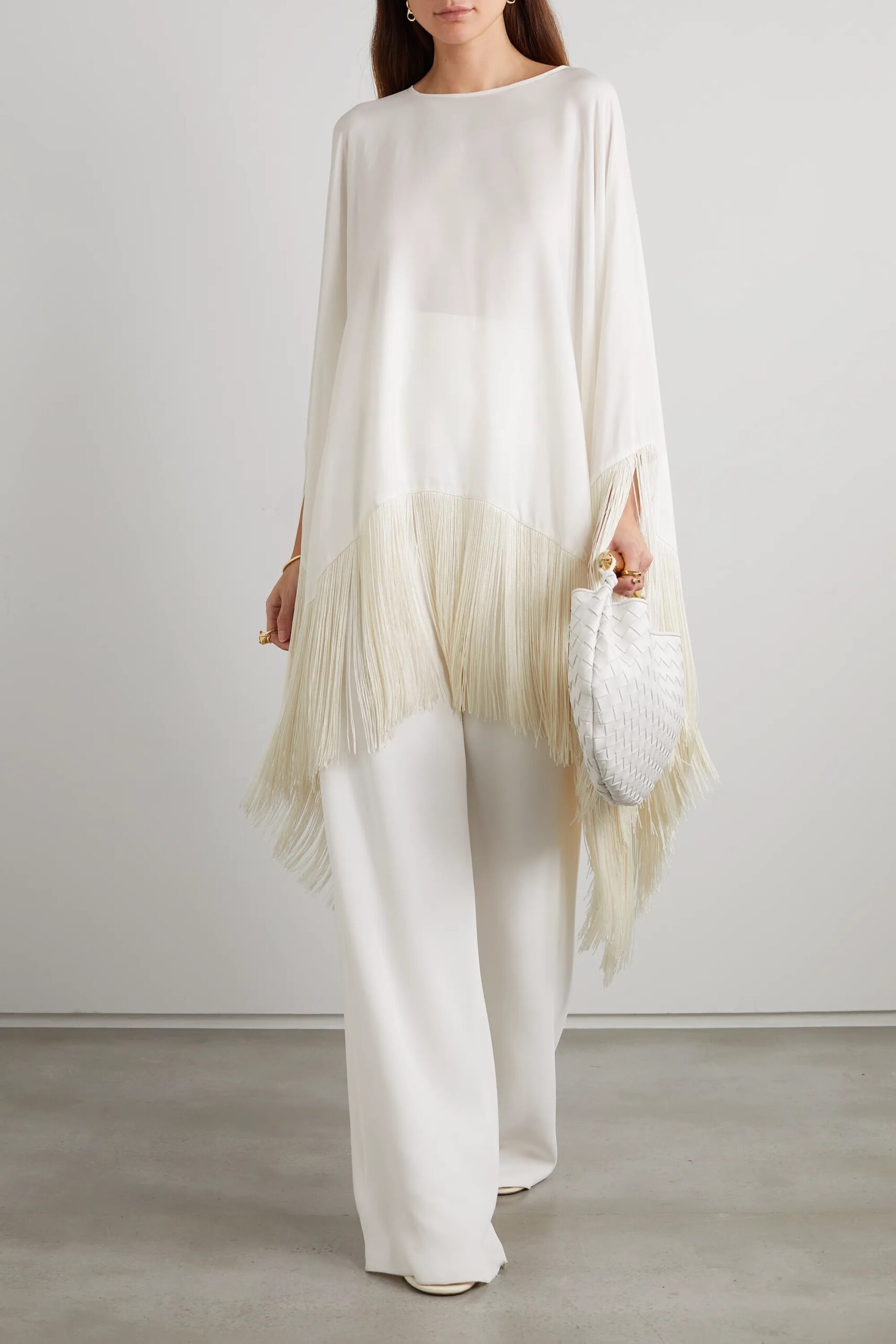 2. Draped Dresses
Inspired by greek goddesses or the old Hollywood style, this glamorous and majestic dresses will be a big hit this spring. Seen at Loewe, Saint Laurent and Michael Kors, these dresses come in satin, velvet, organza and silk. Perhaps one of the most stunning trends of the season with this type of dress you'll be the center of attention any where you go. Draped Column dresses are the epitome of this trend, but you can also opt for shorter versions that are just as trendy.
This Ioannes maxi dress will be super trendy for spring!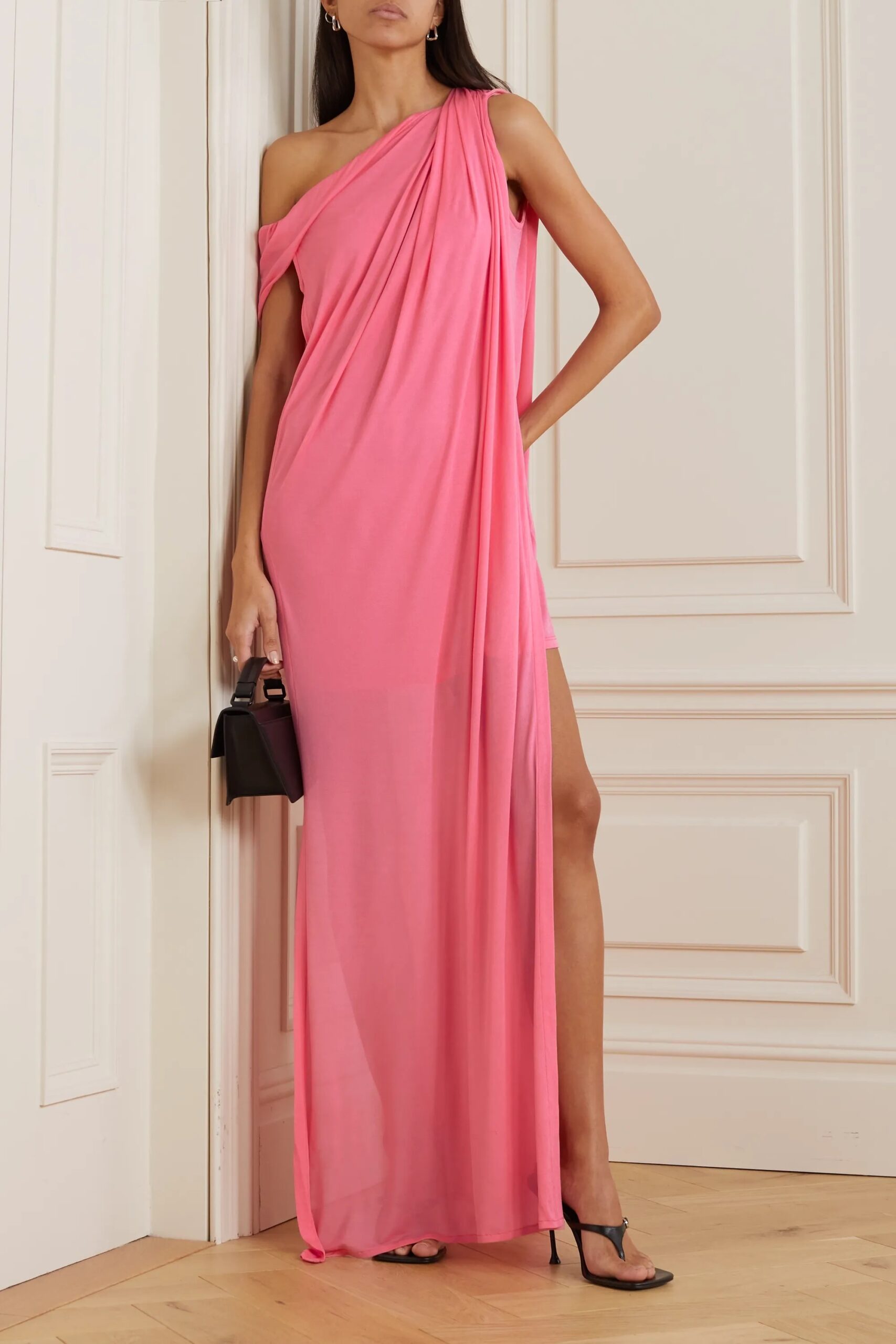 3. Oversized Totes
Really any tote bag will be super trendy for spring, but the bigger the better. Big bags have been trending for a few seasons now, but this year this trend is bigger than ever. Designed to be the perfect everyday bag, this year's totes are minimalist, practical and of course large. Salvatore Ferragamo, Tod's and Michael Kors presented bag that will be staples in 2023. This trend blends practicality with style, nothing could be better for spring 23.
The Saint Laurent Icare tote will be one of the most popular!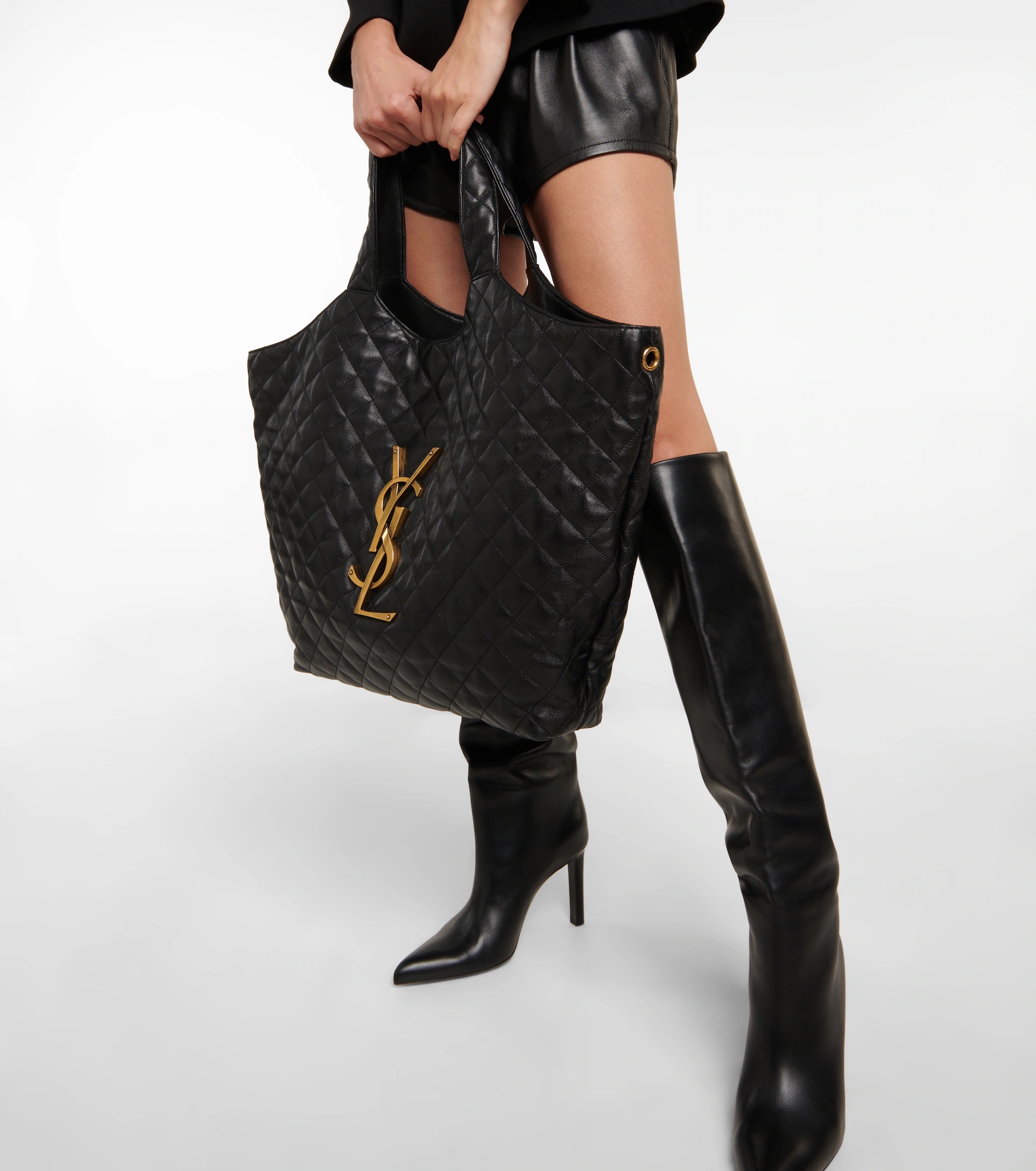 4. Slip Dresses
Slip dresses are always a staple for spring, but this year the sexier the better. From nightgown inspired dresses to sexy lacing and see-trough fabrics there will be no shortage of slip dress options this season. You can wear a slip dress with sneakers and a blazer during the day, but just add some heeled sandals and you are ready for a night out.
A trend that is comfortable, sexy and fun, you will not regret wearing this one!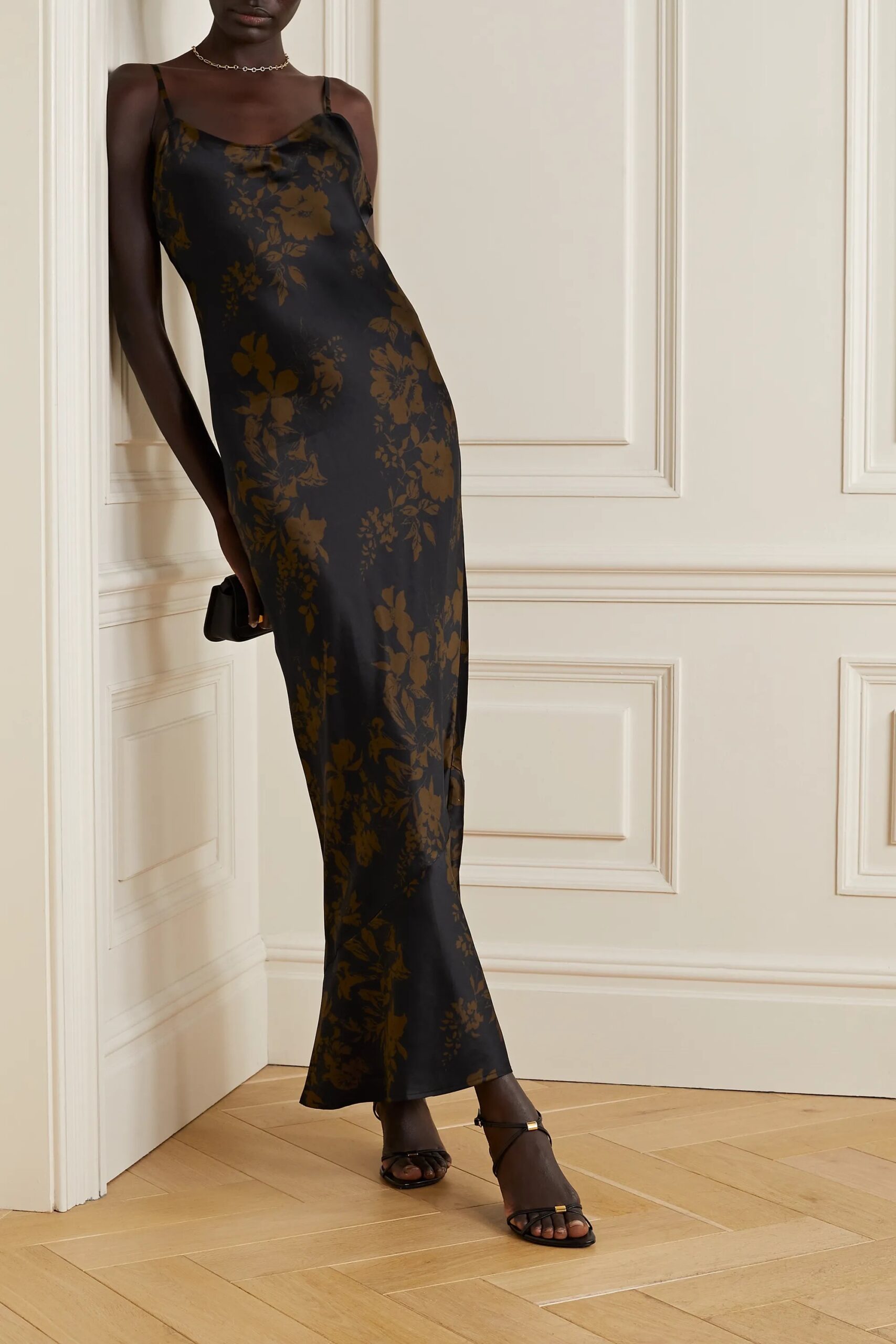 5. Maxi Lengths
Last year was all about mini skirts, but this spring the trendiest length will be the maxi! Saint Laurent, Ulla Johnson and Valentino presented maxi skirts that will be staples this season. The silhouette of the moment is extra-long and close to the body—though not uncomfortably so. It's less about showing every curve and more about creating a long line. This might be one of the most flattering trends of the season, so don't be afraid to go all out with this one.
This Beare Park maxi skirt is one of the most elegant you'll ever find!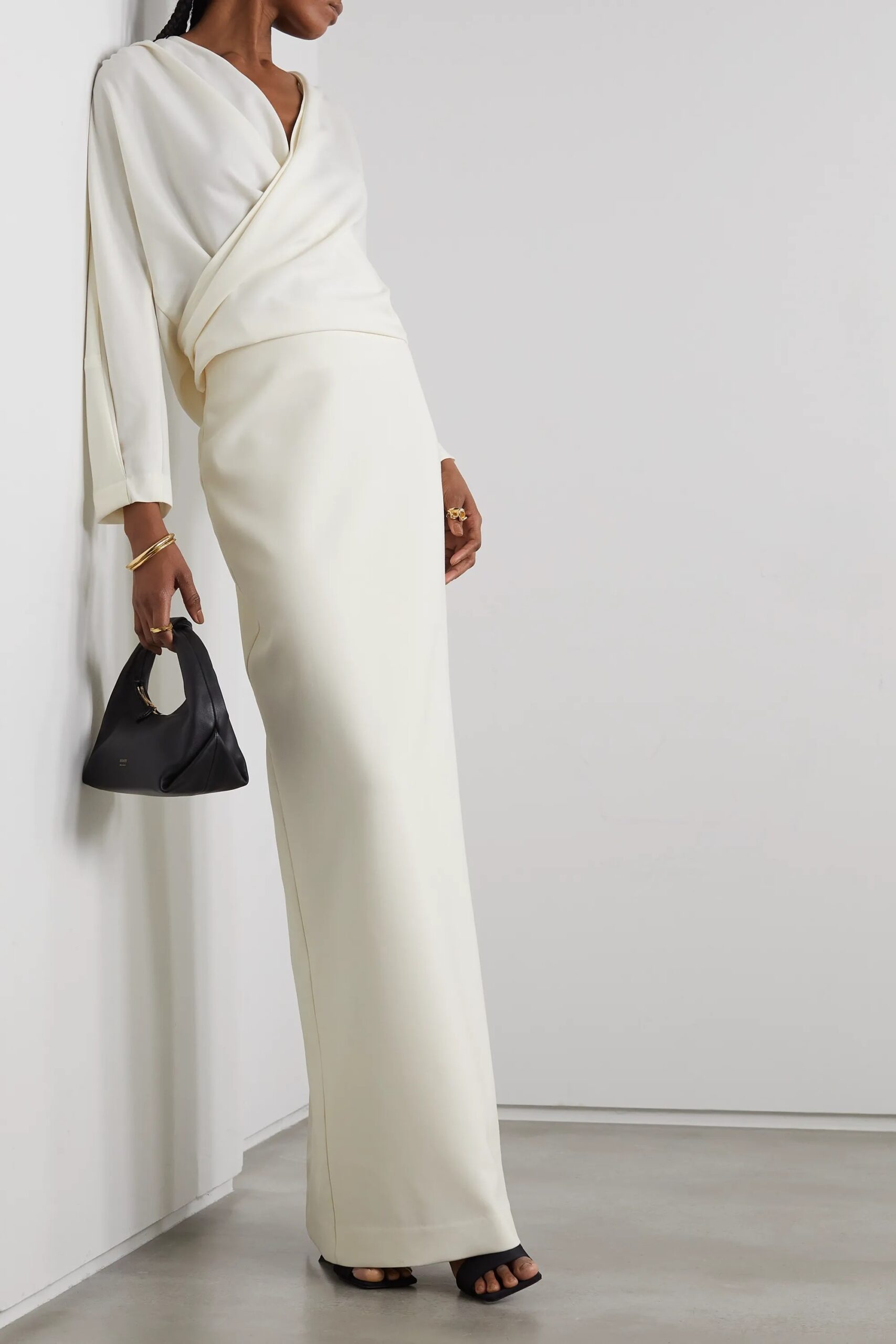 6. Ballet Flats
One of the most popular shoe styles of the 2000's ballet flats are definitely back for spring 23! From Miu Miu's satin styles already buzzing with cult status to Proenza Schouler's high-vamp leather designs and Khaite's slipper-inspired pumps with a slight lift, the runaways were filled with ballet flats! While heels are having a post-pandemic moment, ballet flats can be your chic but comfortable alternative for everyday wear. In my opinion, ballet flats are classics, but there is no doubt that this season they will be more popular than ever!
This Porte & Pair ballerinas are perfect for spring!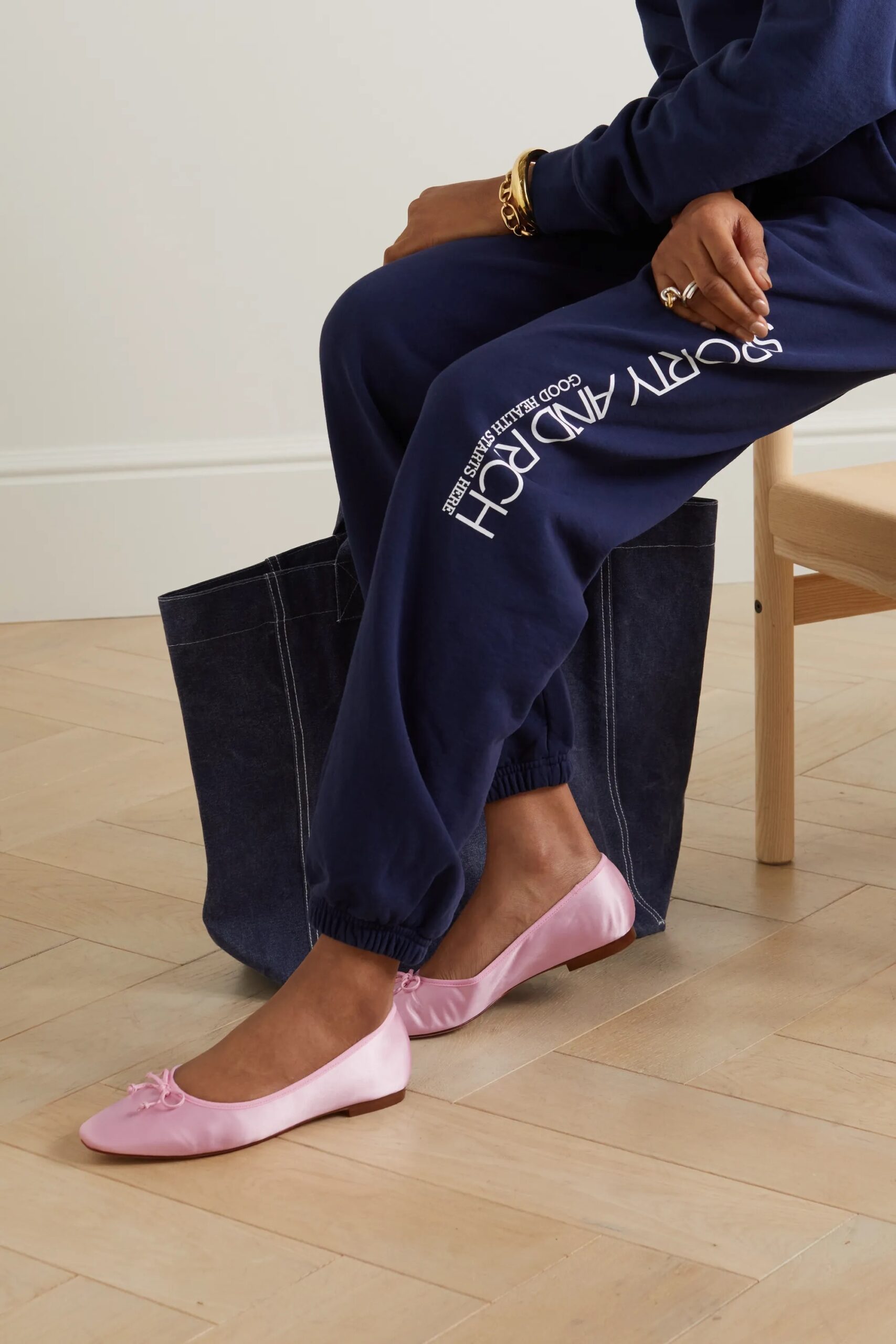 7. Low Rise
This trend is not loved by everyone, in fact some even dread it! But the fact is that low waist pants, skirts and trousers are back. Ultra-low-rise jeans in baggy and oversized silhouettes appeared on the runaways of Missoni and Blumarine, while skirts where everywhere in the MiuMiu show. But the most popular for spring 23 will be drop waist dresses. This way you don't have to worry about bare midriffs, this is a more elegant way of wearing low rise. At this point there is no denying, low waist is already back.
 You cannot go wrong with a baggy low rise jeans!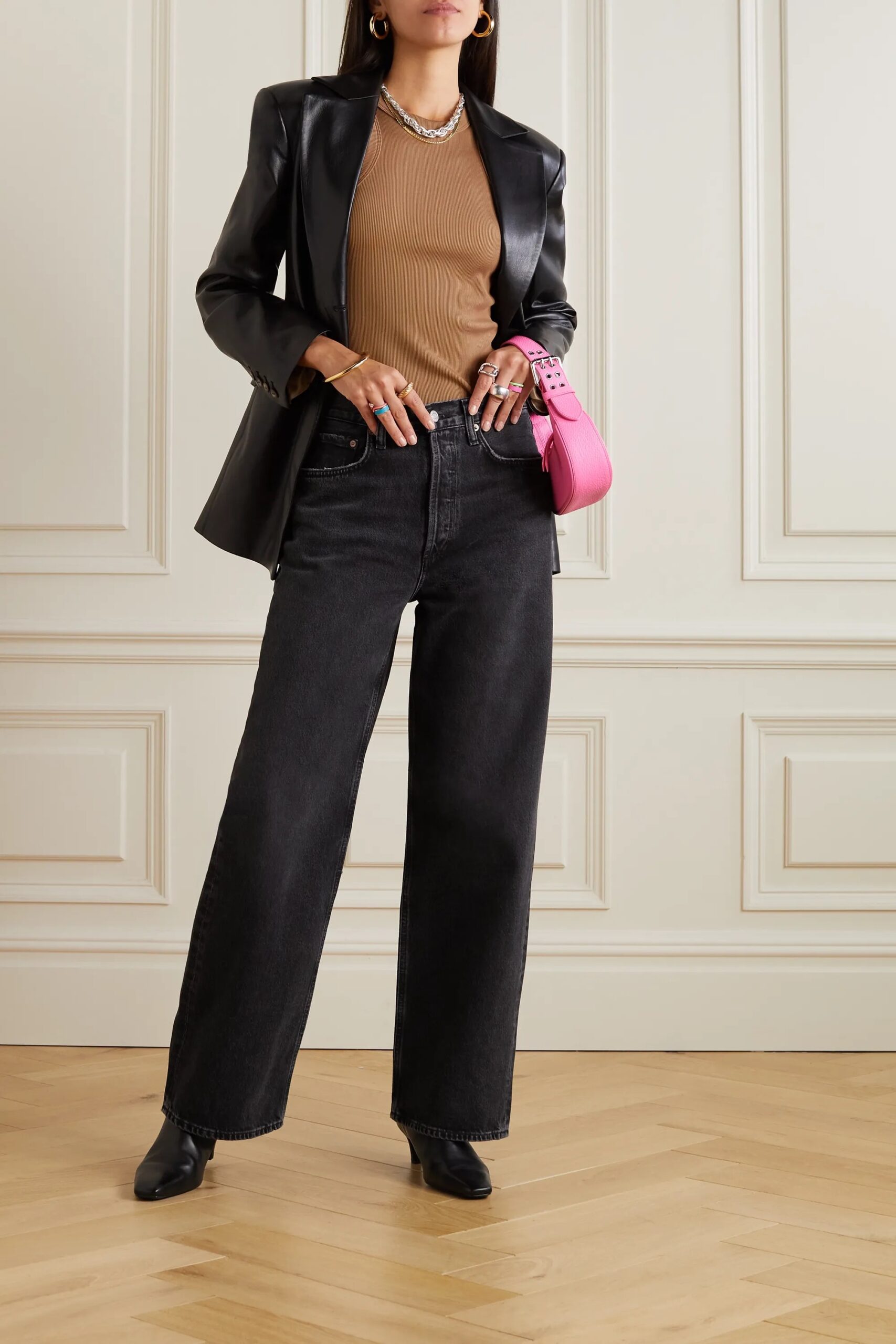 8. Sheer Fabrics
At first sight this trend might seem not that wearable, but if you play with layers this might just be the most flexible trend for spring 2023. You can wear a sheer top under a dress or a jacket, with just a little of sheer fabric poking out. Some brands like Nensi Dojaka incorporate sheer fabrics into their designs, and this kind of dress will be super popular next year. Whether it's in the form of a fitted turtleneck for a chic transition outfit or a mesh dress, sheer fabrics are the perfect way to show a little skin.
This Nensi Dojaka mini dress is perfect for a spring night out!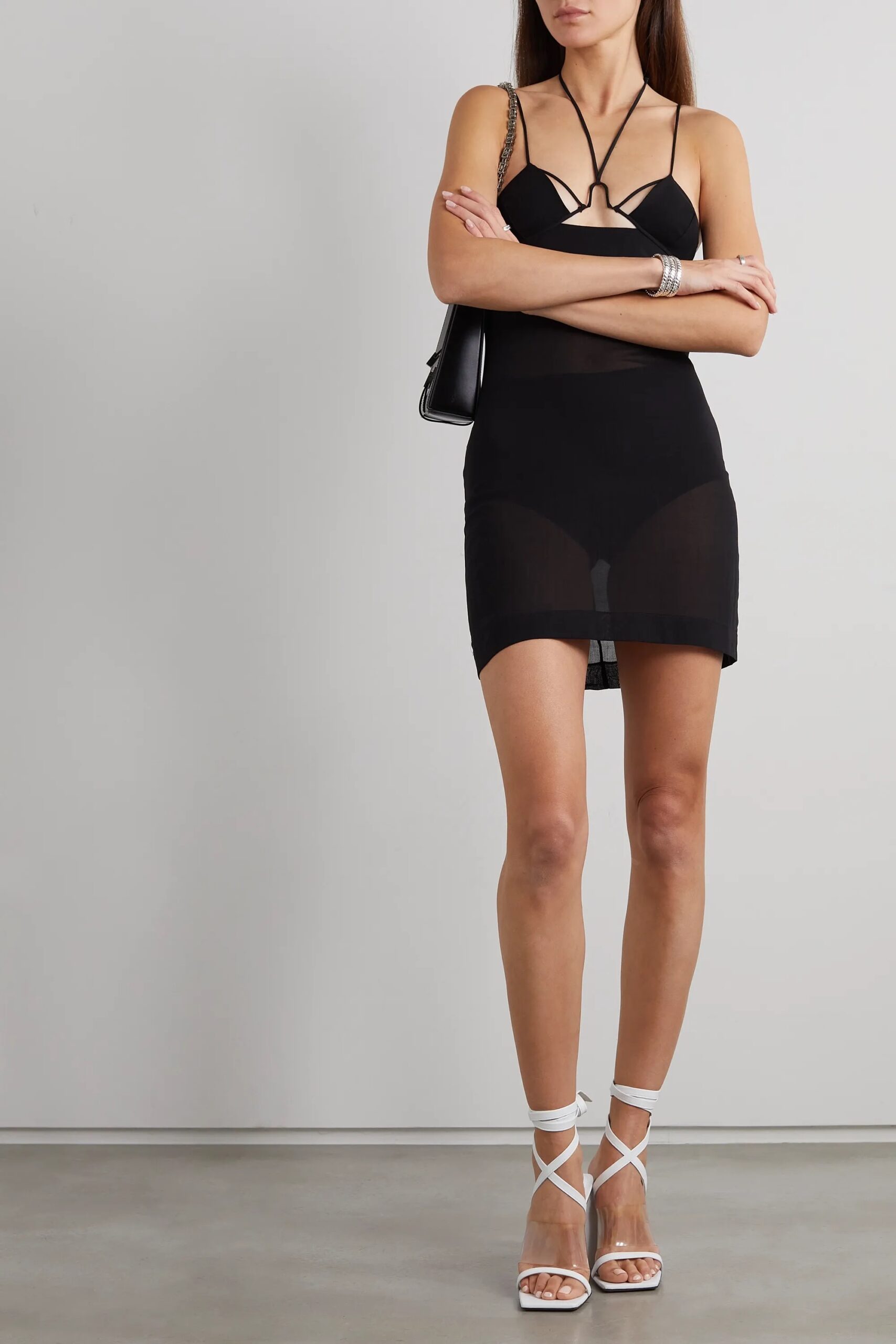 9. Cargo Pants
From their origins in the British army in the late 1930s to today, cargo pants have not aged a bit. At the crossroads between military aesthetics and streetwear influences, they became a fashion essential at Coperni, Diesel and Fendi. Roomy pockets fashioned onto slacks have become a must, and you can see them in cargo inspired jackets and wests as well. The cargo might not be for everyone, but is a stylish trend that we'll see a lot this spring!
You'll be wearing these Frankie Shop cargo pants on repeat this season!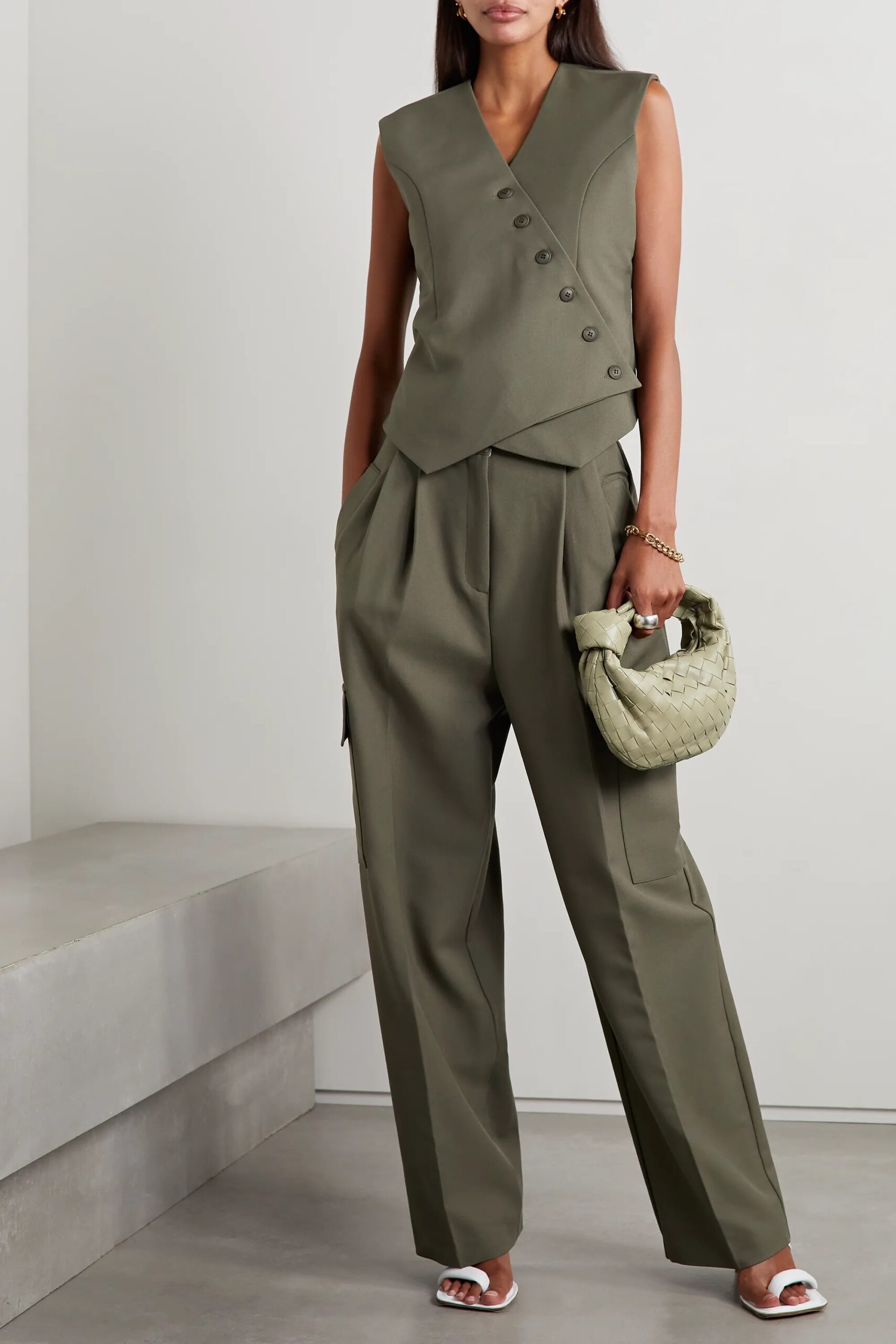 10. Metallics
For spring a range of gold, silver and even sequins will be super stylish! This is a more elevated way of wearing metallics, you can just incorporate this trend into your everyday outfits for a more stylish outcome. Fendi, Peter Do and Tom Ford presented beautiful examples of this trend in their spring collections. Wearing metallics is a great way of bringing a little party to your everyday live, and don't forget this trend applies to bags and shoes as well! For spring 23, wear metallics for both day and night, don't be scared to go all out with this one!
This Rotate mini silver dress is stunning!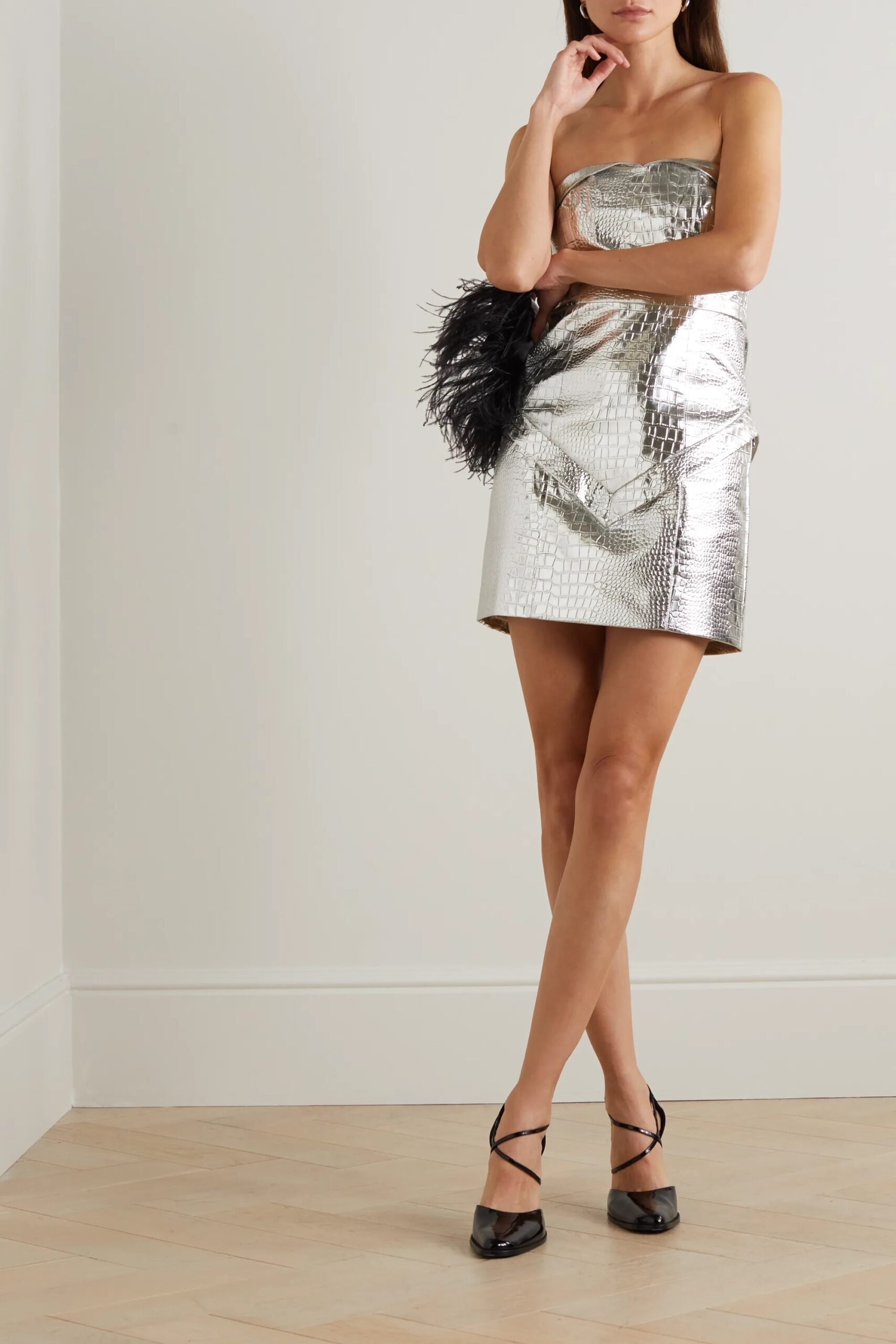 11. Soft Tailoring
For years blazers and trousers have been staples for everyday wear, and in spring 23 they will be trendier than ever! Slouchy, oversized blazers were all the rage at Valentino and even Chanel opted for relaxed-fit versions of its trademark bouclé jackets in playful pinks. Oversized balzers will be one of the most popular pieces of the year, pair it with jeans and a t-shirt of an effortless look. A good suit is also a good bet for 2023, Jil Sander, Peter Do, and Elena Velez are showing you that, with clean lines and beautiful materials, classic suiting can be anything but boring. This spring you can opt for soft, relaxed versions of the classic suit, in light colors and fabrics it will be super popular!
This blazer from the Frankie Shop is perfect for spring!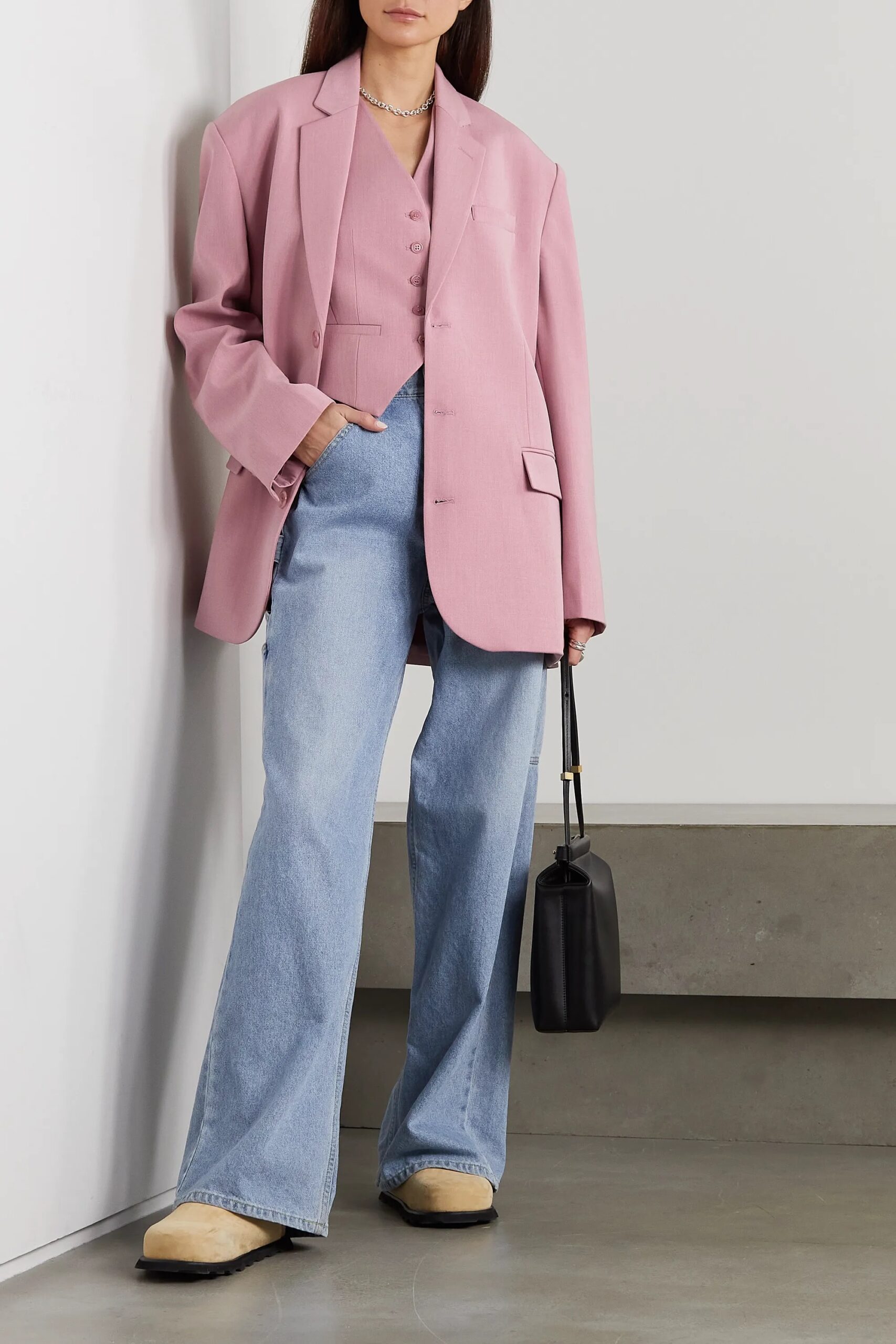 Make sure to check out the Biggest Handbag Trends for Spring 23!