Welcome to our list of The 5 Most Amazing Limited-Edition Kelly Bags!
One of the most stunning bags in the world, the Hermès Kelly is an icon! Émile-Maurice Hermès is the creative mind behind the 'Sac à dépêches', which was produced in 1935 for his wife to carry. The bag would go on to achieve worldwide recognition 20 years later, when in 1956 Princess Grace Kelly used her 'Sac à dépêches' to shield her baby bump from the paparazzi. After that Hermès received so many requests for 'The Kelly Bag', as it became immediately known, that it was renamed in honor of the princess. There have been many limited-edition releases of the Hermès Kelly bag over the years, they go on to become collector's items that sell for multiple times their original value, and here I'll show you the most amazing ones! This list is inspired by a Sotheby's article, which is one of the best luxury auction houses in the world.
So, without further ado here are The 5 Most Amazing Limited-Edition Kelly Bags:
1. Sterling Silver Mini Kelly
This bag is a piece of art with full functional capacity. The incredibly rare Sterling Silver Mini Kelly is equal parts handbag and sculpture. The bag is made from the highest quality sterling silver and features a removable Chaine d'Ancre chain for a shoulder strap. This tiny fully functional purse is 15 cm in size. The Sterling Silver Kelly is an exquisite evening accessory that exhibits the unrivaled craftsmanship of Hermès artisans. This is arguably one of the rarest handbags in the world! And do you know who has one? Kylie Jenner, of course!
One of these bags sold in 2015 at an auction for around $60,000.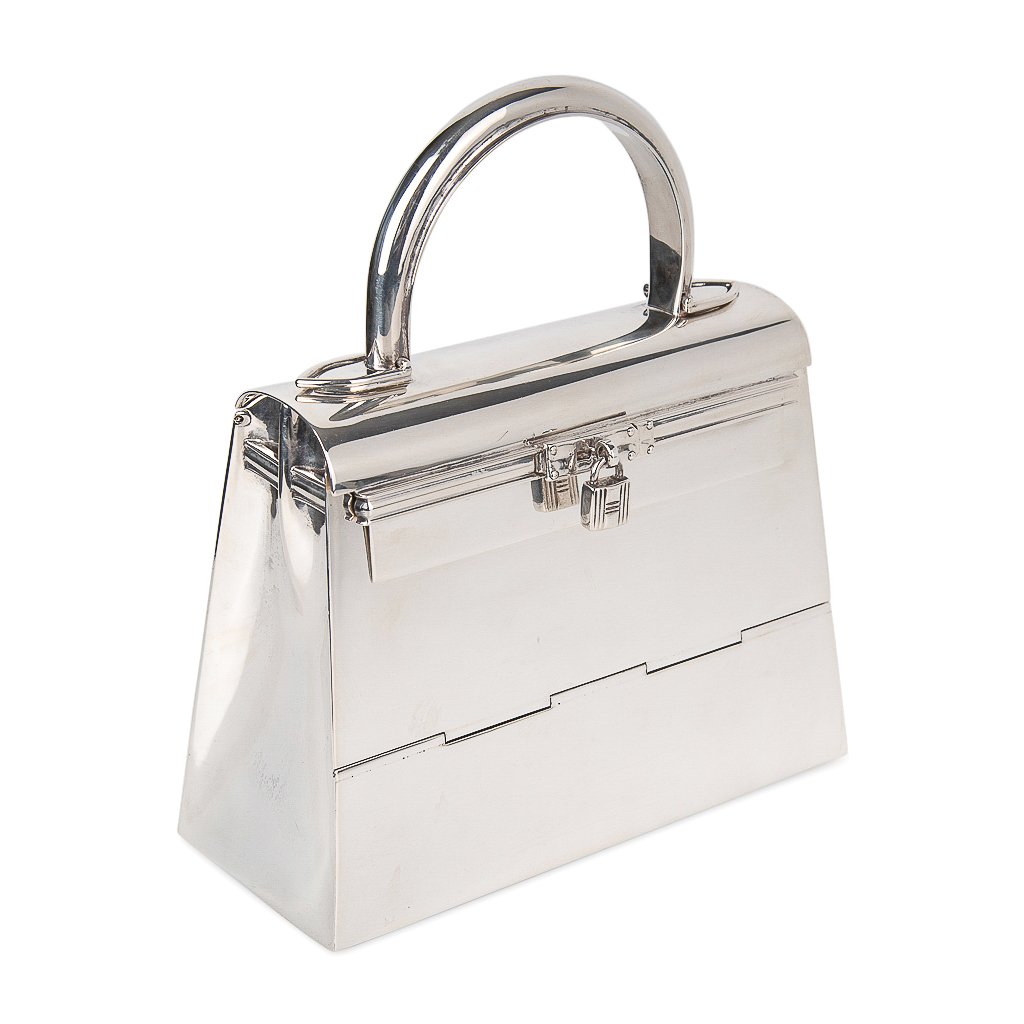 2. Kelly Himalaya
One of the most beautiful exotic Hermès Kellys is the Himalaya Kelly. This Hermès bag is constructed out of Niloticus crocodile skin dyed in a white and grey gradient. The exotic skin's coloring is intended to evoke the white snow of the Himalaya Mountains. The cool tones of the crocodile are complemented by the palladium-plated hardware. Available in sizes 25 cm and 32 cm, this Hermès handbag is only offered to VIP clients, it is even rarer than the Himalaya Birkin! This bag is so rare that when it appears at auctions it sells for astonishing prices.
In 2019 a rare matte white Himalaya Niloticus Crocodile Kelly 25 with palladium hardware was sold by Christie's for around $240,000.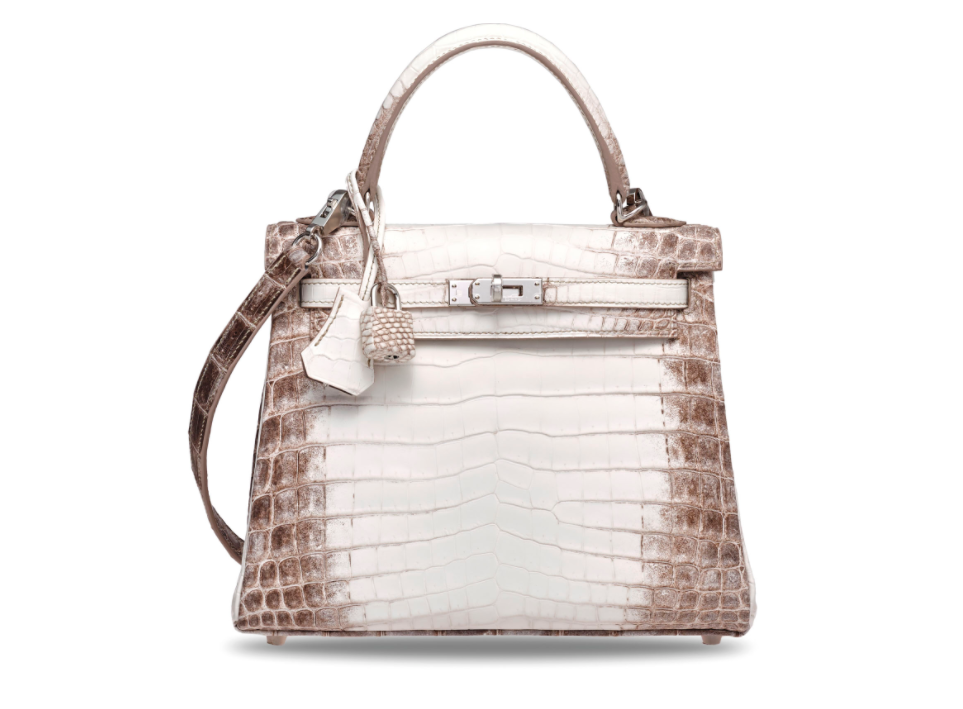 3. Kelly Doll
This bag is the perfect balance between art & play. The Kelly Doll was brought to life in 2000 by Jean-Louis Dumas, the Executive Chairman of Hermès. A masterful drawer, Dumas sought to design a Kelly that was playful and fun. This Hermès Kelly is a creative mix of luxury handbag and child's toy. This anthropomorphic Hermès bag is particularly loved in Japan, where the kawaii aesthetic dominates. The Kelly Doll comes in a variety of colors, leathers, and exotic materials. A Kelly Doll in alligator was sold in 2017 for around $90,000. This very rare handbag is typically made with palladium-plated hardware.
This is the perfect Kelly for someone who likes to have fun with their style!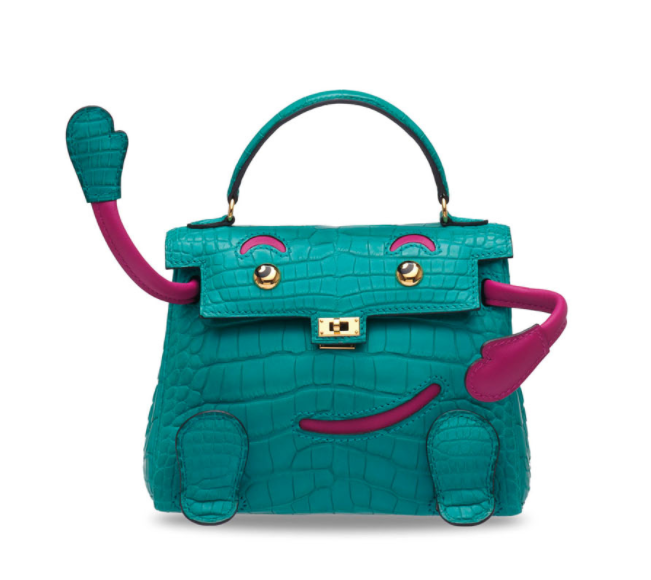 4. Kelly Picnic
This is one of the most famous limited-edition styles from Hermès. The Hermès Kelly Picnic is an adorable collector's item introduced in 2011. This 20 cm bag is made from delicate hand-woven Osier wicker, smooth leather accents, and palladium-plated hardware. Hermès Osier wicker bags are an achievement in design. Osier wicker is a delicate material, so crafting it into a bag that is sturdy, secure and long-lasting required a high level of expertise. With the everlasting quality of Hermès and the beautiful and fun design of this bag, it is not difficult to see why the Kelly Picnic is a favorite of collectors.
In 2019 Sotheby's sold a Kelly Picnic for around $56,000.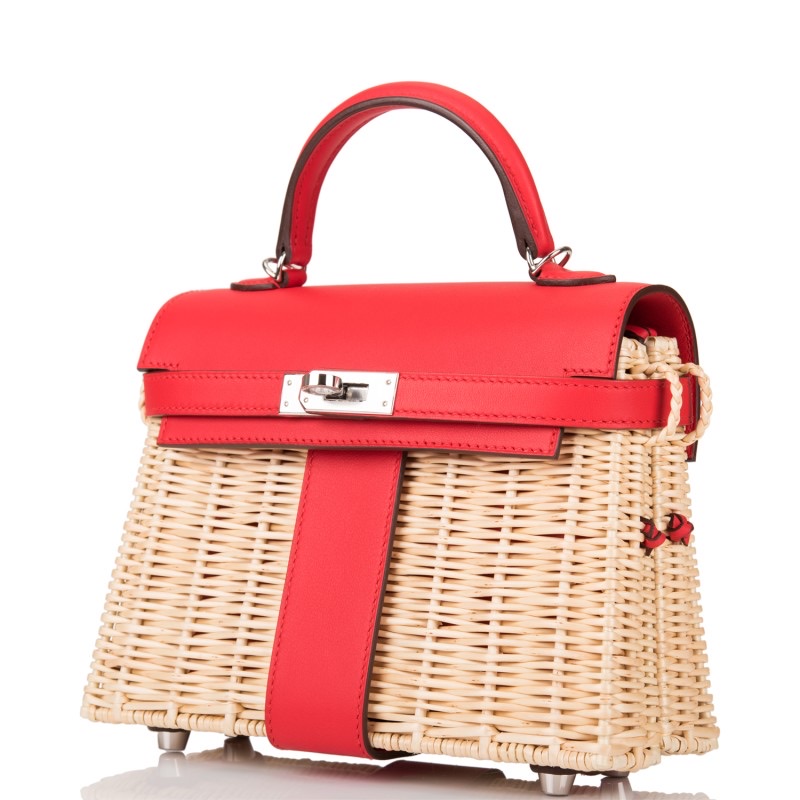 5. Plissé Mini Kelly
The French word for "fold", plissé refers to a lightweight fabric with a crinkled finish. Hermès first used plissé fabric in its silk scarves, which feature accordion-like pleats. They transitioned the plissé finish onto a rare black satin Kelly in the late 90s. The Plissé Mini Kelly handbag's rich satin material is accented with suede leather and gold-plated hardware, materials that dominated 90s fashion. This tiny 20 cm handbag is a big deal for vintage enthusiasts and is the perfect Hermès evening bag. In 2019 a Plissé Mini Kelly that was produced in 1999 was sold at an auction for around $20,000. 
Can you imagine being able to sell your bag for that price after 20 years? Talk about investment bags, right?