Welcome to our list of The 6 Most Iconic Van Cleef & Arpels Pieces!
Van Cleef & Arpels is a French luxury jewelry, watch, and perfume company. Their pieces have been worn by style icons such as Grace Kelly, Farah Pahlavi, Eva Perón, Elizabeth Taylor, the Duchess of Windsor and Queen Nazli of Egypt. From delicate flowers to playful animals and billowing ballerinas, Van Cleef & Arpels has long been celebrated for their masterfully crafted and fantastical jewelry. This is one of the most luxurious jewelry brands out there, and it is for sure in every girl's wishlist.
All Van Cleef & Arpels pieces are special but there are some that changed the history of the Maison and that to this date are some of the most amazing jewelry ever made! And here I'll show you 6 of them. The information I'll show you here was taken from the Christie's website, one of the best luxury auction houses in the world, so if you love collector pieces, make sure to check it out.
So, without further ado here are The 6 Most Iconic Van Cleef & Arpels Pieces:
1. The Mystery Set
The Mystery Set is a technique that allows for the setting of stones so that no prongs are visible. After each stone has been cut and faceted, this technique, created by Van Cleef & Arpels in 1933, involves inserting them into gold rails less than a fifth of a millimeter thick. It is an extremely time-consuming process and can necessitate more than 300 hours of work for one piece of average size. Initially it was only possible to use this new setting on a flat surface — such as a box or minaudière — but as the 'Mystery Set' technique evolved it was used on more challenging curved surfaces. Emeralds are particularly difficult to cut and match in color, compared to sapphires or rubies, and are thus used more rarely.
In 1990, new cutting methods enabled Van Cleef & Arpels to incorporate diamonds into its designs, and in the same year hexagonal-cut stones were added to its inventory. One piece that took an exceptionally long time to make was King Farouk's Rose brooch, created in 1938, which had 814 rubies and 241 emeralds. 
There have been many imitations of this imaginative setting method, but only pieces made by Van Cleef & Arpels can be considered as truly mystery set.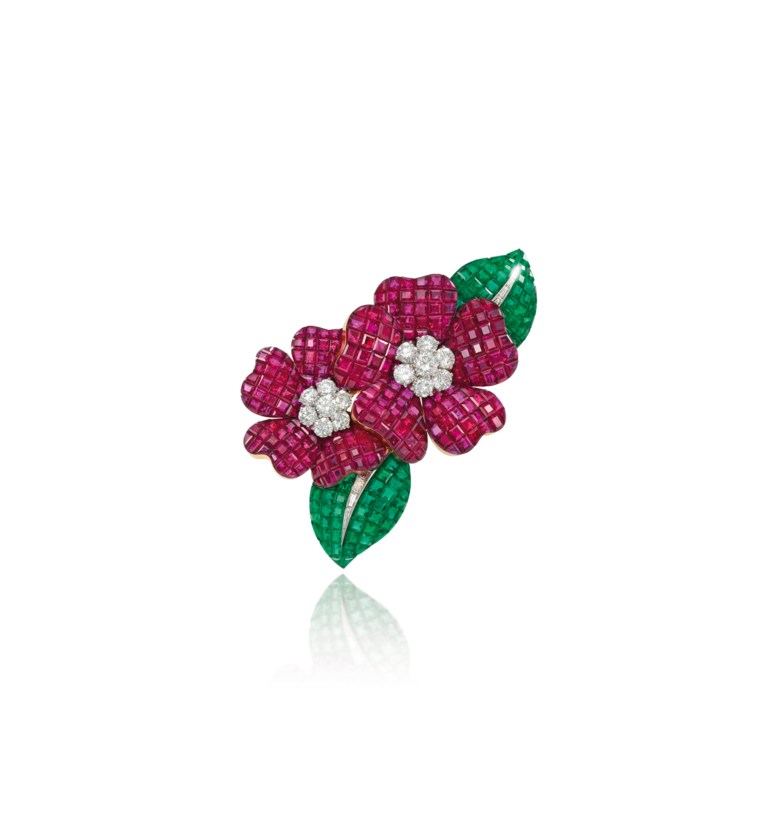 2. The Passe-Partout necklace
The design for the Passe-Partout necklace, one of the first examples of transformative pieces of jewelry created by Van Cleef & Arpels, was patented in France in 1938 and in the United States in 1939. It enables the owner to adapt her jewel to match her mood or to other jewels she would like to wear. The Passe-Partout became popular in the 1940s and two early enthusiasts were actress Paulette Goddard, wife of Charlie Chaplin, and heiress Doris Duke. The jewel normally consisted of two large flower clips attached to a flexible gold snake chain by metal rails that could detach and transform into a necklace, choker, bracelet or two brooches. The flower consisted of blue and yellow sapphires with a ruby or colored sapphire center. 
A wonderful example of a complete parure of Passe-Partout jewelry was worn by Hélène Arpels when she attended the Prix de Diane at Chantilly in 1939.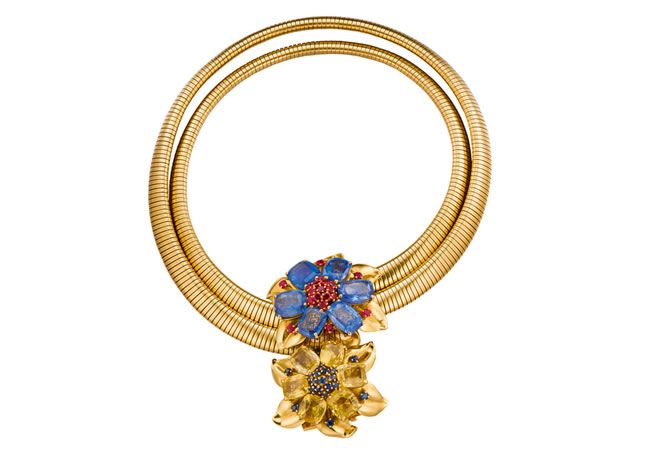 3. The Ballerina brooch
The iconic Ballerina brooch was first conceived in New York in 1940, inspired by Louis Arpels and his nephew Claude, who were friends of George Balanchine, co-founder of the School of American Ballet. The first Ballerina brooches were made by John Rubel, who had emigrated to New York in the late 1930s and was the principal manufacturing jeweler for Van Cleef & Arpels until 1943. After the 'Spanish dancer' was created in 1941, the firm produced a series of ballerina, dancer and fairy brooches, some with matching earrings. The Camargo brooch, made in 1942 and mounted in platinum with diamonds, rubies and emeralds, was inspired by Nicolas Lancret's painting of Marie Camargo dancing, made in 1730.
In 1944, Barbara Woolworth Hutton bought a 'Spirit of Beauty' Dragonfly Fairy brooch set with diamonds, emeralds and rubies, as well as purchasing a Ballerina brooch in the same year. The distinctive jewels portray a series of poses, the costumes designed with rows of rose-cut diamonds, turquoises, rubies or emeralds. 
These dynamic creations were an instant success in New York, where Van Cleef & Arpels' clients viewed them as something very distinct from pre-war designs.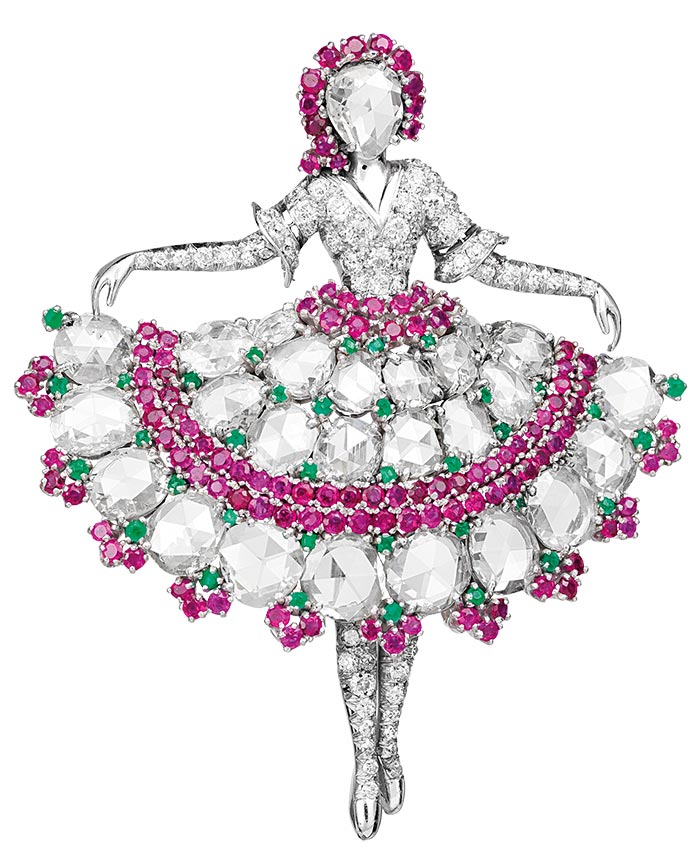 4. The Zip necklace
The history of the 'Zip' necklace is thought to have originated as a result of a conversation in the late 1930s between the artistic director of Van Cleef & Arpels Renée Puissant (the daughter of Estelle Arpels and Alfred Van Cleef), and the Duchess of Windsor, who suggested that Renée create a jewel that was based on a simple zip. It took the firm's workmen many years to perfect a fully working zip in precious metals and gemstones. The necklace was finally unveiled in 1951 and quickly became a sought-after item, but given the time needed to make this challenging jewel only a limited number were produced. The ones that sold most quickly were those that could be opened to its full length or entirely closed, thus becoming a bracelet through the removal of a section from the back of the necklace, replaced with a bracelet clasp.
The Zip necklaces consist of a series of very small gold cups supported by hooks that mesh with one another when brought together by a sliding clasp. They have been made in gold and platinum studded with diamonds, sapphires, emeralds or rubies. 
A few are still produced today — a diamond and sapphire Zip necklace was worn by Australian actress Margot Robbie at the 2015 Academy Awards ceremony.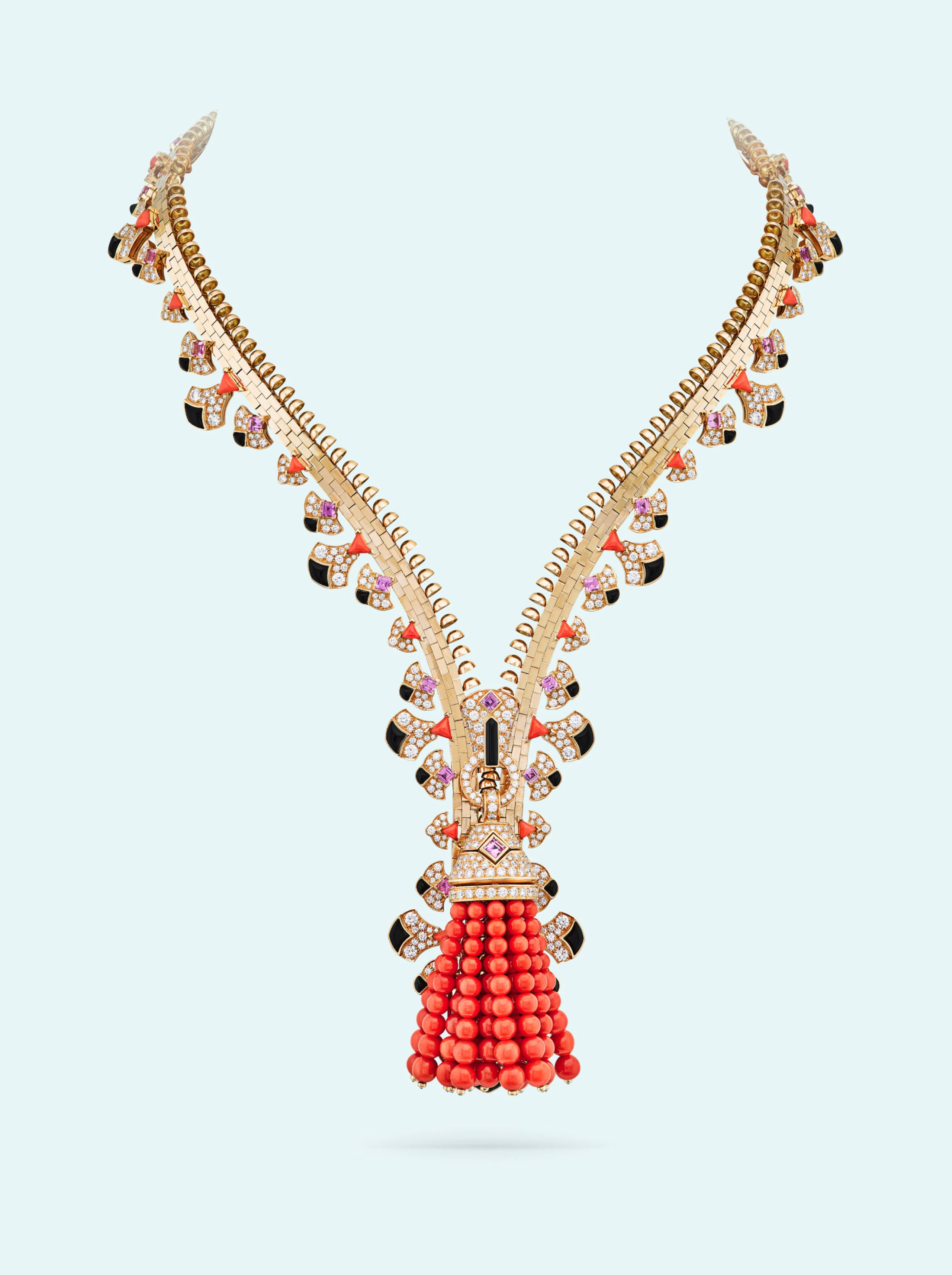 5. La Boutique collection
In 1954, Van Cleef & Arpels launched its 'La Boutique' collection of more affordable jewelry at their store in 22 Place Vendôme, Paris. The idea was to provide more light-hearted and whimsical jewels, usually of naturalistic form, using gold and semi-precious stones with diamonds highlights. The jewels from the collection took the forms of birds, lions, cats, squirrels and other animals, and were instantly recognizable as works by Van Cleef & Arpels. They were collected by a broad range of important clients, including the likes of Jackie Onassis and Grace Kelly.
The modestly priced range of jewelry, manufactured in a broad range of materials including coral, aquamarine, mother-of-pearl and chalcedony, proved hugely successful.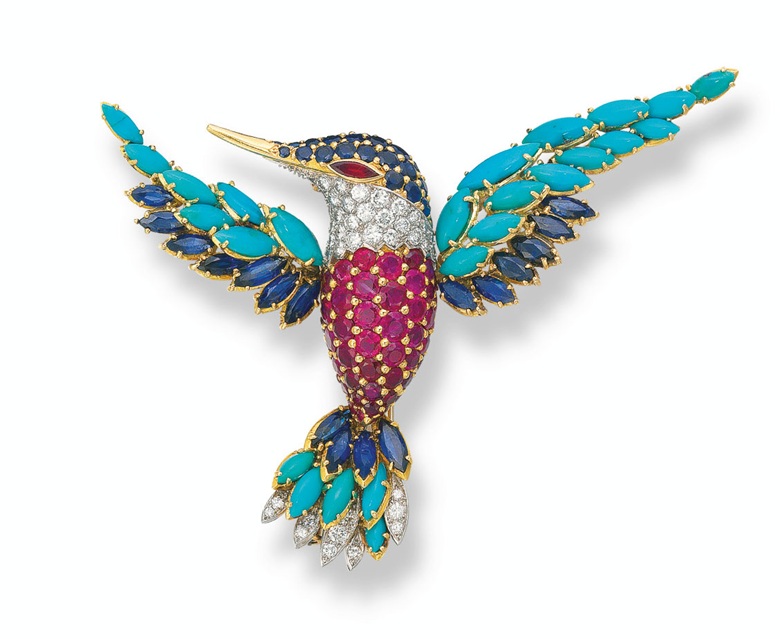 6. The Alhambra jewelry
In 1968 a four-leaf clover design was introduced, and 50 years later it remains emblematic of the famous brand. It was inspired by the quatrefoil motifs that are found on the Moorish tiles of the Alhambra Palace in Granada. It was also meant to function as a lucky charm — a tradition that stems from the Touch Wood rings introduced in 1924. This simple but distinctive design proved instantly popular with important jewelry collectors including Elizabeth Taylor. Princess Grace of Monaco was one of the people most identified with the Alhambra range, and often wore a necklace made of malachite that she bought in 1975.
It is as popular today as it was 50 years ago, proving the point that good design never goes out of fashion. It is one of the The 6 Most Iconic Van Cleef & Arpels Pieces!