Welcome to our list of The Best Bags from Paris Fashion Week Spring/Summer 23!
The last fashion week of the season and perhaps the most important one has come to an end! So it is time to see the best bags Paris fashion week has provided us! From Chanel to Louis Vuitton and Valentino there will be no shortage of amazing bags once spring comes.
So, without further ado here are The Best Bags from Paris Fashion Week Spring/Summer 23:
Louis Vuitton
For spring/summer 23 Nicholas Ghesquieré showed a collection of supersized proportions. He said: "The idea was to look at something pretty, something sweet, and to see in those elements what strength they have,". Oversized zipper pulls, belts and pockets graced the runways, along with some exaggerated prints and silhouettes. The bags followed the same idea, the cloche clés key holder that accessorizes many of the brand's bags was enlarged, as were its Vachetta leather luggage tags. The wallet that usually comes attached to the brand's tote bags became a huge clutch, with the chain attached to the hand.
The Coisson bag was showed in its normal size and oversized, with its puffy leather and gold chain. The Twist bag maintained its size but was showed with a logo almost as big as the bag itself, in many colors. Briefcase inspired bags were presented, again indicating that this might be the shape of the season! Bags with oversized hardware, a doll house and a colorful little trunk showed how much fun Ghesquiere had with the collection. But the stand out piece might be this vintage inspired bag, showed in many colors I'm betting it will be super popular once it hits the stores!
The designer said of the collection: "sometimes I had the feeling we were a little childish. I think I was maybe more free to break some boundaries for myself." Childish but still stylish and fun, this Louis Vuitton collection broke all the rules and I'm here for it!
Chanel
Inspired by the costumes Chanel designed for the 1961 film L'Année Dernière à Marienbad, Virginie Viard presented a collection that was light, nuanced and beautiful. All the classics were there: tweed jackets and suits, mini dresses, two-tone slignback heels and sequin and feather embellishments, all in a pallet of black, white and pastels. Even if it is classic Chanel, you can see modernity in them, with some dropped waists and over-accessorized looks.
As for the bags we saw iconic styles with a twist, like the Chanel classic flap with an oversized gold chain, with shiny tweed and also with a heart around the double C logo. The new Chanel 22 bag was presented in a smaller size, still practical for everyday wear but maybe a little more elegant. Micro bags appeared in stars, mini flaps, hearts and vanity case shapes, showing that, for Chanel, the mini bag era is not over. Many tweed bags were of note, that also were small but made a big statement.
Elegant, understated and chic this collection was quintessential Chanel.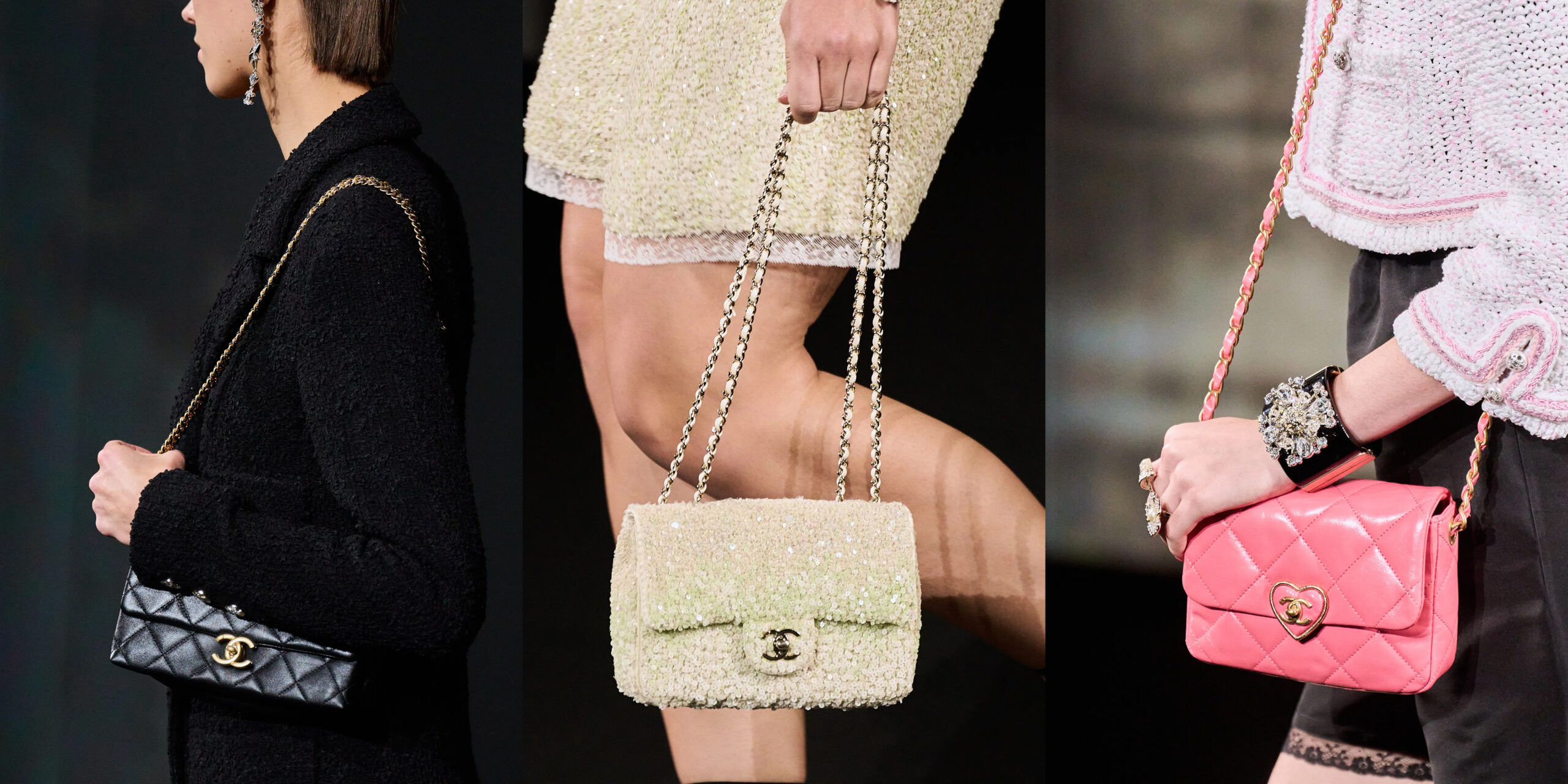 Valentino
After the success of the fall 22 collection, entirely made in bright pink, for spring 23 Pierpaolo Piccioli showed a stunning collection with bright colors, flowy dresses and soft tailoring. With all-over-logo, minimalist designs and over-the-top pieces this collection shows why the designer is one of the best from his generation. With sequins, feathers and pleats, this collection elegantly makes a statement.
The Valentino Loco bag was showed in many prints, colors, with feathers and sequins, all beautiful stand out pieces. Clutches with stud shapes nodded to the one of the most classic codes of the maison, and a clutch with the V logo was also of note. Large totes were presented in beautiful prints, offering practicality and style.
This was a stunning collection, that will no doubt be a big success in spring/summer 23.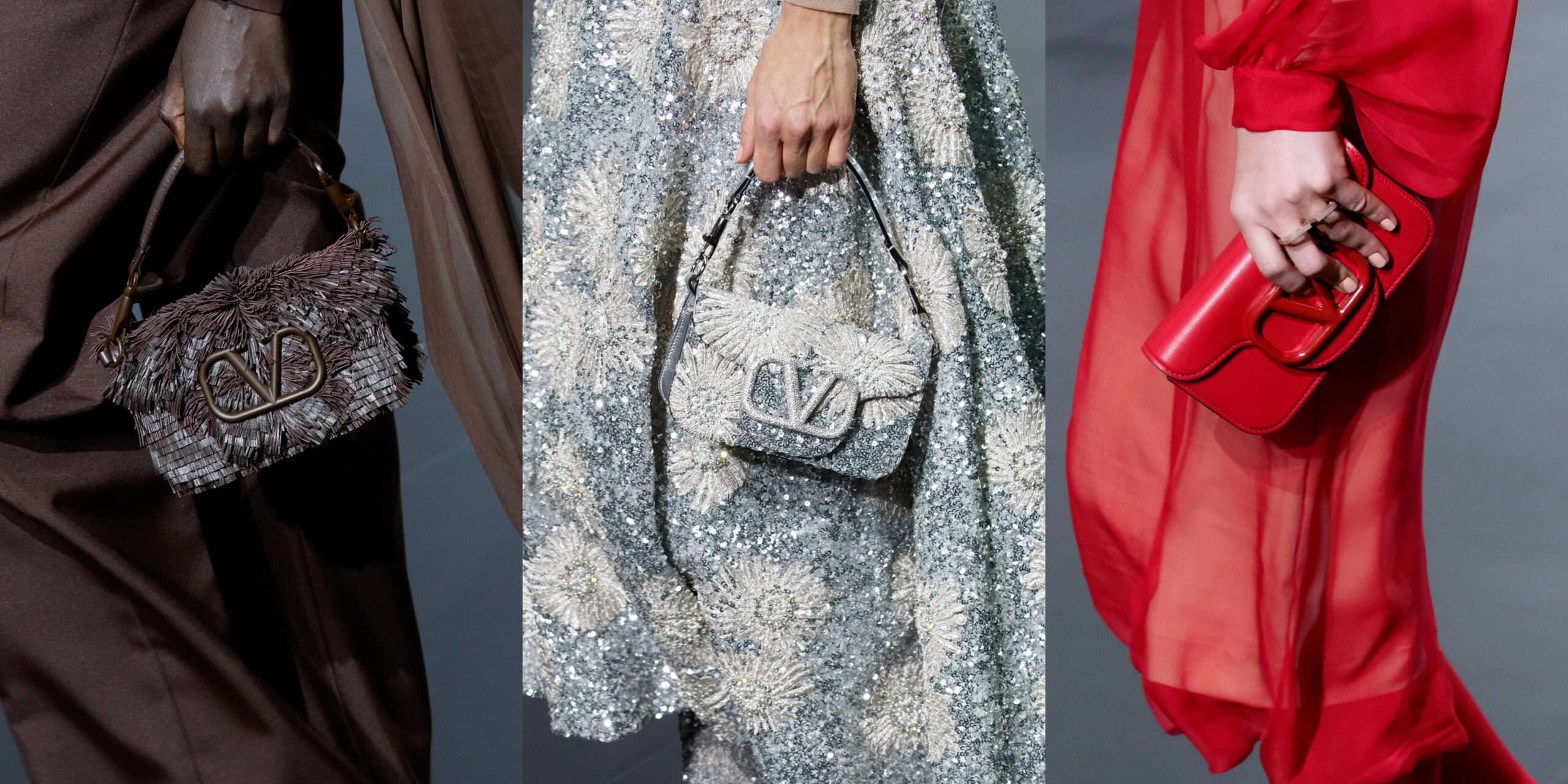 Dior
For her new collection for the brand, Maria Grazia Chiuri was inspired by the Italian noblewoman turned French queen Catherine de Medici. The designer said: "The idea was to play with this reference and how much fashion and power are in dialogue,". De Medici is credited with introducing corsets, platform heels, and Italian lace to the French court and that is what was showed in the collection, as well as florals and see-through fabrics.
Dior showed briefcase inspired bags which by the looks of it will be super popular next seasons. Bucket bags are also a big bet for summer, in this collection showed with fun tassels and embroideries. The Book Tote was presented in a woven material and the Dior Bobby had an antique floral print. The Lady Dior was showed in many embroidered variations in large, medium and in the east-west variation.
The collection was feminine and powerful, I have to say I really enjoyed it!
Loewe
For spring/summer 23 Jonathan Anderson presented once more a surrealist collection, this time inspired by the anthurium flower. His show notes described the flower as: "a product of nature that looks like an object of design and [was] treated as such." The flowers were shoed in dresses, bags and shoes, it wasn't the feminine florals we are used to, but rather daring and playful. Structured shapes appeared in dresses, shirts and jackets, made for a woman that wants to take up space.
As for the bags, the stand out piece was a new silhouette called the Paseo bag, a soft, elongated leather carryall with gorgeous pleats and exaggerated knotted handles. For me it looks a little similar to the Givenchy Kenny but it does have a stylish and effortless Loewe appeal. The Goya was also of note in puffer versions and with interwoven leather. The Puzzle bag and the Flamenco both appeared in beautiful floral prints.
Overall it was a fun and surrealist collection, just what we expect from Anderson for Loewe.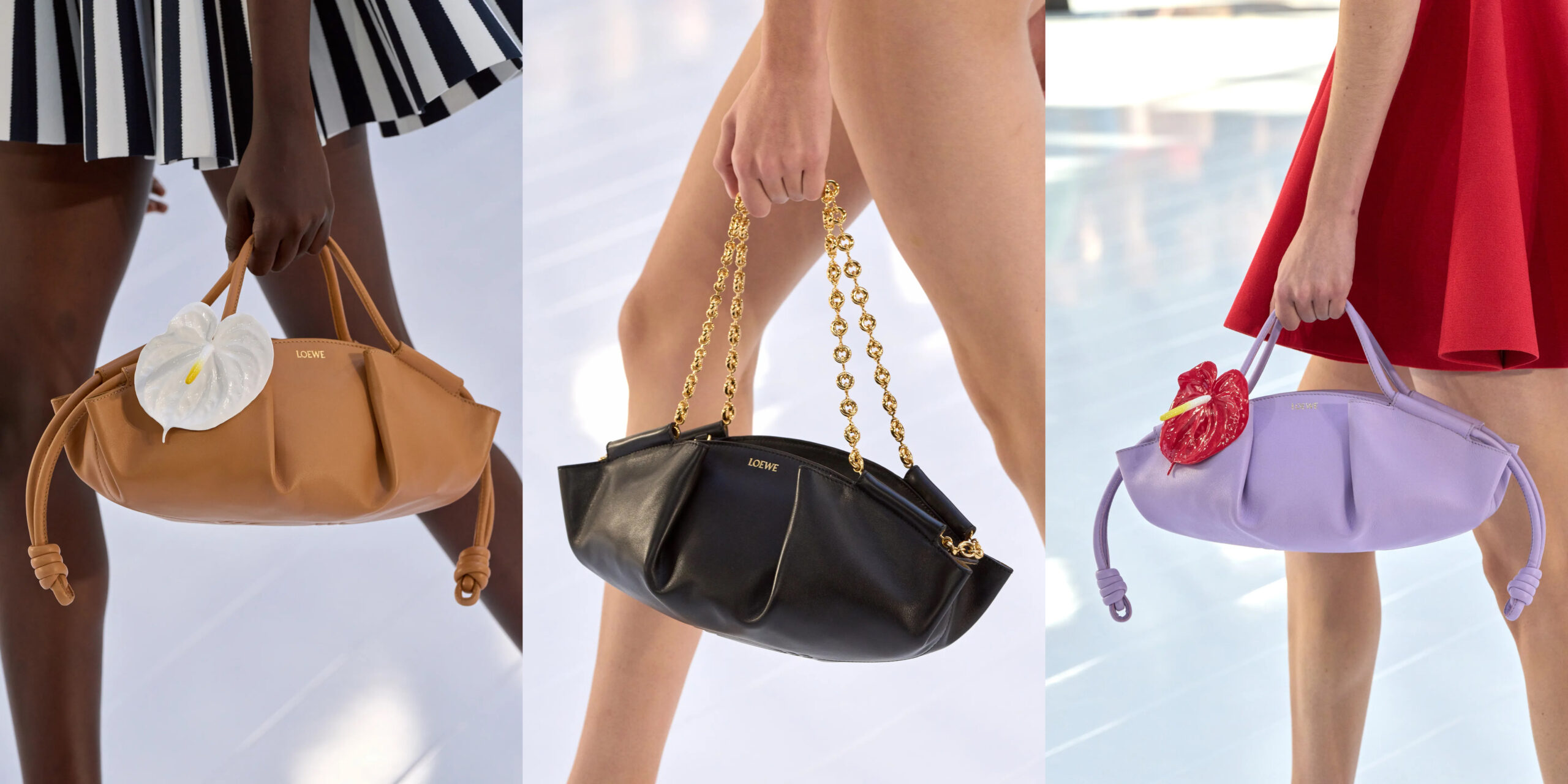 Miu Miu
Miuccia Prada continues with the collegiate sexy style that has been super popular for Miu Miu. She showed simple pieces that when combined were anything but simple. With worn out leather, nylon and see-through pieces the brand showed low waisted skirts, oversized blazers and leather minis.
As for the bags there was a bowling inspired top-handle bag that appeared in many colors and sizes, either in smooth leather or in the classic Miu Miu matelassé. Of course the Miu Miu Wonder was also of note, it was also showed in matelassé and smooth leather, showing that this bag will continue to be popular next year. A briefcase style bag was also presented, overall, Miu Miu continues with the same style from last seasons, which given the recent popularity growth of the brand, is the right idea.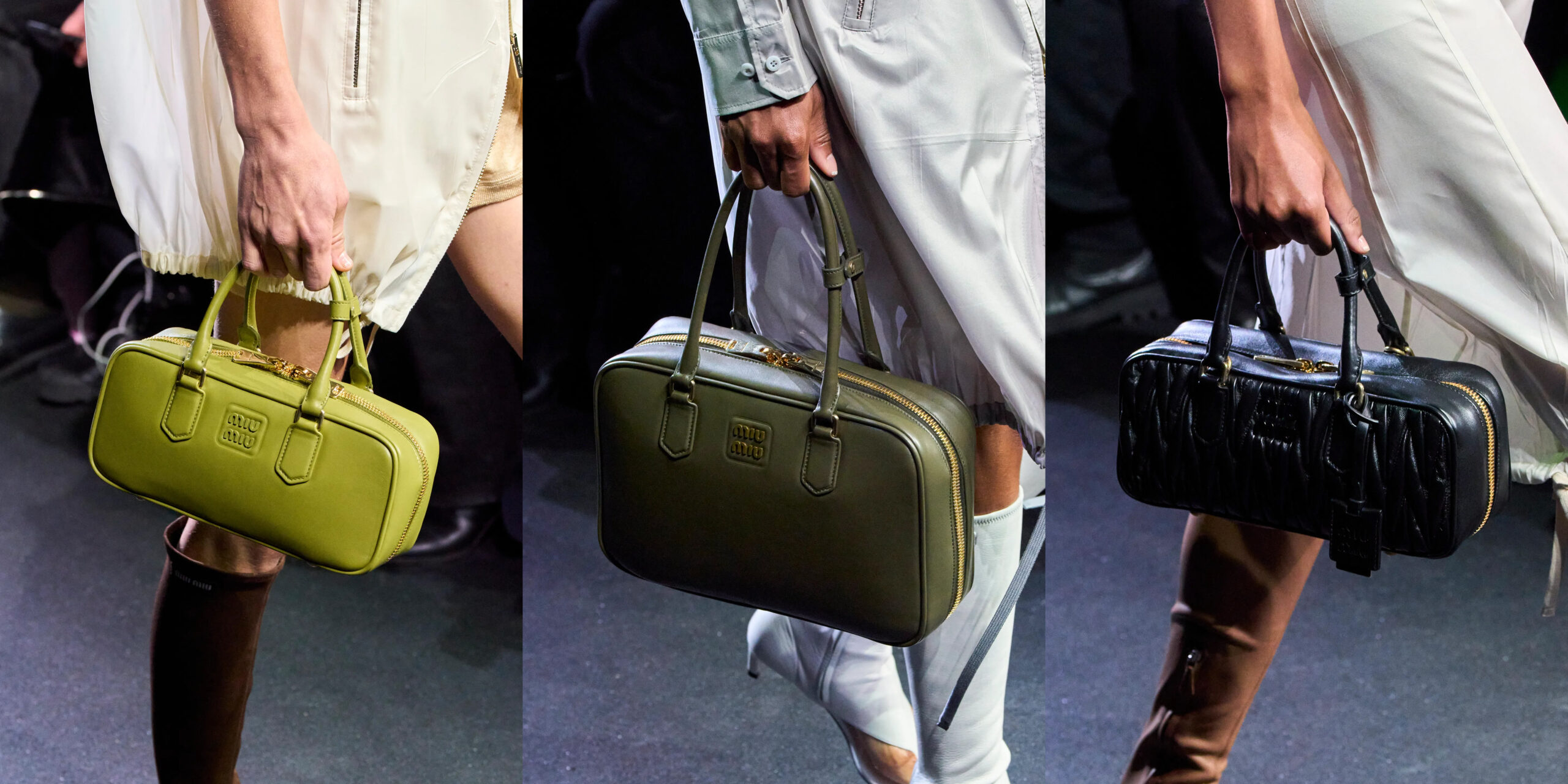 Hermès
For her spring/summer 23 collection the creative director Nadège Vanhee-Cybulski was inspired by adventurous trips, camping and hiking on the desert. She said: "The Hermès girls are taking a bivouac, a big hike in the desert, and setting up a camp at sunset to have a party, a big rave,". The clothes had utilitarian details but were made with that amazing leather Hermès is known for, so of course you wouldn't wear it to the desert. You could see the inspiration translated in the rich shades used for the collection, all desert, earthy tones and sunset colors.
There was a beautiful crescent shaped bag with two zippers on the front that nod to the functionality of the collection. A bucket bag went in another direction, embellished with feathers it was showed in many colors. Perhaps the standout piece was a Kelly style shoulder bag also embellished with feathers, giving a fun touch to the collection!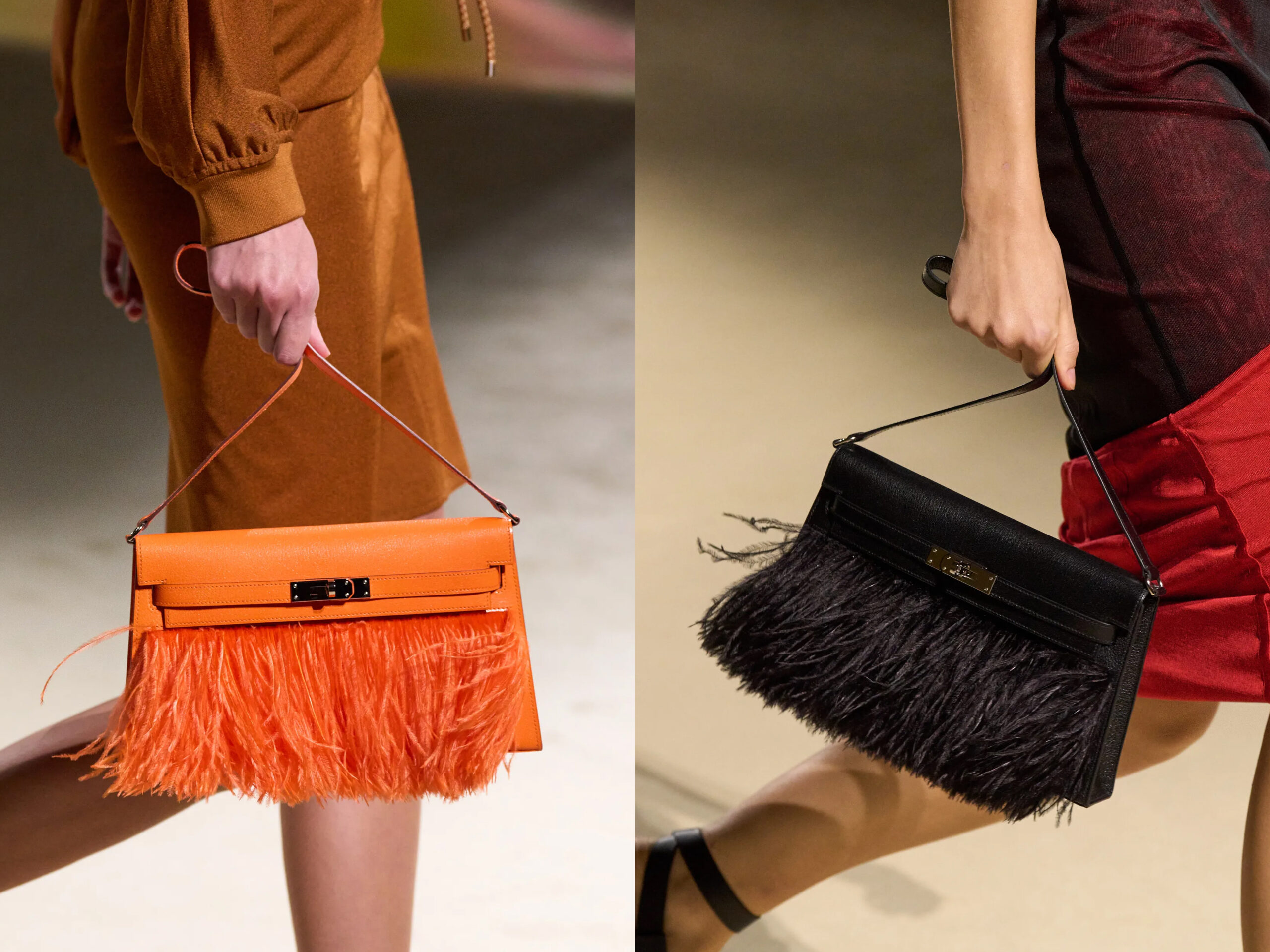 Givenchy
For his new collection, Matthew Williams took a different approach, he said this collection was about a house with no codes, so the chains and padlocks we usually see from the brand were absent. The collection started with streetwear inspired outfits, with a lot of denim, crop tops and mini dresses. Later the collection evolved into partywear, with beautiful gowns and embellished mini dresses. Williams told Vogue: "The beautiful thing about the brand is that it speaks to different women. It's good to speak to everybody."
As for the bags we could still see classic codes of the house but perhaps a little more understated. A big hobo bag with belt details was a standout piece, showed in many colors in leather and denim. The G-Hobo bag from a few seasons ago was presented in large and mini sizes. And the iconic 4G bag was showed in mini clutch and shoulder variations, showing that as much as the creative director wants to stray away from logos, some codes are so iconic they should always be present.