Welcome to The History of the Cartier Trinity Ring!
Cartier is one of the most iconic jewelry brands in the world! Louis-François Cartier established the business in Paris in 1847, and it stayed family-owned until 1964, when the Richemont Group acquired it. In addition to having three Historical Maisons in London, New York, and Paris, Cartier runs more than 200 stores across 125 nations. One of the most prestigious jewelry manufacturers in the world Cartier was known as "The Jeweler of Kings and the King of Jewelers". It was the jeweler of choice for monarchs, celebrities, and business moguls, and it still draws admirers of jewelry from all over the world today. And the Trinity Ring is one of the most classic pieces ever crafted!
The History of the Cartier Trinity Ring:
In the midst of the Art Deco boom, in 1924, the renowned Cartier "three-ring" made its debut. The French writer, painter, filmmaker, and poet Jean Cocteau, a close friend of Louis Cartier, created the piece. The three interlocking rings, each made of a different hue of gold, were so straightforward that they rapidly became classics. It seemed fitting that this ring would be popular among jewelry collectors given that it was said to represent friendship, loyalty, and love. It should be highlighted that the technical achievement behind the "Trinity" models, despite how straightforward it may seem, is what allows the three bands to glide over the skin with such ease. This is a classic staple of Cartier that will always be iconic!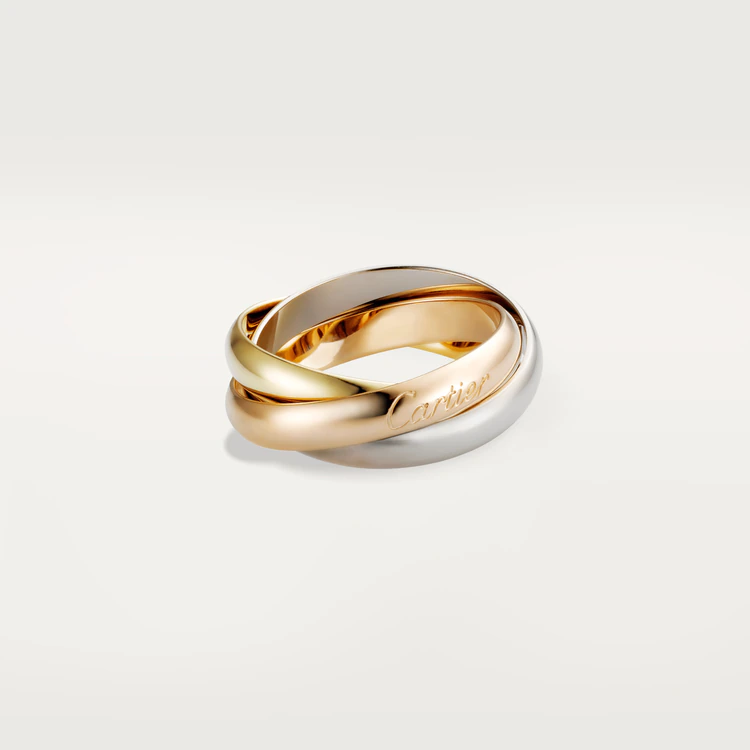 One of the most classic rings ever designed, it is one of the 10 Iconic Jewelry Pieces to Buy Now and Love Forever! It is understated enough for everyday wear but it is also a chic piece that makes a statement. You would be wearing this ring your whole life! The Trinity collection also offers bracelets and pendant necklaces.