Welcome to our list of The Most Amazing Bags From Milan Fashion Week Spring 24!
One of the most important fashion weeks has come to an end, so is time to see the amazing bags presented. From Bottega Veneta to Gucci and Fendi the bags you'll see here will be available on the next spring collections, I'm sure you will love them. Here you will see how fashion houses are finally moving away from trying to go viral on the internet and are again focusing on the quality, cut and elegance of the pieces. Fashion is again about clothes.
So, without further ado here are The Most Amazing Bags From Milan Fashion Week Spring 24:
Bottega Veneta
For his Spring/Summer 24 collection, Mathieu Blazy took us on a journey. Unlike his last collections that were a tribute to Italian fashion this season he was inspired by different cultures around the world. He said: "The idea was blending worlds. We took inspiration literally from all around the world: South America, Southeast Asia, Russia, Brittany, Sicily… we tried to blend them to create some kind of new culture."
The bags had a classic Bottega Veneta style, with intreciatto leather and understated but modern designs. The Sardine bag was presented in many sizes and materials, proving this bag will continue to be a staple next year. There were big totes and hobo bags that screamed Italian luxury, or rather whispered, because if this beautiful collection is any indication quiet luxury will continue to rule fashion next year.
Overall the collection is what I expected from Bottega Veneta, quiet, chic, contemporary and beautiful!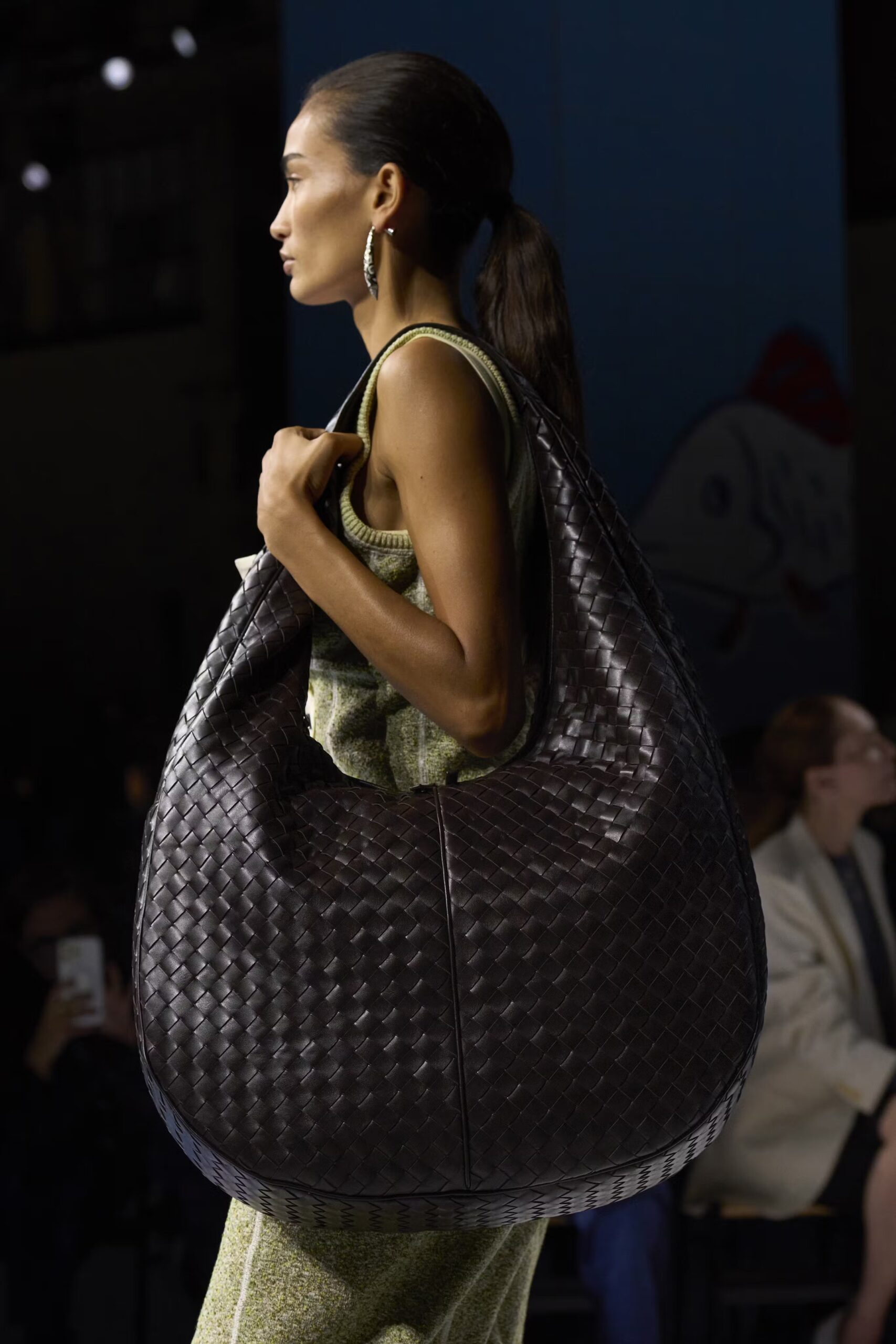 Versace
For her new collection, Donatella Versace was inspired by her brother's Gianni Versace 1995 collection. Bringing the 90's back with suits, minimal dresses and muted colors the collection was about dressing up and having fun. As for the bags there was a top handle bag with a medusa buckle presented in different sizes and neutral colors. There were also tote bags with a Versace logo that remind me of the Dior Book tote. Some Versace classics were also present, like the Greca Goddess and La Medusa.
Overall the collection was more understated than what I would expect from Versace. A little underwhelming if I'm being honest. It makes me wonder if quiet luxury is taking over Versace as well.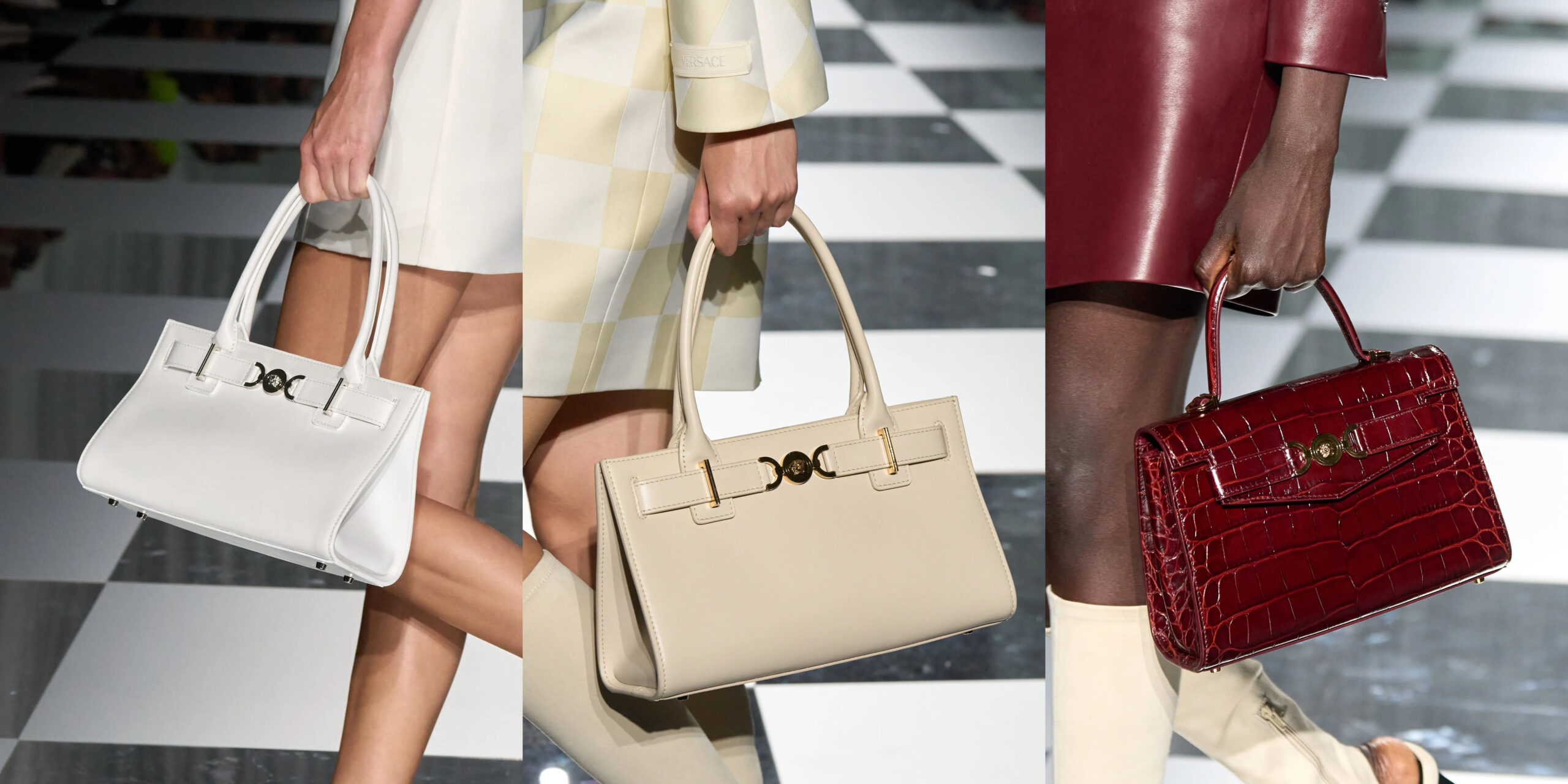 Gucci
The Spring/Summer 24 collection is the first collection of the new creative director Sabato De Sarno. He started with a clean slate and focused on essential wardrobe pieces that were far from Michelle's eccentricity but reminiscent of Tom Ford's sexy style. He used classic Gucci symbols in understated classic pieces that form the foundation of this new Gucci.
The bags were classics presented in a new way. The Jackie was in my opinion the star of the show, it was presented in many materials and colors, showing the focus this new Gucci has on the classics. There were also some chic clutches in the the iconic Gucci canvas that would be staples in any collection, as well as some bucket bags. The Gucci Bamboo was another classic that appeared on the show many times, each one as elegant as the last. There was a new shoulder bag with a metal Gucci logo that is very elegant, representative of this new Gucci.
I have to say I am loving this new Gucci style, they are focusing on cut, quality and elegance, and I am here for it!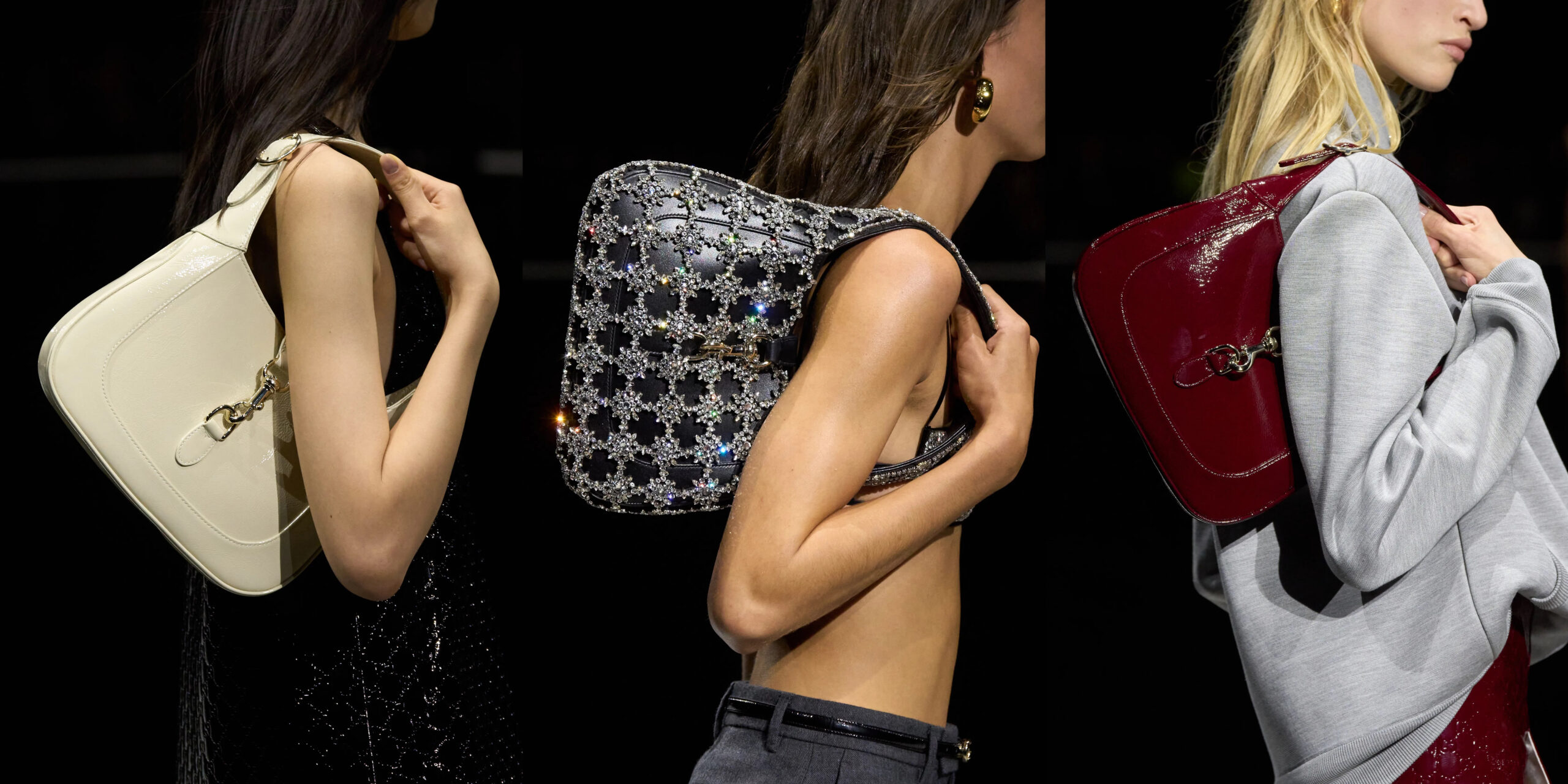 Prada
Prada's spring/summer collection was about craft. Miuccia Prada said:"I got tired talking about ideas—let's talk about clothes." Beautiful embroideries, fringes and drapings were presented in 90's inspired pieces, with suits, jackets, broad shoulder and minimal silhouettes. Miuccia brought to this collection handbags inspired by her grandfather designs from 1913, with hand carved mythological-man clasps inspired by the ones Prada would travel around the world to get. These mythological clasps adorned evening bags and totes in Nappa leather and Re-Nylon, giving an unexpected and unique twist to understated designs. Another standout piece of the collection was a top handle in calf leather with interchangeable belts that was elegant and appears to be super practical for everyday wear.
Prada is at an all-time high, and this collection continues their streak of presenting timeless pieces with a twist, that are bound to be It Bags when they launch.
Fendi
Insprired by Karl Lagerfeld's 1999 Fendi collection, for spring/summer 24 Kim Jones presented us a stunning fashion show. It was all about color-blocking, tailoring and minimal silhouettes, it was a very chic and wearable collection. The iconic Fendi Baguette was showed in many different colors, leathers and with multi-pockets, proving this classic style isn't going anywhere. Another classic the Peekaboo was present in exotic leathers, in a woven material and with an updated top handle, as well as in different colors and sizes. Some new favorites like the Fendi First and the Origami are also coming back in new materials. The new bag for spring is the Flip, a foldable tote that also comes in a mini size that is embossed with an F logo and has the colors of the collection.
I really enjoyed this Fendi collection, it feels fashion is finally moving away from viral internet moments and again focusing on the cut, quality and elegance of the pieces. Fashion is again about the clothes.