Welcome to our video listing The Most Amazing Ralph Lauren Bags!
No brand is more iconic to America than Ralph Lauren, originally known as Polo Ralph Lauren. Beginning in 1967, Ralph Lauren began creating and selling handcrafted ties, operating out of a drawer in the Empire State Building and taking his cues from Old Hollywood Glamour. He introduced his first complete menswear collection in 1968 and his first complete womenswear line in 1972. Ivy League and country club wear were combined with daily clothing in the collections. Ralph Lauren is closely connected to the polo and old money aesthetic, and is an easy way to add a chic staple into your everyday wardrobe. Ralph Lauren bags are elegant and practical, and here I'll show you the best ones!
So, without further ado here are The Most Amazing Ralph Lauren Bags:
1. Ralph Lauren Ricky Bag
Today an icon of style and sophistication the Ricky is inspired by Ralph Lauren's wife and muse Ricky. Mr. Lauren wanted every woman who uses her namesake handbag to feel comfortable anywhere in the world. The Ricky's original version, a satchel, first debuted 20 years ago and is still available. Its creation was influenced by Mr. Lauren's wife's passion for fusing outdoor sport and men's fashion. Its most distinctive feature is a working lock with the name "Ralph Lauren" engraved on it in a figure-eight form. Today, the recognizable Ricky comes in a variety of styles, from formal clutches to wallets.
It is one of the most classic bags of the brand!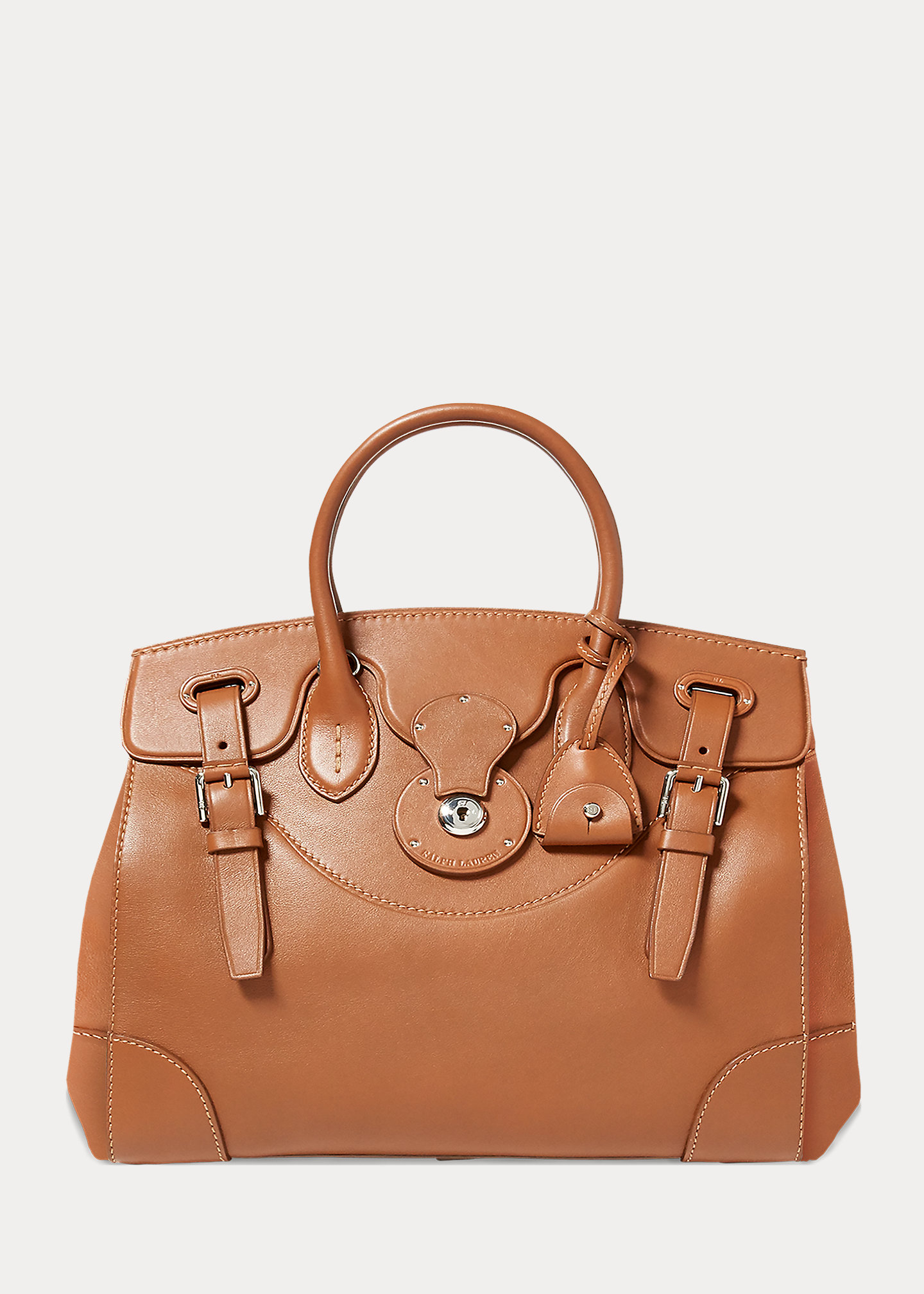 2. Ralph Lauren RL50
The RL50 Handbag drew influence from one of Mr. Lauren's own travel bags. It is distinguished by its belted silhouette and tastefully curved bar topline. Ralph Lauren's dedication to upholding artisanal leatherworking traditions is embodied in this bag, which was completely handmade in an Italian workshop run by a family. This iconic piece was created in 2018, the year Ralph Lauren celebrated his 50th anniversary. It is finished with "RL" engraved protective feet at the base. The iconic shape combines elements from Ralph Lauren's past, including equestrian-inspired details, city sophistication, and the highest caliber leather workmanship. The bag is available in different sizes, colors, materials and prints.
This could be an amazing work bag; it is big enough to fit all your essentials while looking elegant at the same time. It is also an amazing alternative to the Hermès Birkin Bag!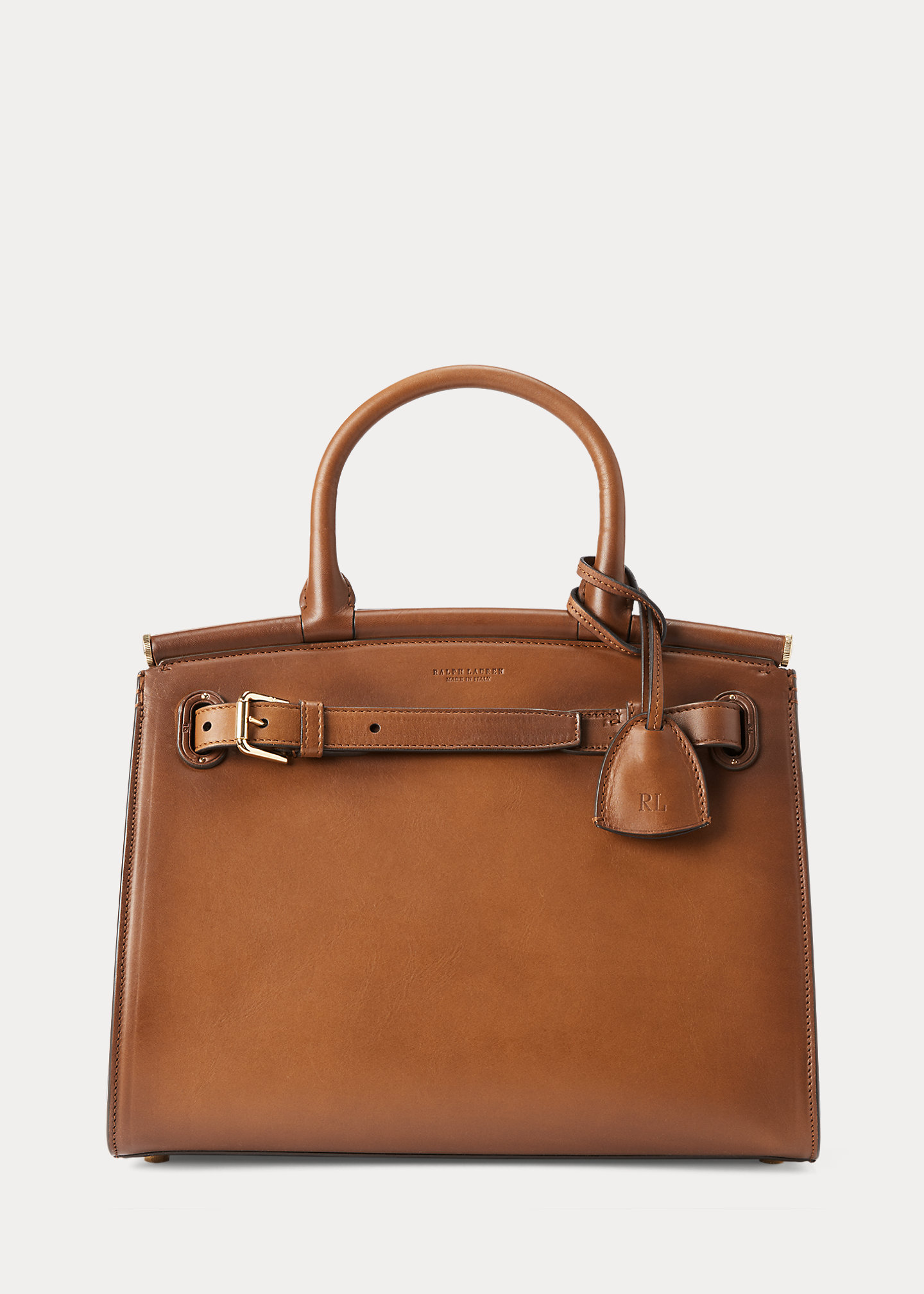 3. Ralph Lauren Welington Bag
Part of the Ralph Lauren Welington Collection, this shoulder bag is beautifully handcrafted by master artisans in Italy from calf suede and finished with a lambskin lining. A modern reflection of Ralph Lauren's equestrian heritage, it boasts a polished palladium-plated stirrup buckle engraved with "Ralph Lauren" at the front fold-over flap. The piece's studied construction features an adjustable shoulder strap, an interior slip pocket, and hand-painted edges, which highlights Mr. Lauren's dedication to fine workmanship. There are different styles you can choose from. Each piece celebrates the sleek contours of the stirrup, an iconic equestrian motif, crafted in custom hardware.
This crossbody is the perfect grab-and-go kind of bag, it is chic, understated and very stylish.