Welcome to our list of the Top 10 Rare Chanel Bags!
Over the last century Chanel has dazzled us all with the most amazing pieces the luxury fashion market has to offer. We are all in love with the 2.55, the classic flap, the boy and the Chanel 19 bags. They are classics that will never go out of style and will for sure keep their value. But Chanel has a lot more to offer.
There are some Chanel pieces that if you ever see in the resale market you simply have to get your hands on it. Chanel makes some of the rarest most collectable pieces you could ever find. There are basically three categories when it comes to Chanel's rare bags: the runaway pieces, the Métiers d'Art handbags and the exotic leather ones. You will find all of them in this list.
The runaway pieces are the ones shown every year in Chanel shows and they are special because of the limited number of pieces made and also because of their amazing design. Métiers d'Art means 'art professions', and it is the title given to the annual Chanel collection that pays homage to the small specialist workshops that Chanel began buying in 1984.  The exquisite Métiers d'Art collection showcases the craftsmanship for which the luxury house is known for.
So, without further ado here are the Top 10 Rare Chanel Bags:
1. Chanel Alligator Diamond Forever Classic Double Flap Bag
This to-die-for bag is made of fine crocodile leather and it has 334 diamonds incrusted on the white gold Chanel logo. It also comes with a detachable 18k gold chain that can be used as a strap. This bag is considered to be the 7th most expensive bag ever sold and the most expensive Chanel bag, the price of this beauty was $261,000.
Part of what adds up to this steep price is the fact that only 13 pieces of this handbag were ever made. But of course all the bags in this list have the exclusivity factor working for them.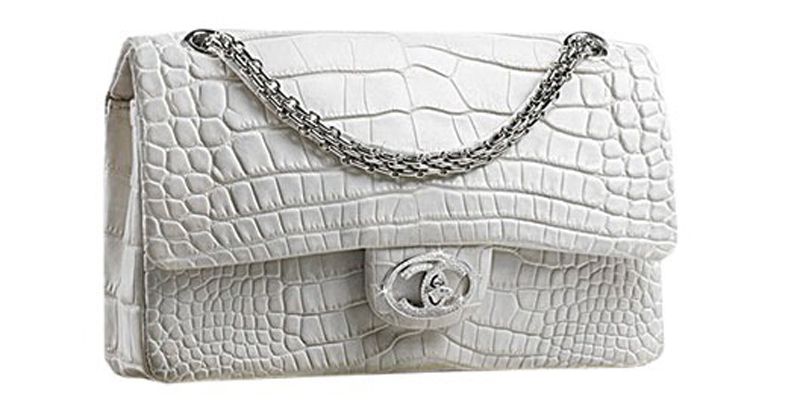 2. Chanel Matryoshka Bag
The black lucite Matryoshka evening bag with gold hardware was featured in the opulent Paris-Shanghai Métiers d'Art runway show in 2010 — a show dedicated to decadence. In 2018 it sold in a Christie's online auction for $32,500 — five times its high estimate.
It embodies Chanel's assured combination of tradition and experimentation — something that has consistently kept the fashion house ahead of the curve.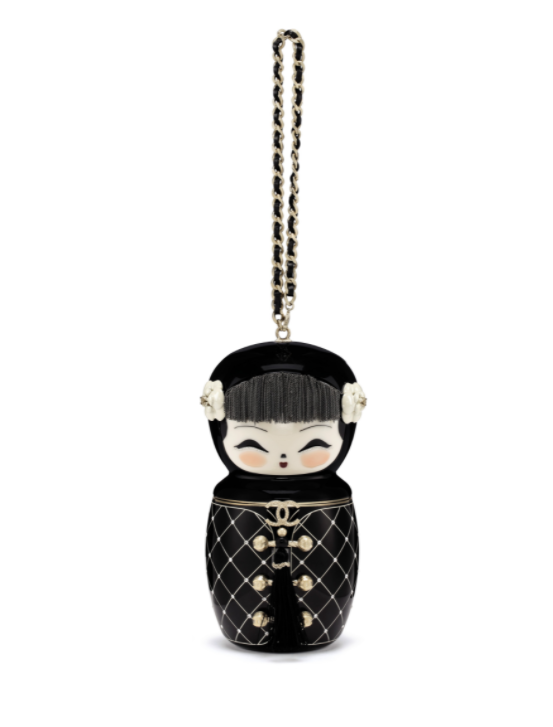 3. Chanel Perfume Bottle Bag
Not necessarily what one would call a classic, but this Chanel perfume bottle made a huge success when it debuted on the runway in 2013. Modeled after the iconic Chanel No. 5 perfume, this Chanel bag is an easy conversation starter. 
We can all see why it became so popular among collectors and fashion lovers, not only it is beautiful but it also depicts an important part of the brand's history.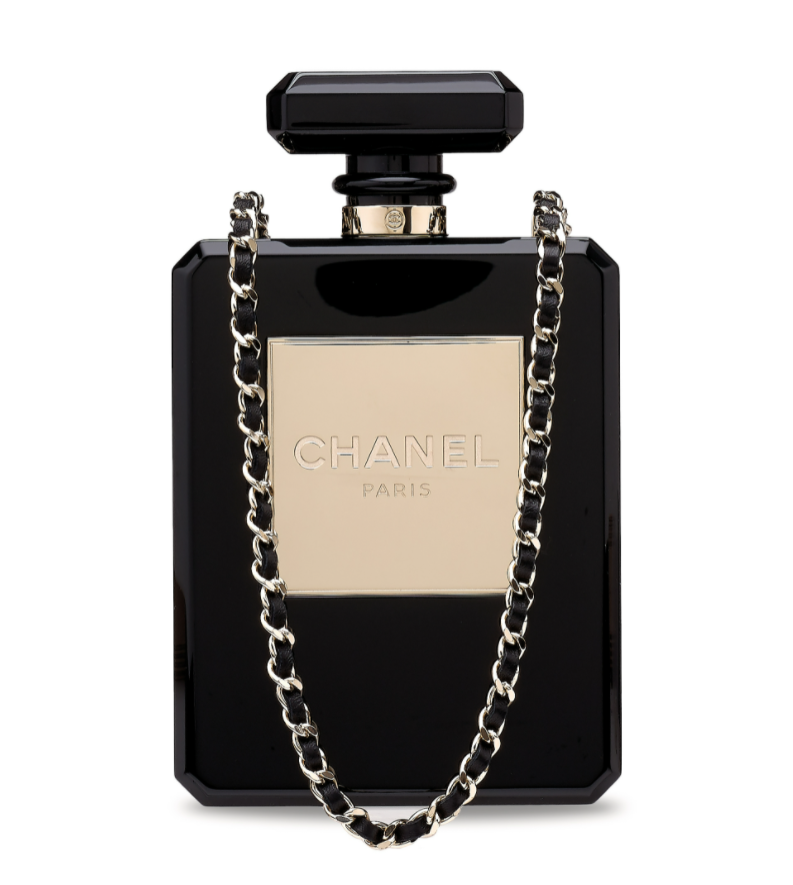 4. Chanel Lait de Coco Bag
The supermarket theme of Chanel's autumn/winter 2014 extended across the accessories collection, and this cute milk carton bag is just one example. Several other food items were turned into accessories and branded by Chanel, including a Reissue 2.55 that was encased in plastic film wrapping. This Lait de Coco bag is made of silver leather and ruthenium hardware.
Honestly, how cute is that?!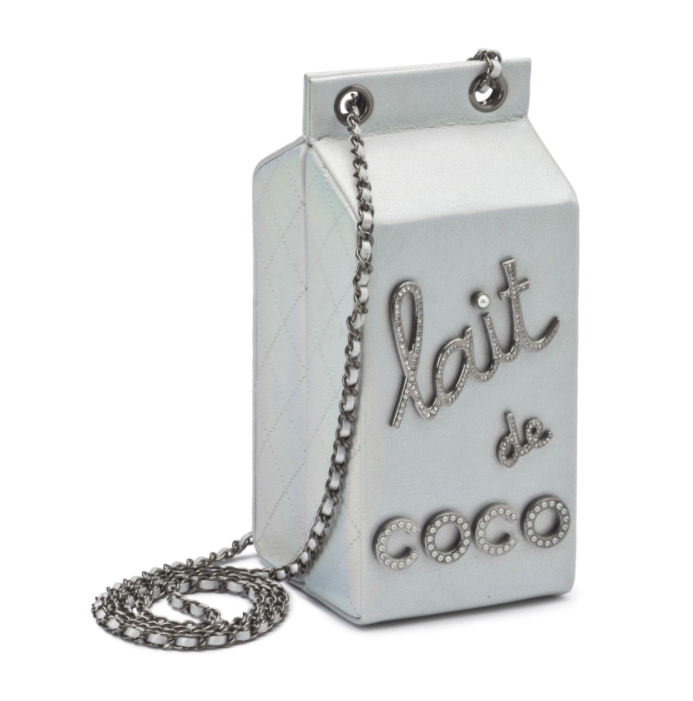 5. Chanel Alligator Classic Double Flap Bag
The classic Double Flap Bag is a must-have for every Chanel collector. Karl Lagerfeld, who became creative director of Chanel in 1983, made one notable addition: the CC turnlock, now a feature on the Classic Flap. Traditionally crafted in jersey, then lambskin and caviar leather, the Classic Flap has also been issued in highly sought-after materials such as ostrich and alligator.
This shiny red alligator jumbo Classic Double Flap with gold hardware was sold by Christie's auctions for almost $30,000.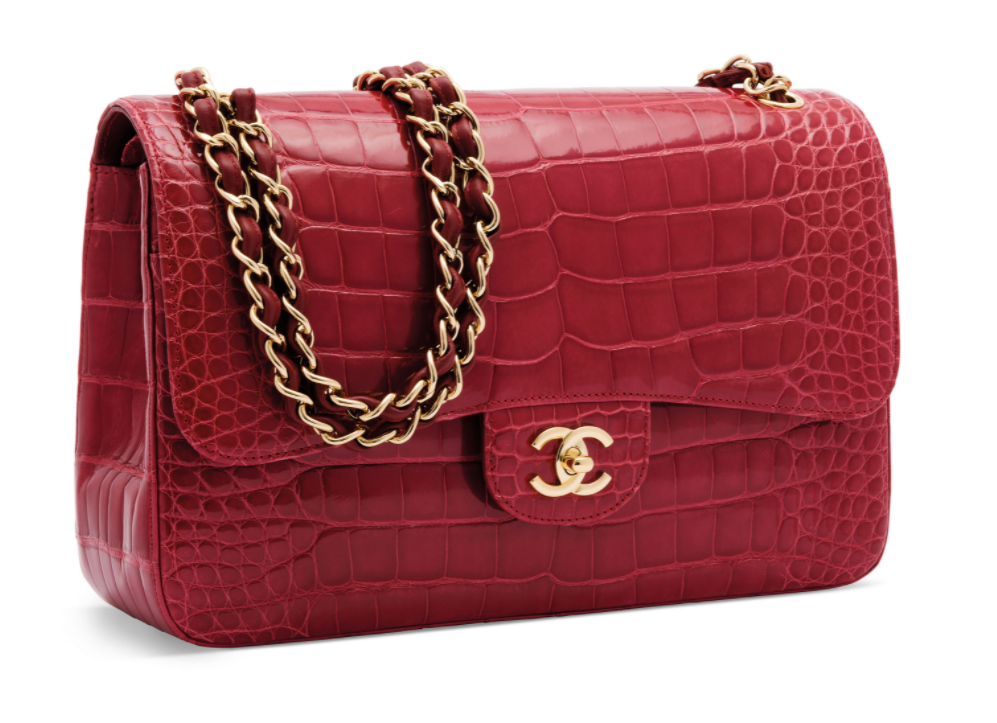 6. Chanel Hula Hoop Bag
In Chanel's SS 2013 collection, Karl Lagerfeld's runway featured a showstopping new take on the Classic Flap: the Hula Hoop Bag. The design features the Classic Flap's original shape restructured within a giant circular handle to mimic a life-size hula hoop. For practical everyday wear, the shoulder bag can be found in a scaled-down size. 
This bag serves as the perfect statement piece while remaining identifiable with its famous Chanel characteristics.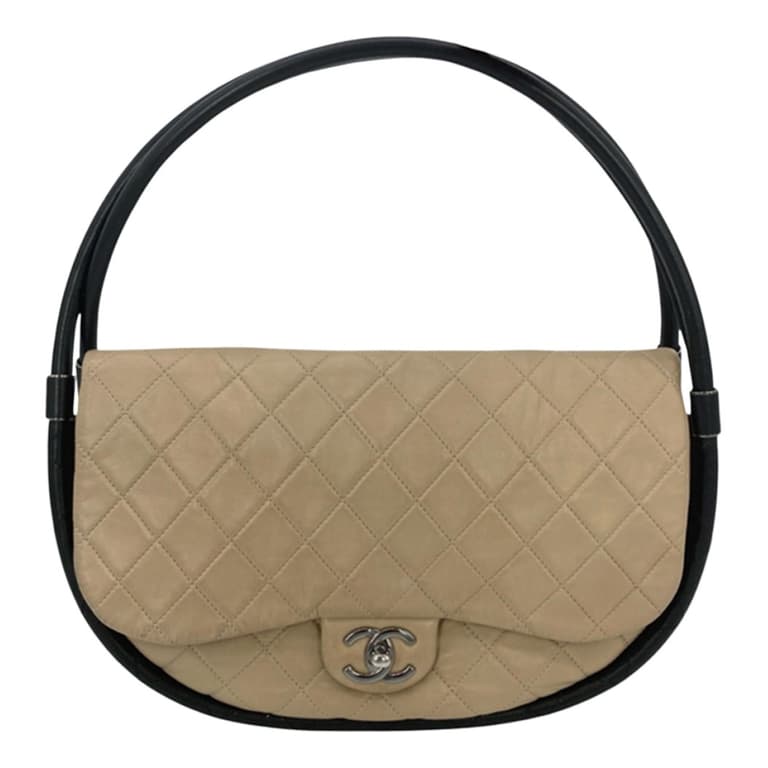 7. Chanel Supermarket Basket Bag
Perhaps one of the most memorable runway shows during Lagerfeld's tenure was the Chanel Shopping Center show of Autumn Winter 2014. Karl Lagerfeld transformed the Grand Palais into a Chanel-themed supermarket with models walking through the aisles. This show provided the world with one of the most unique handbags in Chanel's design history: the Shopping Basket Bag. The bag-basket combo features the chain found on Chanel Classic Flap Bags with a structured supermarket twist. 
This novelty piece is perfect for a growing handbag collection or just to make any mundane errands a chic experience.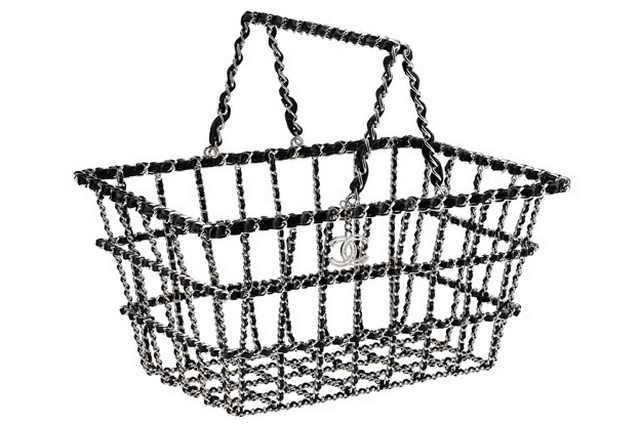 8. Chanel Pearl On Flap Bag
One of the most important recurring symbols of the brand is the pearl. Coco Chanel added faux pearls to many of her designs, ranging from jewelry to clothing, and established faux pearls as a fashion trend. It's easy to see why the retail price of this Chanel beauty has already doubled since its release. The black leather acts as a dramatic backdrop to a generous sprinkling of luminous pearls, a signature of the brand. It's important to note that this style was an update on the less-valuable Pearly Flap Bag that was produced in 2015 – where the pearls are more spaced out. 
A hit on Instagram, this is a bag you will treasure forever.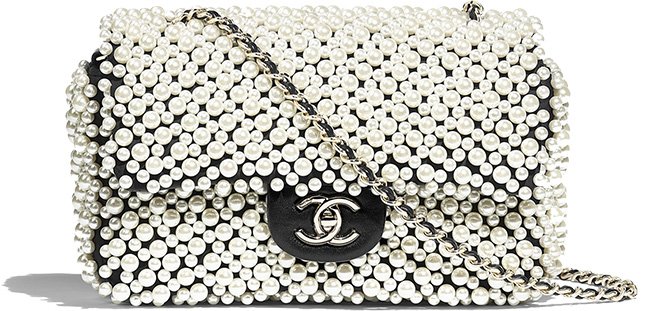 9. Chanel Vintage Vanity Case
The Vanity Case bag is an all-time Chanel favorite! It can be found in many shapes, but it's that vintage feel that makes this bag so special. This Round Top Handle Vanity Case bag made appearances at many fashion weeks and is quick to be snatched up when seen on the resale market. The structure of the bag gives a retro feel, while the sleekness of the patent leather allows the 90s and early 00s aesthetic to shine through. A sister of this silhouette is the Vintage Heart Handle Bag. 
This fashionable artifact has an unforgettable charm thanks to its unique heart-shaped design. It would make a standout addition to any handbag collection.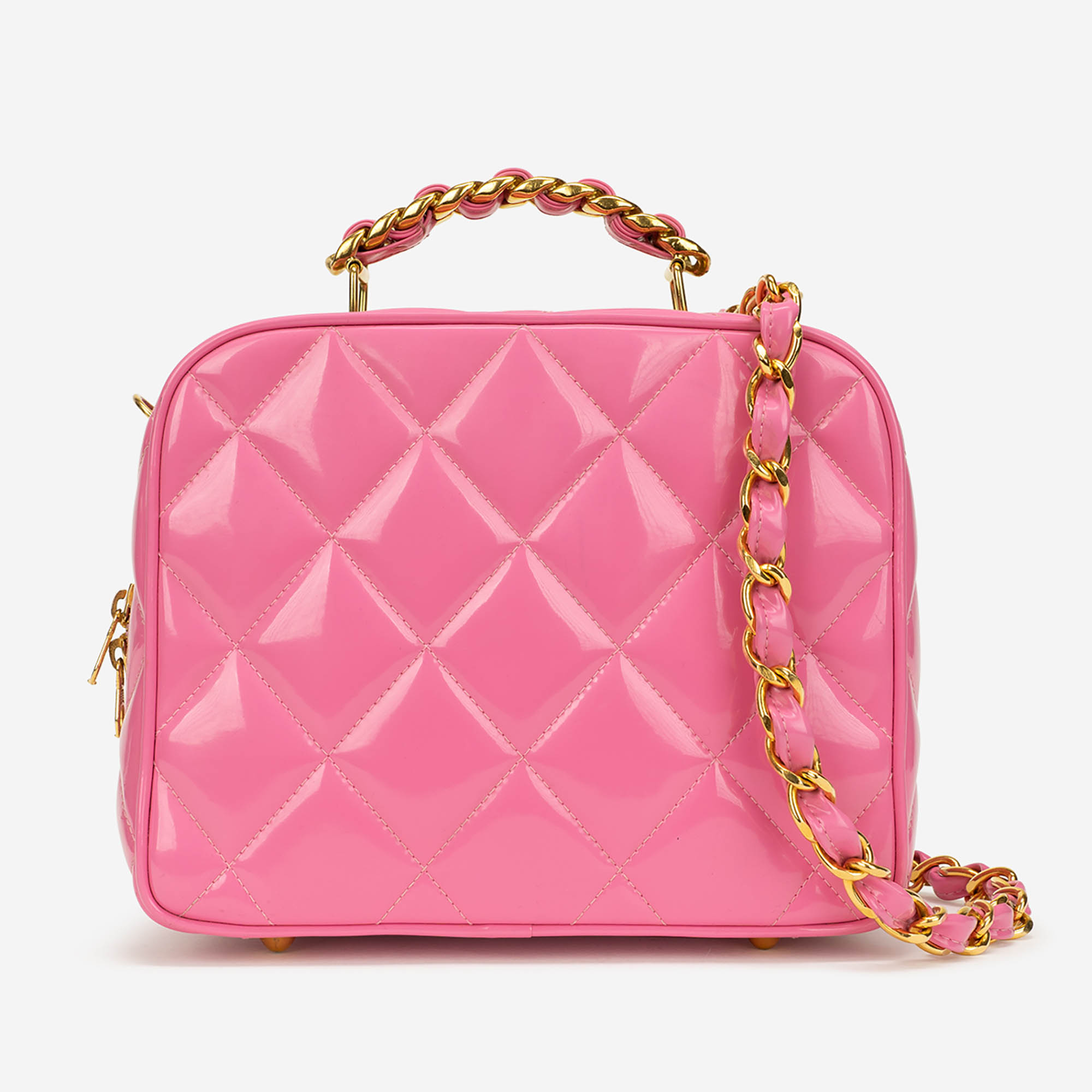 10. Chanel Graffiti Backpack
Karl Lagerfeld's collection of graffiti-sprayed canvas backpacks and totes gave the signature Chanel look a streetwear spin. It's a classic Karl design – a daring reinterpretation of the fashion house's iconic branding that somehow just works. The backpack of course became the It-bag of the summer! It was seen on the shoulders of Kristen Stewart, Katy Perry and Miley Cyrus.
This is only one of the examples of what the genius Karl Lagerfeld could do.