Welcome to our list of the top 5 most expensive bags ever sold!
Handbags aren't only for carrying your stuff around, they can be fashion statements, pieces of history and on these cases true art forms. Some high-end handbags can cost hundreds of thousands of dollars. And in this post, you´ll see the most expensive ones. We promise you they will not all be birkins, you may be surprised.
So, without further ado here are the Top 5 Most Expensive Bags Ever Sold:
1. MOUAWAD 1001 NIGHTS DIAMOND PURSE – USD 3.8 MILLION
Mouawad 1001 Nights Diamond Purse is currently the most expensive handbag in the world and holds the position in Guinness World Records since 2011. The handcrafted bag is made of 18-karat gold and features 105 yellow diamonds, 56 pink diamonds, and 4,356 colorless diamonds. This masterpiece was hand crafted by 10 highly skilled artisans working for a total of 8,800 hours. The exceptional level of craftsmanship exemplified by the Diamond Purse has been a hallmark of the Mouawad name since the jewelry company was founded Lebanon in the 1890. It was sold in 2018 at the Christie's auction preview in Hong Kong.
Can you imagine having a 3,8 million dollars handbag? I mean, where would you wear it?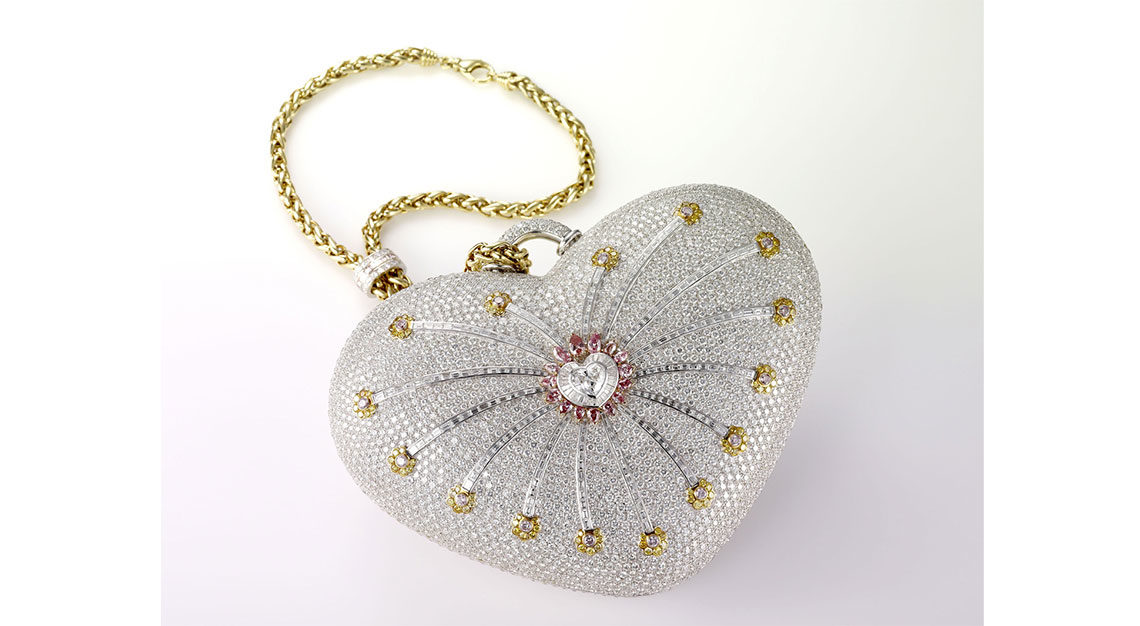 2. HERMÈS KELLY ROSE GOLD – USD 2 MILLION
Another design of Pierce Hardy for Hermes, this Kelly bag has been crafted to resemble crocodile leather and it´s made of solid rose gold. This small, luxurious and stunning bag features 1,160 diamonds. The bag can be carried conventionally or worn with the handles around the wrist as a sort of bangle. Although the flap actually works the bag is to small to even hold an Iphone.  
Only 12 of such bags were ever created, which adds up to its worth. The total manufacturing time on the pieces was 2 years.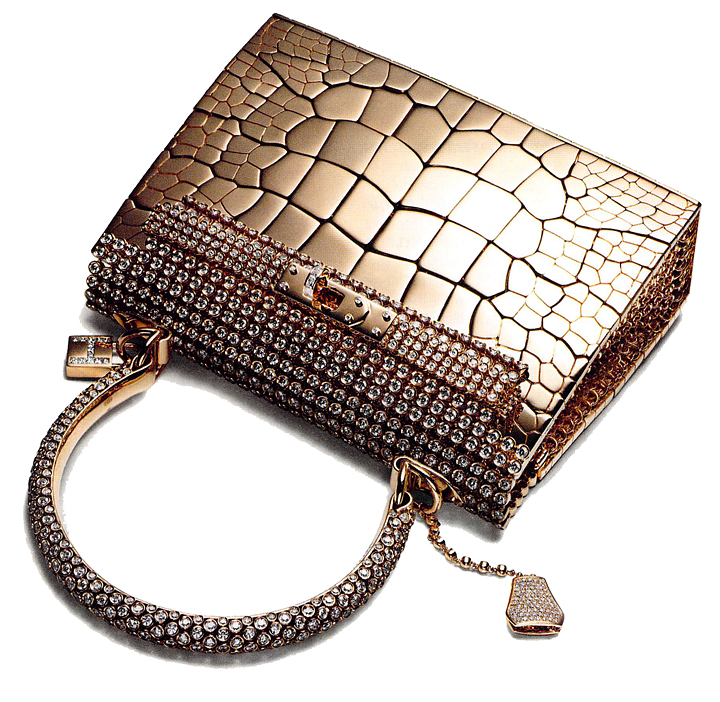 3. HERMÈS BIRKIN BAG BY GINZA TANAKA – USD 1.4 MILLION
This unique Hermes Birkin Bag was designed by the Japanese designer Ginza Tanaka in 2008. It comes with detachable parts that can also be worn separately. It´s made of platinum and features over 2000 diamonds on its outer shell along with a pear-shaped 8-karat stone as a centerpiece, that can be detached and used as a brooch.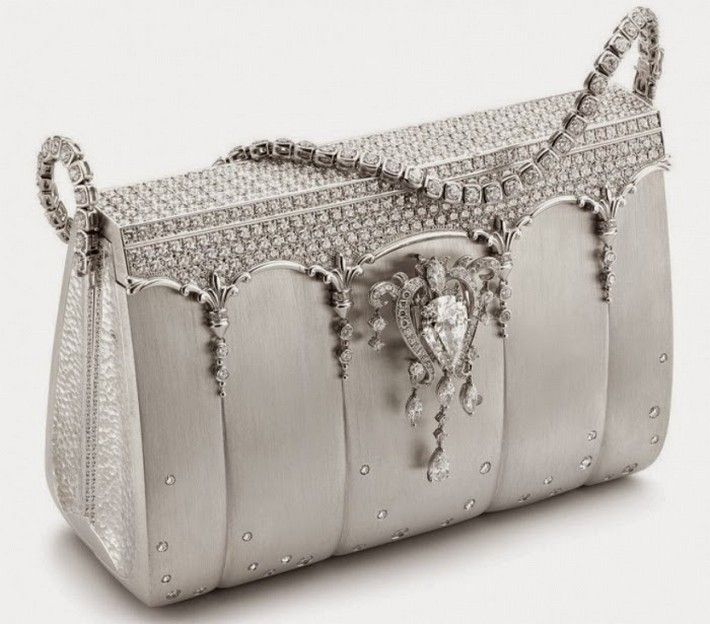 4. HERMÈS CHAINE D´ANCRE BAG – USD 1.4 MILLION
True to its name, the Hermes Chaine d' Ancre Bag carries an intricate, prison-like design due to its anchor-shaped chain links which are encrusted with 1,160 pieces of diamonds. The high price can be attributed not only for its expensive materials, but also for being a Pierre Hardy-designed collectible as only three of these were created.
The Hermes Bag is a part of the Hermes Haute Bijouterie collection.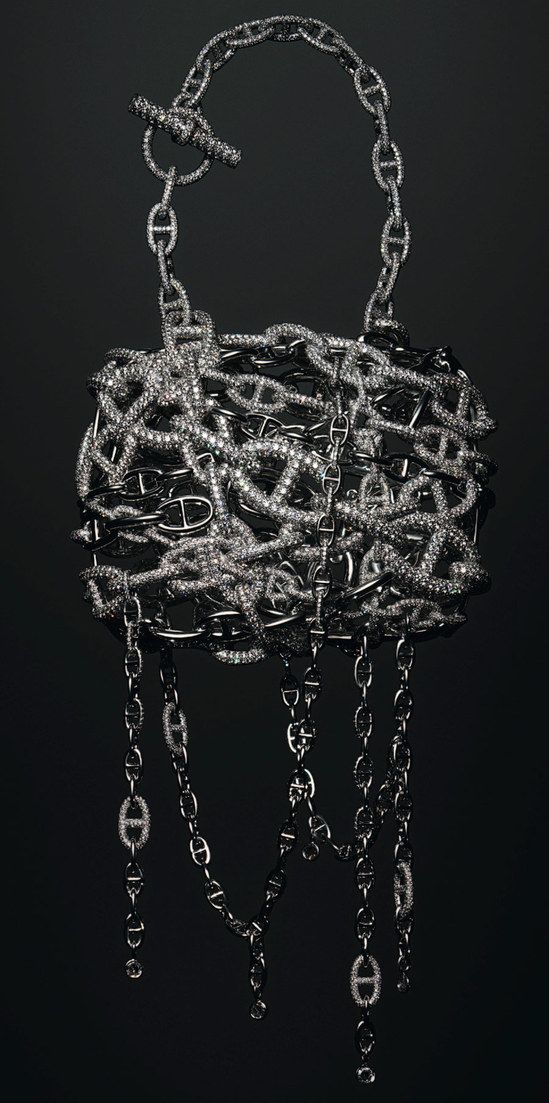 5. LANA MARKS' CLEOPATRA CLUTCH – USD 400,000
Lana Marks is a luxury accessories brand that specializes in exotic leathers and is known for creating some of the world's most expensive handbags. The Cleopatra Clutch by Lana Marks costs between USD 100,000 and 400,000 and is a favorite among high-profile celebrities. What adds up to its worth is the fact that only a single piece of this bag is produced each year. The most expensive among the handbags is owned by the Chinese actress and singer Li Bingbing. The bag that the celebrity owns features 1,600 white diamonds that amount to 40 karats.
To write Li Bingbing's name, pink diamonds and pink gold were used.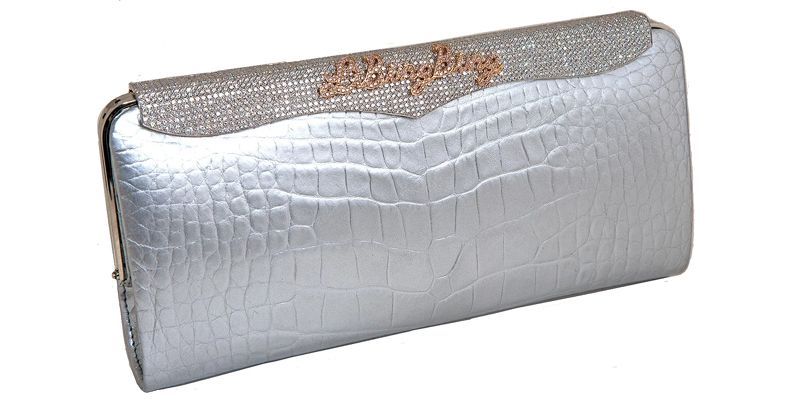 Make sure to check out my post about The Most Expensive Shoes in the World!