Welcome to our list of the Top 5 Most Expensive Pieces of Jewelry Ever Sold!
We all know that diamonds are a girl's best friend. And when it comes to the most luxurious jewelry there are a few brands that come to mind. Despite sky-high prices, the demand for high-end designer men and women's jewelry only continues to grow. From tiaras to rings, wealthy connoisseurs have spared no expense buying up the world's priciest jewelry. Thanks to their mesmerizing beauty, but also due to their great rarity some pieces of jewelry sold for astonishing prices. We all love jewelry but the ones on this list are on a whole other level. This list is filled with amazing jewelry that definitely have their place in history.
So, without further ado here are the Top 5 Most Expensive Pieces of Jewelry Ever Sold:
1. The Hope Diamond – Inestimable
The Hope Diamond is one of the most famous jewels in the world, with ownership records dating back almost four centuries. Weighing 45.52 carats, its exceptional size has revealed new findings about the formation of diamonds. The stone originated from the Kollur Mine, Guntur, Andhra Pradesh in India and was purchased in 1666 by French gem merchant Jean-Baptiste Tavernier. Tavernier then sold it to King Louis XIV in 1668. It was stolen in 1791 but it acquired its "Hope" name when it appeared in the catalogue of a gem collection owned by a London banking family called Hope in 1839. After going through numerous owners, it was sold to Washington socialite Evalyn Walsh McLean, who was often seen wearing it. 
It was purchased in 1949 by Harry Winston, who toured it for a number of years before giving it to the Smithsonian Institution in 1958, where it has since remained on permanent exhibition. According to the Smithsonian, its rarity, extremely high profile, and immense cultural value make its worth ultimately inestimable.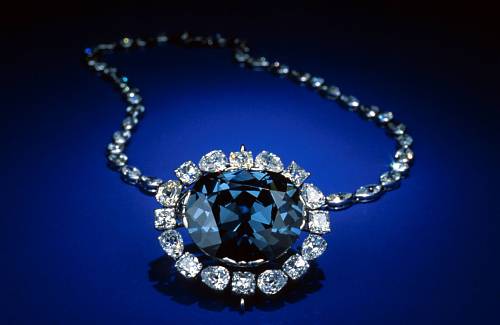 2. Peacock Brooch by Graff – $100 million
A total of 120 carats of colored diamonds adorn the brooch, which measures a little over 10cm in height (about 4 inches). At the center of the brooch, is a 20-carat fancy deep blue pear shape diamond, one of the rarest blue diamonds in the world, according to the luxury diamond jewelry company. It is surrounded by white and colored Graff diamonds—set by master craftsmen at Graff's London workshop. The peacock's tail feathers are set with various-sized white, blue, yellow and orange diamonds and the tip of each feather is adorned with white diamonds.
The piece contains an additional clasp in the rear that allows for the blue diamond centerpiece to be removed and worn two ways.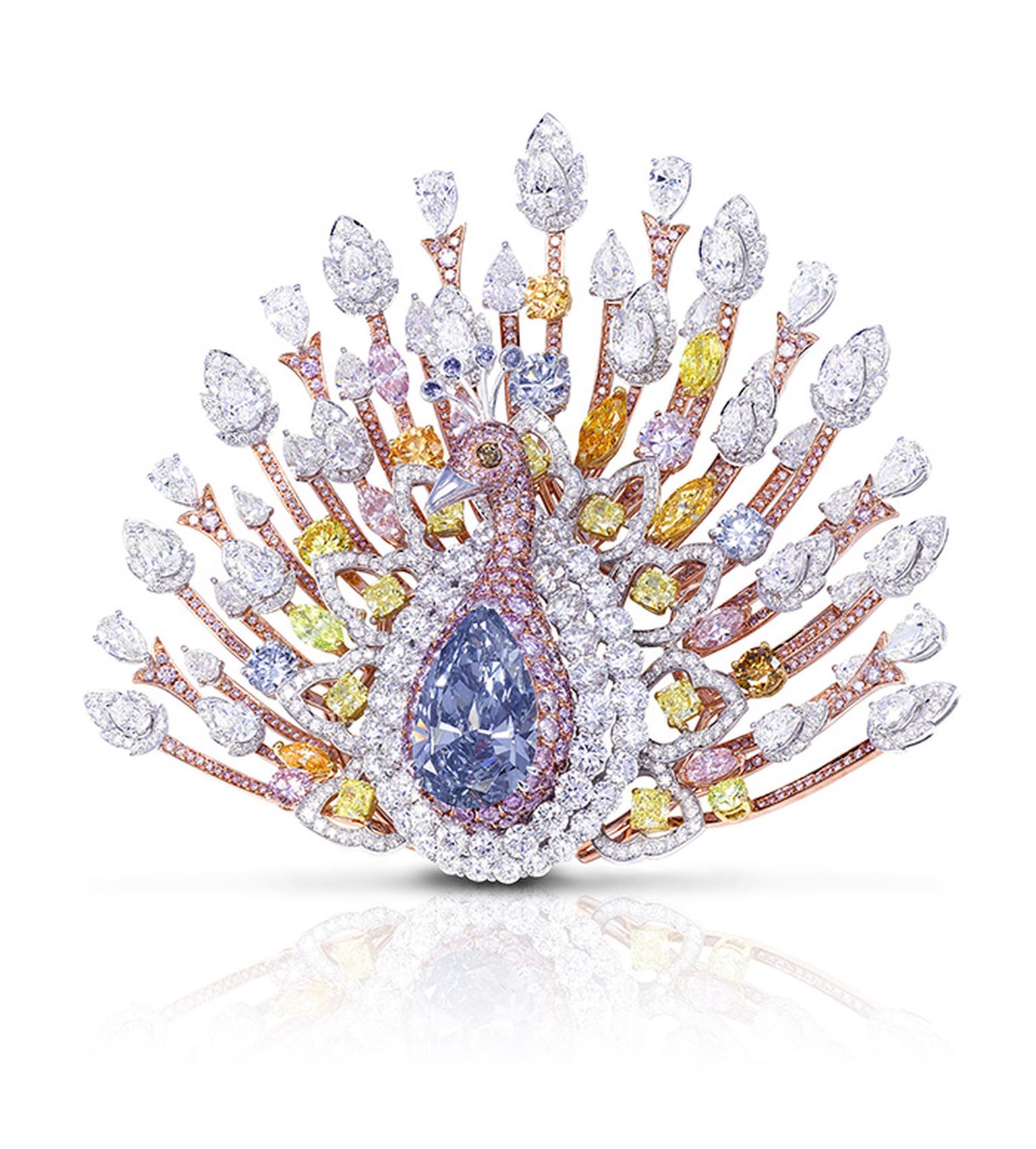 3. The Pink Star – $72 million
Weighing an unbelievable 59.60 carats and rated 'fancy vivid' by the GIA, the pink diamond was cut from a rough stone of 132.5 carats mined in 1999. It was exhibited in 2003 at the Smithsonian National Museum of Natural History, and then in 2005 at London's Natural History Museum, where it attracted crowds of 70,000 visitors a day. The diamond was soon acknowledged globally as one of the rarest, finest, and most beautiful jewels ever uncovered. In 2013, the Pink Star was auctioned at Sotheby's and purchased for $83m by New York diamond cutter Isaac Wolf on behalf of a group of investors. However, Wolf and his investors defaulted on the payment and so the jewel returned to the auction house.  
Four years later, the jewel returned to auction in Hong Kong, where it was won (and paid for!) by Chow Tai Fook Enterprises, a huge Hong Kong-based conglomerate with an important jewelry division.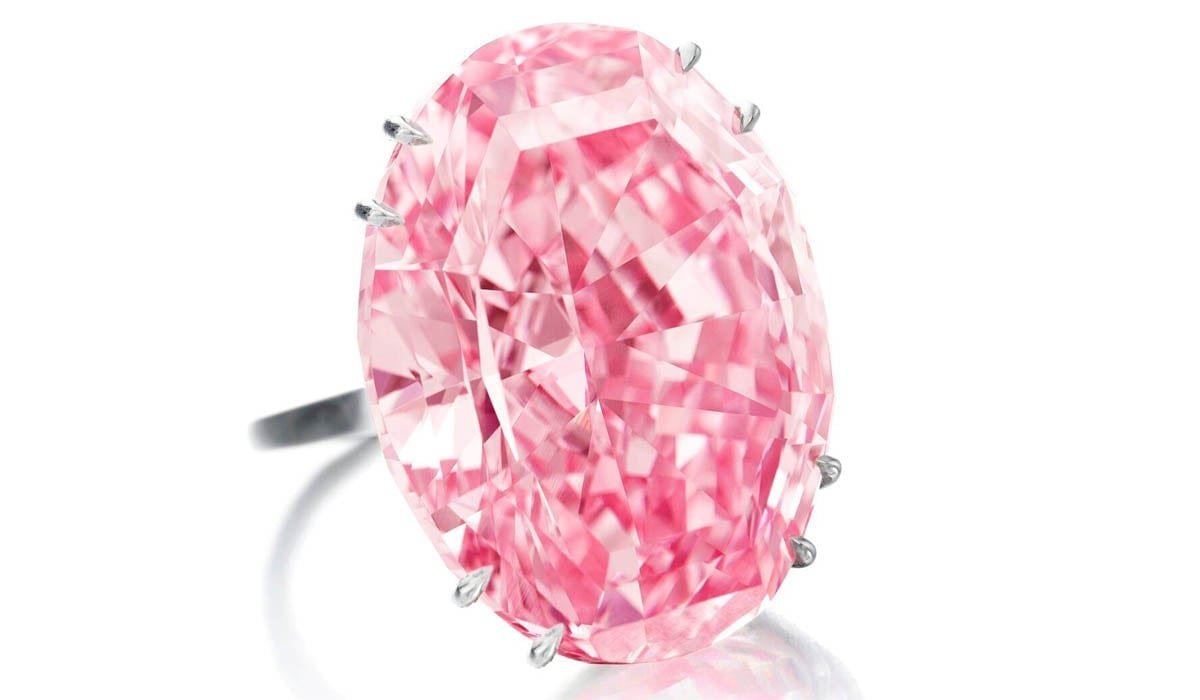 4. L'Incomparable Necklace – $55 million
Known as L'Incomparable, this necklace created by Lebanese jeweller Mouawad features the world's largest internally flawless diamond. The yellow step-cut diamond is attached to a rose gold chain adorned with a further 91 white diamonds arranged in an asymmetrical design that recalls the leaves of a vine. The magnificent centerpiece diamond was found by chance in a discarded pile of mining rubble by a young girl in the African Congo in the 1980s. 
It was exhibited in museums, including the Smithsonian Institution in Washington DC, before being incorporated into this stunning Mouawad necklace, which was first unveiled at the Doha Jewellery and Watch Exhibition in 2013.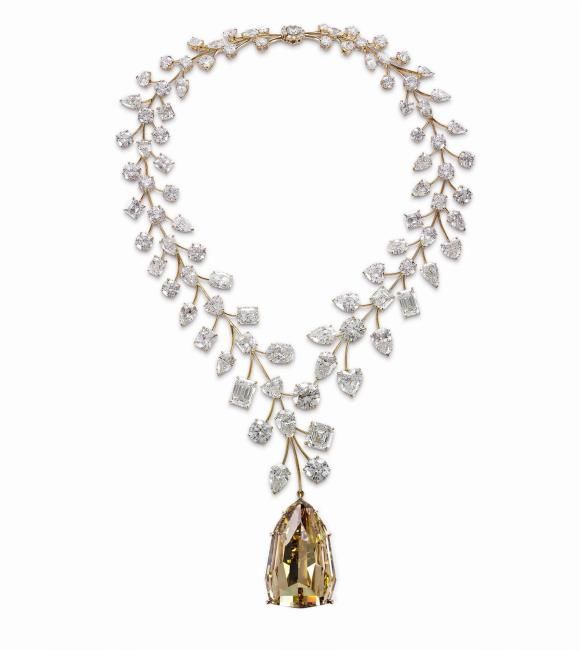 5. Pink Emerald-Cut Graff Diamond – $46 million
Pink diamonds are inarguably some of the rarest finds around the world. For these reasons, the Graff Pink Diamond is more than just a stunning gem – it's a natural marvel that will no doubt be cherished for centuries to come. The first person to add this remarkable gem to their collection was Harry Winston, the diamond was kept in Winston's private collection for more than 60 years. Graded "Fancy Intense Pink" by the Gemological Institute of America, this 24.78-carat emerald-cut stone was bought at an auction in 2010 by none other than Laurence Graff himself, who described it "the most fabulous diamond I've seen in my career."
What makes this diamond so amazing is the combination of color and purity with the elegance of the emerald-cut, which is usually reserved for white diamonds only.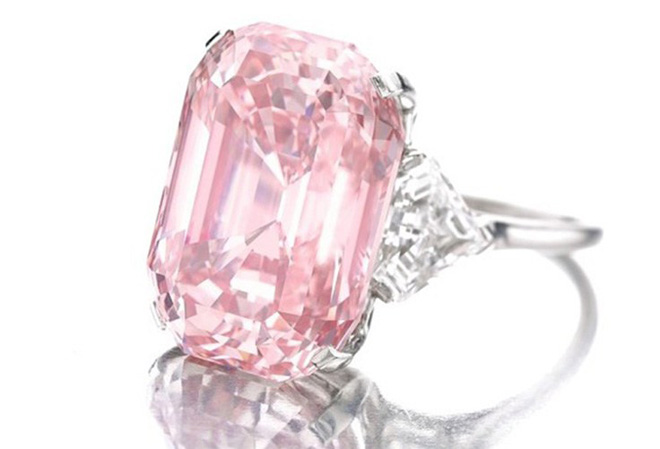 Make sure to check out my post about The Most Expensive Shoes Ever!