Welcome to our list of the Must-Have Items for a Quiet Luxury Style!
Quiet luxury is not about trends and logos, it is about timeless quality pieces that will last all your life! A quiet luxury style is chic, understated and classic, and here I'll show you 12 essential staple pieces you need!
So, without further ado here are the Must-Have Items for a Quiet Luxury Style:
1. Classic Blazer
Gone are the days when a blazer was only office attire, now it is a staple piece for every occasion. A blazer can transition easily between settings, it is a stylish piece for both day and night! The key is to look for a blazer that you can layer with any top, whether a t-shirt or a blouse. The right blazer will make you feel powerful, stylish and comfortable at the same time. It is the ultimate quiet luxury piece!
This Blazer from the Frankie Shop will take you trough any occasion, it is a part of the Wardrobe Essentials: Must-Have Items for a Quiet Luxury Style!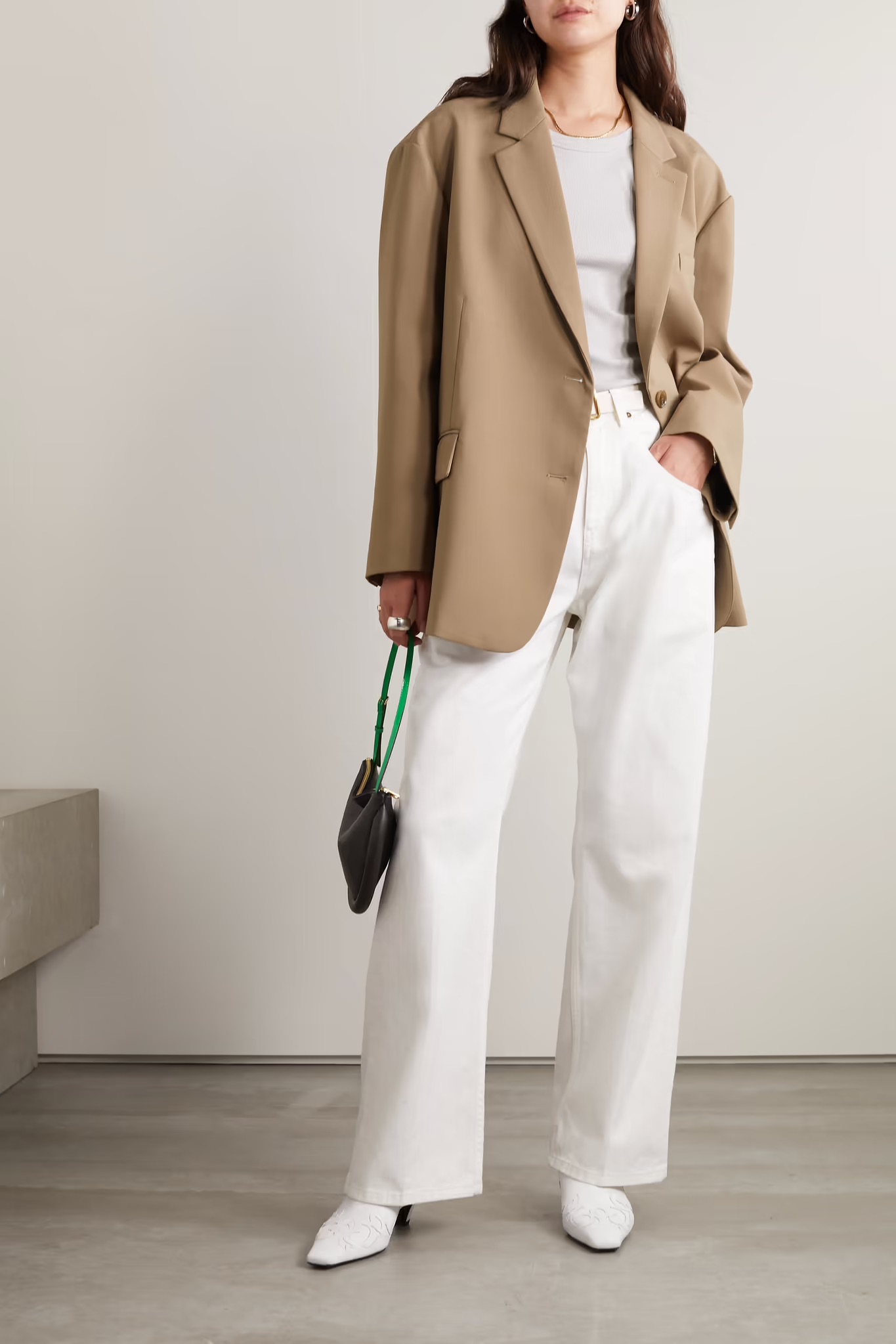 2. Everyday Crossbody Bag
Every bag collection should contain at-least one crossbody bag. Offering hands-free ease, these timeless designs are a must, whatever your lifestyle. It is one of the most practical bag options, it is easy to wear and is a good fit for almost any occasion. Crossbodys are also some of the most popular bag styles on the market, so you won't have any trouble finding one you love. Some great options are the Saint Laurent Solferino, the Gucci Horsebit 1955 and the Celine Triomphe, just to name a few. A bag you will be wearing on a daily basis, a crossbody is a bag you'll be wearing on repeat!
The DeMellier Vancouver bag might be the perfect everyday crossbody bag!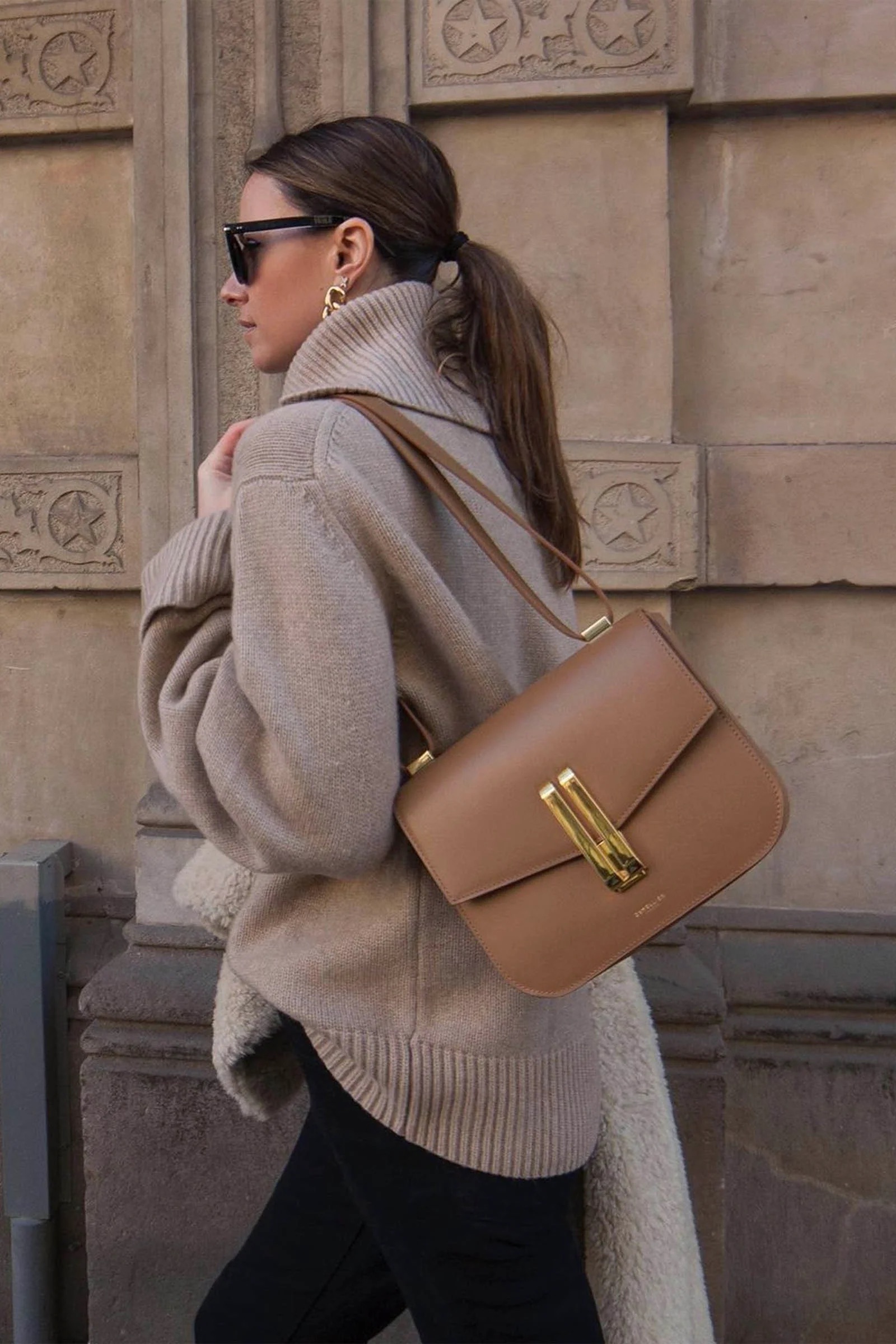 3. Pumps
Whether you're headed to a formal event, the office or after-dark drinks, the pump is a forever classic. And it's the simplest way to add the 'high' to a hi/low mix. Its demure shape can be used to polish off a modern grunge look or for adding an evening twist to your everyday jeans-and-T-shirt combo. The humble pump is one to invest in early when building a stylish heel collection, you can start with the classics like Christian Louboutin's Pigalle Pumps in nude or black, sold for $795. But if you are looking for something a little more comfortable, I would suggest this Jimmy Choo suede pumps, sold for $695.
When it comes to curating your perfect shoe collection remember: sometimes, the simpler a shoe is, the better.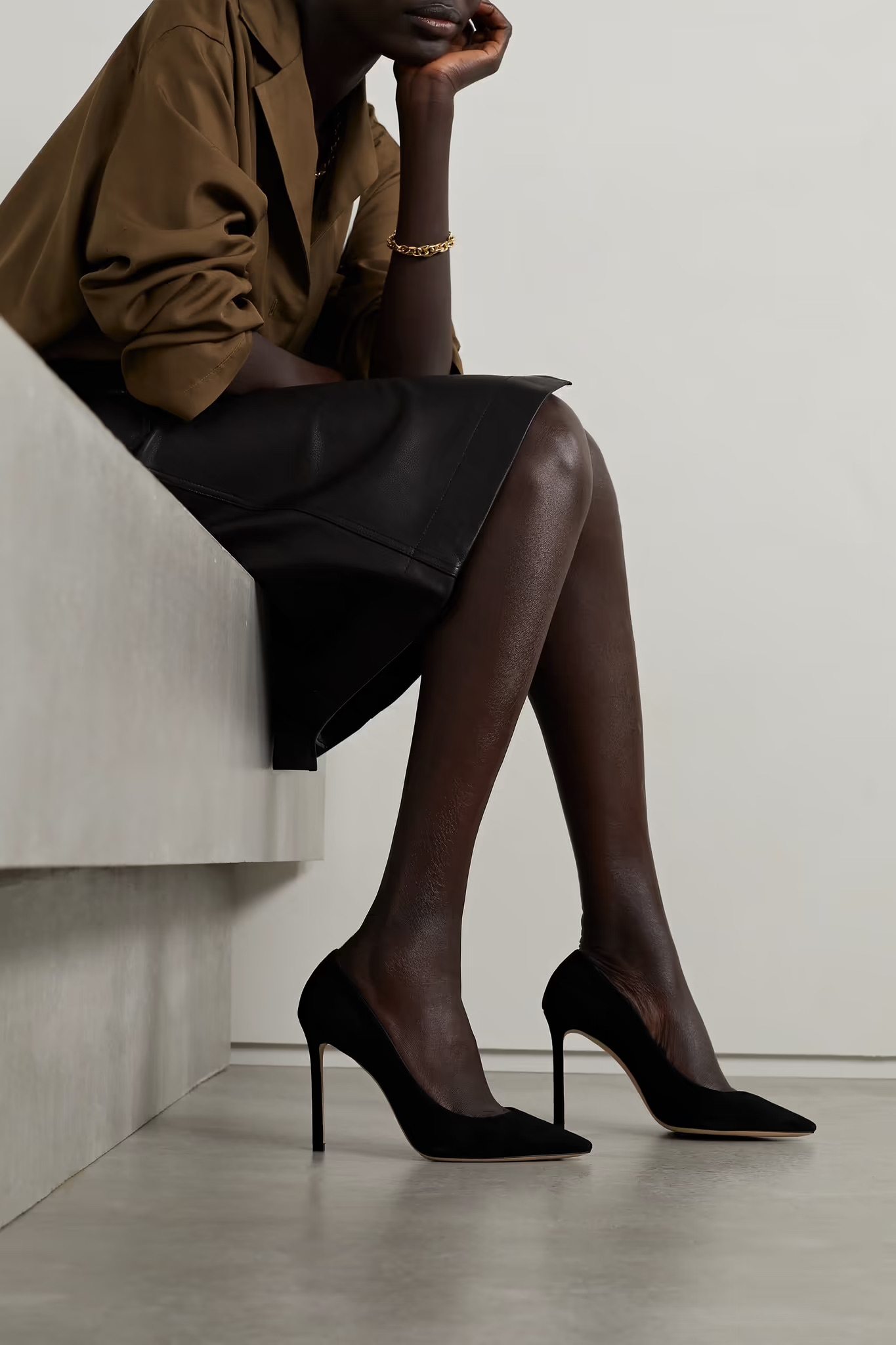 4. Camel Trench Coat
Trench coats are perfect for fall, winter and spring! And even on those rainy summer days! They are classic pieces that everyone needs! It was during the First World War that this now iconic garment took the shape that we recognize today, a form that remains current despite being more than 100 years old. People have been using trench coats for more than a century and if that doesn't prove they won't go out of style then I don't know what will! The classic Burberry Chelsea trench coat is sold for $2,490.
But Theory offers amazing options for just a fraction of the price, it is a part of the Wardrobe Essentials: Must-Have Items for a Quiet Luxury Style!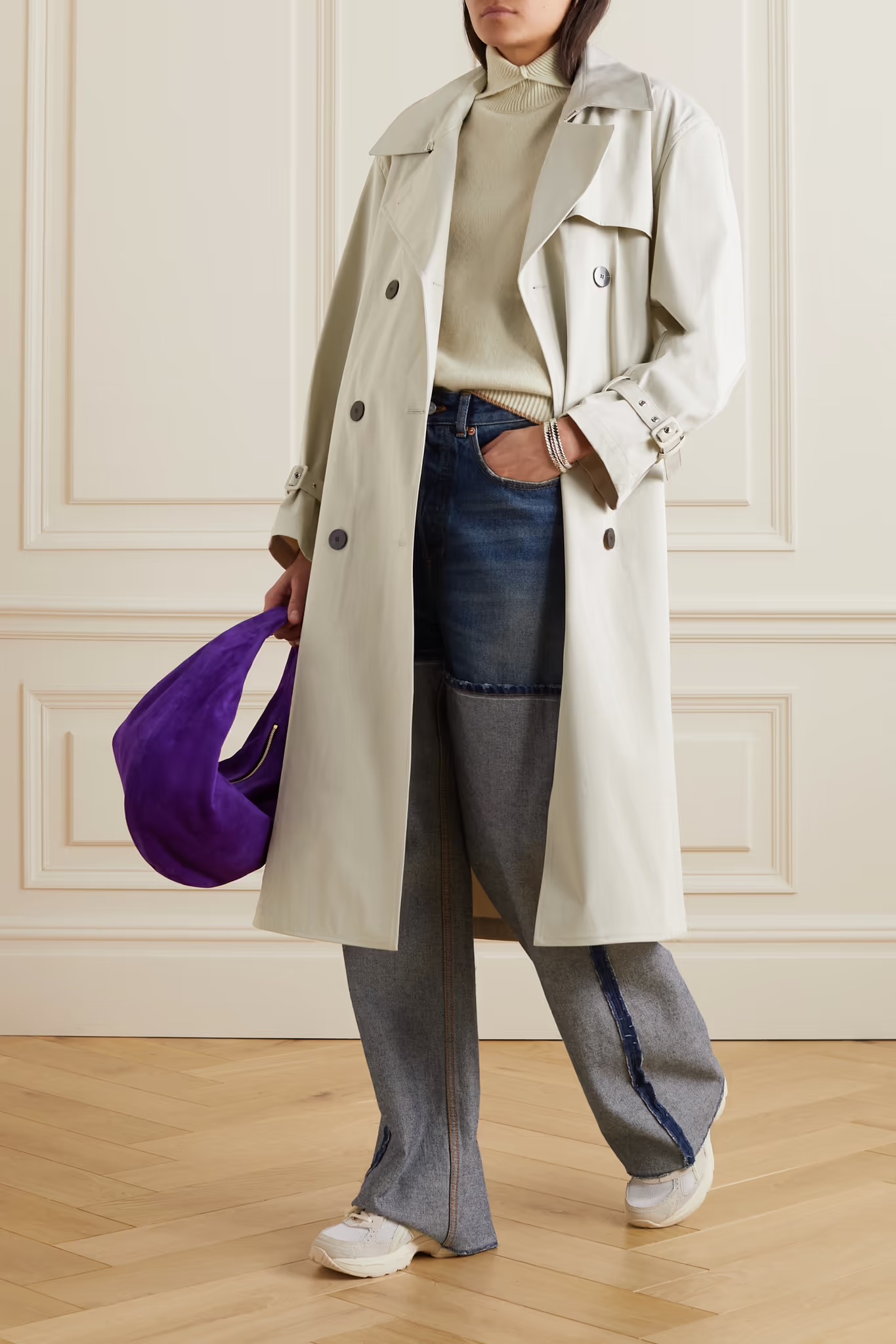 5. Straight-Leg Jeans
The piece of clothing everyone has, jeans are a must for a complete wardrobe. Find a high-quality pair that will last forever and make you feel like your best self, every time you put them on. Jeans are an everyday staple that can be worn to almost any occasion. The straight-leg is the most timeless style, is the one that transcends trends and you'll be wearing forever.
This Frame Jeans will be staples for everyday wear!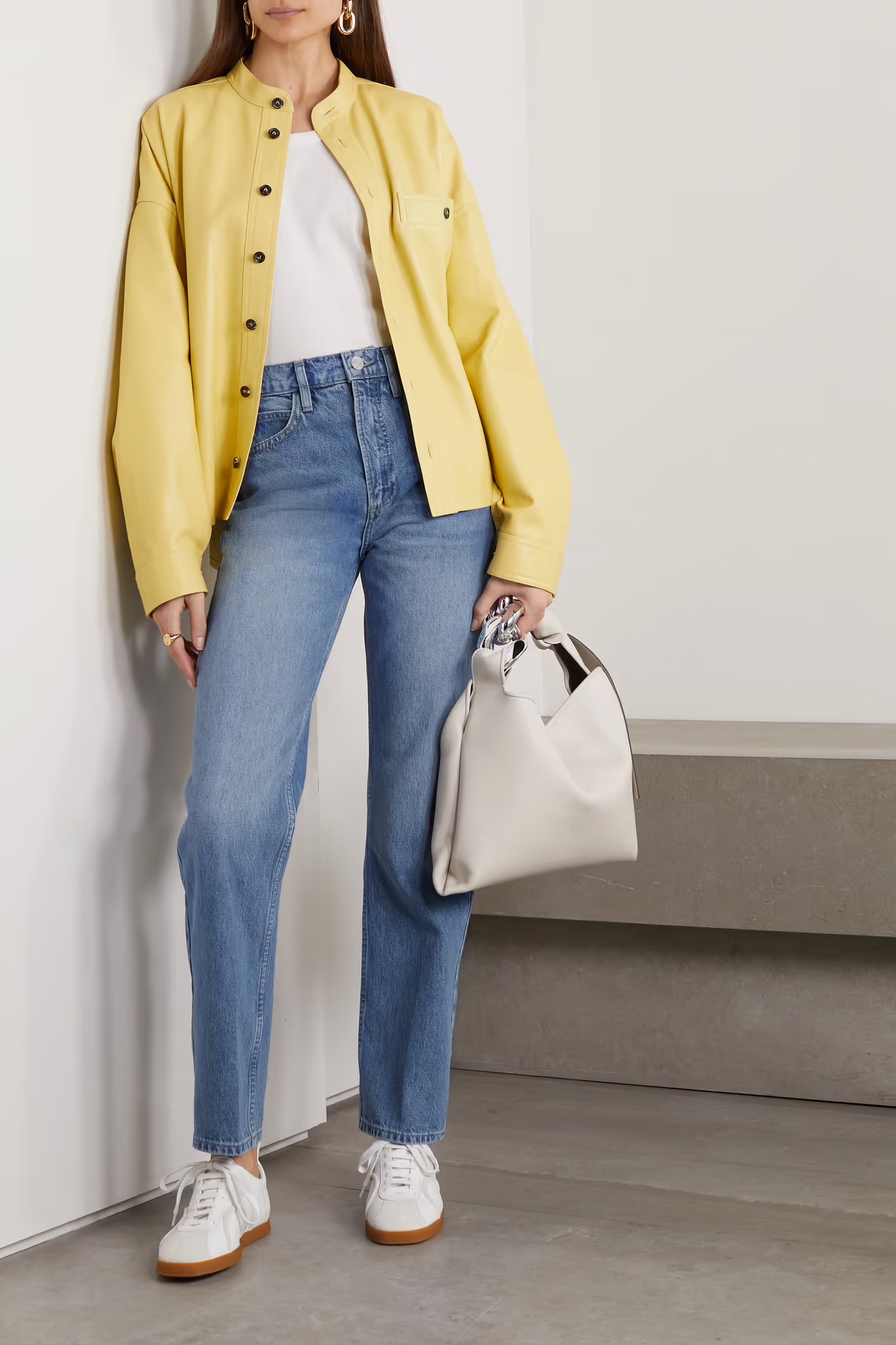 6. Everyday Jewelry
Jewelry that matches you style and that you can mix and match for multiple occasions. Hoop earrings for example are a forever staple; no jewelry collection is complete without at least one pair. For such a simple design, they're remarkably versatile: oversized gold hoops are a summer essential, while small ones are an elegant and modern way to elevate any outfit.
These Sophie Buhai gold hoops are quiet luxury staples!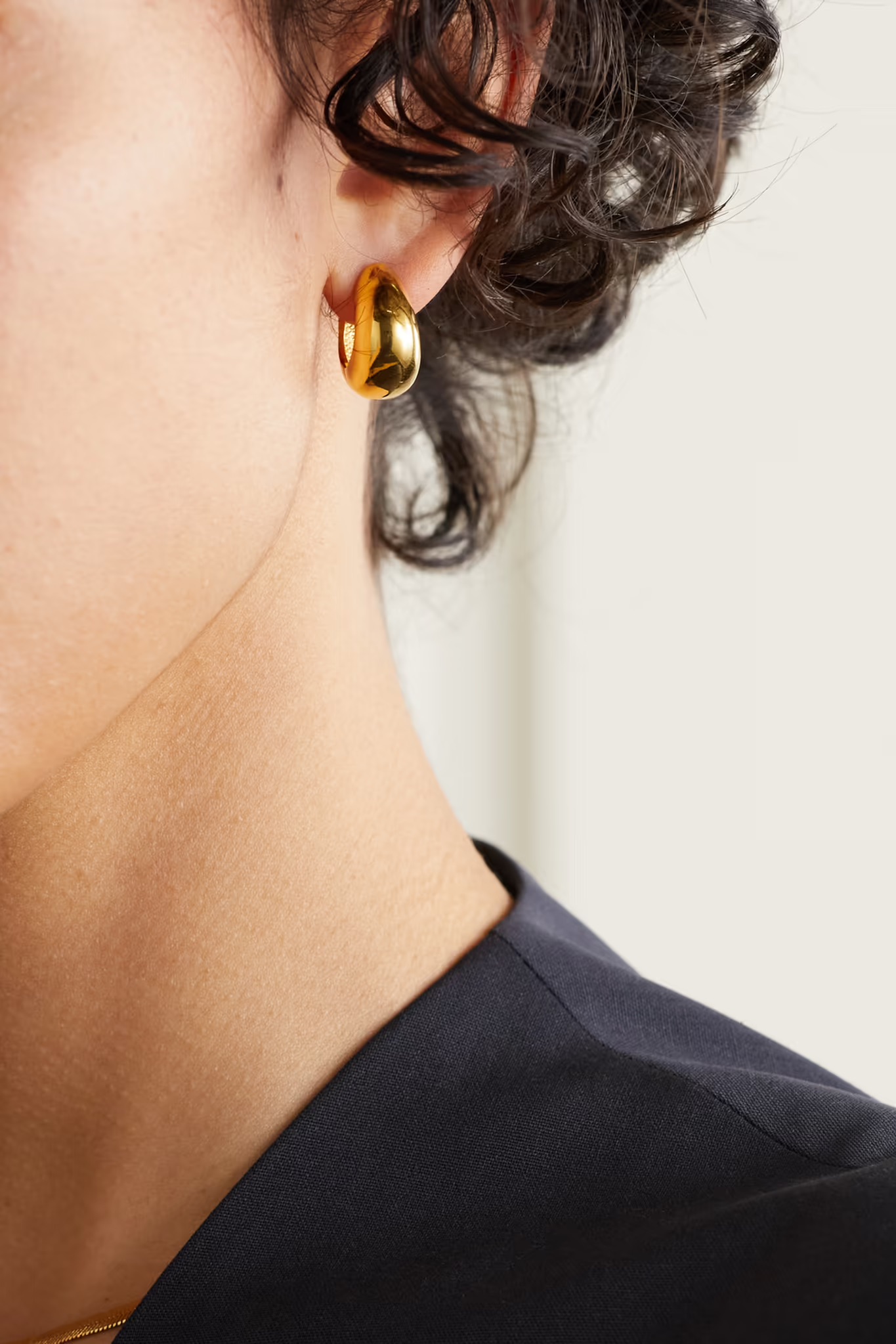 7. Black Trousers
Black trouser will be your best friend if you like a more classical look. They are perfect for work but can also be dressed down if worn with a t-shirt and sneakers. Black trousers will suit every style and are certainly an investment piece that will last many years. It's simple and elegant and not only slims the body but also elongates it. Not to mention that they are super comfortable!
This Reformation trousers are chic, understated and stylish, it is a part of the Wardrobe Essentials: Must-Have Items for a Quiet Luxury Style!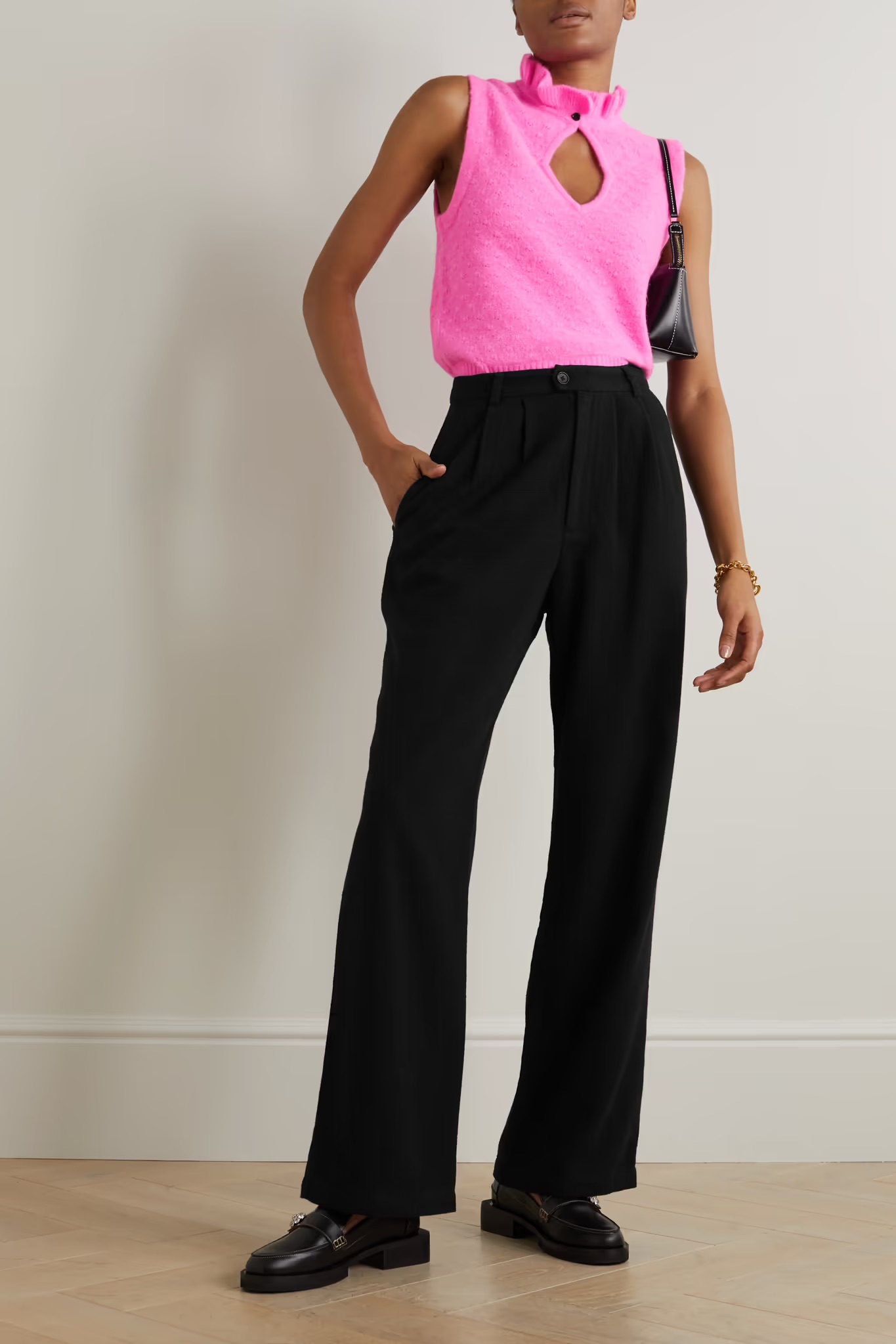 8. Loafers
Since the 1950's loafers have been a part of the most classic shoes a woman can own. Inspired by men's shoes they look as good with a pair of jeans as they do with a summer dress. Despite the many inventive iterations of the style, the flat, no-frills black leather loafer is as iconic as it is classic. One of the most classic loafers on the market are the Gucci horsebit loafers, sold for $920.
But there are many other options you can choose from, like these Porte & Paire leather loafers!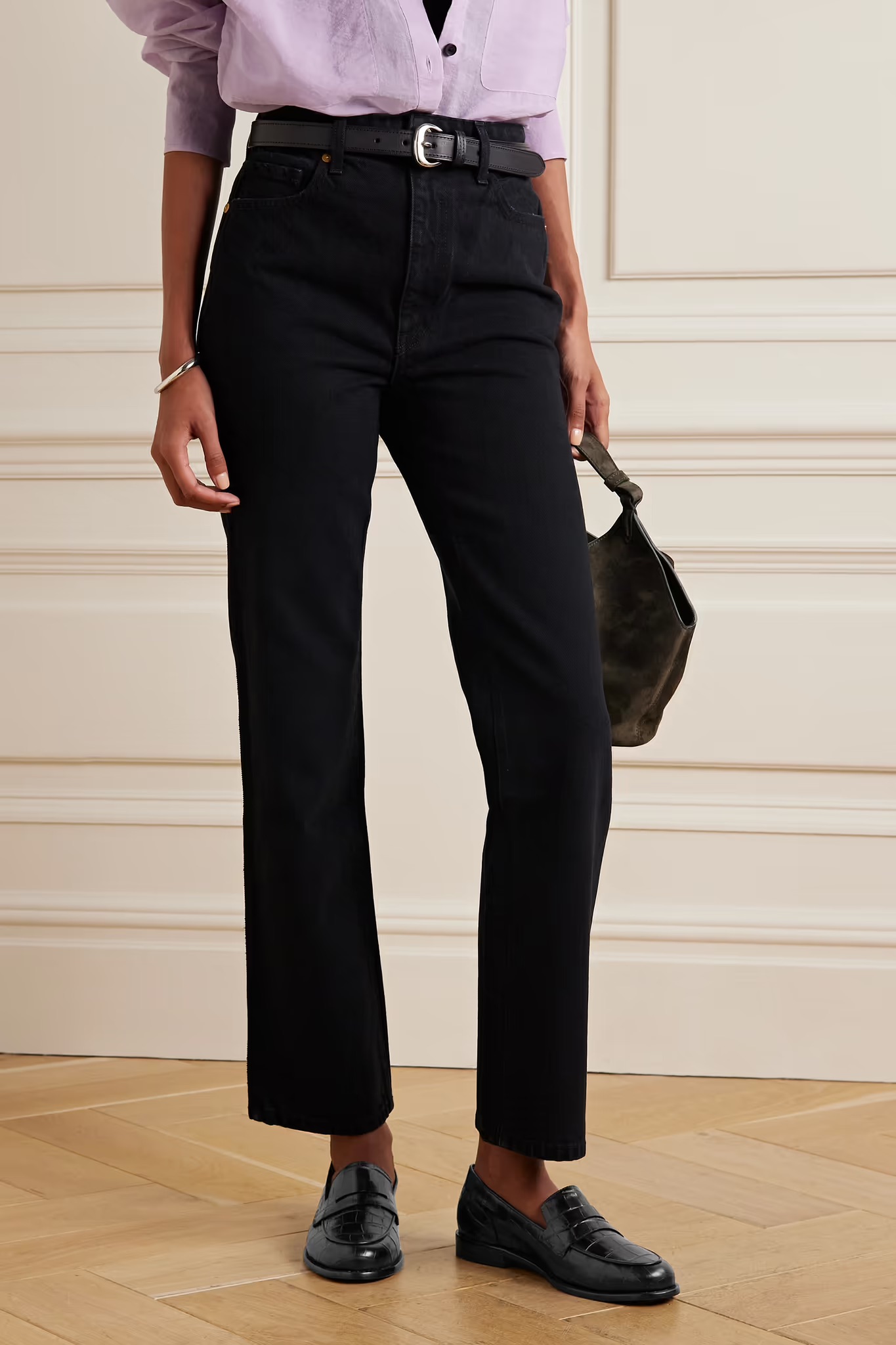 9. Little Black Dress
Date-night essential and the ultimate "I have nothing to wear" throw-on-and-go piece, a little black dress is a true must-have in every fashion girl's wardrobe. Find a black dress that fits you like a glove, that is easy to style and that will fit any occasion. The right black dress will be chic, stylish, elegant and a staple in your wardrobe. Pick a short or a long one the options are endless. There's no rule book to owning the perfect black dress, you should choose what makes you feel good.
This Reformation midi dress is so chic it can be worn both day with sneakers and a jacket, and night with high-heels.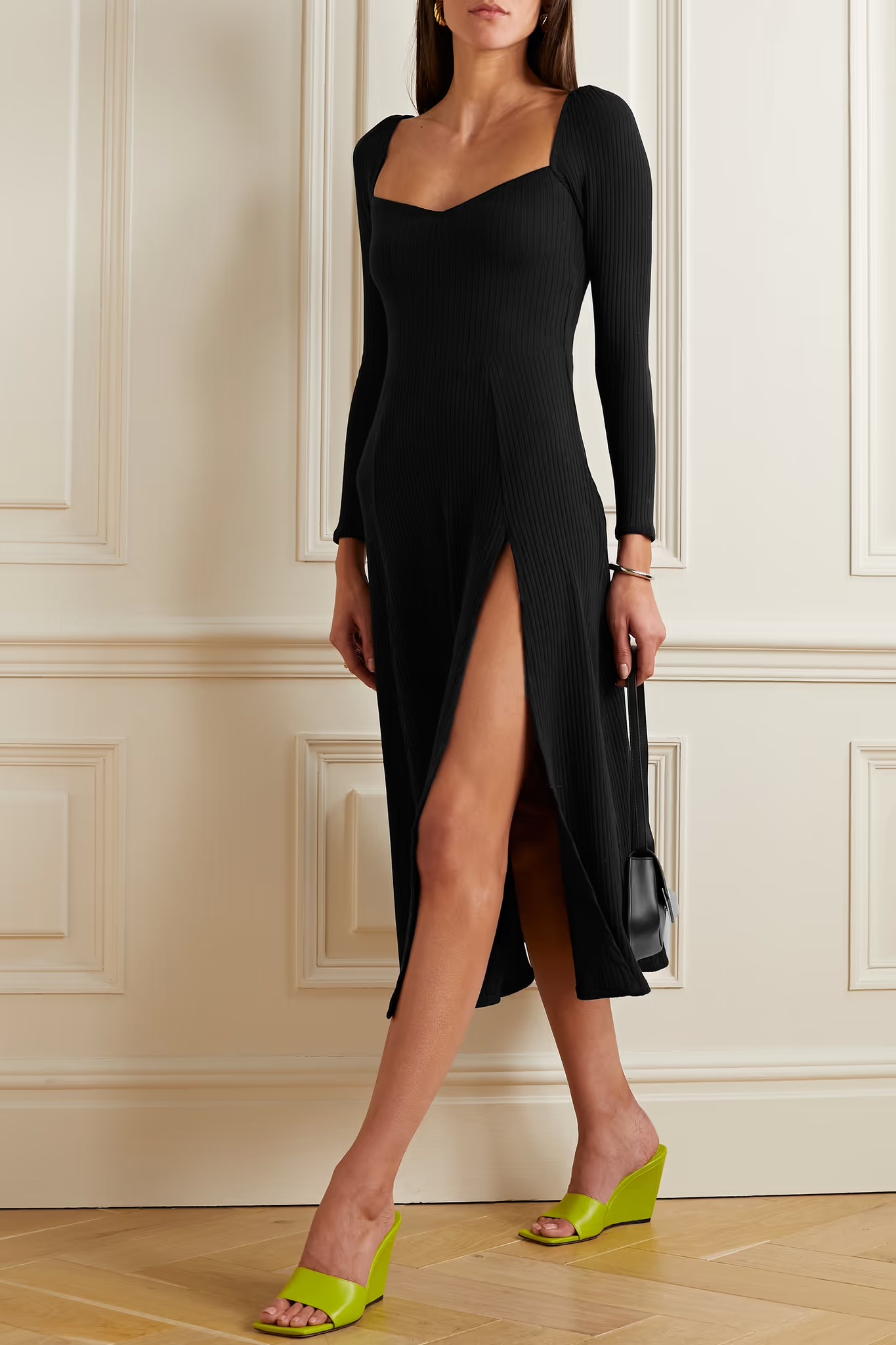 10. Classic Belt
A classic leather belt with an elegant metal clasp will be one of the hardest working pieces in your capsule wardrobe. Either for holding your pants in place, for accentuating the waist of a loose dress or just as cute accessory, a belt is a must. A classic style belt in either black or brown is a wardrobe essential so you can tailor your outfit to fit your own personal style. 
This Saint Laurent belt is so elegant you'll be wearing on repeat!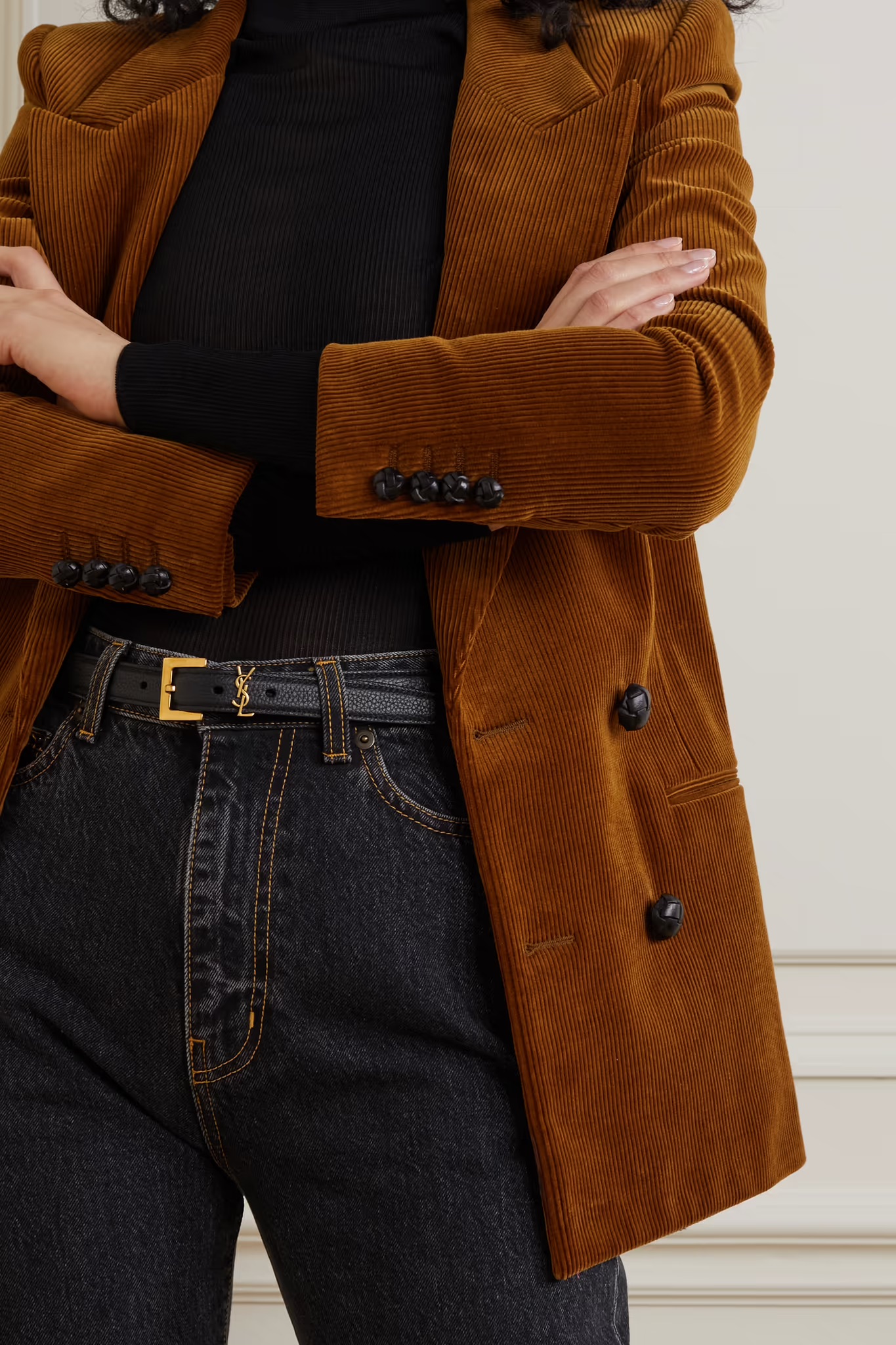 11. White Shirt
Every woman needs a white button-up. To be worn under blazers for a professional look, as a shirt with a comfortable par of jeans or as a third piece on the summer over shorts and a top. You will not regret buying a classic white shirt, it will be a staple for any occasion. If you don't like white then of course any neutral color would work, and even a bright color would be a great a statement piece!
This Polo Ralph Lauren shirt is an amazing staple for any occasion!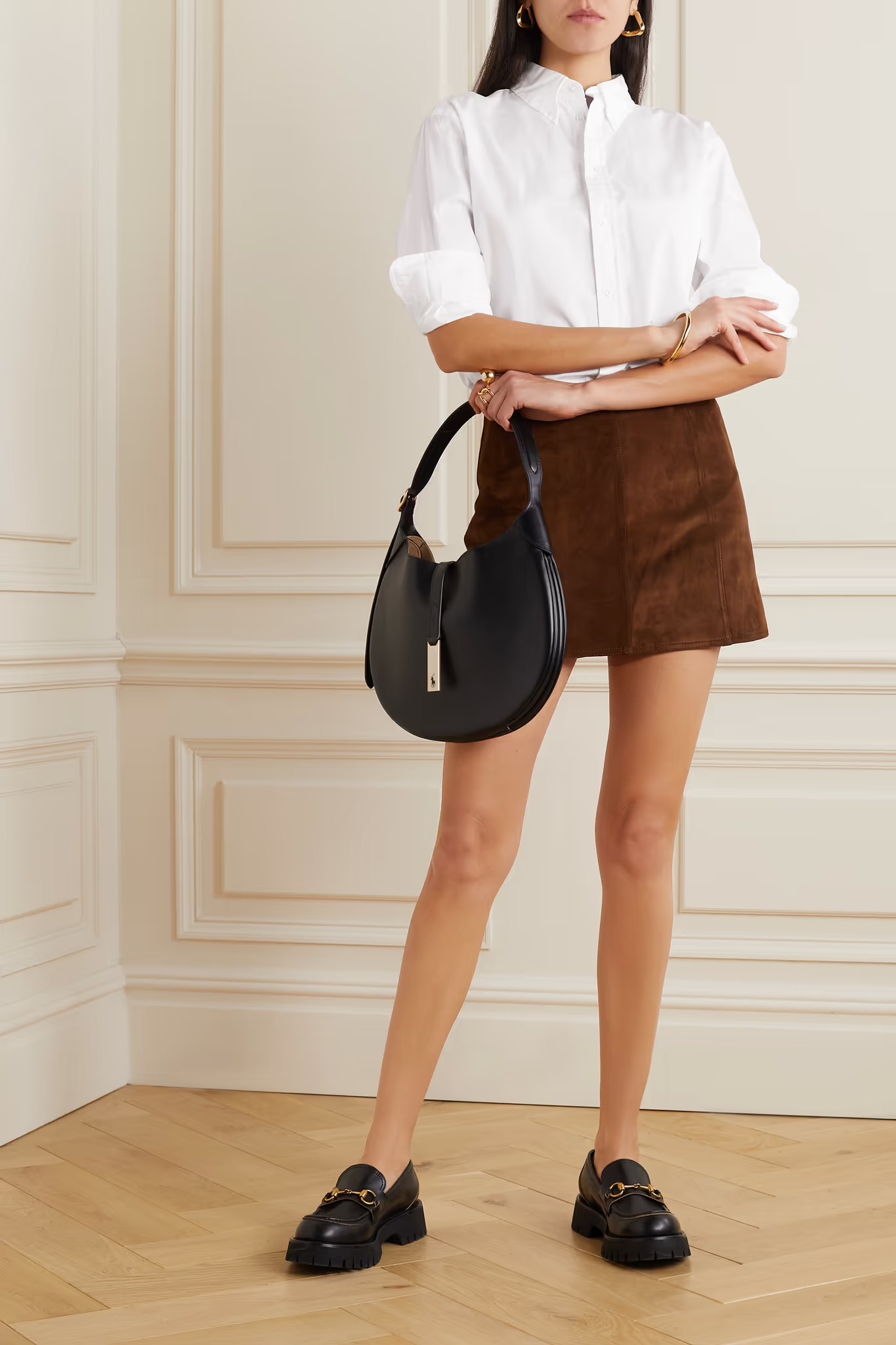 12. Silk Scarf
A silk scarf can be a staple for women of all ages. Whether as a hair accessory, wrapped around the shoulders or even as a blouse, it can bring life to any ensemble. Audrey Hepburn was often spotted with scarfs, and what could be more elegant than Audrey Hepburn style? This is an accessory that would add instant polish to any look, it is a quiet luxury staple!
This Toteme silk scarf would be a chic addition to your collection, it is a part of the Wardrobe Essentials: Must-Have Items for a Quiet Luxury Style!