Welcome to our list of the 10 Things You Didn't Know About Van Cleef & Arpels!
Van Cleef & Arpels is a French luxury jewelry, watch, and perfume company. Their pieces have been worn by style icons such as Grace Kelly, Farah Pahlavi, Eva Perón, Elizabeth Taylor, the Duchess of Windsor and Queen Nazli of Egypt. From delicate flowers to playful animals and billowing ballerinas, Van Cleef & Arpels has long been celebrated for their masterfully crafted and fantastical jewelry. This is one of the most luxurious jewelry brands out there, and it is for sure in every girl's wishlist.
The information you'll see here was taken from the Christie's website, one of the best auction houses in the world!
So, without further ado here are 10 Things You Didn't Know About Van Cleef & Arpels:
10. Van Cleef & Arpels is one of the oldest fine jewelers in the world
This is a house built in tradition. The beginnings of Van Cleef & Arpels dates all the way back to the 19th century, making them one of the oldest fine jewelers in the world. Now, almost 120 years after the first boutique opened its doors, Van Cleef remains iconic and timeless and has secured for itself a lasting legacy as one of the finest jewelry houses in the world.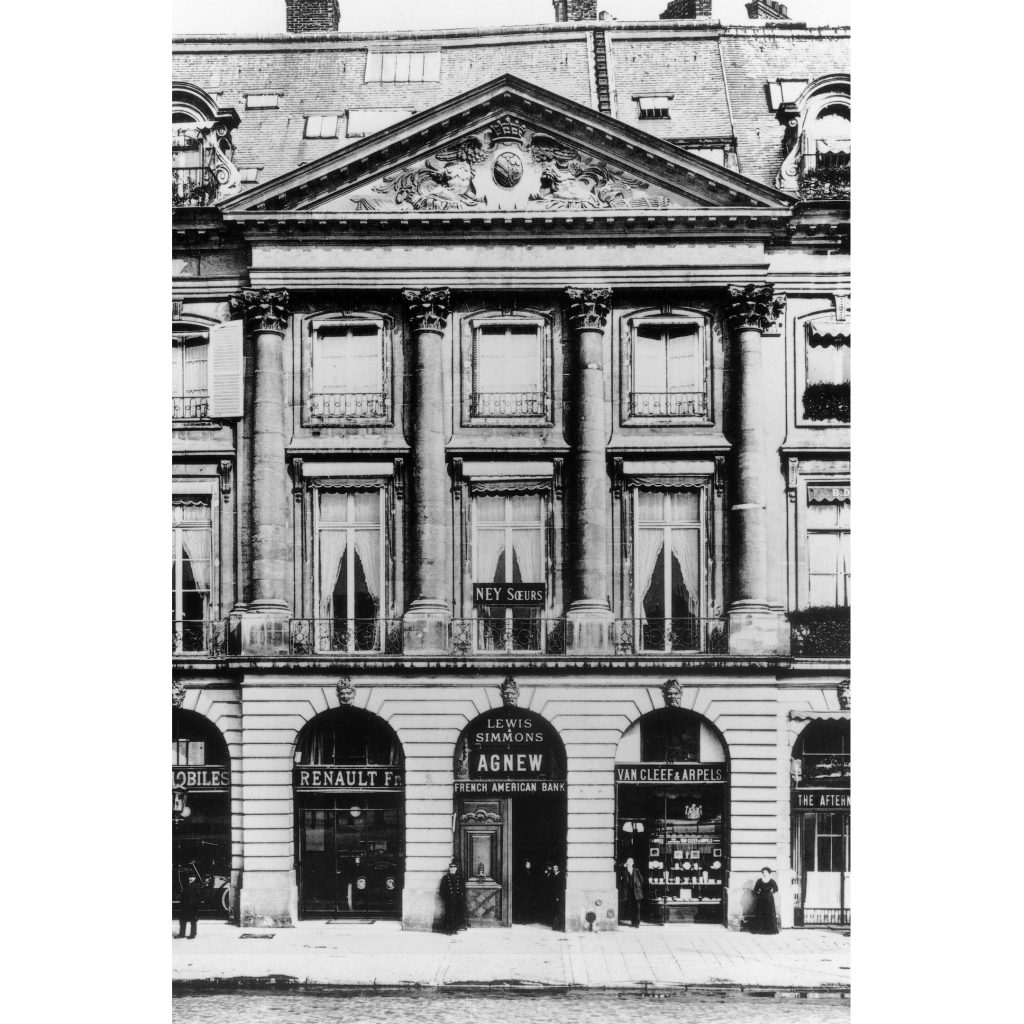 9. Van Cleef & Arpels is known for their whimsical themes
Van Cleef & Arpels is know to take inspiration from exotic birds, flowers, fairies and other whimsical themes. One of their most famous designs is a series of Ballerina Brooches. The iconic Ballerina brooch was first conceived in New York in 1940, and were inspired by the School of American Ballet. The first Ballerina brooches were made by John Rubel, who had emigrated to New York in the late 1930s and was the principal manufacturing jeweller for Van Cleef & Arpels until 1943.
After the 'Spanish dancer' was created in 1941, the brand produced a series of ballerina, dancer and fairy brooches, some with matching earrings. The distinctive jewels portrayed a series of poses and the costumes were designed with rows of rose-cut diamonds, turquoises, rubies or emeralds. These dynamic creations were an instant success in New York, where Van Cleef & Arpels' clients viewed them as something very distinct from pre-war designs.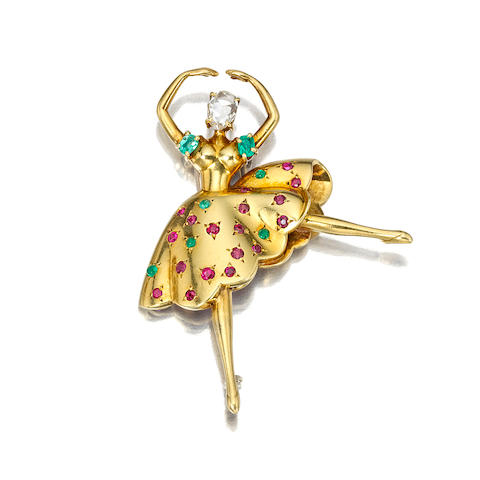 8. Van Cleef & Arpels started with a marriage
In 1895, the daughter of a gemstone dealer Estelle Arpels married the son of a stonecutter and diamond dealer Alfred Van Cleef. Both wife and husband believed in the importance of family and had a deep love of gemstones. The following year Van Cleef and his father-in-law, Salomon Arpels, formed Van Cleef & Arpels. After Salomon died in 1903, Alfred and two of his brothers-in-law, Charles and Julien, officially founded Van Cleef & Arpels with the opening of their shop in 1906 at 22 Place Vendôme, where their flagship store is still located.
The third Arpels brother, Louis, joined the firm in 1912, no doubt to cope with their expansion, as branches had been opened in Nice, Deauville, Vichy, Lyon and Cannes, all between 1910 and 1920. Alfred's daughter, Renée Puissant, took control of the company's artistic direction in 1926, and for the next 12 years worked closely with the talented designer René-Sim Lacaze.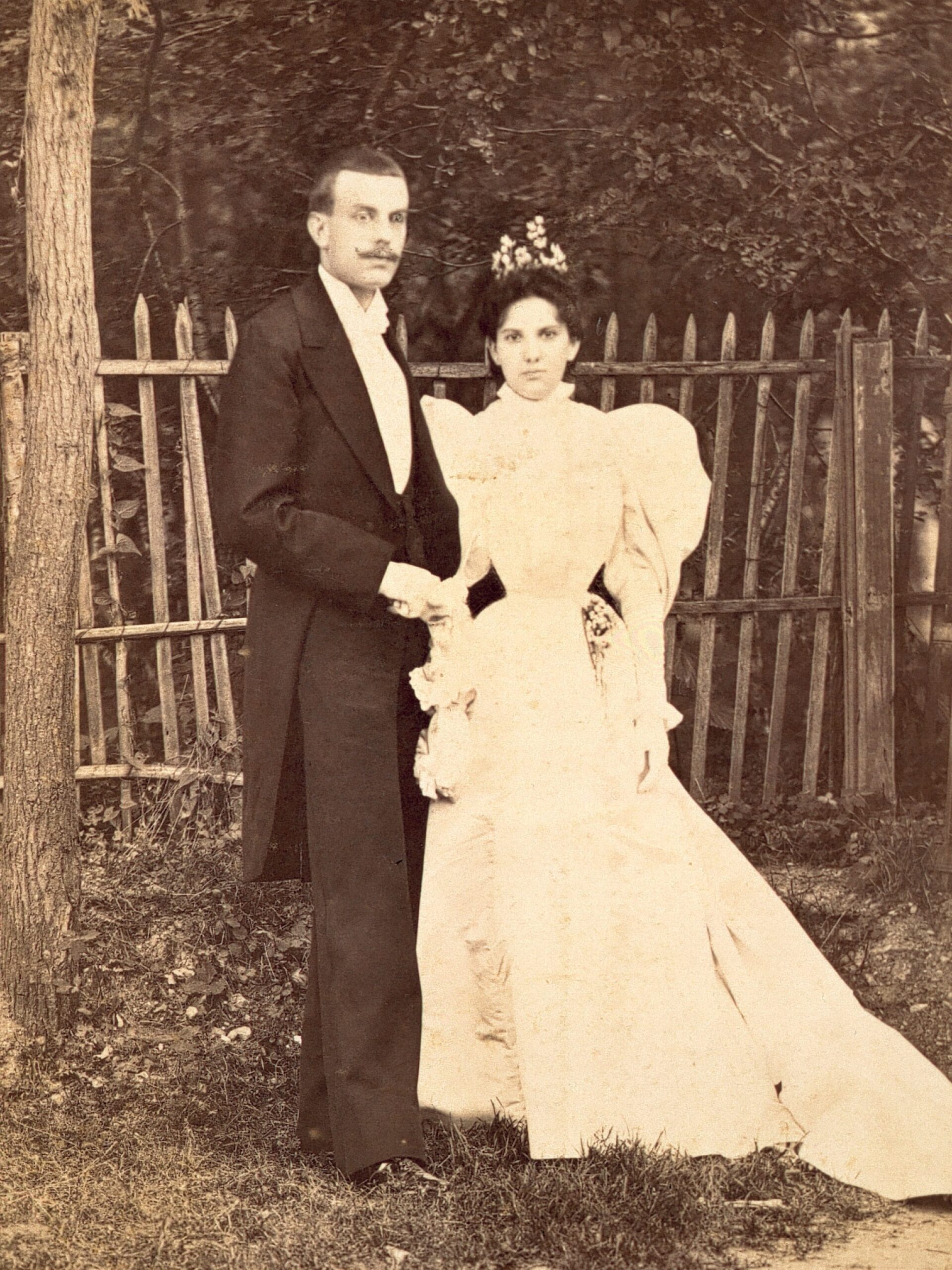 7. Van Cleef & Arpels also took inspiration from foreign cultures
In the 1920s, Van Cleef & Arpels began making jewelry in the art deco style. This style consists of geometric designs with the use of diamonds, gemstones, and platinum. In 1922, the Maison was inspired by the discovery of the tomb of Tutankhamun and created many designs. The most extraordinary of these designs are the flat, highly articulate bracelets portraying Egyptian symbols. Many designs by Van Cleef & Arpels similarly were inspired by other cultures including Japan, China, and India.
6. The second generation of the family expanded the business
During the mid-1930s and 1940s, the next generation of the family began to emerge. Julien's three sons, Claude, Jacques, and Pierre, nephews of Alfred Van Cleef, learned the business from their father and uncle. Each son took a different post in the world, Jacques took over as director of Van Cleef & Arpels in Paris, while Pierre introduced the company to the Japanese market and Claude ventured to the United States.  
At the end of the 1930s, for a time, Van Cleef & Arpels transferred most of its business to the United States — it had opened a branch in Palm Beach in 1940, and a shop in New York was acquired in 1942 at 744 Fifth Avenue, where the jeweler still trades today. This was a time of great growth and expansion for the company. The Maison also opened boutiques in Japan and China.
5. Van Cleef & Arpels developed a new technique called the Mystery Set
This technique was established by the Maison in 1933 and it is still in practice today. The Mystery Set is a technique that allows for the setting of stones so that no prongs are visible. After each stone has been cut and faceted, this new technique involves inserting them into gold rails less than a fifth of a millimetre thick. According to Van Cleef, a single clip can take over 300 hours to make, so it comes as no surprise that only a few Mystery Set pieces are made each year. One piece that took an exceptionally long time to make was King Farouk's Rose brooch, created in 1938, which had 814 rubies and 241 emeralds. 
There have been many imitations of this imaginative setting method, but only pieces made by Van Cleef & Arpels can be considered as truly mystery set.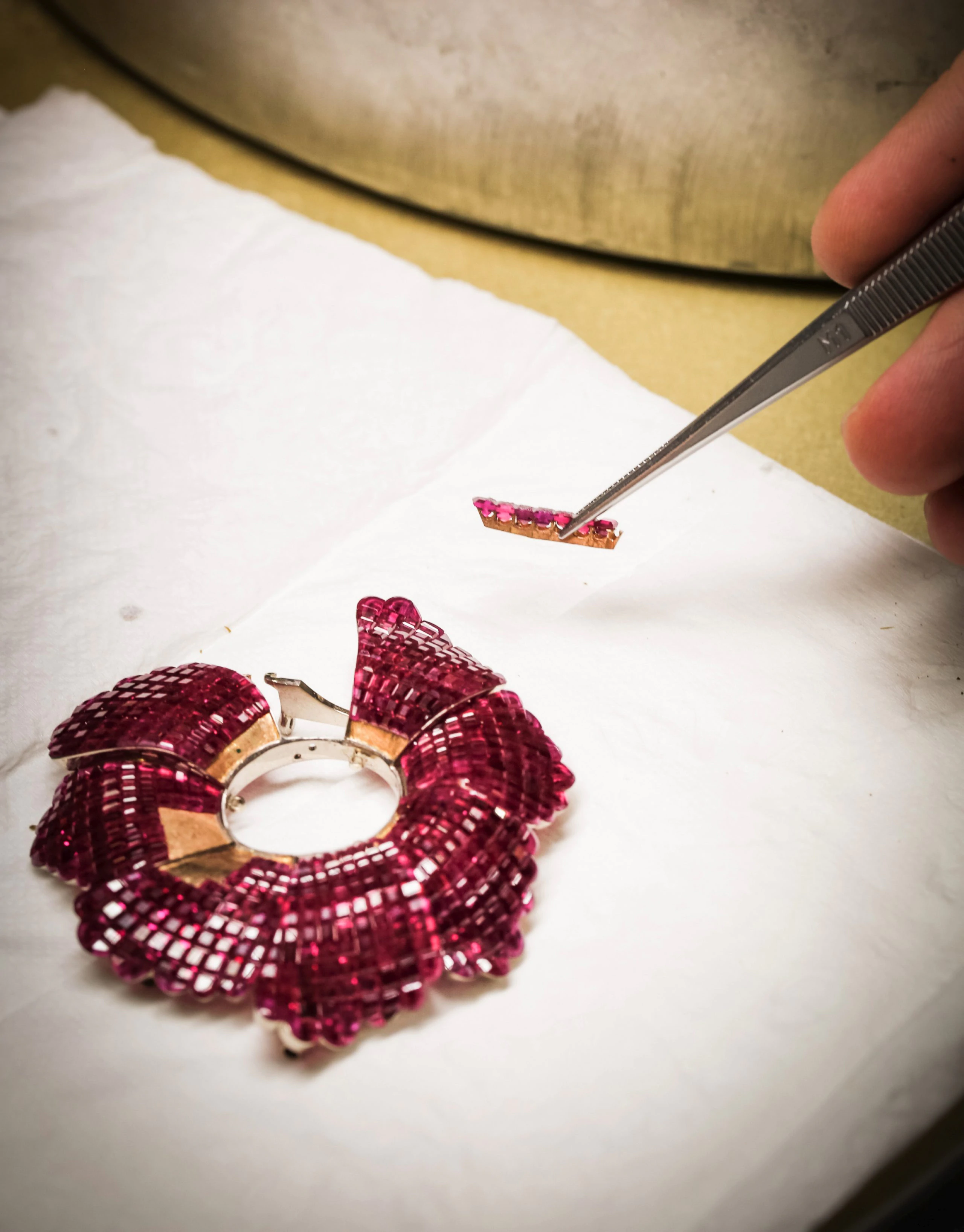 4. In the 1950's Van Cleef & Arpels started making everyday jewelry
In 1954, Van Cleef & Arpels launched its 'La Boutique' collection of more affordable jewellery. The idea was to provide more light-hearted and whimsical jewels, usually of naturalistic form, using gold and semi-precious stones with diamond highlights. The jewels from the collection took the forms of birds, lions, cats, squirrels and other animals, and were instantly recognizable as works by Van Cleef & Arpels. They were collected by a broad range of important clients, including the likes of Jackie Onassis and Grace Kelly.
The range of modestly priced jewelry, manufactured in a broad range of materials including coral, aquamarine, mother-of-pearl and chalcedony, proved hugely successful.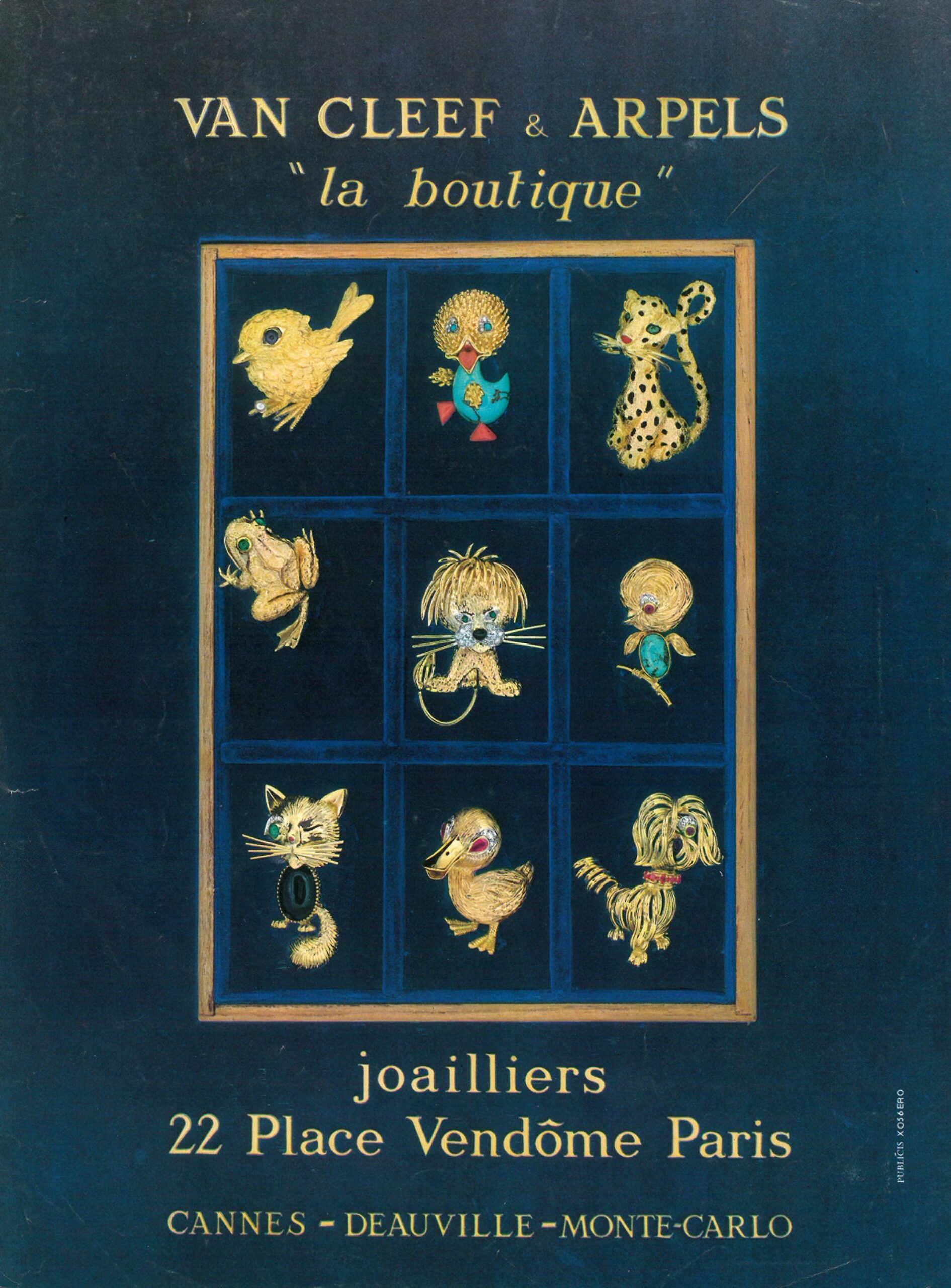 3. Prince Rainier of Monaco gave a Van Cleef & Arpels wedding gift to Princess Grace
In 1956, American actress Grace Kelly married Prince Rainier III, thus becoming Princess of Monaco. To celebrate their union, the Prince offered his bride a Van Cleef & Arpels wedding set resplendent with pearls and diamonds, which remained in her collection throughout her life. A few months later, Van Cleef & Arpels was named "Patented supplier of the Principality of Monaco." The set consisted of a necklace, a bracelet and ear clips, all made of platinum, pearls and diamonds.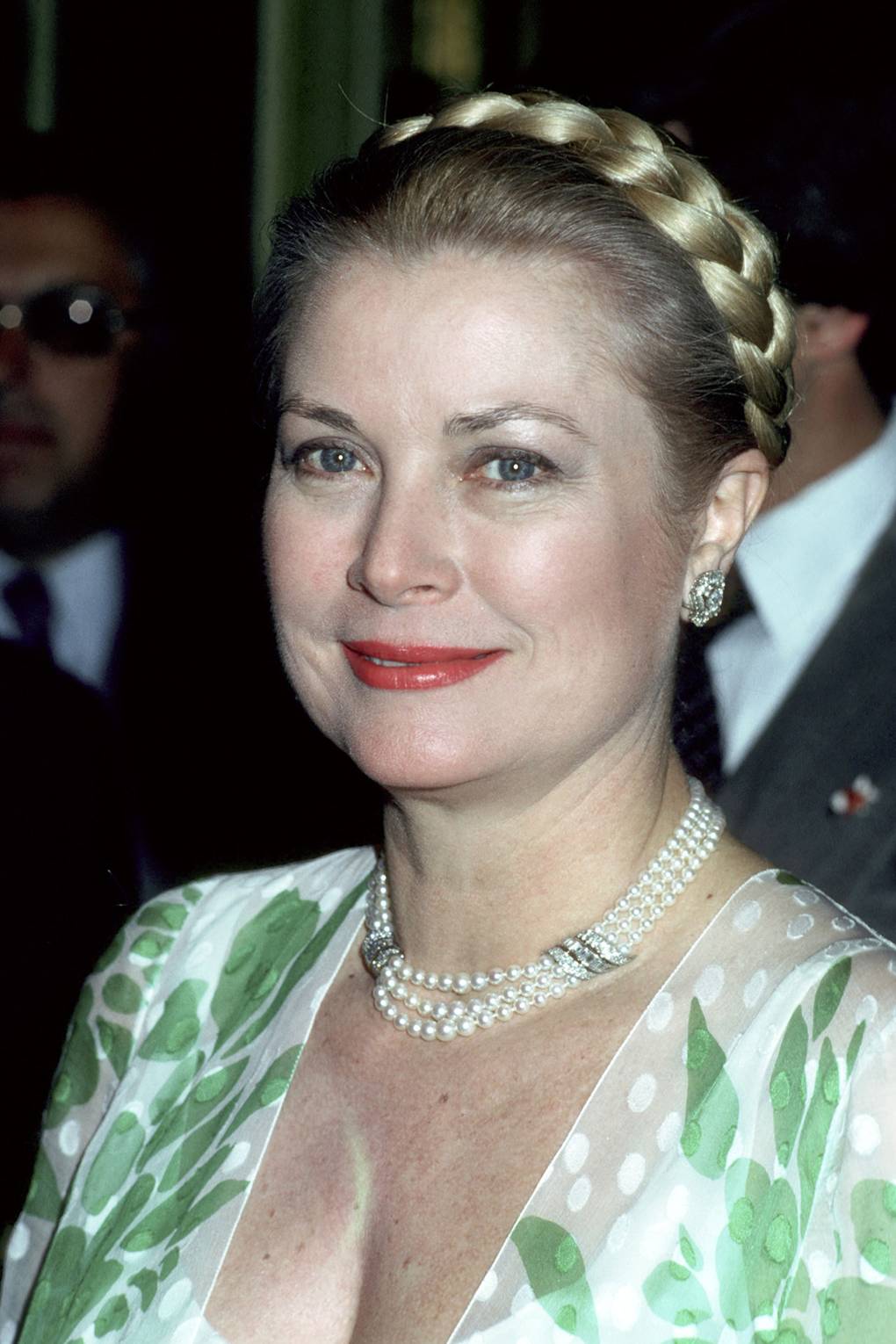 2. One of their most famous designs is the Van Cleef & Arpels Zip necklace
The history of the 'Zip' necklace is thought to have originated as a result of a conversation in the late 1930s between Renée Puissant, the artistic director of Van Cleef & Arpels, and the Duchess of Windsor, who suggested that Renée create a jewel that was based on a simple zip. It took the firm's workmen many years to perfect a fully working zip in precious metals and gemstones. The necklace was finally unveiled in 1951 and quickly became a sought-after item, but given the time needed to make this challenging jewel only a limited number were produced. 
The ones that sold most quickly were those that could be opened to its full length or entirely closed, thus becoming a bracelet. They have been made in gold and platinum studded with diamonds, sapphires, emeralds or rubies. A few are still produced today — a diamond and sapphire Zip necklace was worn by Australian actress Margot Robbie at the 2015 Academy Awards ceremony.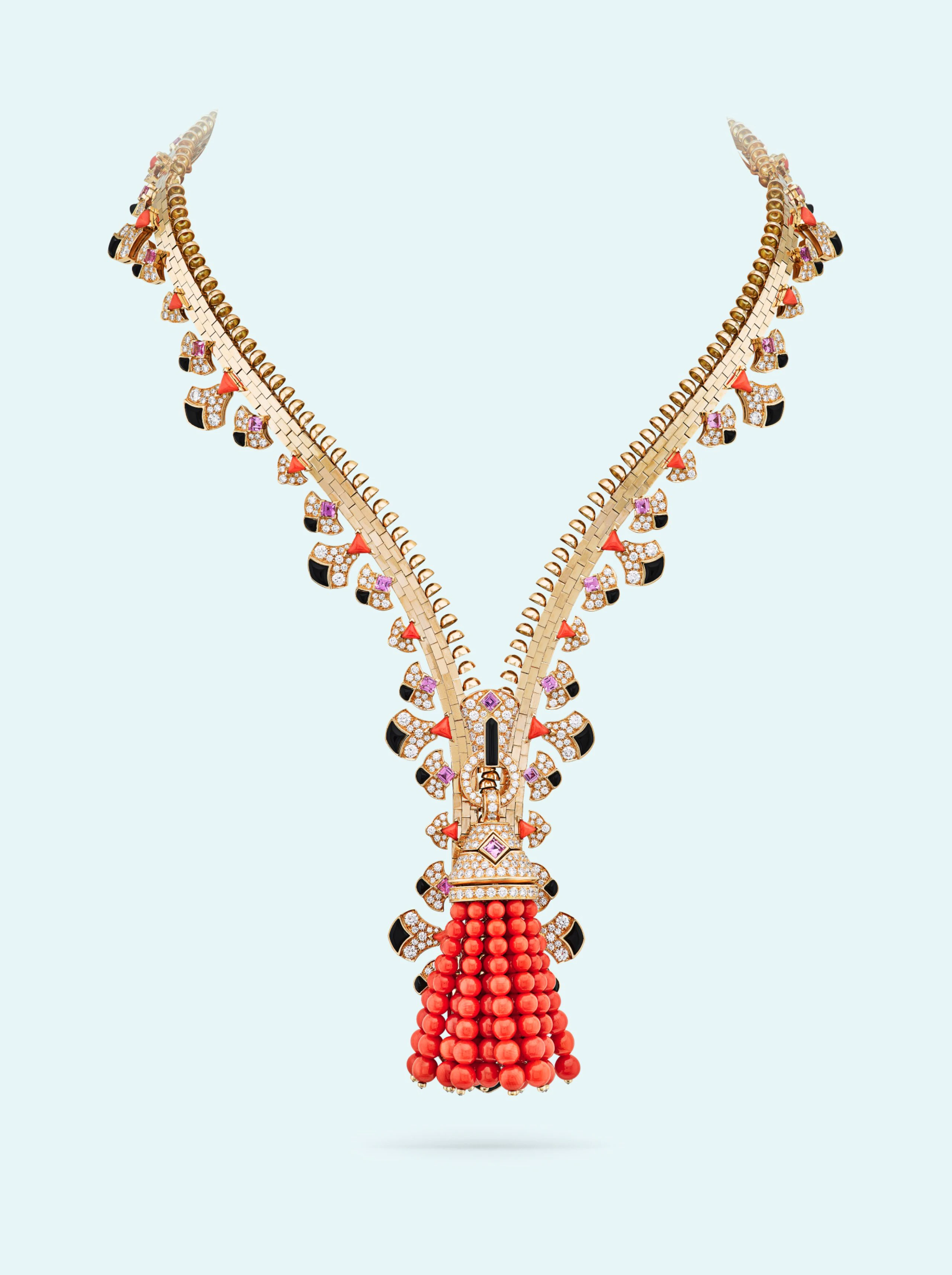 1. The Alhambra is Van Cleef & Arpels most iconic collection
In 1968 a four-leaf clover design was introduced, and 50 years later it remains emblematic of the famous brand. It was inspired by the quatrefoil motifs that are found on the Moorish tiles of the Alhambra Palace in Granada. It was also meant to function as a lucky charm. This simple but distinctive design proved instantly popular with important jewelry collectors including Elizabeth Taylor. Princess Grace of Monaco was one of the people most identified with the Alhambra range, and often wore a necklace made of malachite that she bought in 1975.
It is as popular today as it was 50 years ago, proving the point that good design never goes out of fashion.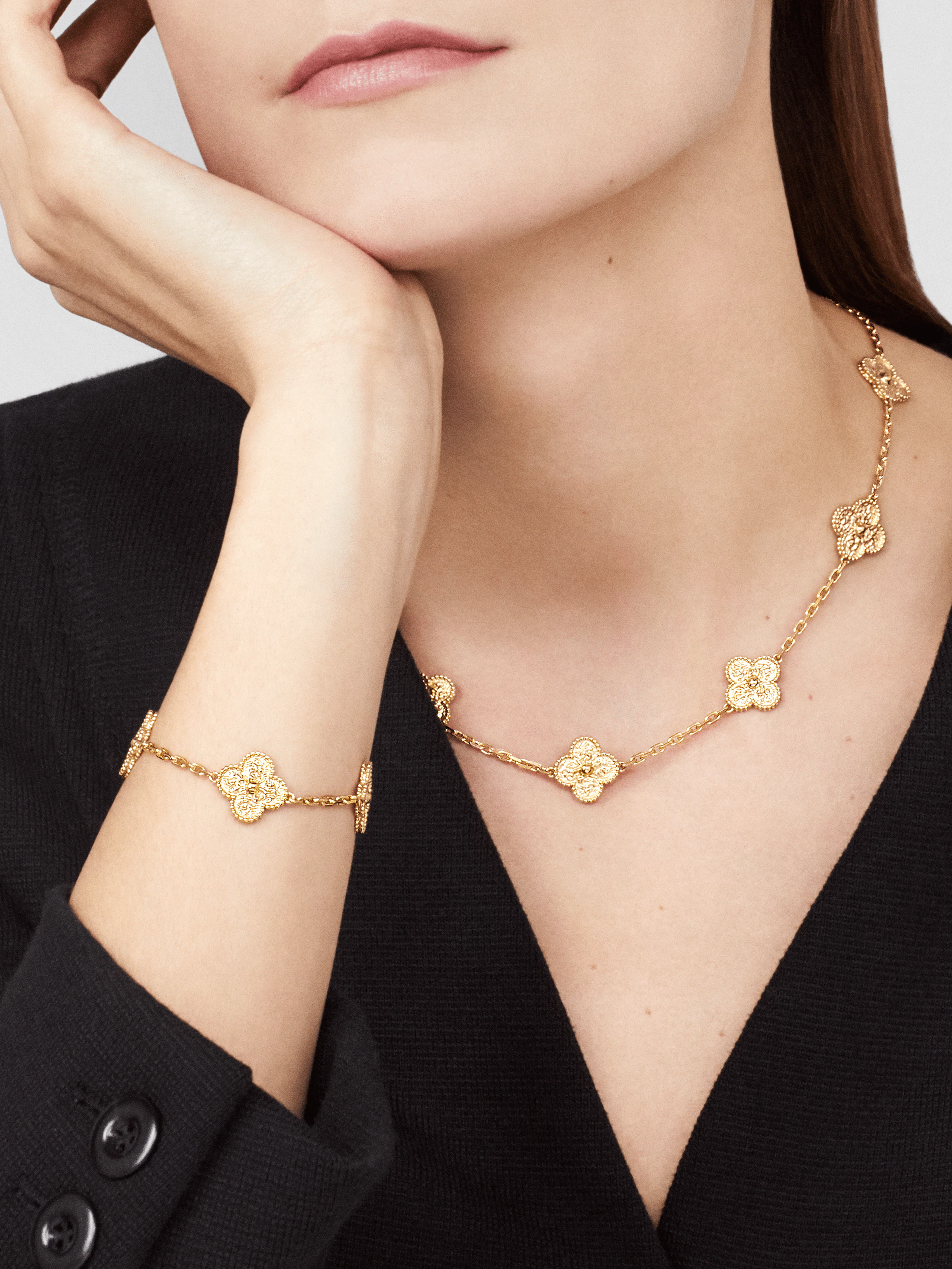 Hope you enjoyed my list of the 10 Things You Didn't Know About Van Cleef & Arpels! Make sure to check out my post about The Best Van Cleef & Arpels Pieces!