Welcome to our list of The Best Bags From Paris Fashion Week Spring 24!
Fashion month has come to an end, so it is time to see the best bags from Paris Fashion Week. Brands like Chanel, Louis Vuitton and Valentino presented amazing bags that will be super popular next spring/summer!
So, without further ado here are The Best Bags From Paris Fashion Week Spring 24:
Dior
For her Spring 24 collection Maria Grazia Chiuri wasn't inspired by a single thing, instead she continued her mission of bringing feminism and modernity to the storied brand. The collection was very classy and elegant, with Bar Jackets, A-line skirts and suits, all with a distinctive Dior style. As always with Dior there were a lot of feminine dresses with tule and florals, but there were also some structured and serious garments, showing how Chiuri understands there is not one stereotypical style for women, she is presenting different pieces that can be worn by different women with different tastes and styles.
As for the bags there was a certain heaviness and seriousness to them, juxtaposing with the delicate and feminine styles we usually see from the brand. The Dior Toujours made several appearances in different sizes, showing this new bag is here to stay. Of course the beloved Lady Dior made the rounds in some beautiful variations bejeweled with crystals but also in classic black. An old favorite the Dior Book Tote was showed in neutral colors that combine with the weight of the collection.
A new top handle bag is presented in the collection in different colors and sizes, it is inspired by the house archives and would be an amazing work bag! Another new bag showed was a rounded flap bag with a beautiful CD clasp and a leather crossbody strap.
This collection continued Maria Grazia's feminist legacy in Dior, it was elegant, serious and quintessential Dior.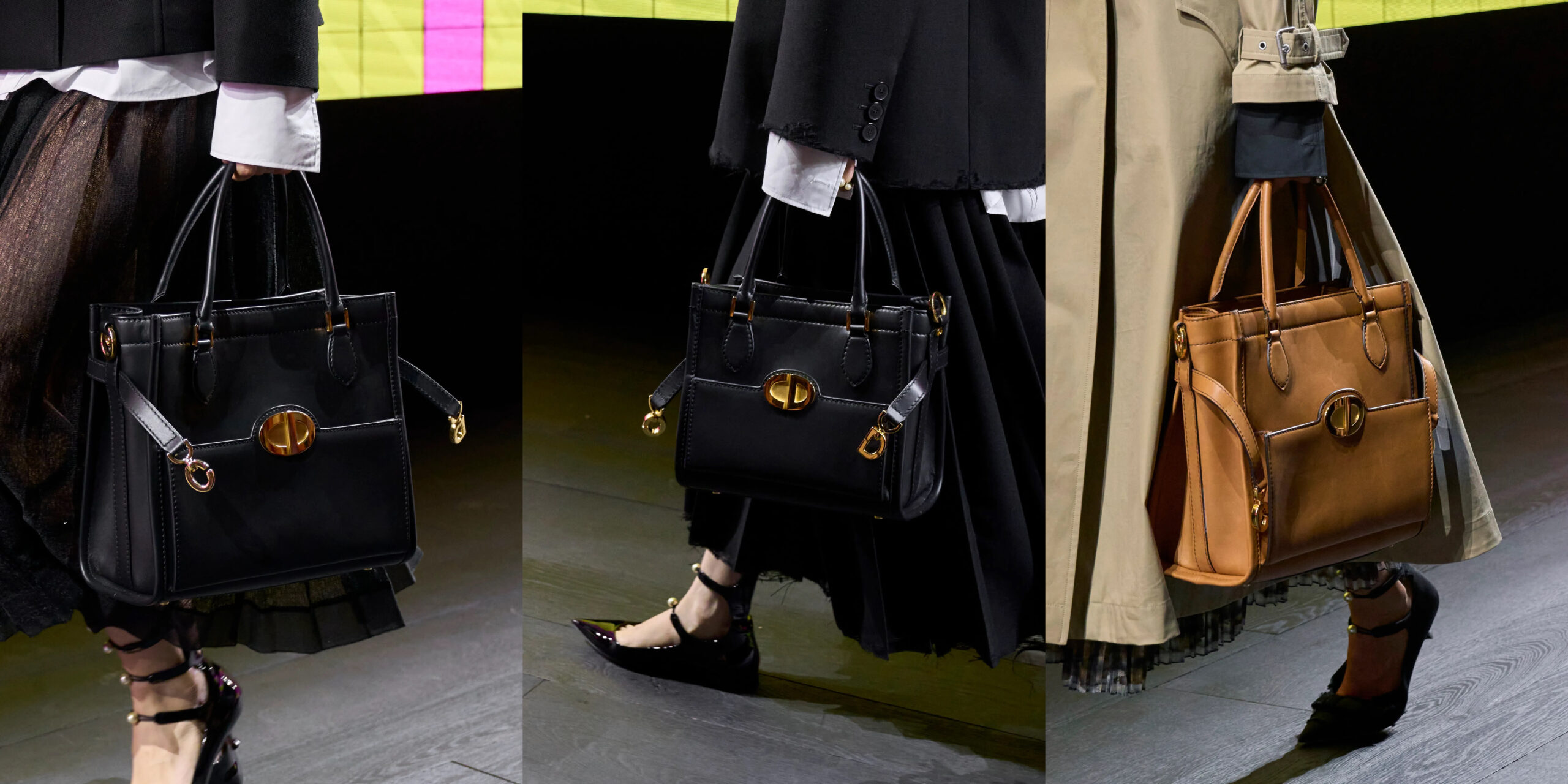 Givenchy
For Spring 24 Mathew Williams presented a collection filled with classic Parisian fashion with many of Givenchy's classic codes, like big shoulder, classic tailoring and evening wear. He was also inspired by Givenchy's original muse, Audrey Hepburn, presenting dresses that were redesigns of the ones she wore. Parisian chic describes the collection perfectly, with beautiful dresses, coats ad of course bags.
The beloved Givenchy Voyou is back for another season, in many sizes and colors. There is a new clutch adorned with flowers and belts that might be the next it bag for going out. But the standout piece of the collection was a top handle briefcase with a belt closure that was also showed as a tote bag. A beautiful chain bag with a metal clasp also made the rounds, again perfect for evening wear.
Overall the collection was elegant, classy and understated, what's not to love?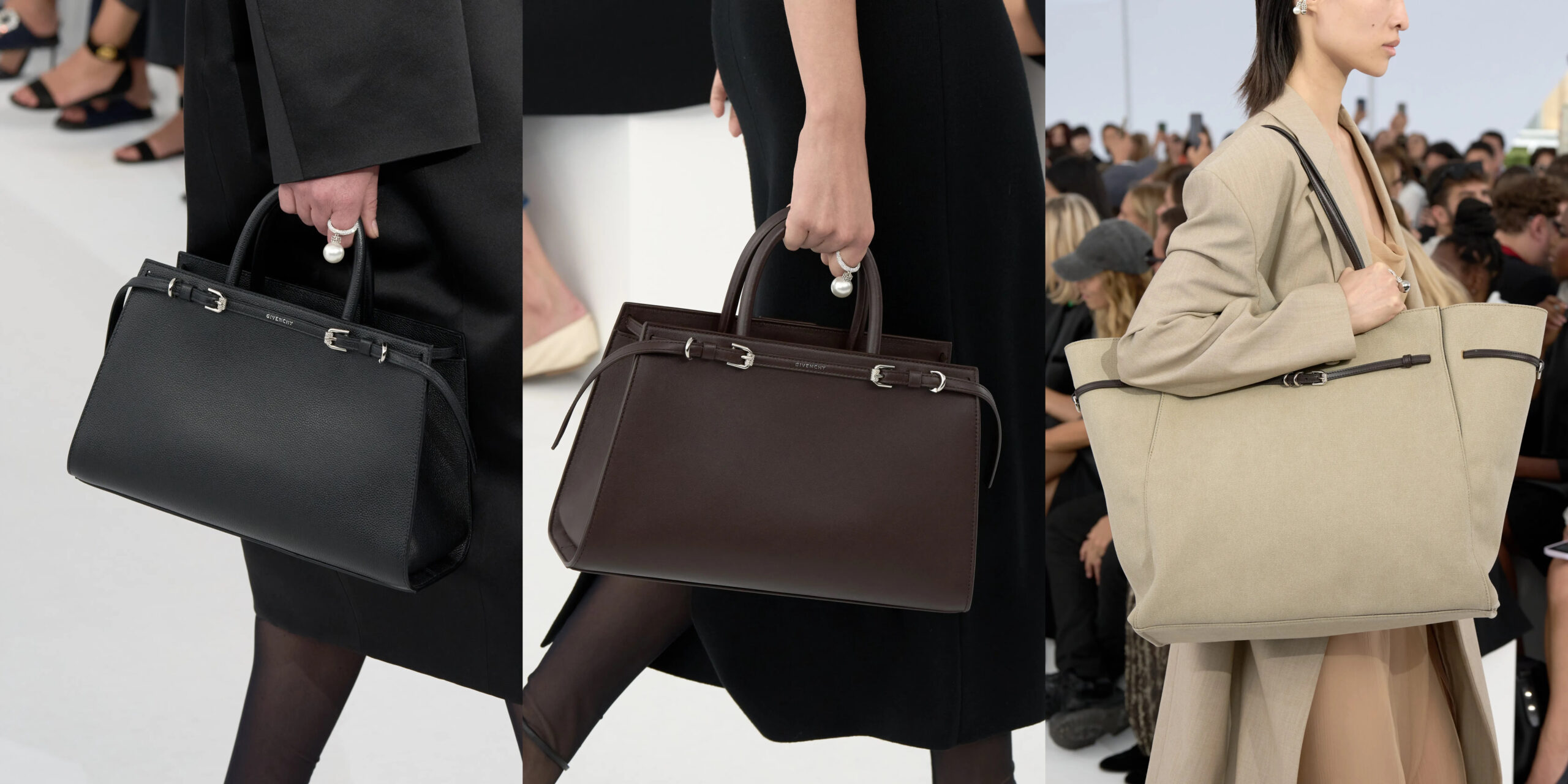 Loewe
Stepping back from the surrealism we are used to see in his collections, for Spring 24 Jonathan Anderson presented his take on norm-core, all with a Spanish flare of course. He was focused on day wear and wanted to bring a new silhouette that was at the same time classic and modern. Perhaps the defining pieces of the collection were these high-rise pants with a mini corset built-in, it exemplifies how the Loewe norm-core is not boring at all.
As for the bags, the standout piece was the new Squeeze bag, first presented in the fall collection, it will be back for Spring in new colors, sizes and materials. The Puzzle Fold tote was also presented as was the Paseo, both new icons of the brand. A bucket bag was also showed in suede, leather and with a metal clasp, representing perhaps a new quiet and elegant era for Loewe.
Overall the collection was about classic pieces in new and unique silhouettes, all with a Loewe style we know and love.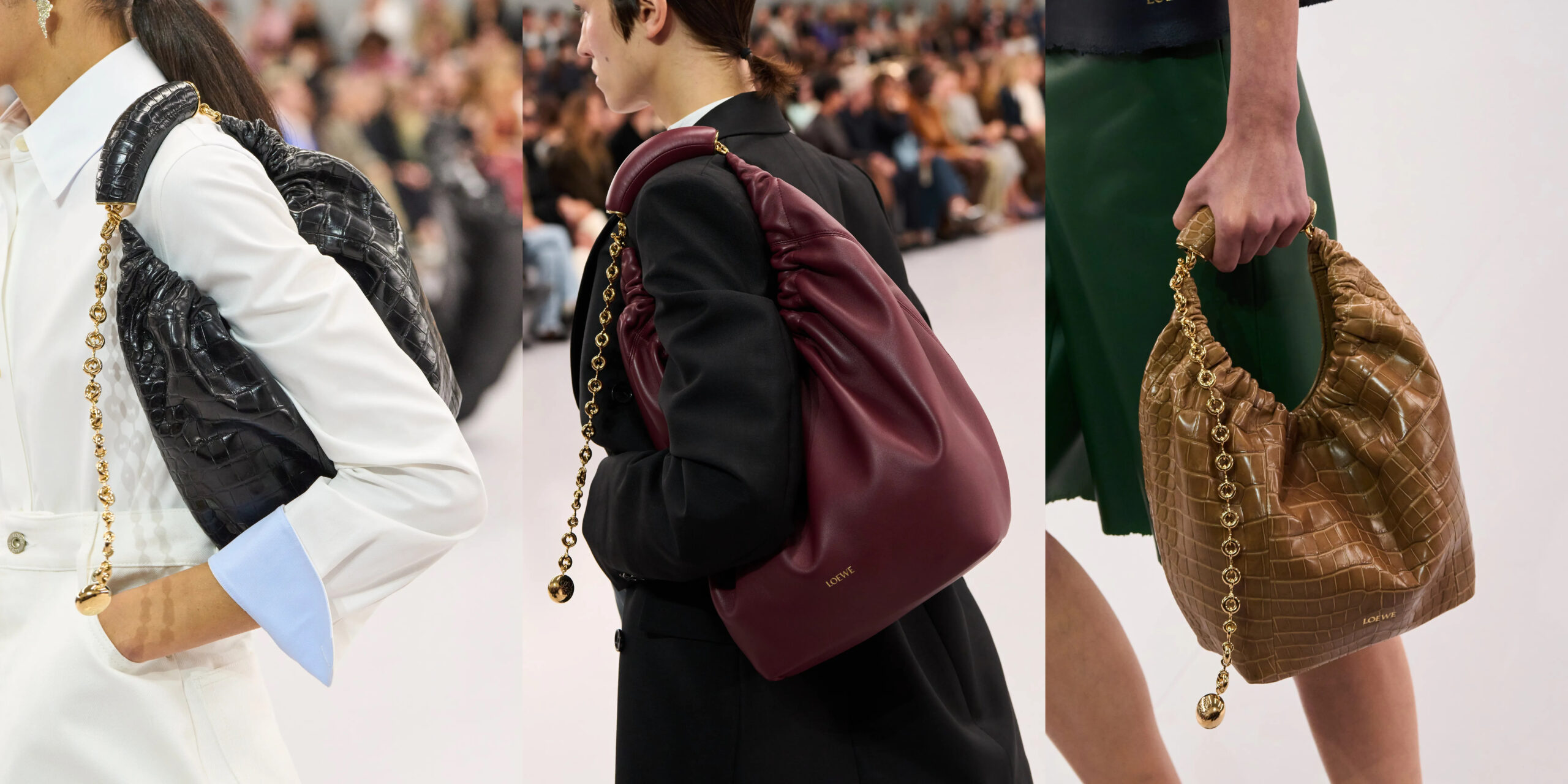 Hermès
For Spring 24 designer Nadège Vanhee showed what quiet luxury actually is. The pieces were elegant staples for easy-living, just an elevated take on everyday clothes. But the focus of the collection was leather, the colors were all typical leather colors of Hermès and the clothes had either special leather detailing or were full leather coats and dresses.
As for the bags there was a mix of Hermès classics but also some new and of course quiet pieces. A leather briefcase was showed in different sizes, exemplifying how beautiful simplicity can be. A hobo bag with a frontal zipped pocket and a snap hook showed on the last fall collection is back for spring, in all the beautiful leather shades of the collection. There were small pouches and big totes that mixed leather and palm leaves, creating the perfect high-low mix for summer. The Kelly made an appearance in the form of a shoulder bag and a classic Birkin bag was the last bag showed in the collection.
This collection is what we expect and love from Hermès, quality pieces that can be worn next spring/summer but also for years to come.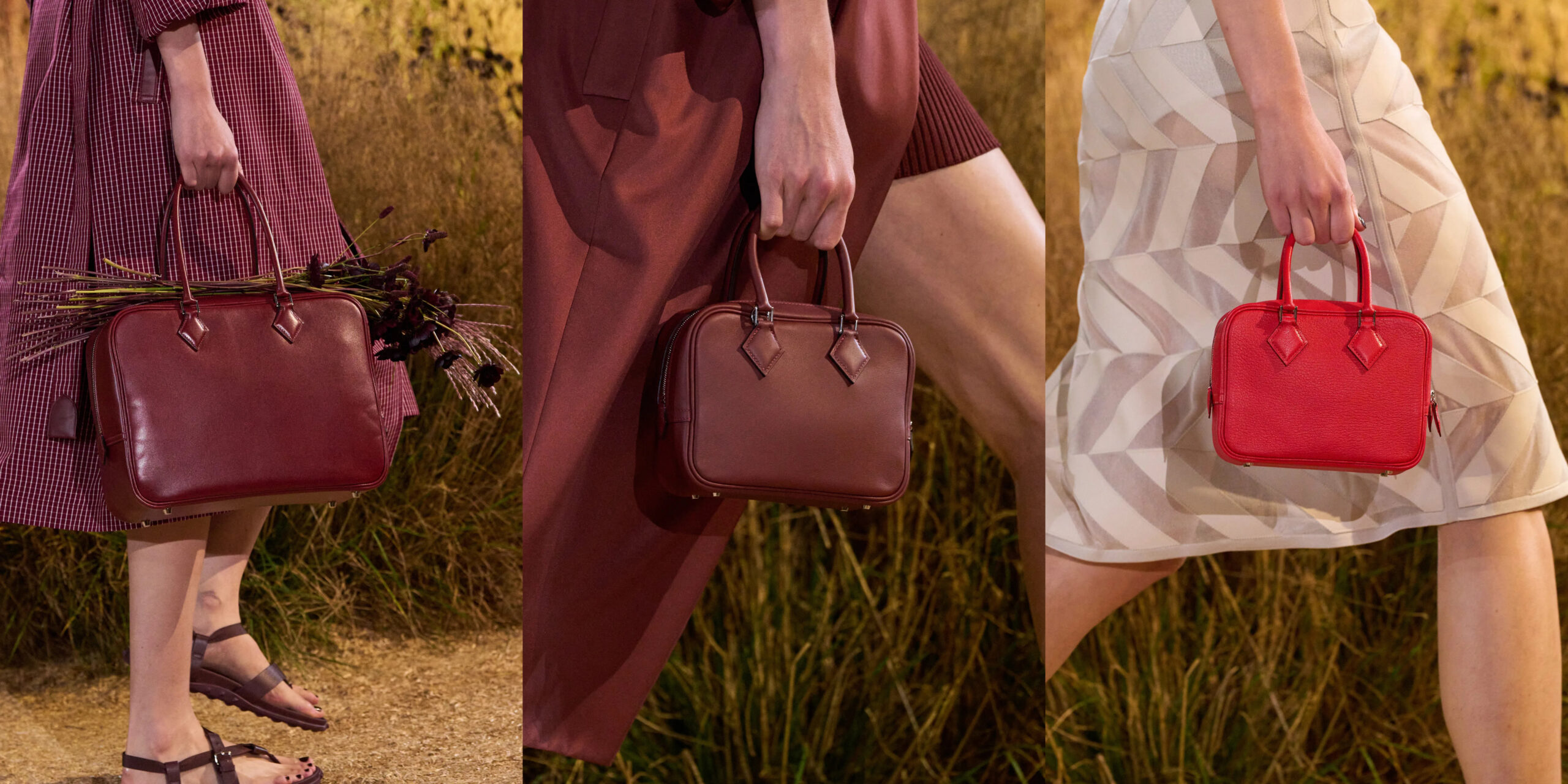 Valentino
In my opinion no one is doing ready-to-wear like Pierpaolo Piccioli for Valentino. The collection was about feminism, and showing the body not for others but for yourself. Along with the beautiful dresses and tailored pieces we usually see from the brand, were dresses made from a cut-out embroidery technique that created a kind of fabric. It was not a decoration but the structure of the dress itself.
As for the bags the standout piece was the new Vlogo Moon bag, it was showed in many sizes, colors and materials, all amazing for spring/summer. There was also a slouchy top handle with a V logo that is super chic, as well as a shoulder bag.
As I said, no one does ready-to-wear like Valentino, this was a stunning collection that I won't forget any time soon.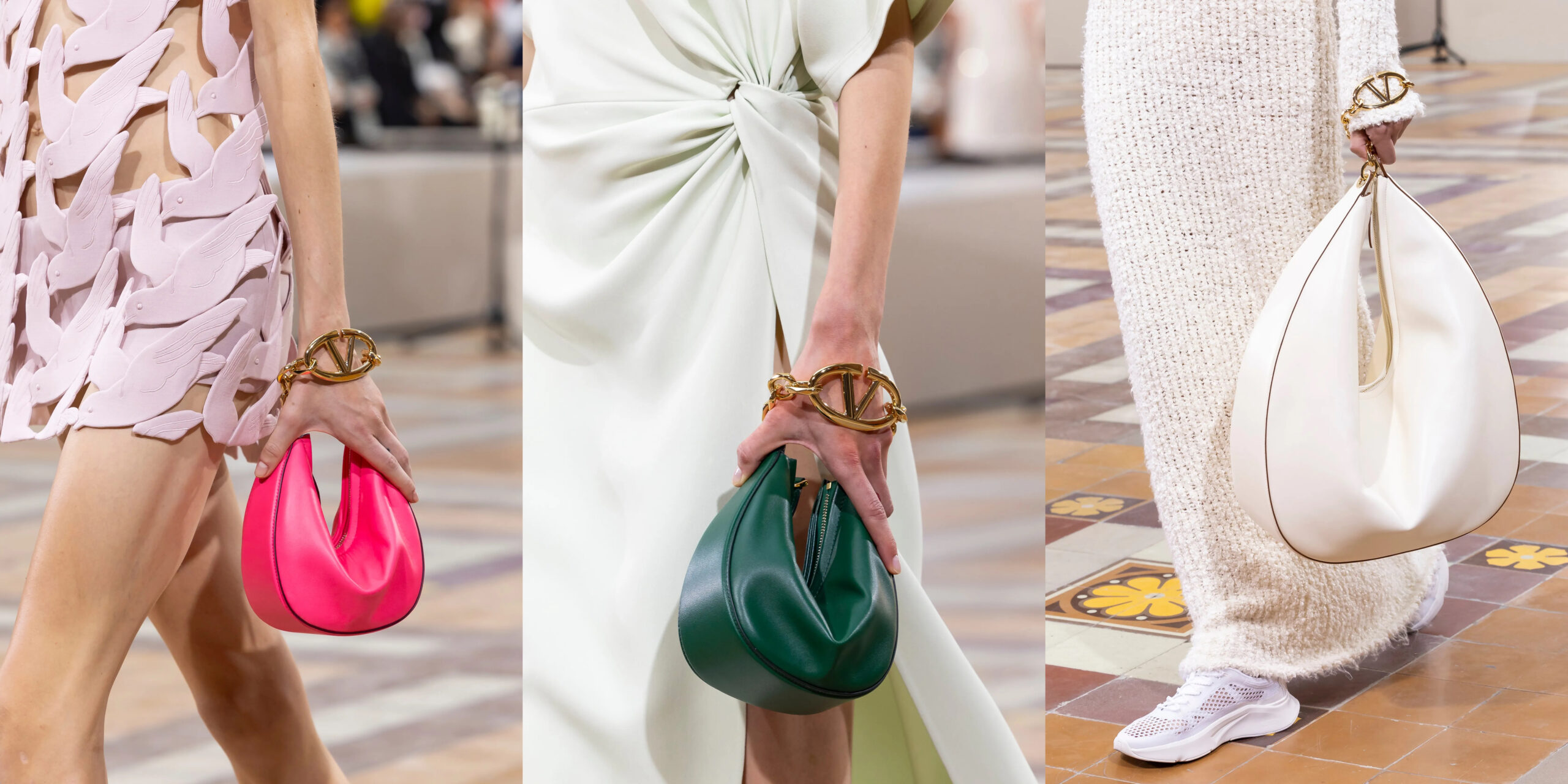 Louis Vuitton
For spring 24 Nicolas Ghesquiére presented his take on the functionality of clothes. He said: "Vuitton is a luxury brand but it's about function, it provides a service: to travel better. Mobility is important in clothes,". The collection was about everyday clothes that are far from simple, is not about norm-core, is about light fabrics, easy to wear pieces that are still extraordinary.
The bags were classic Louis Vuitton, from travel bags to fill with all your needs to small clutches you could pack easily. The standout piece for me, was a new take on the Alma bag, with a belt closure and a slouchy design, tell me if this isn't the perfect everyday bag! The new Louis Vuitton GO14 was presented in black patent leather and black and white leather, proving this one will continue to trend the next seasons. There were an assortment of iconic Louis Vuitton bags with new details, like the Pochette, the Side Trunk and the Papillon, proving the classics will never go out of style.
The assortment of bags the brand presented this season did not disappoint, you can always count on Louis Vuitton to bring some new exciting shapes for the new season!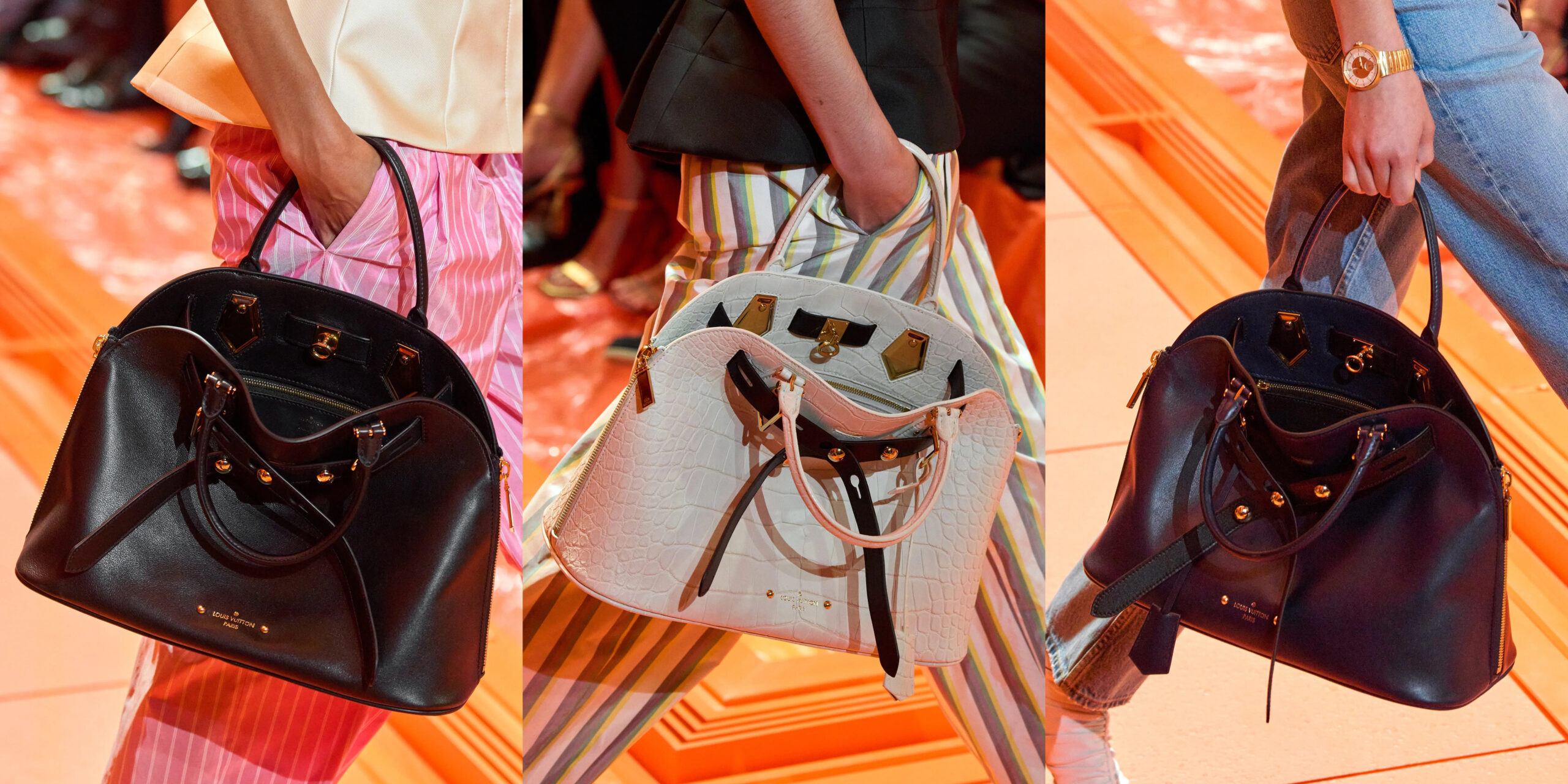 Miu Miu
For Spring 24 Miu Miu is taking us back to school! Miuccia Prada presented a vintage inspired preppy collection that ranges from blazers and Bermuda shorts to ruffle skirts and polo shirts. The collection presented outfits to the pool as well as for a party, all with the Miu Miu flare that is so popular now.
As for the bags they were all overflowing with shoes, clothes and knick-knacks, resembling how ones school bag would be. The Miu Miu Pocket bag was showed in oversized versions in brown leather. There was a new bucket bag in leather showed in different colors and sizes. The Arcadie bag was presented both in smooth leather and matelassê, proving this Miu Miu icon isn't going anywhere. A fan favorite the Wander bag is also back for spring 24!
Overall Miu Miu is continuing with their streak of creating It accessories that are not only instantly recognizable but also instantly desirable!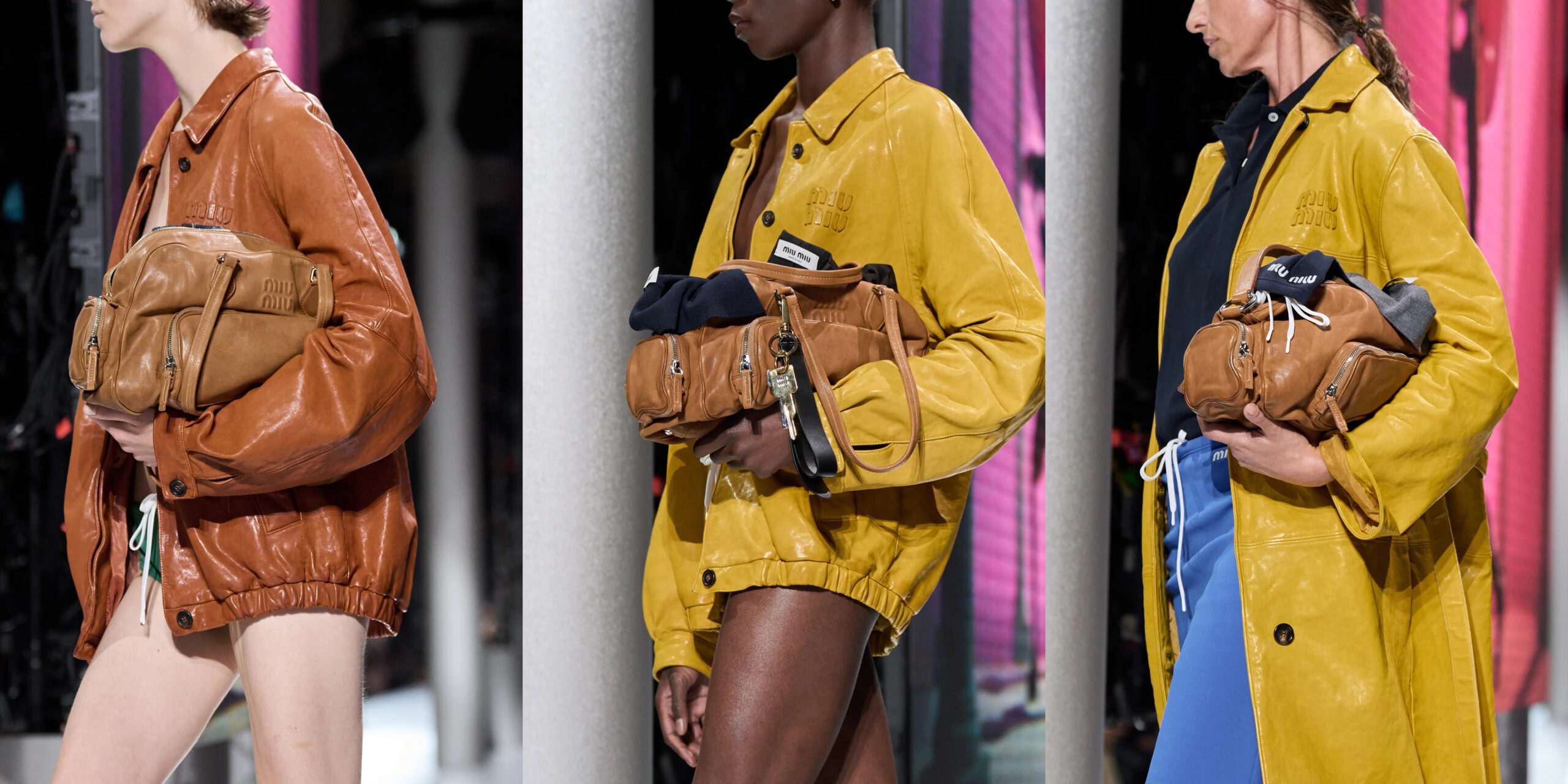 Chanel
Chanel's Spring/Summer 24 collection, designed by Virginie Viard, was inspired by Villa Noailles in the South of France, with its terraced gardens and avant-garde architecture. The inspiration can be seen in the graphic tweeds and floral embroideries of the collection, all with a laid-back casual style.
A bag that was showed in different colors throughout the collection was a mini Camera bag, an homage to Karl Lagerfeld that once photographed the Villa. Chanel Flap Bags in tweed, leather and with top handles were showed. There were also tote bags embellished with sequins, in a woven material and the Chanel 22 in striped leather.
I have to be honest here, I don't know what to say expect that this was one of the worst collections I've seen in recent years. I usually love Chanel, but this collection was all over the place, it lacked elegance, sophistication and a cohesive team that tied to collection together. Disappointing to say the least.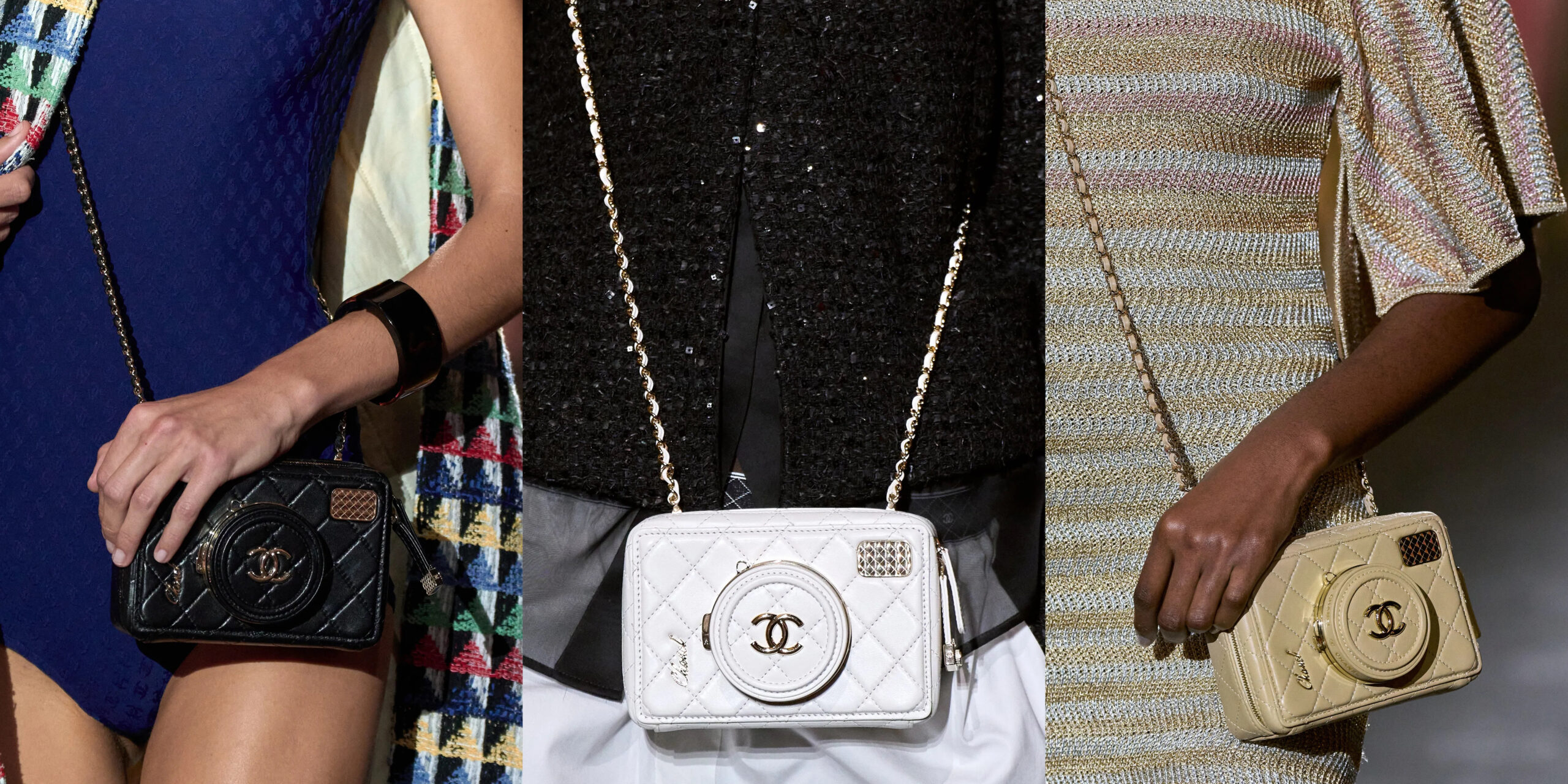 Hope you enjoyed The Best Bags From Paris Fashion Week Spring 24! Make sure to check out The Most Amazing Bags From Milan Fashion Week!