Welcome to The History of the Cartier Love Bracelet!
Cartier is one of the most iconic jewelry brands in the world! Louis-François Cartier established the business in Paris in 1847, and it stayed family-owned until 1964, when the Richemont Group acquired it. In addition to having three Historical Maisons in London, New York, and Paris, Cartier runs more than 200 stores across 125 nations. One of the most prestigious jewelry manufacturers in the world Cartier was known as "The Jeweler of Kings and the King of Jewelers". It was the jeweler of choice for monarchs, celebrities, and business moguls, and it still draws admirers of jewelry from all over the world today. And the Love bracelet is one of the most classic pieces ever crafted!
The History of the Cartier Love Bracelet:
The Cartier Love bracelet was made in the 1970s by Italian jewelry designer Aldo Cipullo in the Cartier New York workshops. The designer stated that "love symbols should suggest an eternal quality." The essence of Cartier's design philosophy is love. It is an oval bracelet made of two rigid arcs that must be screwed together using a special matching screwdriver. The bracelet combines flawlessly straight lines and exact proportions. Its distinctive locking system demonstrates that love should not be regarded lightly.
Some of the most well-known couples of the 20th century, including the Duke and Duchess of Windsor, Elizabeth Taylor and Richard Burton, Ali MacGraw and Steve McQueen, and Sophia Loren and Carlo Ponti, are said to have received pairs of the bracelets when it was first introduced by Cartier. Additionally, there are rumors that Cartier used to forbid customers from purchasing Love bracelets for themselves and instead required couples to buy them. The "Love" bracelet, a symbol of affection and attachment for more than 40 years, is as powerful as the eternity ring itself.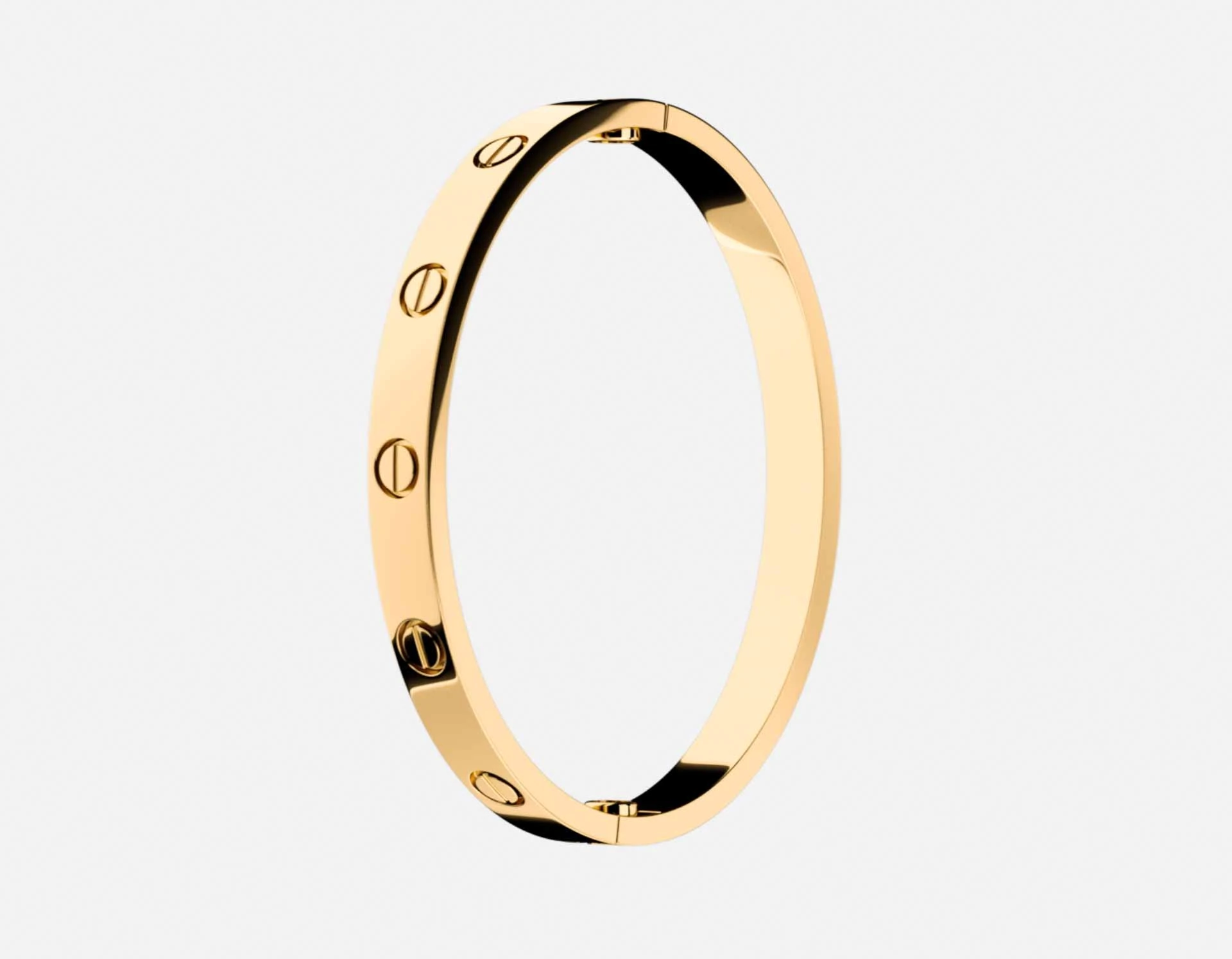 According to Rebag, the now-iconic Cartier Love bracelet holds 97% of its retail value on the resale market, making it a must-have Cartier piece. It is as iconic today as it was when it was launched! You would never regret buying it! It is definitely a jewelry that is worth the investment.