Welcome to our list of The Most Amazing Bags From Milan Fashion Week Spring/Summer 23!
Fashion month continues at full speed and with the end of Milan fashion week I thought I would show you the most amazing bags that appeared on the runaways! Milan fashion week has some of the most innovative and interesting shows to watch. It is filled with amazing designers and incredible collections, all backgrounded by the beautiful city that Milan is. From Versace to Prada the bags I'll show you here will likely be the it bags of next spring summer. And stay tuned on my website because I'll also bring you the best bags from Paris Fashion Week!
So, without further ado here are The Most Amazing Bags From Milan Fashion Week Spring/Summer 23:
Ferragamo
For his first collection, the newly appointed creative director Maximilian Davis blended his own style with classic codes of the house. The designer said: "I wanted to pay tribute to Salvatore's start by bringing in the culture of Hollywood – but new Hollywood,". Inspired by Salvatore Ferragamo's days as the shoemaker of Hollywood stars Davis presented a beautiful collection in neutral tones and solar shades. He was also inspired by the sunsets and sunrises of LA representing a new dawn for the fashion house.
As for the bags Davis didn't stray from the classicism we usually see in Ferragamo bags, but they still have something new about them.  Oversized briefcase style bags were standout pieces in the collection, combining a new trend with an elegant silhouette in black, red and even in degrade orange. Large totes with cutouts brought an edginess to the collection, making apparent the brand's desire to connect with a younger clientele. Of course the iconic Gancini buckle was of note, both in a classic top handle bag and in a new and stylish clutch. A few other styles like a small tote, a shoulder bag and a satchel showed that new and exciting times are coming for the renowned mason, that by the way, changed its name from Salvatore Ferragamo to simply Ferragamo.
I loved this collection and I'm excited to see what else the new creative director will bring to the table.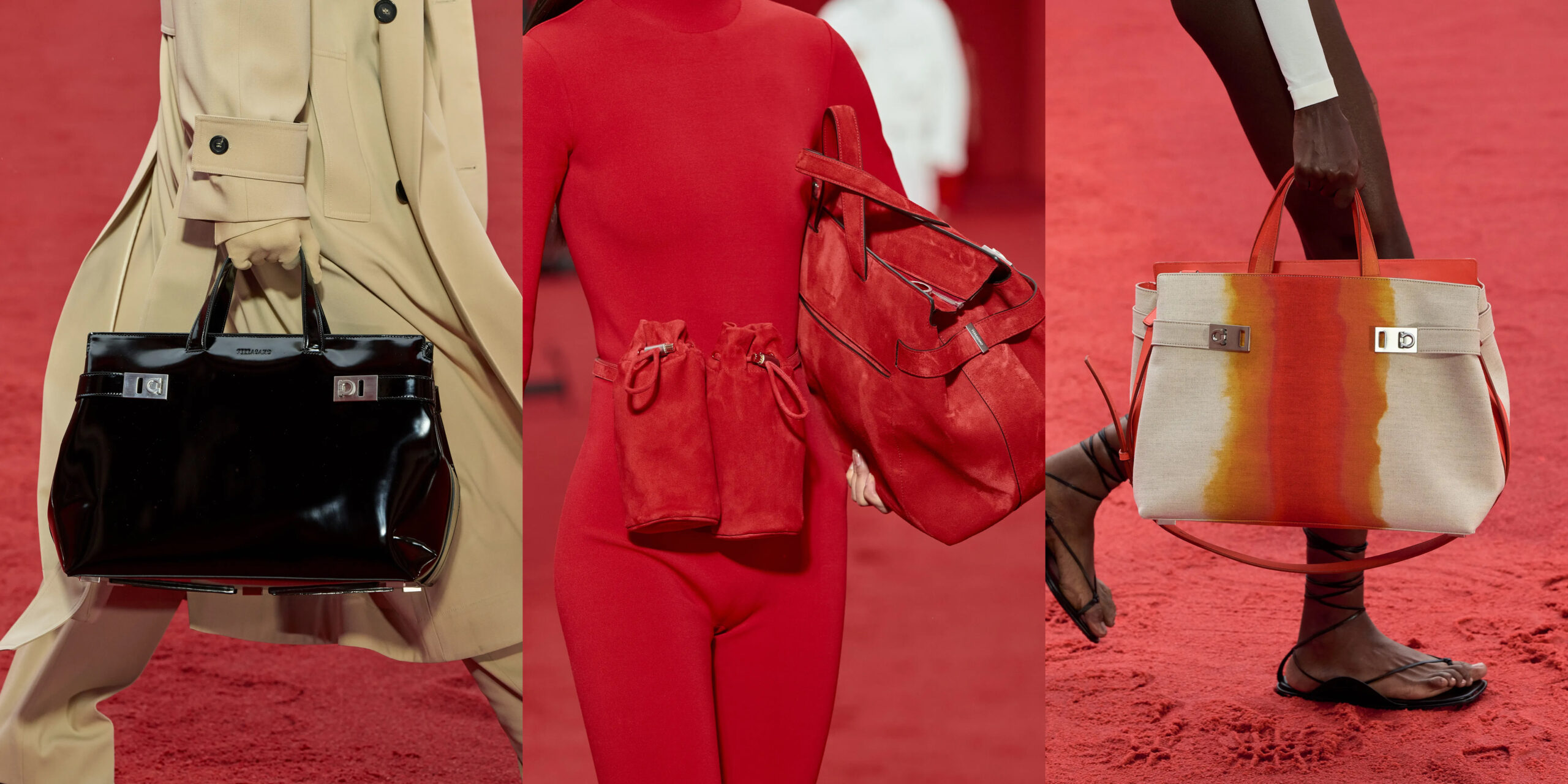 Fendi
For spring summer 2023 Kim Jones presented a collection made in a color palette of neutrals, green, blue and pink. The collection was inspired by Y2K fashion and a few of Karl Lagerfeld influences on Fendi during the late 90's and early 2000's, like the double F logo and a floral print created by the designer. With light weight fabrics and transparency Jones presented cargo pants, slip dresses, dresses over pants and a few jackets. The whole collection had a sporty feel, but for the bags, Silvia Venturini Fendi presented new takes on already established silhouettes of the brand.
The iconic Fendi Peekaboo was showed for the first time with chain straps and also with playful knots on the sides. The Fendi First bag had a glossy finish in both pink and green, as well as a version in fur. The Fendigraphy was showed in mini, medium and oversized versions, the mini ones were featured with the new O'Lock bag. No Fendi Baguette appeared in the collection, perhaps because the brand had a celebratory fashion show in New York for the 25 years of the iconic bag, but still I would like to see one in the collection. As for new features a new tote and a new baguette style bag were of note.
I love Fendi, but I have to say I was a little underwhelmed with the collection, in past seasons Kim Jones showed some beautiful tailored pieces that in comparison make the ones in this collection seem a little sloppy. Non the less, if we are talking about bags here, it is always worth taking a look at Silvia Venturini Fendi's new designs.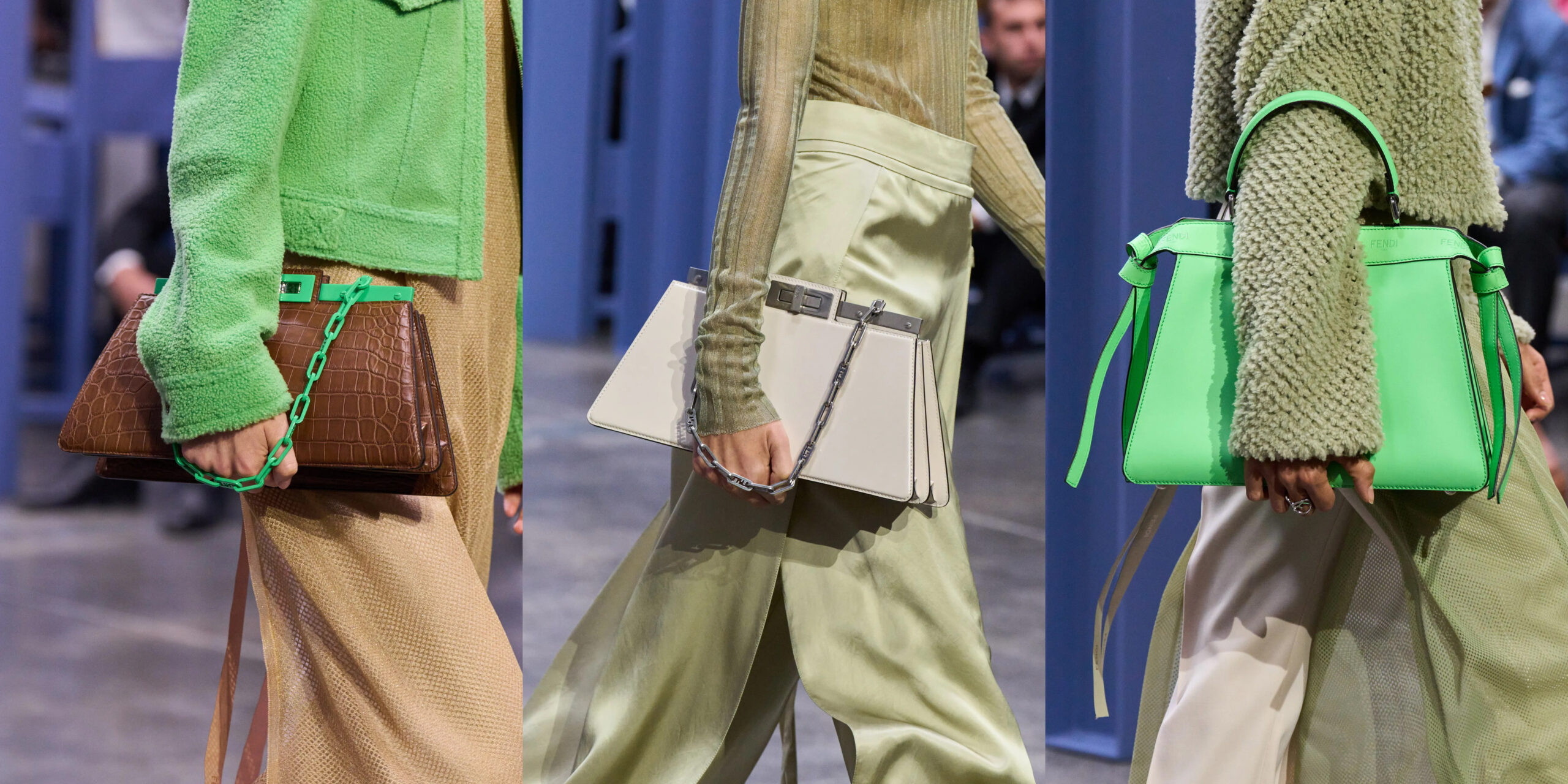 Versace
The Versace show always feels like a party and this one was Donatella Versace's take on Y2K goth culture. With biker jackets, cargo pants, slip dresses and animal prints this collection was about making a statement. Donatella said: "I have always loved a rebel, a woman who is confident, smart, and a little bit of a diva,". The grand finale of the collection was Paris Hilton walking the runaway in a Barbie pink mini wedding dress with a matching pink vail, nothing could be more iconic of the 2000's!
As for the bags we saw some iconic styles of the brand with new details. The Greca Goddess bag that was presented a few seasons ago was showed in clutch and shoulder bag variations in black, purple, pink and white. The classic Medusa appeared in metallics, with studs, fringes and embellished with crystals, embracing the goth aesthetic of the collection. New hobo bags were some of the standout pieces of the collection, in large and small shoulder bag iterations, there were versions with fringes, crystals and studs.
Overall the collection was fun, playful and sexy, all you can expect from Versace!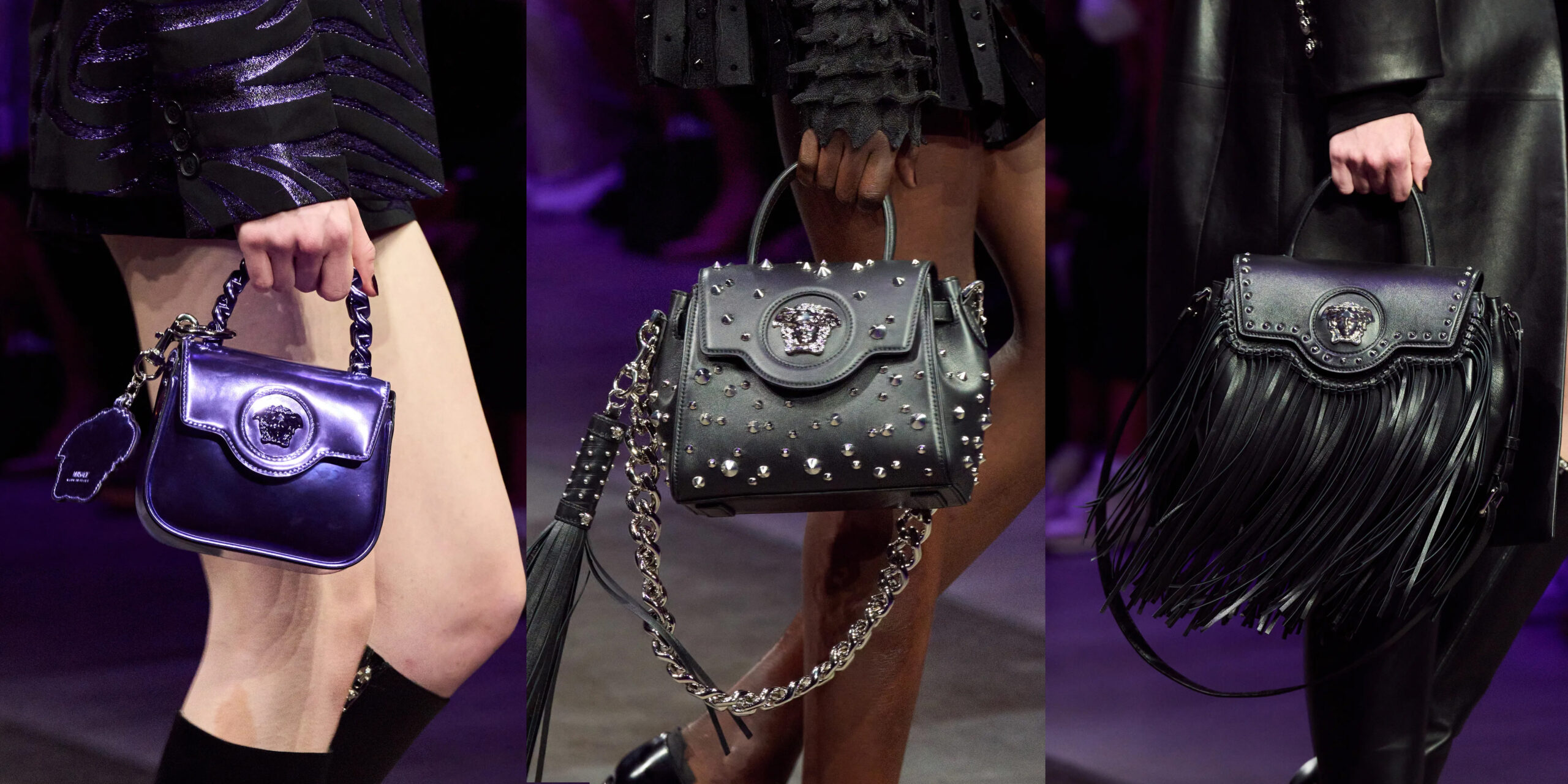 Bottega Veneta
For his second presentation for the brand, new creative director Mathieu Blazy picked up where he left last season. He showed a collection not for celebrities or magazine covers, his designs are for every woman and every occasion. His first looks were simple at first glance, but the flannel shirts, jeans and t-shirts were actually all made of leather, showcasing the incredible craftsmanship and technical know-how of the Italian brand. He showed staple pieces like trench coats and suits, again highlighting the wearability of the collection. Blazy played with the idea of movement with fringes, leather flowers and flowy fabrics.
As for the bags, what we saw was classic Bottega Veneta! Going back to the brands origins, beautiful intreciatto tote bags were showed, in different shades of brown. Bucket bags from last season were presented once more, this time in different colors and sizes. The standout piece from the collection was the Sardine top handle bag, first presented for winter 22 the bag now appeared in different sizes and colors, all with the iconic metallic top handle.
Bottega Veneta continues to go in the direction of wearable fashion that is rooted in the history and quality of the renowned Italian brand. The bags in this collection were among The Most Amazing Bags From Milan Fashion Week Spring/Summer 23!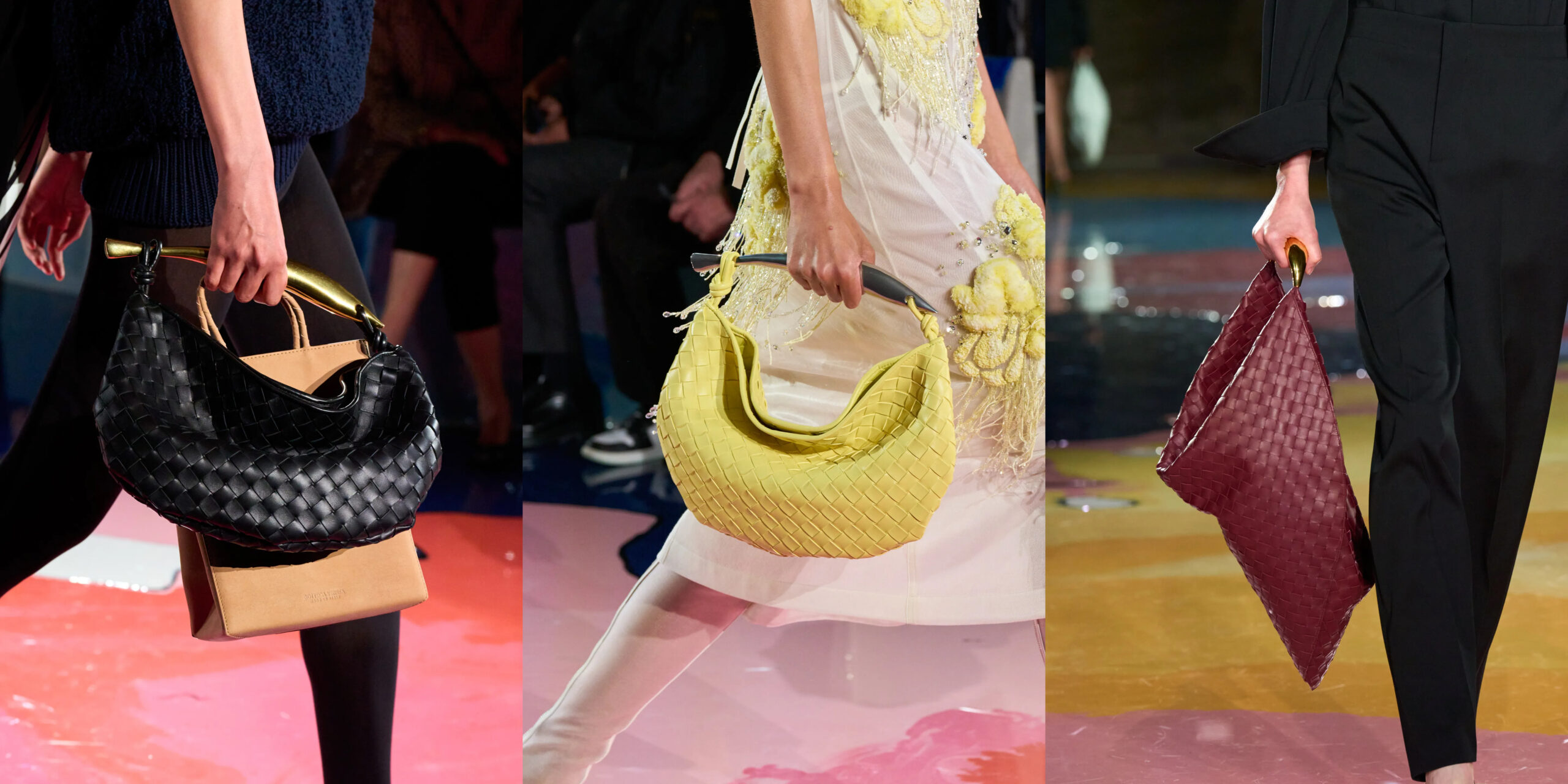 Gucci
Alessandro Michele based his latest collection for Gucci, Twinsburg, on the magic of twins, streetcasting 68 identical twins to model it. With the more is more style we expect from Gucci, loud prints and 80's inspirations, this collection was about individuality. Michele said: "the same clothes emanate different qualities on seemingly identical bodies". With sportswear, tailoring and partywear, the whole collection was very Gucci.
The designer resurrected an equestrian-inspired bag from the early '80s, a boxy style with a curved saddle-like flap and long shoulder strap. Another flap was also presented, this one in a classic silhouette with Gucci quilting and the classic monogram on the front. Playful clutches were also of note, in shape of teddy bears embellished with crystals. And since we are talking about accessories, there were stuffed Gremlins throughout the collection, also highlighting the duality of personality.
A fun 80's inspired collection, for spring/summer 23 Gucci hit all the marks. And for Alessandro Michele I have to say: I'm also a twin, if you ever need me I'm just a phone call away!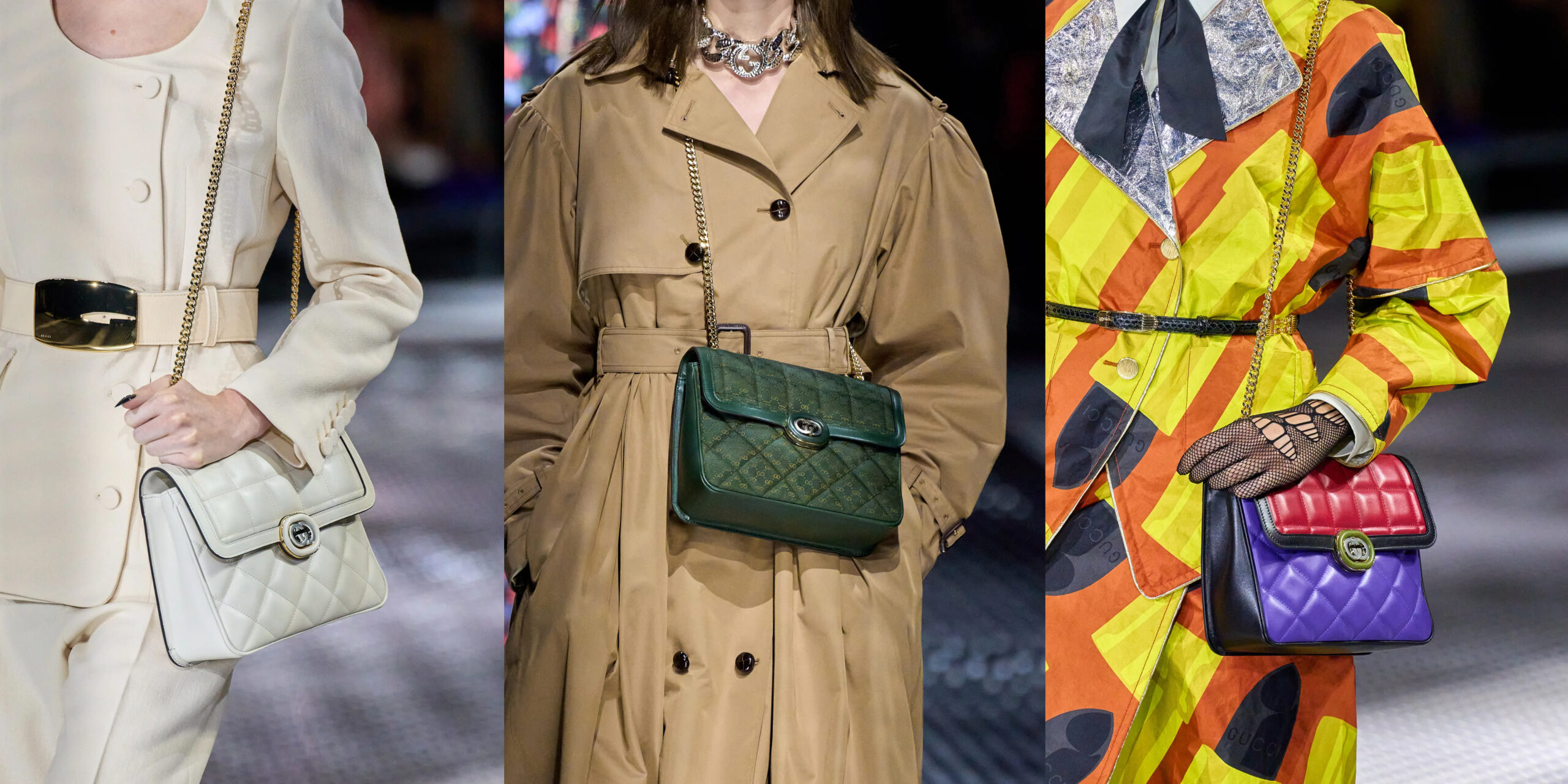 Prada
Opposing the maximalism we saw in most fashion shows this season, comes Prada's minimalist and iconic aesthetic. Miuccia Prada and Raf Simmons were inspired by everyday lives and everyday clothes, and the humanity in them. The press release said: "Human gestures animate surfaces… traces of life shape the forms of garments,". This sentiment could be seen on the crinkled dresses, the undone hemlines and on the softness of fabrics. The beauty of clothes is how you wear them, they get creased and ripped in everyday lives.
Bowling shaped bags nodded to the early 2000's, presented in leather and crinkled nylon. The creased nylon also appeared in oversized totes in different colors that were also adorned with Nylon flowers. The standout pieces of the collection were the Prada Re-Edition 1995 bags, showed in different colorful shades they will be it bags comes 2023.
Minimalist and elegant Prada is bringing back some iconic styles of the brand and I have to say I'm here for it!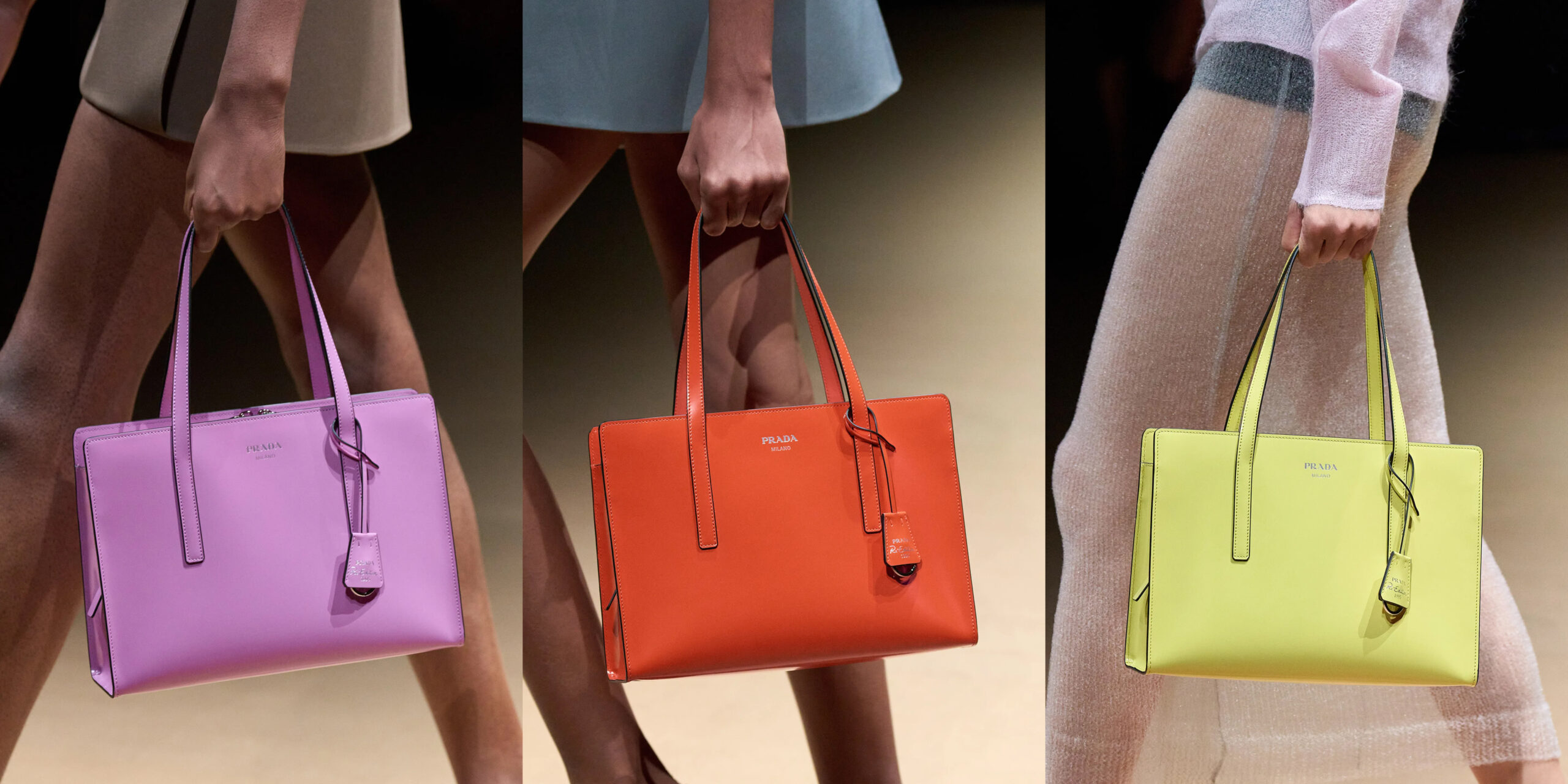 Make sure to check my post about the Highlights of New York Fashion Week!